1935 Duesenberg Model SJ Mormon Meteor Speedster
After communication and engineering had broken almost all of nature's barriers, we were left to create and challenge our own man-made boundaries. In the mid 1930s, there was no better place to do this than the Salt Flats in Utah. It was a gift from the heavens, and Ab Jenkins made the world pay attention with unique record-setting cars like his bright yellow speedster.
Most Duesenbergs were built with graceful bodies that mimicked America's prestige, however very few examples, such as Ab's Mormon Meteor, were initially made for motor sports. It's an unusual car with an unusual name, but its story and place in Duesenberg history is paramount.
At the 57th Pebble Beach Concours d'Elegance, the judges recognized the Meteor's importance and bestowed its owner Harry Yeaggy with the Best of Show award. After winning, Harry said "In my opinion, this is the most significant American car ever built." He may be right, as Ab Jenkins and this Duesenberg exceeded all others during a classic era of record setting on the Bonneville Salt Flats.
Unlike its conceptual competition, the Mormon Meteor was based on a production car and its roots stem back to the dawn of the Duesenberg Company. Already by the 1920s, Fred and August Duesenberg were at the top of their game; they setup one of America's great automotive companies in 1913 and would go on to firmly establish themselves in racing. One of their first feats was to break America's land speed record in 1920 with a twin-engine special built for Tommy Milton. The following year, Jimmy Murphy won the French Grand Prix driving a Duesenberg, which was the first ever American GP victory. This set the trend for many more stateside accolades including the 1924 and 1925 Indianapolis 500s.
Despite Duesenberg's on track successes, Errett Lobban Cord purchased the company in 1926, saved it from near financial ruin and helped Fred Duesenberg design the seminal Model J. With its 320 bhp supercharged engine, the car transcended all its competition on paper and also caught the attention of Utah's 'Son of Speed', Ab Jenkins.
With a keen eye for the Bonneville Salt Flats and its record setting machines, David Abbott Jenkins was a local building contractor in Utah that had a lot to prove. His need for speed brought him to Bonneville where he encouraged many others including Captain George Eyston, John Cobb and Malcolm Campbell to compete with their British-built specials. Ab was one of the pioneers that first raced at the Bonneville Speedway and he set many records there in different machines. He lured competition away from other venues such as Daytona Beach and motivated a new era of endurance racing.
In the 1935 season, Ab caught the attention of Roy Faulkner, the president of Auburn. Faulkner offered assistance to make a record car that could best Ab's earlier 24 hour Bonneville run which averaged 112.92 mph in a Pierce Arrow V12. Ab used the same car in 1933 and '34 to break the 10 mile, 100 mile, 3-hour, 6-hour, 12-hour and 24-hour records. To beat these, Ab Jenkins was offered a Duesenberg chassis that he then built up with the help of Augie Duesenberg in a garage next to the factory.
Ab and Augie started with an unnumbered Model J chassis that had a standard wheelbase of 142.5 inches. The first step was to get a body made, so Herbert Newport was enlisted to begin doing so in May 1934. His design had a minimal frontal area including a single cyclops headlight and heavily raked radiator. The rest of the body resembled an oversize speedster that was quite narrow, but still able to accommodate two seats. Other features included a full belly pan, as well as a long sloping tail to reduce drag.
The steel chassis was kept pretty much standard except for a dropped front suspension which lowered the nose several degrees. The largest available Firestone tires were fitted onto 18 inch wire wheels. Just behind those sat small sponsons that were used to reduce air turbulence along with integrated fairings to cover the suspension and chassis. Detachable fenders were made to make the car road-worthy, but never used during the record runs.
Two supercharged SJ engines were built up by Augie Duesenberg and Ed Winfield using new high-lift camshafts and huge updraft Stromberg UU3 carburetors. These were attached to a unique 'ram's horn' intake manifold which fed each bank of inlet ports independently. This helped to raise the standard 320 bhp to over 400 bhp when measured on the dynometer. Unfortunately, it would take a few tries to get these engines just right.
The completed car was tested briefly at the Indianapolis Motor Speedway before being shipped to Bonneville for its record-setting attempts. By 1935, Bonneville had become a hot spot for endurance record breaking, attracting attention from John Cobb who with his Napier-Railton held the 24 hour record. With an engine a third size of Napier-Railton's, Ab had ambitious goals, but his experience with the circuit eventually helped the Duesenberg prevail.
Raced around a ten mile circuit marked by a black line around Bonneville, the speedster looked promising. Unfortunately, a spun main bearing in the engine halted initial attempts and a second run ended with engine failure as well. For the third and final try, Ab as well as Tony Gulotta raced all 24 hours, only stopping every 400 miles for fuel and tires. After it was over, they proved the Duesenberg was one of the fastest cars in the world by covering 3523 miles in 24 hours at an average speed of 135.47 mph.
After such a fabulous accomplishment, Ab purchased the car for $4 800 USD as per an agreement with the factory. He continued on with it in 1936, installing a Curtiss Conqueror 1750 cubic inch V12 with new engine mounts, flywheel and clutch. At this point, it then took on the name the Mormon Meteor II. This reflected Ab's active membership in the Church of Jesus Christ of Latter-day Saints and his abstinence from tobacco, alcohol, and coffee which he said gave him necessary endurance for the grueling trials.
By the time the conversion was completed, some of the best British built specials, including the Captain Eyston's Wind of Speed, had broken all of Ab's records. Fortunately, the Conqueror fighter plane engine, which came from the same Lycoming factory as all Duesenberg engines, was substantial enough to make history once again. The Meteor again triumphed when Babe Stapp and Ab Jenkin's took the 24 hour record an average speed of 153.823 mph.
Ab retired the Duesenberg after 1936 to instead concentrate on a new chassis known as the Mormon Meteor III that could accept one or two Conqueror engines. By 1940, it was powered by a single engine and went on to take almost every record in the book – some of which held until the 70s while others have never been broken. In July 1951, Ab was going for a new 1-hour record when he hit a wet patch and crushed the fender of his car into a side marker. Before then, he had been driving without incident and was never ticketed—probably because no one could catch him!
After the original Meteor's competition career was over, Ab retained it and had Augie refit a Duesenberg engine that was stamped with number J557. Around the same time they added small doors, twin Trippe headlights, bumpers and fenders. The straight exhaust pipe was modified to dip below the passenger side door and the head fairings on the back were also removed. In this configuration, the car's unmuffled 7-liter engine must have caused quite a stir wherever it traveled.
With his son Marvin, Ab put nearly 20000 miles on his car in and around Utah. During this period he was eventually elected mayor of Salt Lake City. His Bonneville fame meant that the campaign was virtually free, although he won by a narrow margin of just 51 votes. Eventually, the Meteor sold in 1943 and in August 1956 Ab died of a heart attack at the age of 73. Shortly afterwards, GM's Harley Earl, released the 1957 Pontiac Bonneville in his honor.
After trading ownership a few times, the Kershaw family from Alabama purchased the car in 1959. They had it restored with competition components of the original specification, but retained the Duesey's 1937 road-going appearance. The family used the Meteor for a remarkable 45 years and ran it in the Colorado Grand four times.
In 2004, the Kershaw's finally put their car up for public sale and it sold at David Gooding & Company's auction for a record price of $4 455 000 USD. This was the highest price paid for a Duesenberg, or any American car, at auction. The price reflected its providence and dual purpose road/racing functionality.
After the auction, the Meteor was subsequently restored to its 1935 configuration for new owner Harry Yeaggy. He put Chris Charlton of Collector Car Services in Maine in charge of the transformation. Being a Packard and Duesenberg specialist, Charlton's company was a good choice; they also prepared six other cars for Pebble Beach in 2007.
Charlton was challenged to find the original lines of the car, and had to fabricate new head fairings on the rear. He also stripped the removable fenders as well as their fairings to reduce corrosion and improve the fit. With the doors removed, the interior needed to be retrimmed, and while this was done, the dashboard got a new gloss black finish.
In this configuration, it won the 2007 Pebble Beach Concours—one of the first sports cars ever to do so. This was a fitting tribute to Herb Newport's striking body, Ab Jenkin's legacy and what many consider to be the ultimate Duesenberg. It was not only the fastest and most powerful, but also the very last race car before the company closed its doors permanently in 1937.
Story by Richard Owen for Octane Magazine
See full 1935 Duesenberg Model SJ Mormon Meteor Speedster Gallery
In Detail
| | |
| --- | --- |
| | |
| engine | Straight-8 w/Special Cams, Ram's Horn Intake |
| position | Front Longitudinal |
| aspiration | Centrifugal, Gear Driven Supercharger |
| valvetrain | DOHC 4 Valves / Cyl |
| fuel feed | Double, Updraught Stromberg UU3 Carburetors |
| displacement | 6876 cc / 419.6 in³ |
| bore | 95.25 mm / 3.75 in |
| stroke | 120.6 mm / 4.75 in |
| compression | 5.2:1 |
| power | 298.3 kw / 400 bhp @ 5000 rpm |
| specific output | 58.17 bhp per litre |
| bhp/weight | 183.74 bhp per tonne |
| body / frame | Aluminum over Steel Ladder Frame |
| driven wheels | RWD |
| front tires | Firestone 18 Inch |
| rear tires | Firestone 18 Inch |
| front brakes | Drums w/Hydrualic Assist |
| f brake size | x 381 mm / x 15.0 in |
| rear brakes | Drums w/Hydrualic Assist |
| r brake size | x 381 mm / x 15.0 in |
| steering | Ross Cam and Lever |
| f suspension | Lowered Rigid Axle w/Semi-Elliptic Springs, Hydrualic Shock Absorbers |
| r suspension | Live Axle w/Semi-Elliptic Springs, Hydrualic Shock Absorbers |
| curb weight | 2177 kg / 4800 lbs |
| wheelbase | 3620 mm / 142.5 in |
| front track | 1425 mm / 56.1 in |
| rear track | 1425 mm / 56.1 in |
| transmission | Warner Hy-Flew 3-Speed Manual |
| gear ratios | 2.485:1, 1.397:1, 1.000:1, :1 |
| designers | Ab Jenkins, Augie Duesenberg (engine), Herbert Newport (body) |
Auction Sales History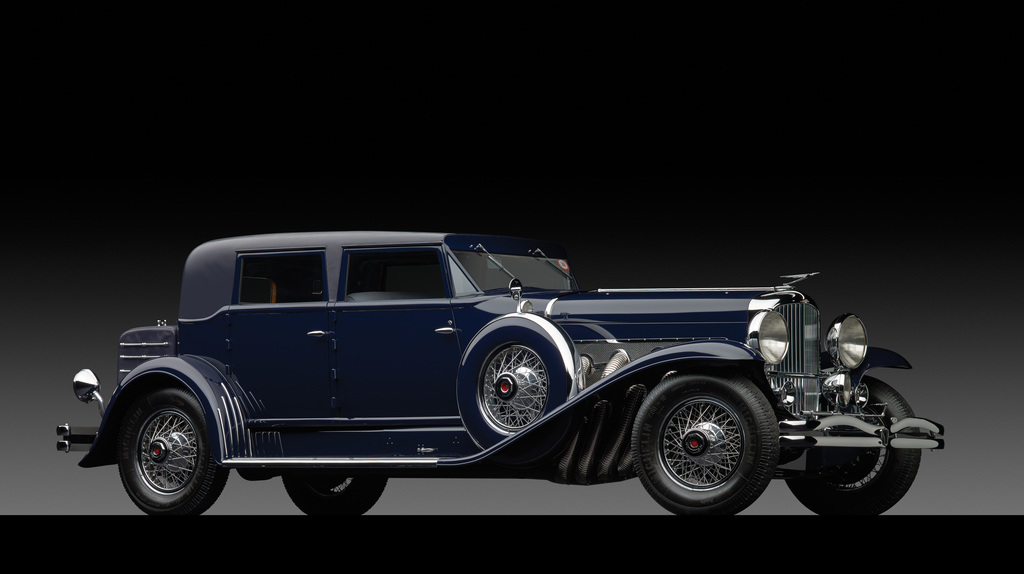 1933 Duesenberg Model SJ Beverly Berline by the Walter M. Murphy Company J512 – sold for $1,760,000
1933 Duesenberg Model SJ Beverly Berline by the Walter M. Murphy Company. Chassis no. 2538. Engine no. J-512. Body no. 978. The most beautiful and desirable closed coachwork on the Duesenberg chassis. The only factory-supercharged Beverly built. Still equipped with an original supercharger today. Winner of multiple Best in Show and Best in Class awards.
Auction Source: RM's Art of the Automobile