1936-1938 Bugatti Type 57S Atalante
With its streamlined styling, low-slung chassis and supercharged engine, the Type 57SC Atalante is one of the most desirable Bugattis. It was personally designed by Jean Bugatti as a two-seater sports coupe and became the rarest of the four different body styles offered by Carrosorie Bugatti.
The Atalante body style was an interpretation of the 1935 Aérolithe Coupe, essentially a prototype that reached very limited production in 1936 as the Type 57 Atlantic. This somewhat bizarre car used riveted panels to form a streamlined sports coupe. It's rumored that Jean Bugatti was influenced by the Mercedes-Benz 500 K Autobahnkurier at the 1934 Frankfurt Auto Show and created the Aérolithe as a response.
As majestic and unusual as the Atlantic was, it wasn't suitable for series production with its high set doors, fussy construction and split front window. The design was revised into the Atalante which included the Aérolithe's teardrop shape, but with a flat windshield, a separate trunk area with recessed spare-tire and full-size doors that retained the signature kidney-bean windows.
On the 57S Atalante, Jean used a two-tone paint scheme that accentuated the use of his French curve on the side of the car. Typically, the car was black with an intense highlight color. On some cars, this accent dash extended around the entire cabin.
The basis for this remarkable car was Bugatti's top-of-the-line Type 57S chassis. These were the same type that Jean-Pierre Wimille and Robert Benoist drove to win the 1937 24 Hours of Le Mans. It had a much lower chassis than the preceding Type 57 and also used complex de Ram shock absorbers. In many ways this was the ultimate Bugatti since no logical successor was ever produced. Some cars came with fitted superchargers, while others were retrofitted with them.
To maintain exclusivity, no two of the Type 57S Atalantes were the same. In detail, each was distinct and some major differences were introduced. For instance, two were made as Roll-Back Coupes with reclining soft-tops. Some of the first had independent headlights while others were sculpted into the body. Most featured skirted rear arches and wire wheels or polished aluminum hubcaps. Some of the more dramatic cars feature lengthened rear fenders. Essentially, where anyone tries to make a rule there is usually an exception.
Type 57SC Chassis
Atalante bodies were manufactured on the complete range of Type 57 chassis. This was Jean Bugatti's answer to model consolation, replacing the six luxurious and sporting chassis made under his father's direction. Using the dual-overhead camshaft (DOHC) concept engine from the Type 55 road car, he designed an entirely new chassis.
The first of these were the Type 57 and supercharged 57C both were distinguished by their tall radiator and chassis. They were powered by a new engine with 72mm bore and 100mm stroke, producing 135 bhp at 5,000 rpm. Almost as important, they provided the support for Jean Bugatti's exceptional bodies which were elegant, with balanced proportions and daring colors.
Later, the chassis was definitively upgraded into the lower Type 57S or Surbaissé version. The main chassis rails of this model were elegant and complex. Towards the center of car, the chassis rails became wider and taller to provide the necessary rigidity. At the rear, the axle passed through the chassis and was supported by reversed quarter-elliptic leaf springs. This allowed for the lowest possible ride height while retaining suspension compliance. Furthermore, the engine clearance dictated a dry-sump lubrication was needed that used a 20-liter external reservoir.
Outwardly, the Type 57S chassis was distinguished by its ovoid radiator that formed a deep vee. Other chassis details included self-adjusting DeRam hydraulic shock absorbers on both the front and rear axles. Furthermore, the engine was not a stressed member of the chassis anymore, instead being mounted with rubber bushings.
As the ultimate Atalante, the Type 57SC had both this lower chassis and supercharged engine. It was distinguished by its 4–5 psi supercharger that helped the 3.3-liter engine produce 170 bhp. This Roots unit was mounted at the rear of the engine and driven directly from the camshaft. Versions of this engine went on to win the best races including the 24 Hours of Le Mans.
With such a capable chassis, the Type 57SC has been described as the world's first supercar. Combined with an elegant body from Carroserie Bugatti, VanVooren, Gangloff or Figoni et Falaschi and you have a winning combo. Many cars were later retrofitted with superchargers by the factory.
Sales & Chassis
57502-With Engine number 26S, this un-supercharged car was first delivered to Bugatti Owners' Club President and LeMans racer Lord Earl Howe on May 5th 1937. It was painted blue and black with pigskin interior, a split bumper and twin spotlights. However, How fitted fill width bumpers, rear view mirrors and a rear luggage rack not long after. Registered DYK 5 It was displayed this way at the Eastbourne Concours d'Elegance on July 20th, 1937. Before an accident in 1945, it was found parked at various British events alongside Lord Howe's other cars. Following an accident it was replaced in 1945. It swap ownership several times and was fitted with K200 supercharger and modified manifolding until Dr Harold Carr purchased the car and preserved in original condition. It remained out of sight until 2007. After the doctor's death it was sold at Bonhams 2009 Retromobile Auction for €3,417,500 inclusive of buyer's premium. The car was described as having a "continuous and chronicled history; and it has exceptional originality retaining original chassis, engine, drivetrain and body. It even has what appears to be a remarkably low mileage with an odometer reading of just 26,284."
57511 – First ordered by Robert Eonnet on November 4, 1936, the car was delivered on February 25, 1937 in two-tone Blue with pigskin and beige cloth interior. It was upgraded to Type 57SC specification sometime by the factory in the 1950s. It eventually was owned by US Navy doctor Charles S. Hascall who brought it to America and had it painted a Rolls-Royce color scheme known as smoke and sage. Later it was purchased by Dr. Peter & Susan Williamson for inclusion into one of America's great Bugatti collections. Upon Peter's death, the car was offered at Gooding & Company's 2008 Pebble beach Auction with proceeds benefiting the Dartmouth-Hitchcock Medical Center.
57551 – With engine number 30S, this car was completed on July 23, 1937 with an Atalante body finished in black with pigskin upholstery. The body configuration, with its low headlight placement between the radiator and front fenders, was identical to the October 1937 Paris show car. It was delivered by the factory just a week later to its first owner, Jean Lévy of Strasbourg. It went through a number of owners including, in order, Maurice Weber, French artist André Derain, Jean-Louis Fatio, Colin Doane in the U.S. then the famous William Harrah for the Harrah's Collection. He commissioned a full restoration by O.A. "Bunny" Phillips including colors of Patrol Cream and Lemon Oxide. Afterward it immediately won Best of Show at the 1976 Pebble Beach Concours. Described as "attractive, desirable and best-performing of all Bugatti road cars" RM Auctions offered this car at their 2009 Arizona sale and fetched a nosale bid of 4.4 million.
Pictures & Gallery
See full 1936 Bugatti Type 57S Atalante Gallery here
Specs & Performance
| | |
| --- | --- |
| | |
| type | Series Production Car |
| production years | 1936 – 1938 |
| built at | Molsheim, Alsace, France |
| body stylist | Jean Bugatti |
| coachbuilder | Carrosserie Bugatti |
| engineers | Jean Bugatti |
| production | 11 |
| predecessor | 1936 Bugatti Type 57SC Atlantic |
| engine | Inline-8 |
| position | Front Longitudinal |
| aspiration | Roots-Type Supercharger |
| block material | Cast Iron |
| valvetrain | DOHC, 2 Valves / Cyl |
| fuel feed | Stromberg Carburetor |
| displacement | 3257 cc / 198.8 in³ |
| bore | 72 mm / 2.83 in |
| stroke | 100 mm / 3.94 in |
| power | 156.6 kw / 210 bhp @ 5500 rpm |
| specific output | 64.48 bhp per litre |
| bhp/weight | 135.48 bhp per tonne |
| body / frame | Steel over Steel Frame |
| driven wheels | Front Engine / RWD |
| front brakes | Hydraulic Drums |
| rear brakes | Hydraulic Drums |
| front wheels | F 45.7 x 14.0 cm / 18.0 x 5.5 in |
| rear wheels | R 45.7 x 14.0 cm / 18.0 x 5.5 in |
| f suspension | Beam Axle w/Semi-Elliptic Leaf springs, De Rams Shock Absorbers |
| r suspension | Live Axle w/Reversed Quarter-Elliptic Leaf springs, De Rams Shock Absorbers |
| curb weight | 1550 kg / 3418 lbs |
| wheelbase | 2980 mm / 117.3 in |
| front track | 1350 mm / 53.1 in |
| rear track | 1350 mm / 53.1 in |
| length | 4600 mm / 181.1 in |
| width | 1760 mm / 69.3 in |
| height | 1380 mm / 54.3 in |
| transmission | 4-Speed Manual |
| top speed | ~210 kph / 130.5 mph |
| 0 – 60 mph | ~10.0 seconds |
Auction Sales History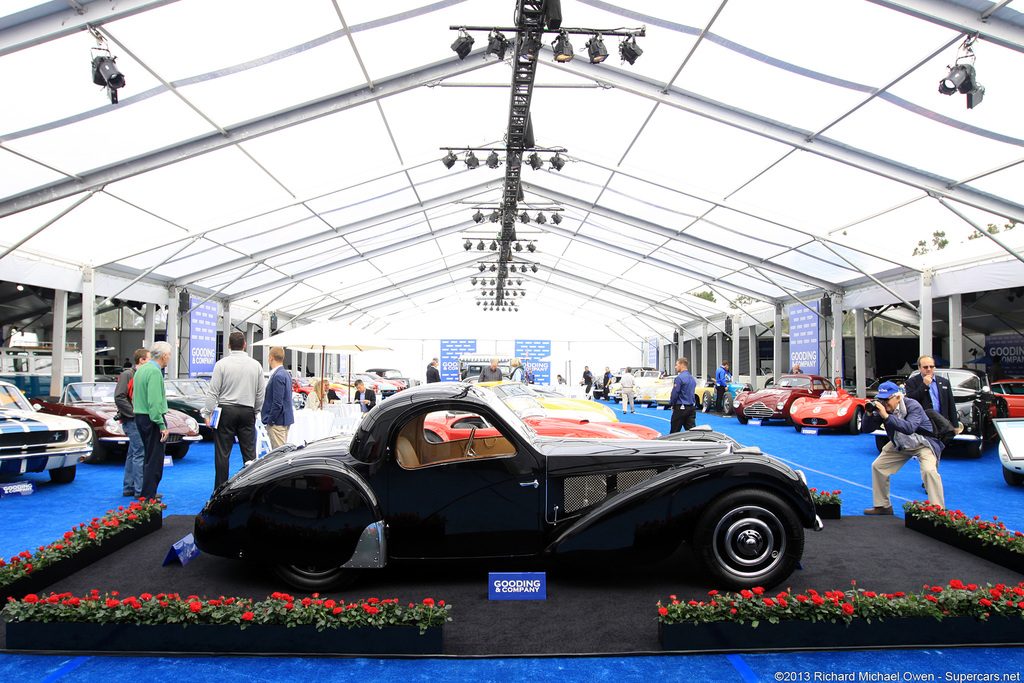 1937 Bugatti Type 57SC Atalante 57523 – sold for $8,745,000
An Undisputed Masterpiece of Automotive Art. Radically Beautiful Jean Bugatti Design. Competition Derived Surbaissé Chassis with Factory Supercharger. Participated in the Inaugural International Bugatti Meeting. Extremely Authentic Example with Original Chassis, Engine, and Coachwork. Outstanding, Unbroken Provenance. Exceptional Restoration to the Highest Standards. Awarded First in Class and the French Cup at Pebble Beach. Faithfully Presented in Original Black Livery. A Prime Candidate for the World's Best Concours and Tours. Documented by Bugatti Historian Julius Kruta.
Auction Source: Gooding & Company's 10th Anniversary 2013 Pebble Beach Auction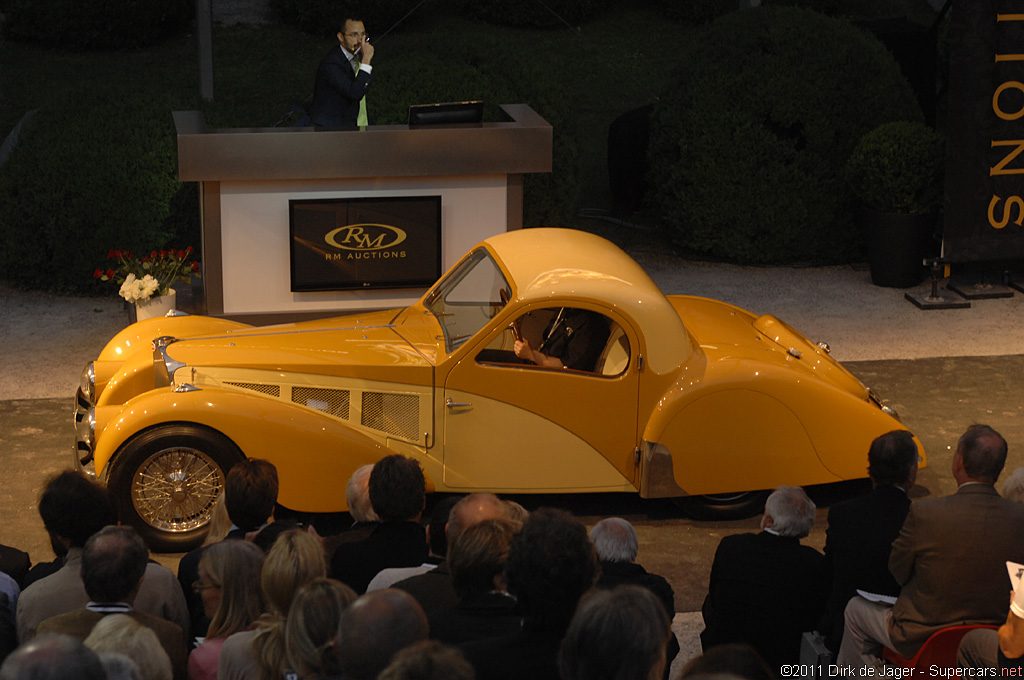 1937 Bugatti Type 57SC Atalante Coupé 57551 – did not sell for €2,100,000 One of just over 40 Type 57S chassis built and one of only 17 Atalante Coupés. Fascinating history; long-term ownership and restoration within Harrah Collection. Best of Show, 26th Pebble Beach Concours d'Elegance (1976). Fastidiously maintained within noted collection. Documented by marque expert David Sewell.
Auction Source: RM 2011 Villa d'Este Auction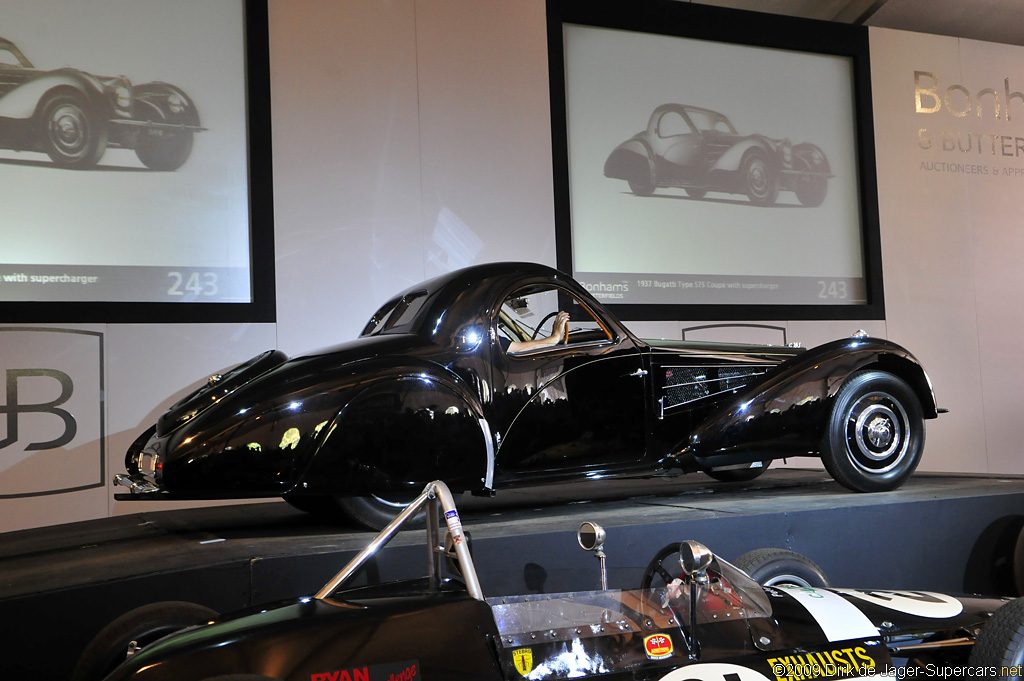 1937 Bugatti Type 57S Gangloff Coupé 57532 – did not sell for $5,200,000
Auction Source: 2009 Bonhams Exceptional Motorcars at Quail Lodge Resort
Bugatti Type 57S Atalante 57502 – sold for €3,417,500 Continuous and chronicled history; and it has exceptional originality retaining original chassis, engine, drivetrain and body. It even has what appears to be a remarkably low mileage with an odometer reading of just 26,284
Auction Source: 2009 Retromobile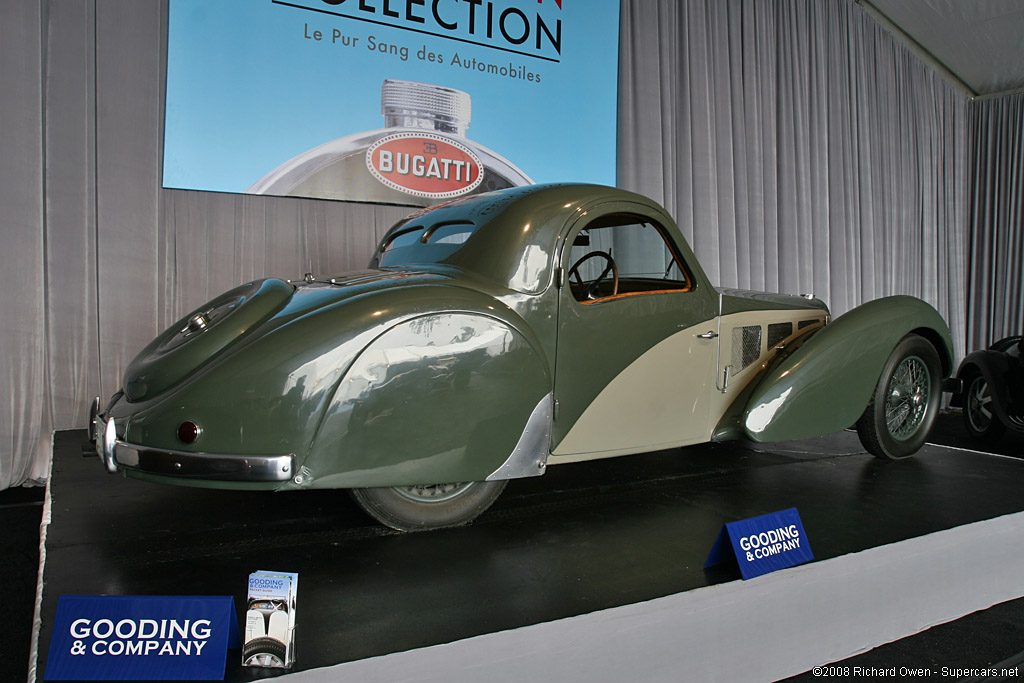 1937 Bugatti Type 57SC Atalante Coupe – sold for $7,920,000 One of the world's finest, best preserved, and most distinctive Bugattis, this car exhibits precisely the qualities that one hopes to find in an automobile – inspired styling combined with superior engineering, quality craftsmanship and effortless drivability. In a time when much is made of cars as art, this is a masterpiece
Auction Source: 2008 Monterey Preview