1950→1951 Aston Martin DB2 'Team Car'
After the success of Aston Martin's DB2 prototypes at the 1949 Le Mans, some of the first production DB2s were converted into racecars by the factory. Called 'Team Cars', they were lightened and had a higher state of tune. Winning events like the Mille Miglia and Le Mans, they were quite successful too.
In 1950 three of the very first DB2s were prepared for the 24 of Le Mans. Licensed VMF 63, VMF 64 and VMF 65, these featured the three-part front grille and numerous other details from early production. John Wyer was hired by David Brown and began his career as a successful race manager with the DB2. He hired drivers like Eric Thompson and Jack Fairman. The latter did extensive testing at MIRA. He describes the scene "There was a tremendous amount of intensive testing done, and it was a good introduction to John Wyer's meticulous methods which made Astons so successful later on."¹
Raced by George Abecassis and Lance Macklin, VMF 64 placed fifth overall at Le Mans. At an average speed of 87.26 mph it took the class victory ahead of the Delage D6-3L. For the rest of the season the cars were used at events like Silverstone, the Ulster TT and the Shelsey Walsh Hillclimb. Meanwhile back at the factory, preparations were underway to officially launch the DB2 at the London Motor Show in October.
In 1951, the factory team cars were sent back to the experimental department and upgraded by Robert Eberan-Eberhorst. Due to lack of time, the all-new DB3 couldn't be fabricated, so instead the DB2s were put through extensive modifications including the 1951 aluminum grill. "Appropriate steps were taken within the framework of the regulations to jettison unnecessary weight. The bonnet was given one of the new light alloy radiator grilles, the interior trim and head lining were removed and very light seats were installed."² Along with the three 1950 cars, two new cars were made (XMC76 & XMC77) that had lighter 18-gauge aluminum bodies and reputably weighed 450 lbs (200kg) lighter than the 1950 model.
The engine was upgraded to use a higher 8.16:1 compression ratio. Combined with a longer 3.27:1 rear axle, the DB2 was better suited for the Mulsanne straight.
At Le Mans, the already famous car, VMF 64, won its class again as driven by Lance Macklin and Eric Thompson. It placed third overall at an average speed of 90 mph. T.H. Wisdom piloted VMF 64 to another class victory at the Mille Miglia in the 2-liter production class. This was repeated the following year, placing 12th overall at an average speed of 71.8 mph. With these key victories, VMF 64 became one of the most successful Aston Martins.
For 1952 Aston Martin continued to race the lightweight cars and sold the remaining cars to private teams which continued on with the DB2. By 1953 the factory DB2 was replaced by the DB3 roadster.
In Detail
| | |
| --- | --- |
| submitted by | Richard Owen |
| type | Racing Car |
| production years | 1950 – 1951 |
| built at | Feltham, England |
| engineers | Robert Eberan-Eberhorst |
| production | 5 |
| engine | Inline-6 |
| position | Front Longitudinal |
| aspiration | Natural |
| valvetrain | DOHC 2, Valves / Cyl |
| fuel feed | Twin SU Carburettors |
| displacement | 2580 cc / 157.44 in³ |
| bore | 78 mm / 3.1 in |
| stroke | 90 mm / 3.5 in |
| compression | 8.16:1 |
| body / frame | Aluminum Body over Tubular Steel Spaceframe |
| driven wheels | RWD |
| front brakes | Ferodo and Wellworthy Drums |
| rear brakes | Ferodo and Wellworthy Drums |
| transmission | 6-Speed Manual |
| key drivers | Jack Fairman, Eric Thompson, Reg Parnell, George Abecassis |
| class victories | 1950 Le Mans, 1951 Le Mans, 1951 Mille Miglia |
Chassis & Sales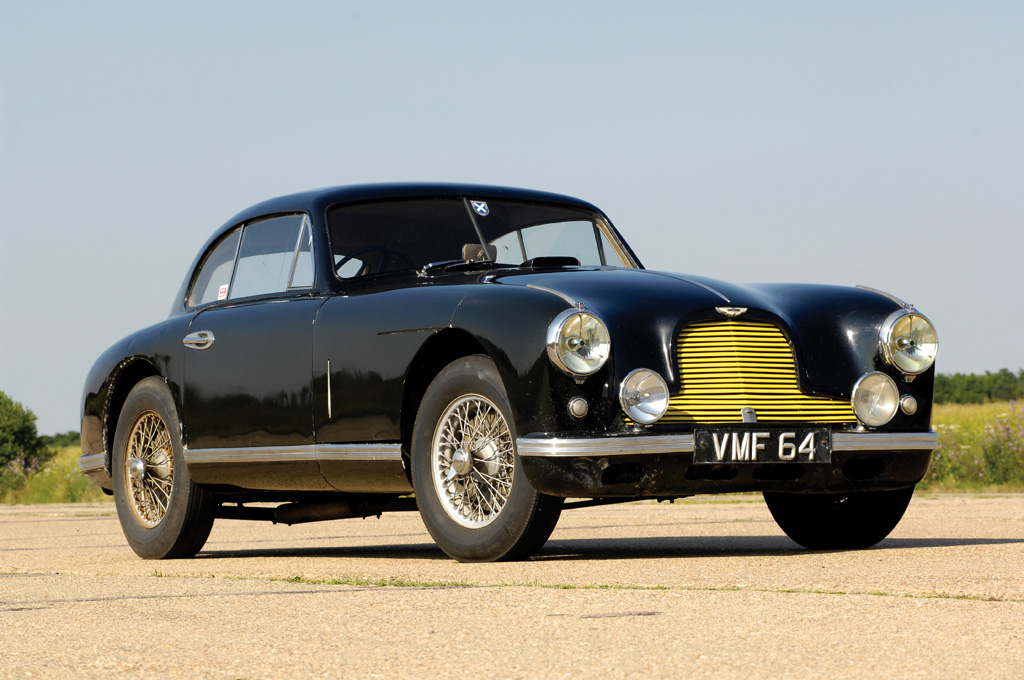 LML/50/8 (VMF64)-The most successful of all DB2s, this car won its class at Le Mans twice and once at the 1951 Mille Miglia. It first raced the 1950 Le Mans with George Abecassis and Lance Macklin. It was used for a couple more races that year then upgraded to lightweight specification with a lighter interior. It went on the race the Mille Miglia and Le Mans in 1952 before effectively retiring as a display at the Earl's Court Show. Afterwards, David Brown again used VMF64 until negotiating a sale with Gerald Lascelles. He kept the car in exceptionally original condition over a continuous 52 year ownership. At their 2009 Automobiles of London sale, RM Auctions sold VMF64 for £550,000 ($900,000 USD). RM Auctions was "proud to have been selected to market what is generally considered to be the most significant and original early Aston Martin Team car."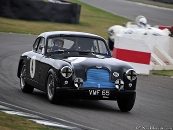 LML/50/9 (VMF 65)-Prepared for the 1950 24 Hours of Le Mans to be driven by Eric Thompson and Jack Fairman. En route to the event, Jack Fairman overturned the car and it was returned back to the factory for repairs. It was therefore first raced at the 'Daily Express' One-Hour Production Car Race at the BRDC International Trophy meeting, Silverstone, on August 26. Later that year finished fifth overall at the the RAC Tourist Trophy . Afterward, it was used as a press car and featured in the 'The Autocar' magazine of September 17, 1950 and 'Autosport' magazine issue of March 2, 1951. Mr R.R.C. 'Rob' Walker bought VMF 65 for 1951 season including events like the the British Empire Trophy race at Douglas, Isle of Man, the Speed Trials at Ramsgate, Brighton, Goodwood, RAC TT at Dundrod and Snetterton which was won outright by Eric Thompson.
In 1955 the car was effectively retired and sold to Rob Walker, then Nigel Mann who loaned it to the Le Mans museum until 1979. Eric Thompson again acquired the car and ran it at the Dubai historic race in 1981 and 1987 Mille Miglia retro. He sold the car at Brooks Goodwood Sale in 1998. In 2010 the car was again offered by Bonhams' Aston Martin and Related Automobilia sale with an Estimate of £380,000 – 440,000. The described the car as "Condition is generally good. There are a few cosmetic issues around front and rear screens and some minor dents reflecting its continuing use as a road racing warrior. The car's interior is stripped for racing with roll-over bar, plumbed-in OMP extinguisher system, two bucket seats with safety harnesses etc, but it still retains its original wooden dash and switchgear."
References & Further Reading
1. Nixon, Chris. 'Together Again'. Classic & Sportscar. November 1987.
2. Wilkins, Gordon. 'A Car with a Career'. Autocar. July 1951.
Auction Sales History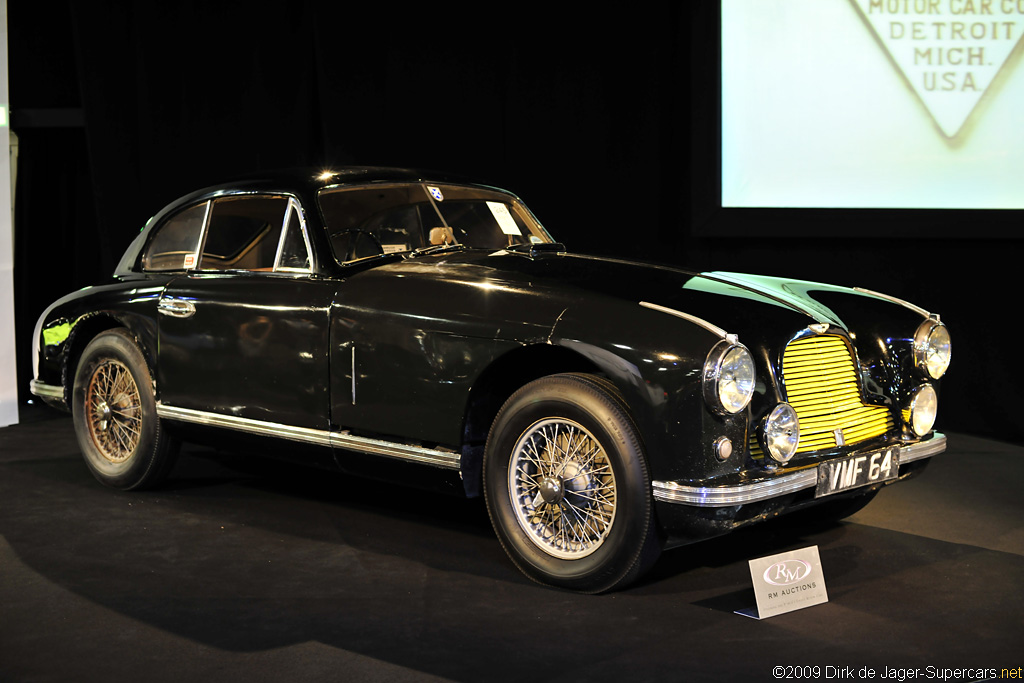 1950 Aston Martin DB2 Team Car LML/50/8 –
In early 1957, after its 1953 conversion to "fast road specification" for David Brown, he sold VMF 64 to his personal friend, the Honourable Gerald Lascelles, the first cousin to the Queen who later served as President of the British Racing Driving Club (BRDC) for a 27 year term. Gerald Lascelles was very fond of this Aston and revisited its racing history when he contested Mille Miglia Storica events in the 1980s with Prince Michael of Kent. When he retired to France, VMF 64 was entrusted to his son Henry who has sympathetically maintained it as it was originally sold to his father in 1957, while participating in occasional road rallies such as the Ec
Auction Source: 2009 RM Auctions' Automobiles of London