1950→1951 Porsche 356 'Split-Window' Cabriolet
After producing the first German 356, a 'Split-Window' Coupé, Porsche produced a Cabriolet shortly there after which was built by Karrosseriewerk Reutter.
Initial prodcutione output exceeded 30 cars a month with both Coupé and Cabriolet bodies. Both were loosely based off their equivalents made in Gmünd, Austria but had bodied made in steel instead of aluminum.
The engine was the same VW 1086cc that employed a Porsche cylinder head, the same design that was used on the last few Gmünd cars. Bodies were all sourced from Reutter except some cabriolets which were sent to Glässer when demand was great than Reutter could handle. By November of 1950 80 cars were being made per month.
At the Frankfurt motor show in 1951 a suite of upgrades was announced including Lockheed discs and a 1.3-liter engine. This used larger bore, finned aluminum cylinders with chromed cylinders from Mahle. The engine had lower compression for pump fuel and could still produce 4 additional bhp.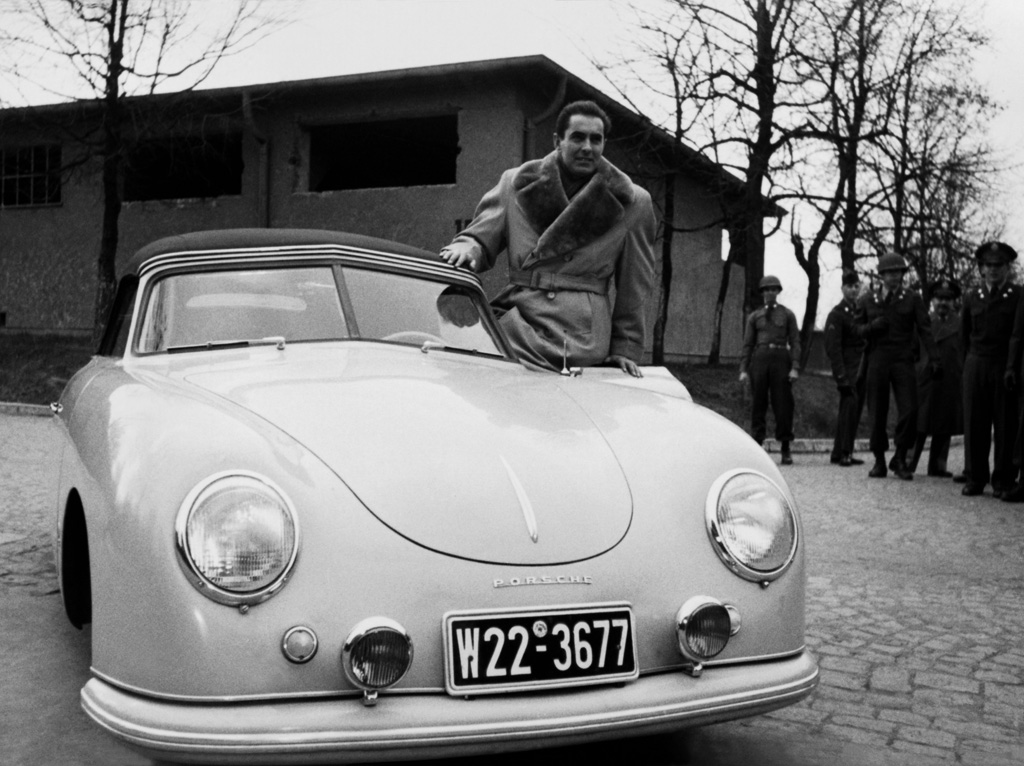 Most of the 356 production was eventually sold to Max Hoffman who was the sole importer for America and had a dealership on Park Avenue in New York City. After racing three aluminum-bodied Gmünd Coupés at the 1951 24 Hours of Le Mans the 356 appeal grew.
Before the 1952 year, Porsche and Reutter improved the car with a one-piece bent windshield, Not too long afterward in mid-1952 the bumpers were repositioned at the request of Max Hoffman. By the end of the year the seminal 1500 engine was released with Hirth-sourced crankshafts and connecting rods which became known for their rolling bearing big-ends.
In Detail
| | |
| --- | --- |
| submitted by | Richard Owen |
| type | Series Production Car |
| production years | 1950 – 1951 |
| built at | Stuttgart, Germany |
| body stylist | Erwin Komenda |
| coachbuilder | Karrosseriewerk Reutter |
| price $ | $ 2,000 |
| engine | Type 369 VW Air Cooled Flat-4 w/Porsche Cylinder Head |
| position | Rear, Longituinal |
| aspiration | Natural |
| valvetrain | Pushrod OHV |
| fuel feed | Dual Solex 26 VFJ Downdraft |
| displacement | 1086 cc / 66.27 in³ |
| stroke | 64 mm / 2.5 in |
| compression | 7.00:1 |
| power | 29.8 kw / 40 bhp @ 4200 rpm |
| specific output | 36.83 bhp per litre |
| bhp/weight | 50.38 bhp per tonne |
| body / frame | Steel Body over Steel Tub Chassus |
| driven wheels | RWD |
| wheel type | Steel Discs |
| front tires | 5.00-16 |
| rear tires | 5.00-16 |
| steering | VW Worm & Nut |
| f suspension | VW Parallel Trailing Arms, Tubular Dampers |
| r suspension | VW Leading Arms w/Torsion Bars, Hydraulic Lever-Arm Shock Absorbers |
| curb weight | 794 kg / 1750 lbs |
| wheelbase | 2101 mm / 82.7 in |
| front track | 1290 mm / 50.8 in |
| rear track | 1250 mm / 49.2 in |
| length | 3950 mm / 155.5 in |
| transmission | VW 4-Speed Manual |
| top speed | ~160 kph / 99.4 mph |
| 0 – 60 mph | ~13.9 seconds |
| 0 – 1/4 mile | ~19.2 seconds |