Ferrari 212 Inter
Alongside his successful competition cars, Enzo Ferrari sold detuned race cars for road-going clientele and the 212 Inter was a classic example. It replaced the very similar type 166 Inter, and its racecar brother, the 212 Export, wasn't that far ahead. When there was a short supply of Ferraris, the road-going Inters served double-time and became race cars. One such outing included the 1950 Carrera Panamericana were two Inters placed 1-2 and put Ferrari on the map in America.
While the Inter and Export model frequently intermingled, there was one fundamental difference: The 212 Inter was a longer car, built to accept more accommodating and comfortable bodies. Its 2,600mm wheel base was unlike the Export model which had a wheelbase of only 2,250mm for racing on tight circuits. Both versions, however, had the same engineering characteristics, including a twin oval tube frame, independent front suspension, drum brakes and a potent V12 engine.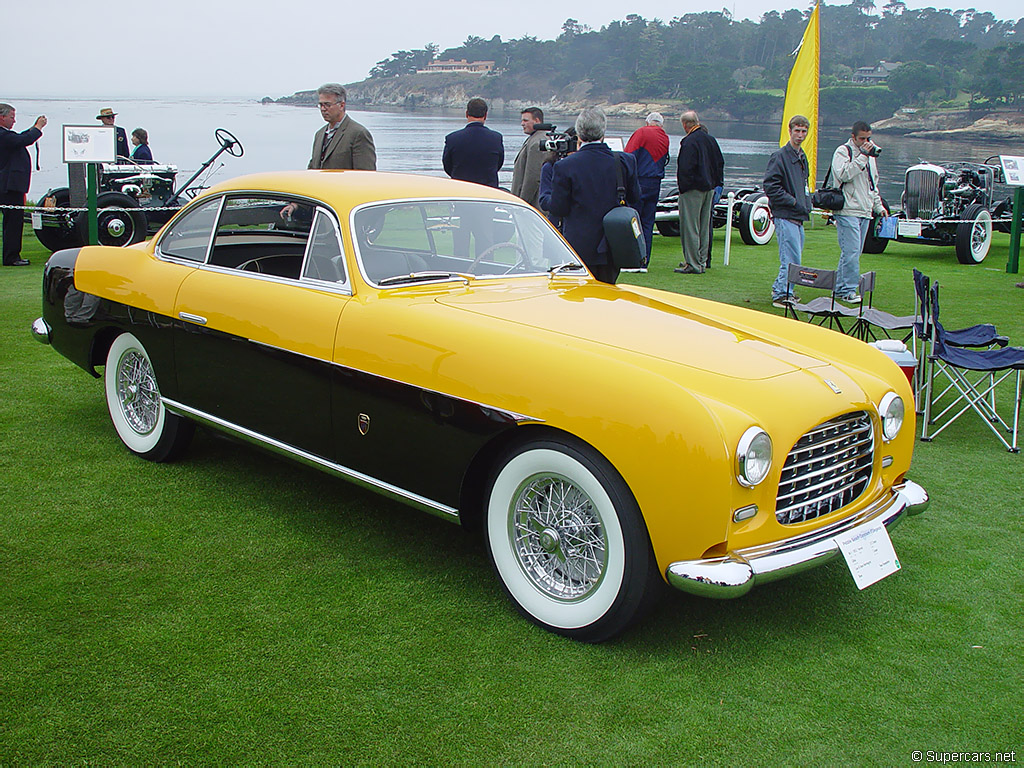 What makes the 212 Inter series so interesting are the individual differences between cars. Each was specially ordered by a customer, and every detail, from the body to the engine, had a large number of options. For instance, some cars featured well appointed interiors with finely decorated bodies, while others were frequently sent back to factory to receive competition-spec upgrades.
Like all of the early Ferraris, each 212 was unique, and, especially with regard to bodies, no two were the same. Many companies bodied the 212, and each in different ways, so it is hard to cover them all. Vignale was responsible for a bulk of the bodies, but the remaining 42 cars featured work from Touring, Abbot, Ghia and one very special Pinin Farina Cabriolet. This Cabrio, built on chassis 0147E or 0177E, was the first car to connect Pinin Farina with Ferrari and it helped establish the strong relationship that still exists between the companies today.
After the production ceased at around 110 cars, the fastest road car in its day was replaced with the 250 Europa introduced in 1953.
In 1951 Ferrari sent two 212 Inters with four-seat Berlinetta bodywork by Vignale to that year's Carrera Panamericana. Run by Scuderia Guastalla, they competed against the American heavy metal. Piero Taruffi and Luigi Chinetti won the event outright in 0171EL. The other car was driven by Alberto Ascari who said the officials "were all convinced the Italian cars would be better on the mixed portions. but no-one believed our cars would also dominate on the endless, fast straights."1 This victory cemented the performance potential of Ferrari in America.
Pictures
See full 1950 Ferrari 212 Inter Gallery here
Specs & Performance
related cars
1948 Ferrari 166 Inter
1951 Ferrari 212 Export
submitted by
Richard Owen
type
Limited Production Car
engine
V12
valvetrain
SOHC 2 Valves / Cyl;
fuel feed
single Weber 36 DCF
displacement
2562 cc / 156.3 in³
bore
68 mm / 2.68 in
stroke
58.8 mm / 2.31 in
compression
7.5:1
power
111.9 kw / 150 bhp @ 6500 rpm
specific output
58.55 bhp per litre
bhp/weight
150.0 bhp per tonne
driven wheels
Front Engine
front brakes
Hydraulic Drums
rear brakes
Hydraulic Drums
steering
Worm & Sector
curb weight
1000 kg / 2205 lbs
wheelbase
2600 mm / 102.4 in
front track
1270 mm / 50.0 in
rear track
1250 mm / 49.2 in
transmission
5-Speed Manual
top speed
~180 kph / 111.8 mph
race victories
1951 Carrera Panamericana
Auction Sales History
1953 Ferrari 212 Inter Pinin Farina Coupe – did not sell for $1,050,000 Unique & Unrivaled Provenance. Extensive Public History And Documentation. One Of Approx. 78-84 212's Produced.One Of 14 Coupes Bodied By Pinin Farina. Leather Interior Thought To Be Original. Exterior Paint With Lovely Patina Also Considered Original. Auction Source: 'Rolling Sculpture' 2015 NYC by Keno Brothers

1951 Ferrari 212 Inter Cabriolet Vignale 0159E – sold for $2,200,000 2nd-in-class at the 2014 Pebble Beach Concours d'Elegance. Certified with Ferrari Classiche Red Book and Marcel Massini Report. Recent ownership for 39 years by noted collector Charles G. Renaud. Award winning two-year restoration completed in 2014. FIVA certified. 71,628 kilometers, which are believed to be original. October 2012 restoration by Sahli Karrosserie in Zurich to receive a new paint finish in the original color of Rosso Bordeaux. Auction Source: 2015 Quail Lodge Auction by Bonhams
1952 Ferrari 212 Inter Coupe Vignale 0257EU – sold for $1,787,500. A Spectacular Example of Italian Custom Coachwork. The First of Six Such Vignale- Bodied Coupes. Displayed at the 1954 San Remo Concours d'Elegance. Fascinating, Well-Documented Provenance. Exquisite Restoration to Original Appearance. Retains Original, Matching-Numbers Engine. FCA Platinum Award Winner at the 2013 Cavallino Classic. Displayed at the 2013 Pebble Beach Concours d'Elegance. Offered with Tool Roll, Owner's Manual, and Extensive Historical File. Documented by Ferrari Historian Marcel Massini. Auction Source: The Scottsdale Auctions by Gooding & Company
1951 Ferrari 212 Inter Touring Coupe 0143E – sold for $1,375,000. Used by Hawthorn for Practice at the 1953 Mille Miglia. Factory-Upgraded Triple Carburetor Arrangement. Elegant Touring Coachwork in Original Blue Livery. Tested in the September 1953 Issue of Motor Sport. Meticulously Researched Ownership History. Displayed at Cavallino, Pebble Beach and Amelia Island. Eligible for the Finest Automotive Events Including the Mille Miglia, Villa d'Este and Colorado Grand. Matching-Numbers and Ferrari Classiche Certified. Documented by Ferrari Historian Marcel Massini. Auction Source: The Amelia Island Auction 2012 by Gooding & Company
1953 Ferrari 212 Inter Coupe 0267EU – sold for $660,000. Owned by Ferrari enthusiast and FCA co-founder Larry Nicklin for over three decades. A matching-numbers example. Shown at 35th Turin Motor Show in 1953. One of 80 212 Inter Ferraris. Documented by Ferrari historian Marcel Massini.
The remarkable 212 Inter we have the pleasure of presenting at Amelia Island, chassis 0267 EU, was exhibited new at the 1953 Turin Motor Show, held in Parco Valentino, and is pictured on page 153 of Marcel Massini's book Ferrari by Vignale. Fitted with air intakes below the headlamps, it is a particularly striking design, from the Vignale-designed front end, over the low roof treatment and down to the subtle fins on the rear wings. Auction Source: 2011 Amelia Island Auction by RM Auctions
1953 Ferrari 212 Inter Vignale Coupe 0289EU – sold for $654,500. The last of six "Geneva Coupes" by Vignale. Today this 212 remains in excellent overall condition, finished in classic Rosso Rubino with tan hides. Vignale may be considered the most glamorous of the early Ferrari coachbuilders, and the Geneva coupes are among the most handsome of the Vignale designs. This lovely example was built to the rarest, most desirable specifications, has proven event history and will certainly be welcome at virtually any classic motoring event in the world. Auction Source: RM Auctions' 2010 Sports & Classics of Monterey
1952 Ferrari 212 Inter Vignale Coupe – sold for $804,500. As early Ferraris go, 0197 EL had a somewhat charmed life. Completed on June 15th 1952, it was delivered to a D. Signoret of Dignes, France. From there it found its way to the U.S. via Chinetti, and eventually to a James Floria in Connecticut. Floria put an ad in Road & Track in 1963, asking $3800 for the car, then painted in red. Its saviour was Ferrari historian Stan Nowak, who was the next owner and realized significance of early Ferraris. Still in remarkably original condition, the car passed to Anthony Bamford who removed the engine, and sold the car minus engine to Don Nelson, also from the U.K. in 1976.
Nelson's family owned a lucrative Volkswagen dealership, and his love for Ferraris began at an early age. He took in 0197 EL, had it completely restored, and installed a 250GT engine in place of the missing 212. In the 1990s, Nelson moved to Florida and later sold 0197 EL back to Bamford, who undertook a major restoration which was finished in time for the 2001 Concours d' Elegance of Bagatelle in Paris before moving once again back to the U.S. and its current owner. Auction Source: 2009 Bonhams Exceptional Motorcars at Quail Lodge Resort
Ferrari 212 Inter Vignale Coupe 0287EU – did not sell for €341,000. Mr. Schermerhorn subsequently purchased the car in 1999 and, as with all of his cars, has driven it sparingly ever since. Event appearances have included the MECC Show in Maastricht, Holland, the Uwe Meissner Modena Motorsport Track Days and Concours at the Nürburgring (2005) and, most recently, the XIV Sport et Collection event at the Circuit du Val de Vienne in France (June 2008), where it was on display with five other coach built cars in his collection. Finished in Rosso Rubino with a beige leather interior, 0287 EU represents a splendid execution of Vignale coachwork and the bespoke, one-off designs of Ferrari's earliest road going models. Auction Source: 2009 Leggenda e Passione
1953 Ferrari 212 Inter Coupe 0289EU – sold for $742,500. One of the most attractive of the Geneva coupes, this is the last Ferrari 212 Inter bodied by Carrozzeria Vignale. It is one of very few with all-alloy construction and left hand drive. It has the factory three carburetor setup with horsepower equaling the sports racers of the era.
Sold new to Alfred Momo in New York, it remained in the U.S. until 2002 when it was sold to an enthusiast in Japan. A small roster of American owners includes well-known Ferrari collectors and authorities such as Richard Merritt and Steve Barney (who ran it in the Mille Miglia Storica in 1986 with co-pilot Gerald Roush). In 1991 the car was invited for display on the lawn at Pebble Beach with a group of historic racing cars and was often seen at the Monterey Historic races in subsequent years. The 212 became very well-known on the West Coast, also participating in touring events such as the Colorado Grand and the Wine Country Classic.
After treating the Ferrari to a comprehensive restoration the Japanese owner ran the car in the Mille Miglia four times, each successfully with no mechanical problems whatsoever. A new grille was fabricated to accommodate a pair of flush-mounted, auxiliary driving lights (the original grille is to be supplied with the car). In addition, the front seats were replaced during the restoration, and the originals are also available.
Today this 212 remains in very presentable condition cosmetically, in classic Rosso Rubino with tan hides. The excellent mechanicals are highlighted by a recent service performed on the original engine as well as a completely overhauled gearbox. Vignale may be considered the most glamorous of the early Ferrari coachbuilders and the Geneva coupes among the most handsome of the Vignale designs. This lovely example was built to the rarest, most desirable specifications, has proven event history and would be welcomed at virtually any classic motoring event in the world. Auction Source: 2008 Monterey Preview