1950 Jaguar XK120 Open Two Seater
After making a lasting impression in the automotive world, Jaguar was forced to reconsider their XK120 in 1950 for larger scale production. To meet demands, Sir William Lyons had the car tooled for a steel body which would save costs and improve delivery times. Like the aluminum-bodied cars which were very hard to purchase, the production versions had had French curves, 120 mph performance and an easy price tag of £988.
Despite being made in steel, the XK120 lost none of its appeal or charm. It still used the same XK engine, which was the world's first affordable and mass-produced twin-cam unit, and had the sweeping body which was inspired by Italian sports cars and the streamlined styling of the French design houses.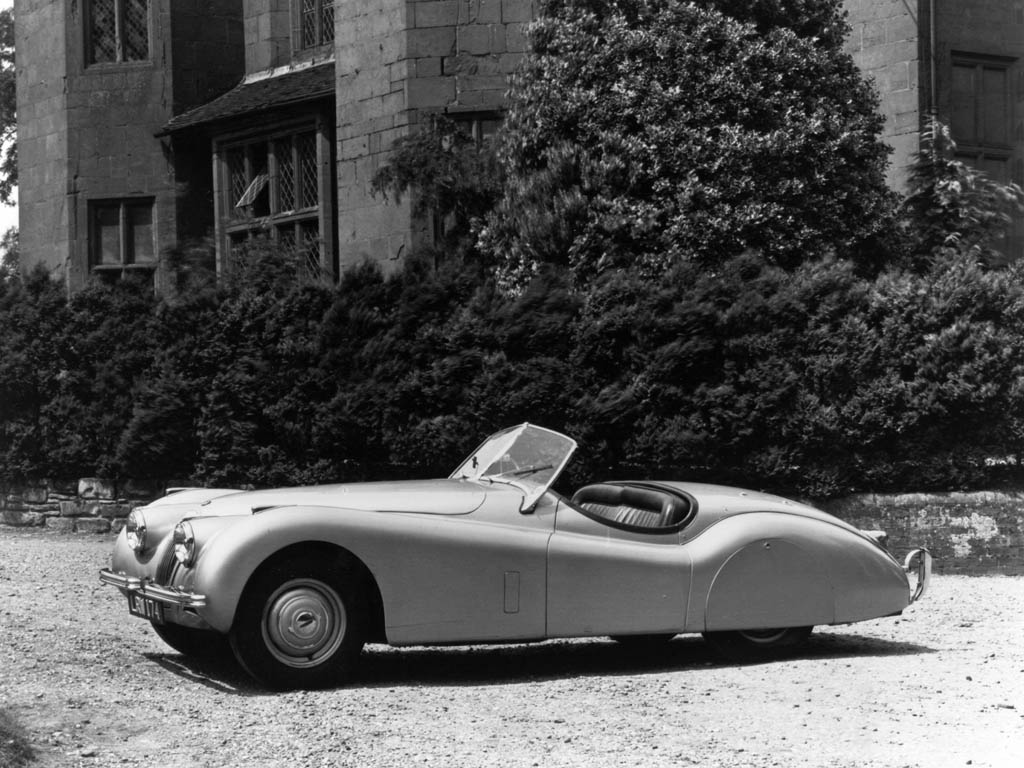 In 1950, Jaguar took necessary steps to move towards large-scale production enabling Jaguar to produce over 12 000 examples. In 1951, the range was extended with a Fixed Head Coupe which was followed up by a Drophead Coupe in 1953. The later had luxuriously crafted soft tops with burled wood veneer trim and rollup windows inside. Around 1,800 XK 120 Drophead Coupes were produced.
Before 1949, Jaguar only played a small role in motor sports, but after the debut of the XK120, everyone was interested to see how the cars would perform on the track. Jaguar was no doubt interested as well and some of the very first cars were prepared for Silverstone where they took both first and second place. The following year, three privately entered XK120s raced LeMans with impressive competitiveness.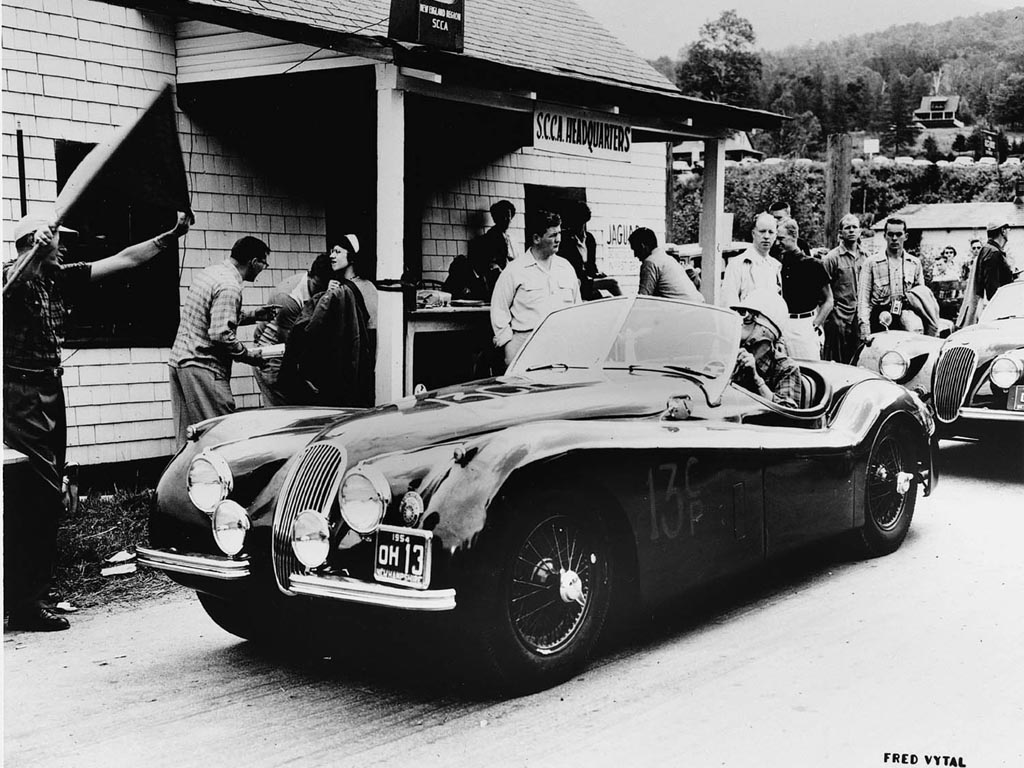 Success at Lemans encouraged Jaguar to build a specially designed XK120 which would lead the company into its most successful year. The XK120C (or C-Type) endurance racer used a tube frame chassis and streamlined body with the familiar XK120 drive train. This combination was quite successful and claimed Jaguar's first outright victory at Le Mans.
After Jaguar had won LeMans, and the XK120 debuted at the New York Auto show, Americans seriously started to consider British roadsters, propelling an entire industry of British sports cars made for export. Throughout the years, Jaguar nurtured this relationship with the updated XK140 and XK150.
Important Sales & Chassis
660449 – In 1951, This XK120 was prepared to support the new C-Type at the 1951 24 Hours of LeMans. While the C-Type won, privateers Bob Lawrie and Ivan Waller drove 660449 to 11th place overall, the XK120's highest placing at the race. In more recent times, 660449 has been subject to a complete restoration, which included upgrading most of the components to drive the car in vintage events. The restoration debuted at the 2002 LeMans classic. It will be offered for sale at Christies Auction at Retromobile.
LWK707 – Known for its unique registration plate, this XK120 Coupe ran the '7 days and 7 nights' endurance run at Montlhery with drivers Moss, Fairman, Hadley and Johnson. LWK707 ran for a full 7 days during which the car averaged just over 100mph. It remains in remarkably original condition to this day.
1950 Jaguar XK120 Open Two Seater Gallery
In Detail
| | |
| --- | --- |
| type | Series Production Car |
| built at | Coventry, England |
| engine | Cast Iron, Inline-6 |
| position | Front Longitudinal |
| aspiration | Natural |
| valvetrain | DOHC, 2 Valves per Cyl |
| fuel feed | Twin SU H6 Carburettors |
| displacement | 3442 cc / 210.0 in³ |
| bore | 83 mm / 3.27 in |
| stroke | 106 mm / 4.17 in |
| compression | 7.0:1 |
| power | 119.3 kw / 160.0 bhp @ 5000 rpm |
| specific output | 46.48 bhp per litre |
| torque | 264.38 nm / 195 ft lbs @ 2500 rpm |
| body / frame | Steel Body over Steel Frame |
| front tires | 6.00×16 |
| rear tires | 6.00×16 |
| front brakes | Girling Hydraulic Drums |
| rear brakes | Girling Hydraulic Drums |
| steering | Re-circulating Ball |
| f suspension | Double Wishbones w/Torsion Bar, Telescopic Shock Absorbers |
| r suspension | Live Axle w/Half Elliptic Springs, Girling Hydrualic Shock Absorbers |
| wheelbase | 2591 mm / 102 in |
| front track | 1295 mm / 51 in |
| rear track | 1270 mm / 50 in |
| length | 4394 mm / 173.0 in |
| width | 1562 mm / 61.5 in |
| height | 1245 mm / 49 in |
| transmission | 4-Speed Manual |
| top speed | ~214.0 kph / 133.0 mph |
| 0 – 60 mph | ~9.8 seconds |
| 0 – 100 mph | ~30.0 seconds |
Auction Sales History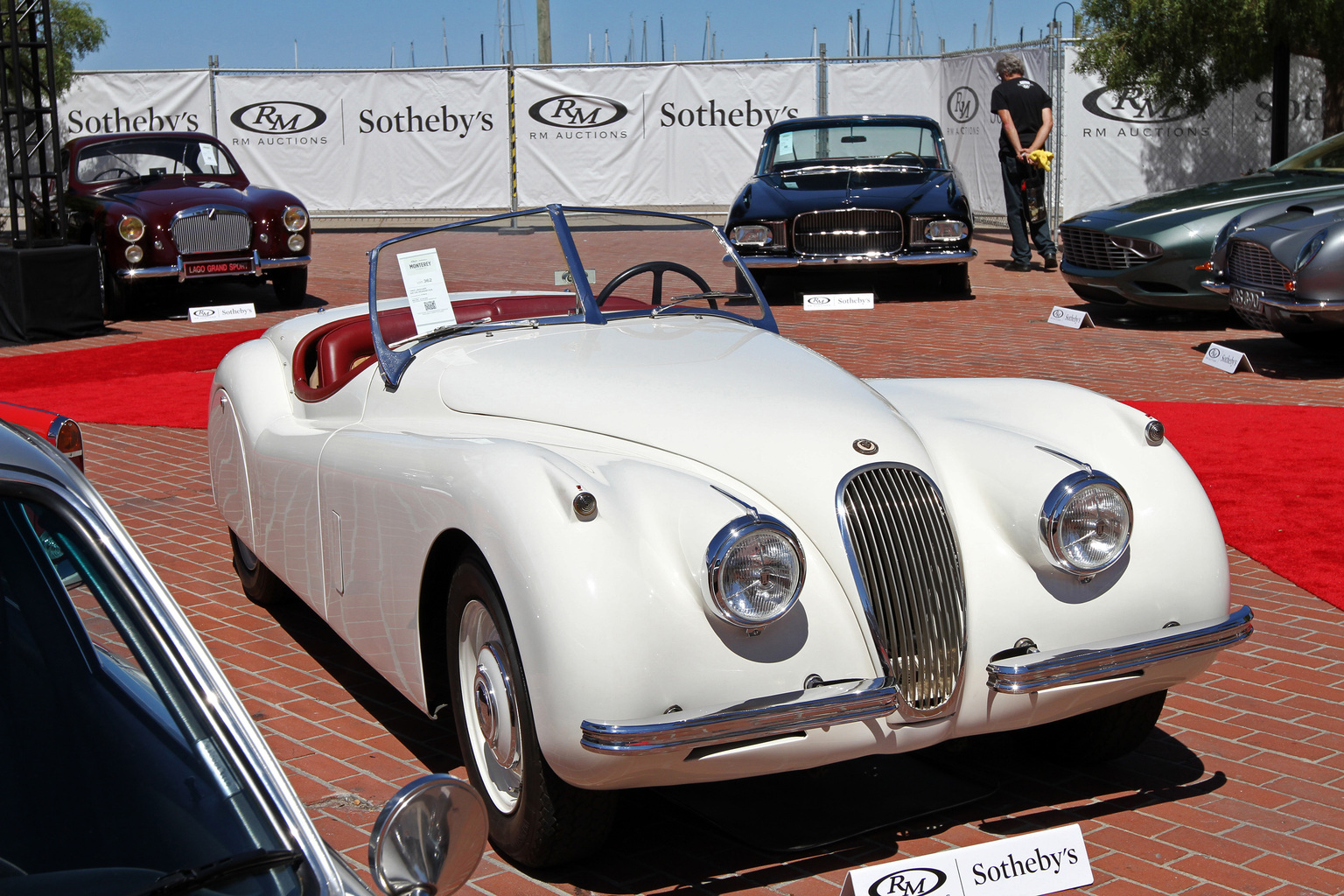 1953 Jaguar XK120 Roadster 673870 – sold for $93,500 Currently finished in Olde English White over Burgundy and Biscuit leather, a popular color combination for the XK120, this 1953 Roadster is said to be an excellent driver. According to documentation supplied with it, this XK120 resided in La Canada, California, under the ownership of Joan Marilyn Piddington, who placed the car in static storage in 1968. After being removed from storage in the late 1980s, it was sold from California and purchased by Bud Morrison, of Tempe, Arizona, who restored the car to its former glory in the early 1990s. Mr. Morrison kept the car for nearly 25 years, finally parting with the Jaguar in 2013. Auction Source: RM Sotheby's Monterey 2015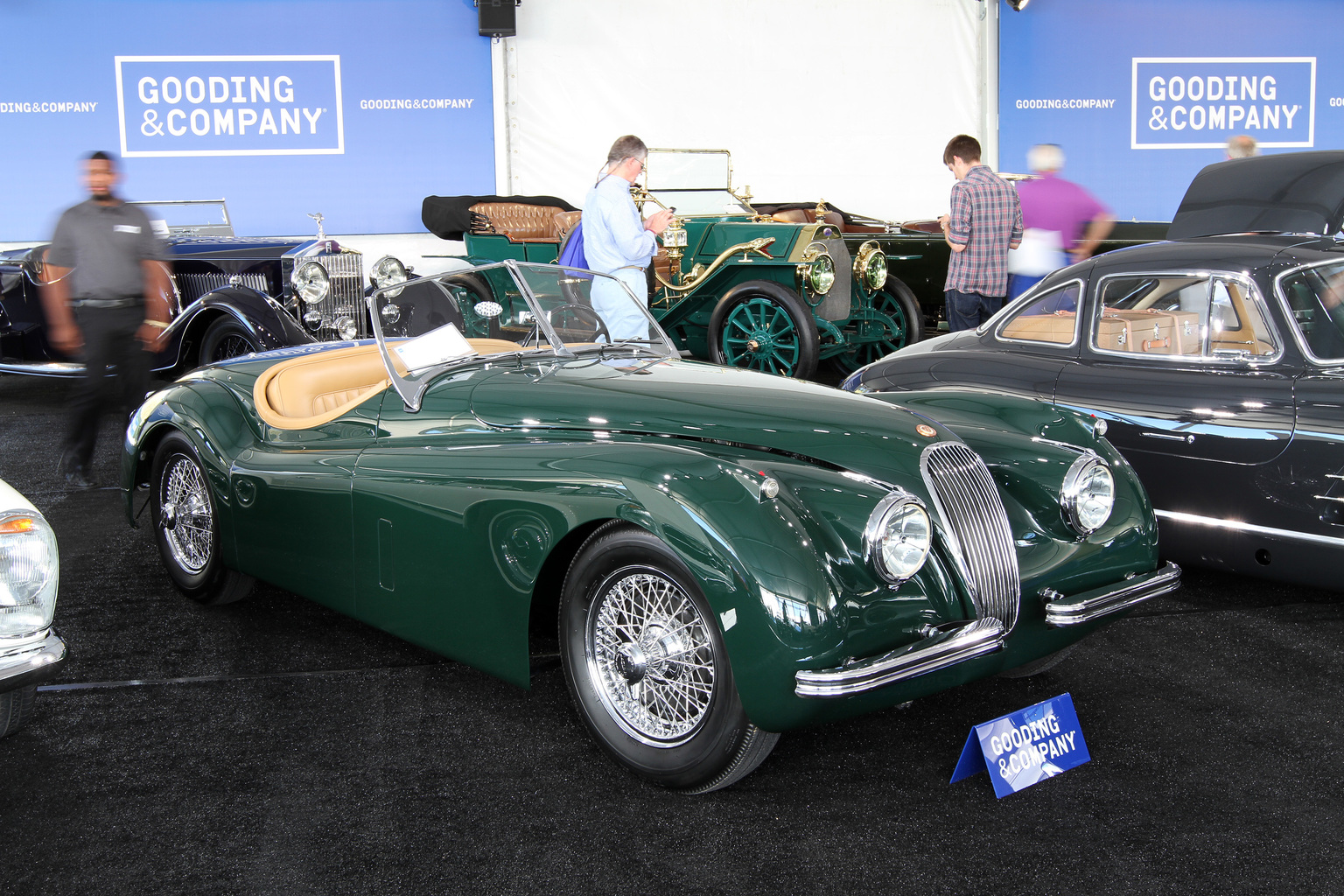 1954 Jaguar XK120 SE Roadster S674747 – sold for $220,000 British Racing Green with Tan Leather Interior and Chrome Wire Wheels. Offered from Long-Term Ownership in a Prominent Collection. Impressive Restoration and Presentation. Excellent Condition Mechanically.and Cosmetically. Detailed Maintenance Records Since 2004 Restoration. Auction Source: The Pebble Beach Auctions 2015 by Gooding and Company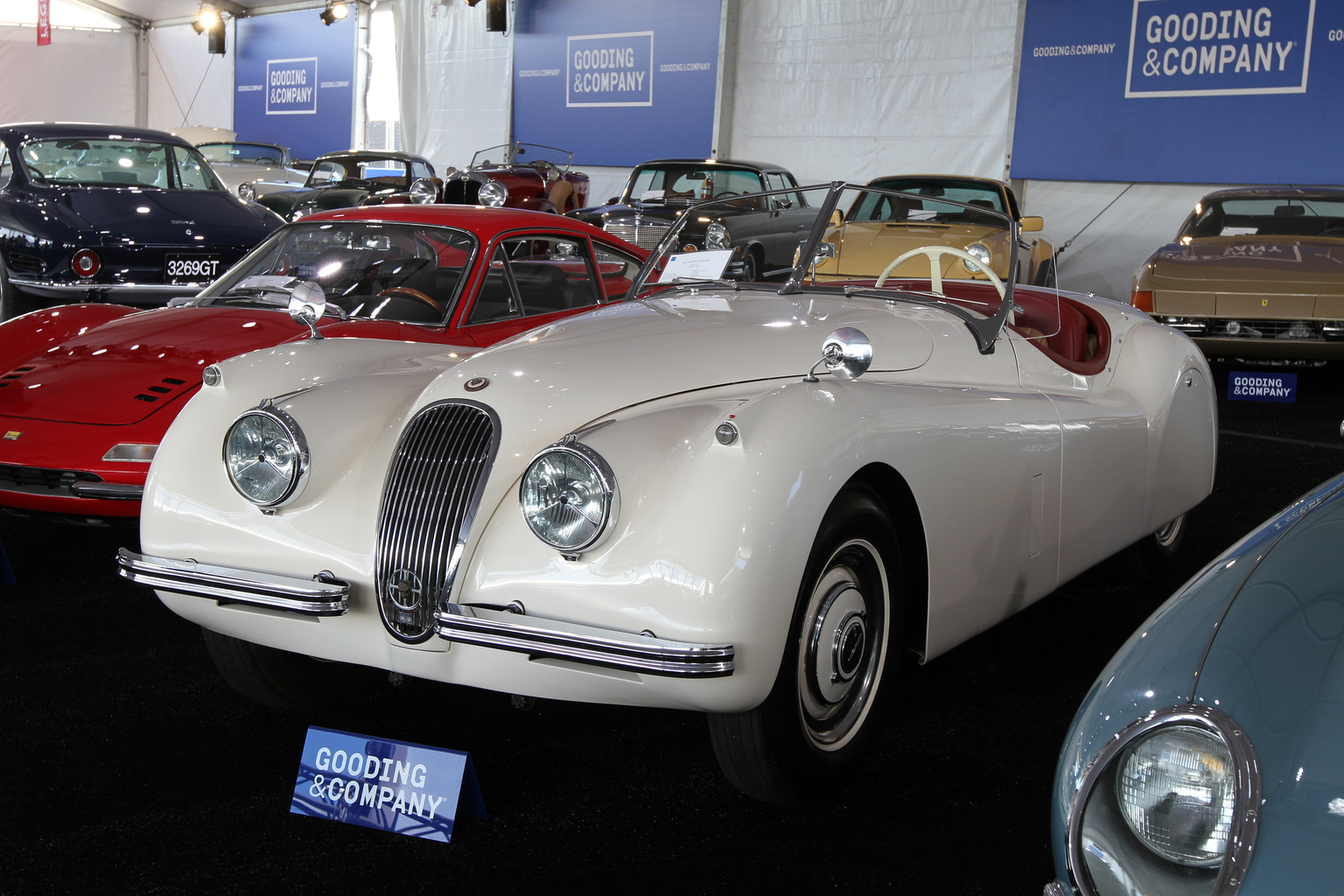 1954 Jaguar XK120 Roadster 674079 – sold for $165,000 Showing 64,089 miles. Single family ownership from 1958-2005. Expert restoration by Tom Palisi Sr. and Jr. Three JCNA National Championships. Overhauled recently by Vantage Motors in Stamford, Connecticut for $22,319. Auction Source: The Pebble Beach Auctions 2015 by Gooding and Company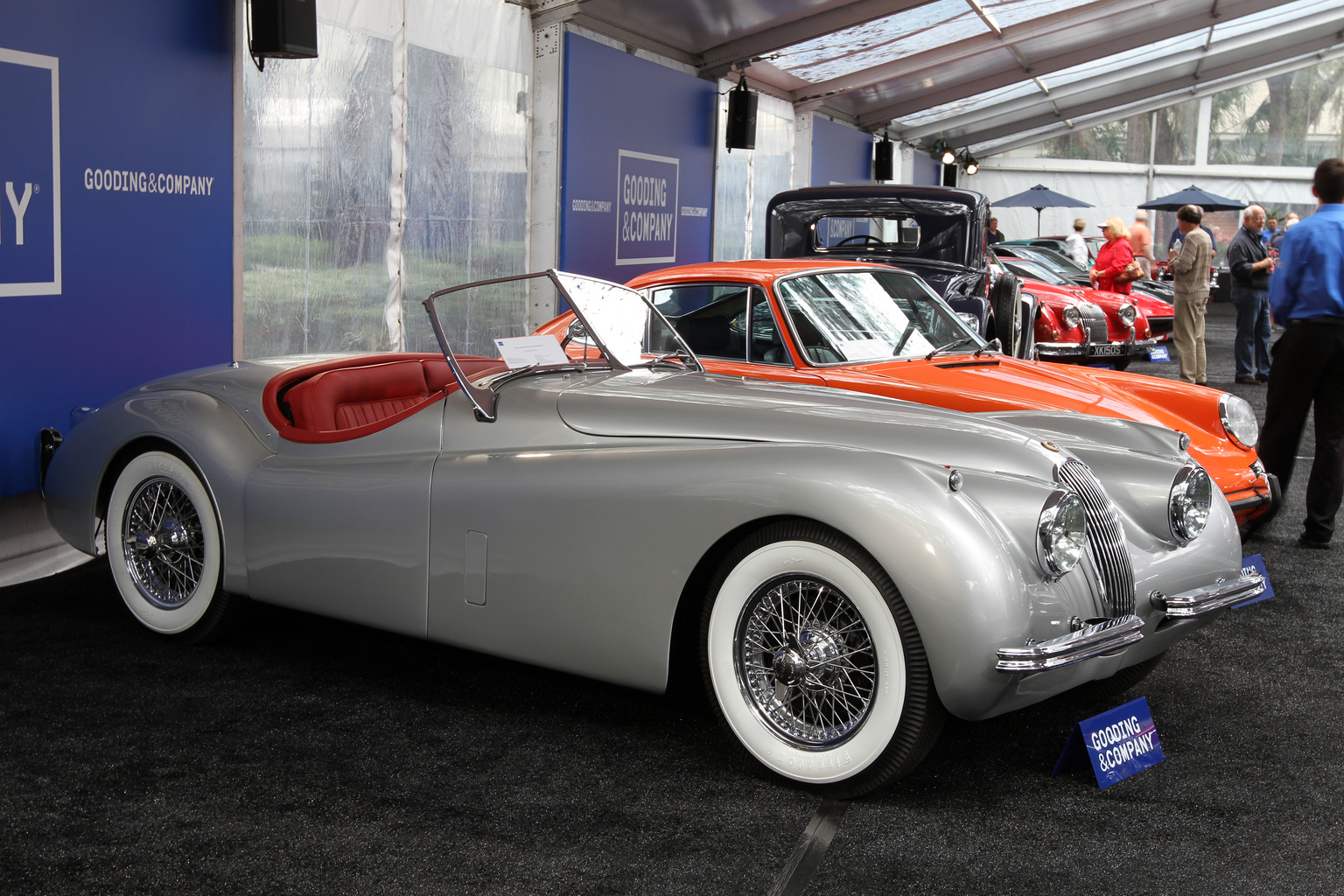 1954 Jaguar XK120 Roadster S675402 – sold for $165,000 Fresh Speedwell Engineering Restoration. Striking Color Combination and Beautiful Presentation. 2014 Hilton Head and JCNA Concours Award Winner. Unqualifed Sporting Icon in Top-Level "SE" Form. Complete with JDHT Certifcate, Tools, and Weather Gear. Auction Source: The 2015 Amelia Island Auction by Gooding & Company
1954 Jaguar XK120 Roadster 675239 – sold for $132,000 Body-Off Restoration Completed 2011. Multiple JCNA Regional Concours Winner. Striking Old English White and Red Leather. Final-Year Example of the Highly Influential XK120. Thoughtfully Upgraded for Enhanced Drivability. Auction Source: The Scottsdale Auctions 2015 by Gooding & Company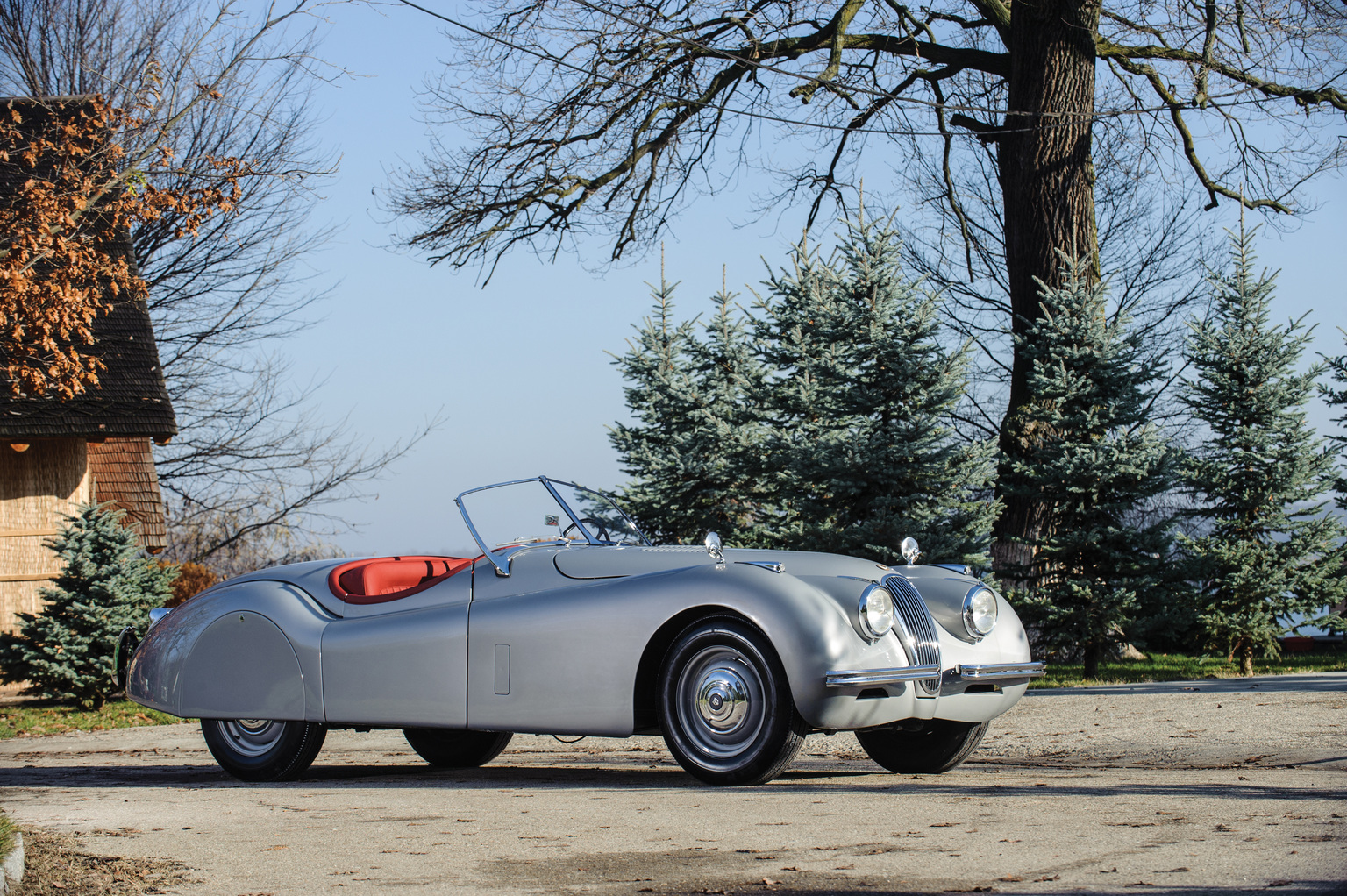 1951 Jaguar XK120 Roadster 671401 – sold for €67,200 The car offered here is finished in the iconic colour combination of Gunmetal Grey over a red leather interior, and it presents beautifully after a total restoration, with shining steel wheels, polished hubs, wing mirrors, rear wing "spats," and other desirable features. The paint and interior appear fresh and crisp, with beautiful, rich leather and dashboard finishes. Although the car is not powered by its original engine, the present engine is correct for the model. Auction Source: 2015 Paris by RM Auctions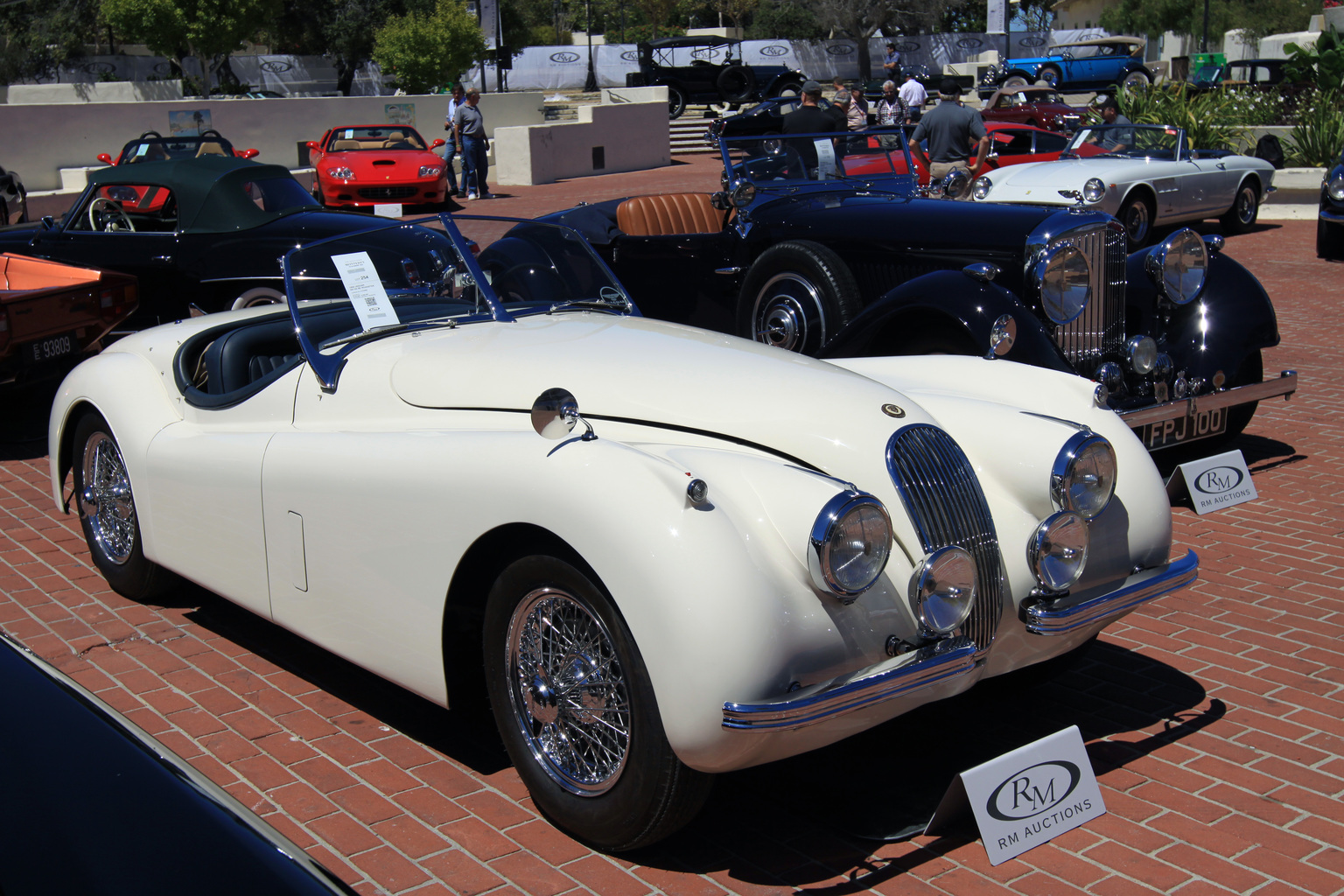 1954 Jaguar XK120 SE Roadster S675083 – sold for $121,000 Equipped with the desirable Special Equipment package. Recipient of a concours-level restoration to original specifications. Documented by a Jaguar-Daimler Heritage Trust Certificate. Matching-numbers example. Auction Source: 2014 Monterey by RM Auctions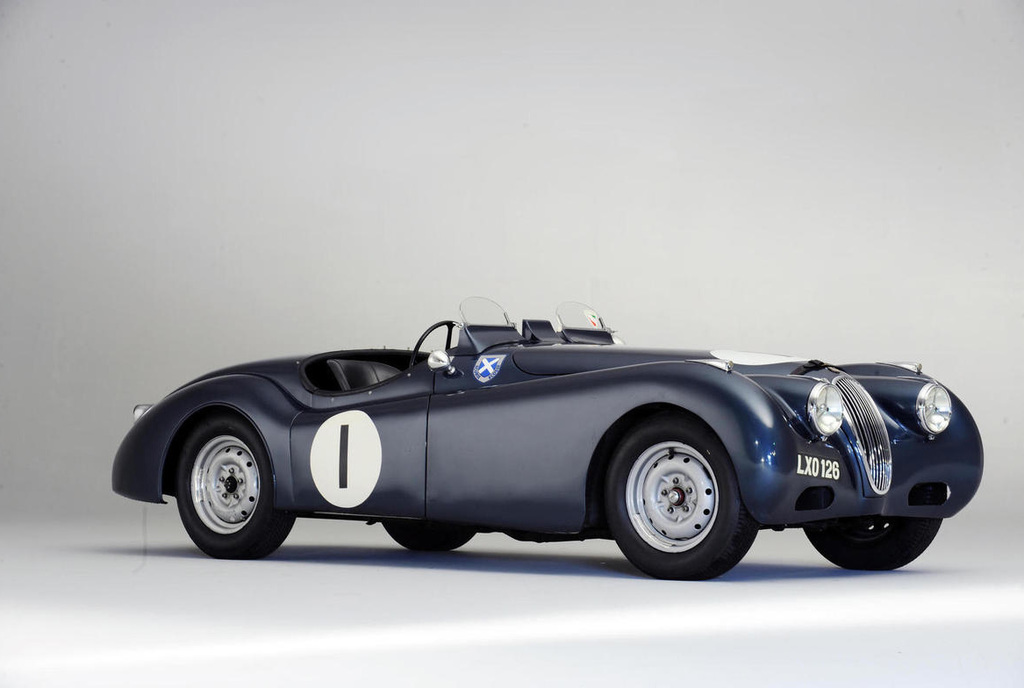 Ecurie Ecosse 1951 Jaguar XK120 – sold for €850,000 The Ex-Sir James Scott-Douglas/Ecurie Ecosse XK120. Superbly presented, well-maintained Jaguar XK120 is one of the most important examples of this legendary model. Sole known survivor of the original trio of Ecurie Ecosse founding Jaguars from the 1952 season. Auction Source: Bonhams splits up the Ecurie Ecosse Collection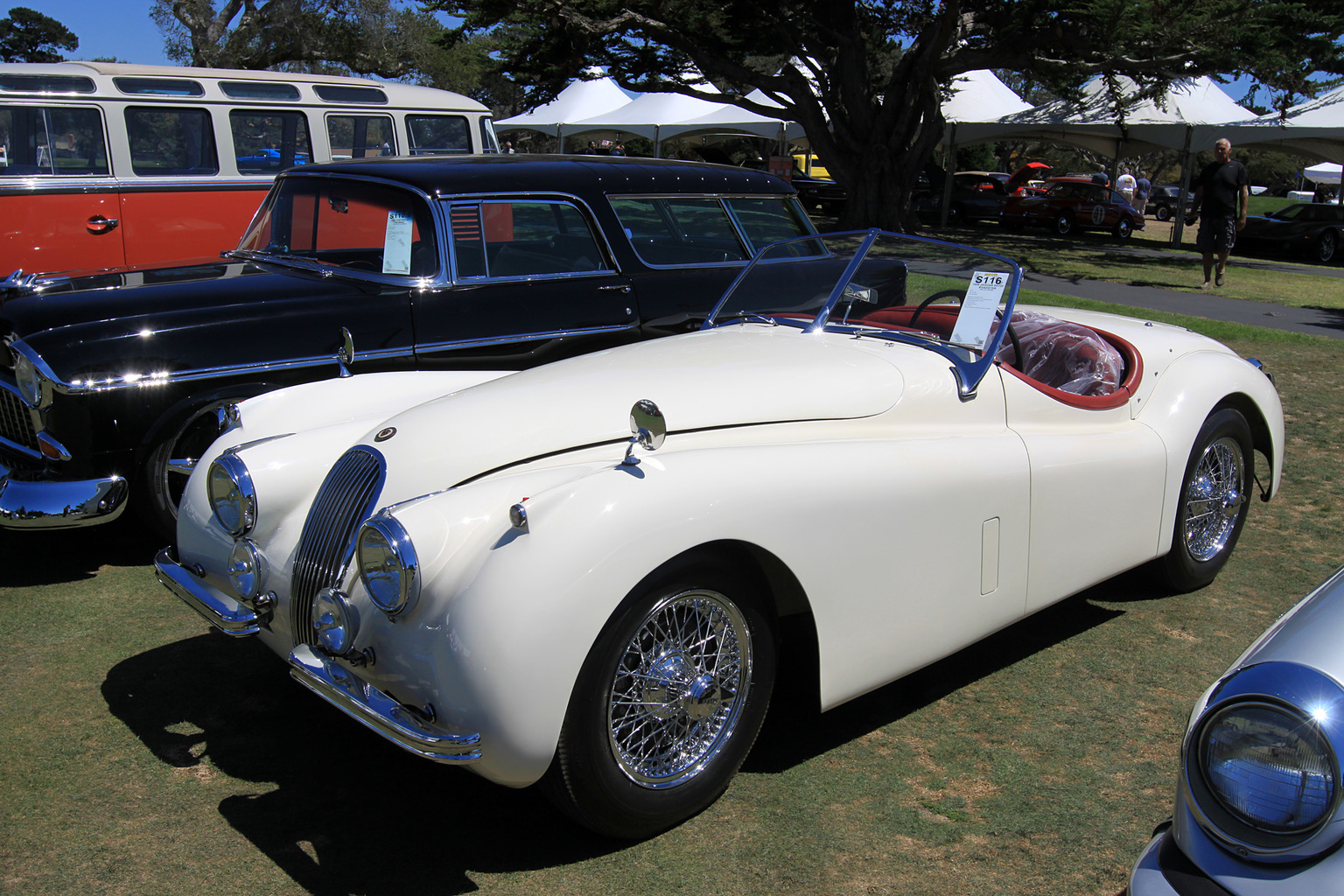 1954 Jaguar XK120 Roadster – sold for $86,000 Believed to be 96,000 miles. Maintained and cared for by previous owners. 3442cc engine rated at 160 HP. Beautiful chassis. Outstanding chrome. New interior. Factory new Black canvas top recently installed. Auction Source: The Daytime Auction in Monterey by Mecum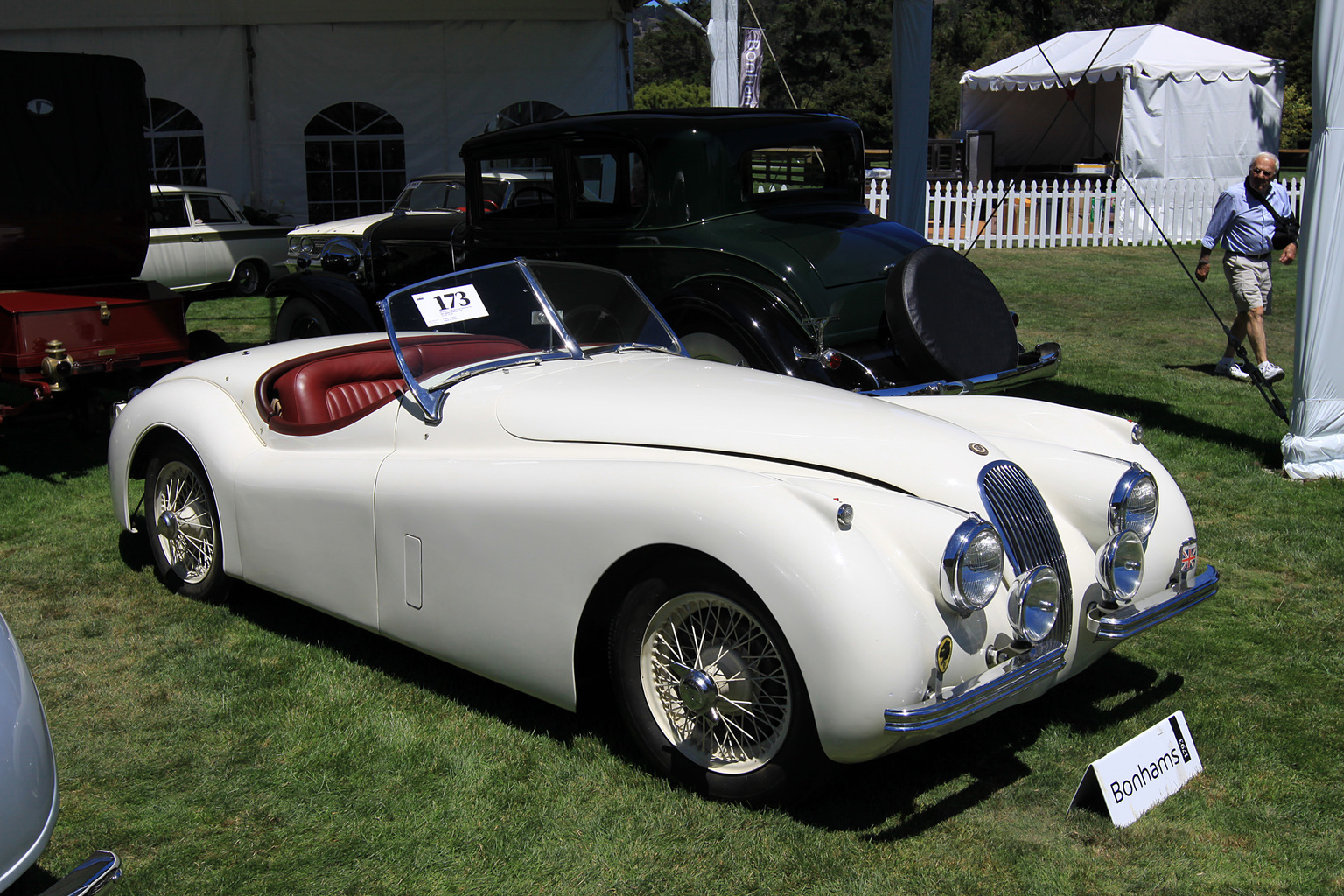 1953 Jaguar XK120 Roadster 674111 – sold for $83,600 Believed to be the longest Jaguar ownership of all – 60 years. Offered with original guarantee and letter from Lyons. Original tool roll included. Excellent model for rallies and tours. One of the fastest sports cars of its day. Auction Source: 2013 Quail Lodge Auction by Bonhams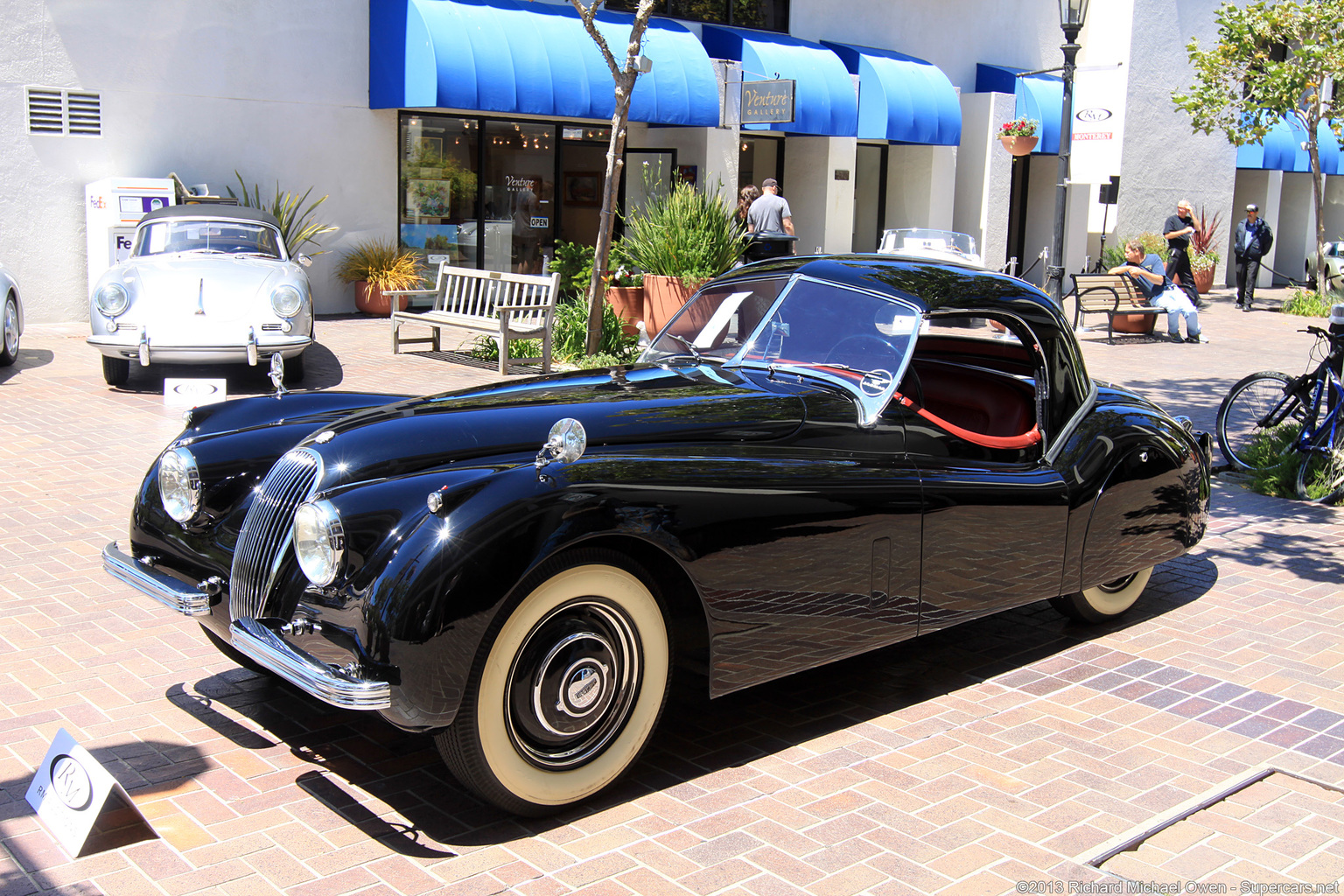 1954 Jaguar XK120 Roadster 674293 – sold for $132,000 Incredibly low mileage, matching-numbers example. Equipped with an extremely rare factory hardtop. A restoration in the mid-1990s refinished it in black with a red leather interior, while the majority of the car's internal components remain mostly original, including its 3.4-liter engine and transmission. Auction Source: 2013 Monterey Auction by RM Auctions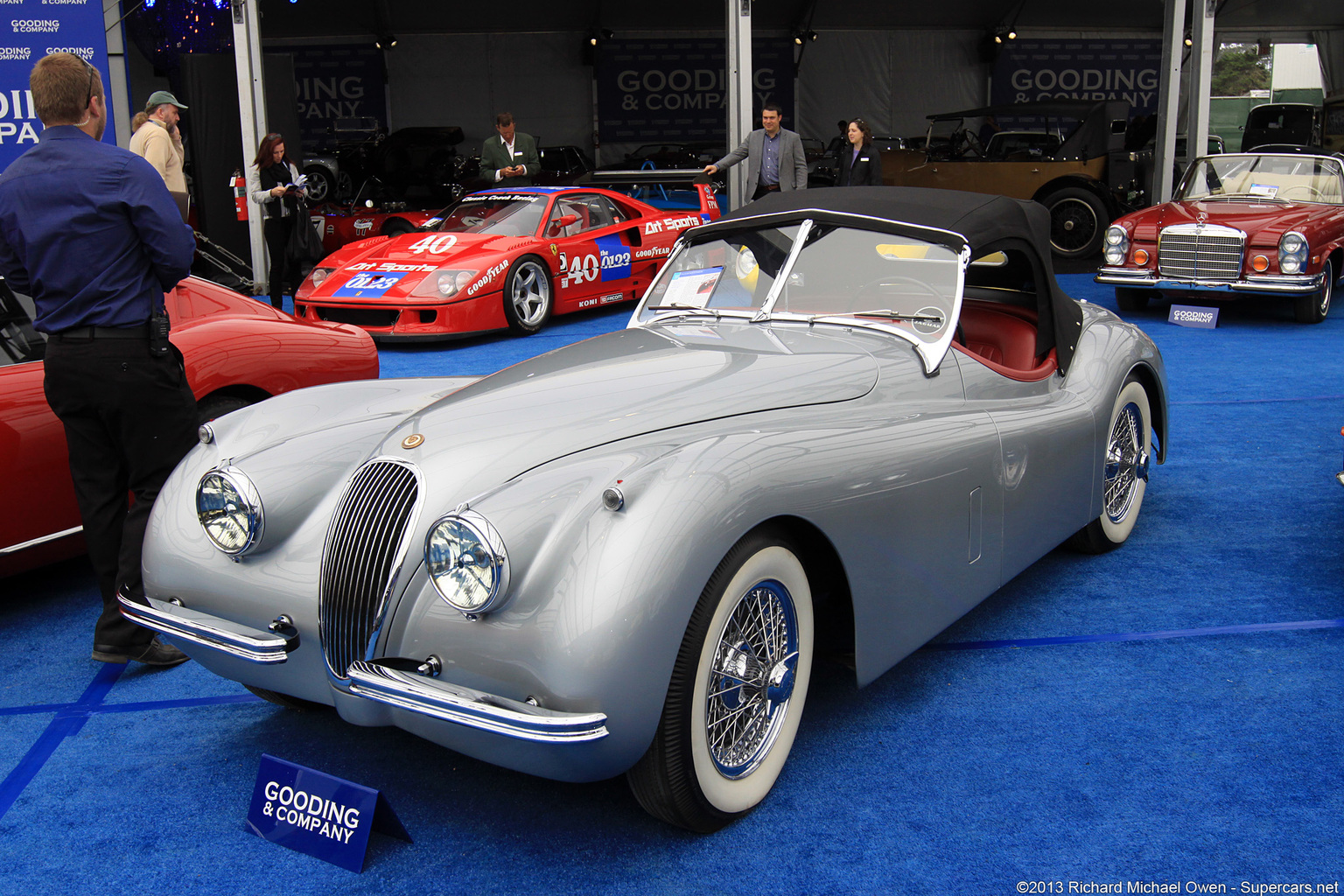 1954 Jaguar XK120 SE Roadster S675866 – sold for $154,000 Former 99.68-Point JCNA Winner. Documented Five-Year Restoration Completed in 2005. Matching-Numbers Engine. Multiple JCNA Best in Class Wins. Accompanied by a Tool Kit and Matching Fitted Luggage.  Auction Source: Gooding & Company's 10th Anniversary 2013 Pebble Beach Auction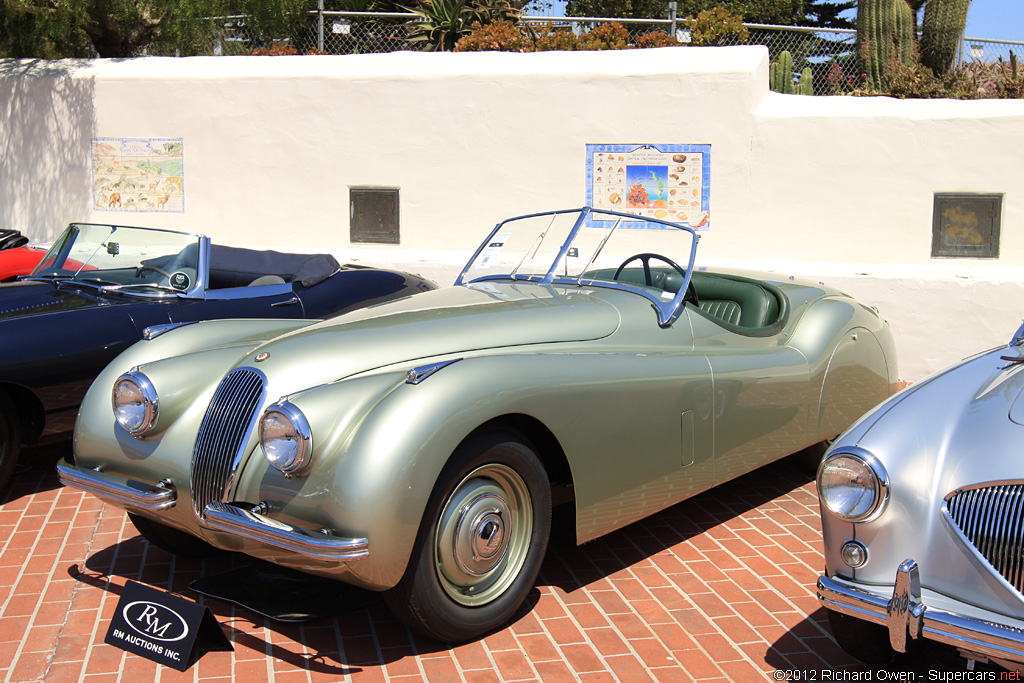 1952 Jaguar XK120 Roadster 671615 – sold for $93,500 Stunning in its original Pastel Green Metallic with dark green leather, this XK120 was restored in the early-1990s. Since then, it has been kept in climate-controlled storage and driven barely 300 miles, remaining virtually as fresh as the day of its completion. Today, it presents beautifully in show-quality condition, complete with its proper steel disc-wheels and spats, highlighting the rakish body in its purest form.
Auction Source: Monterey 2012 by RM Auctions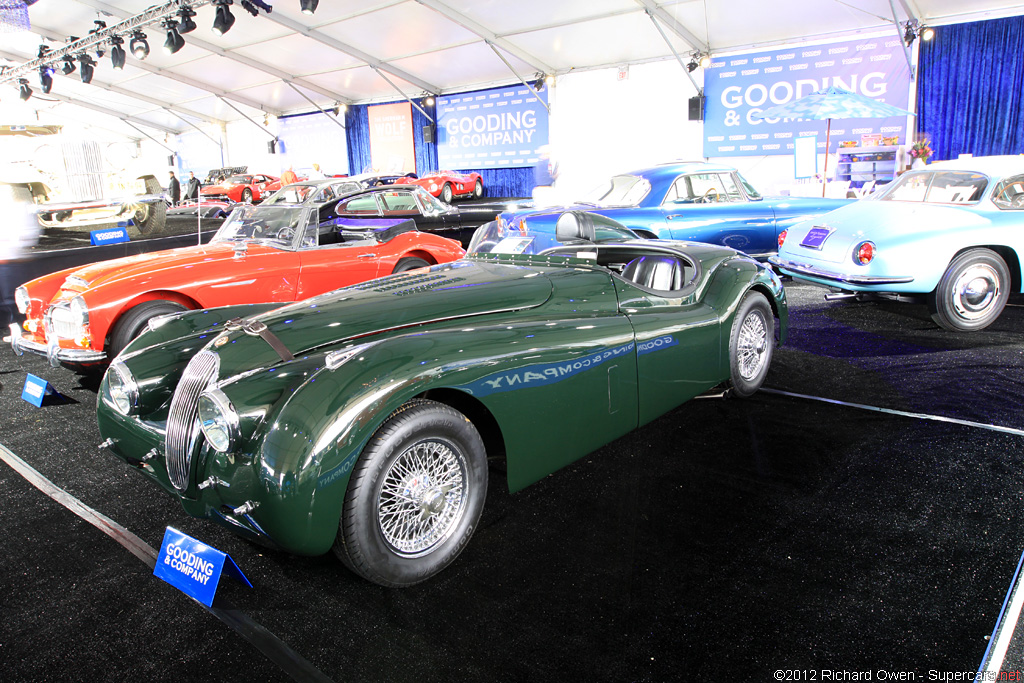 1951 Jaguar XK120 Roadster 660684 – sold for $79,750 Sporty XK120 with Tasteful Performance Upgrades. Few Owners Since New. Eligible for Rallies and Tours. Timeless Styling.  Auction Source: 2012 Pebble Beach Auctions by Gooding & Company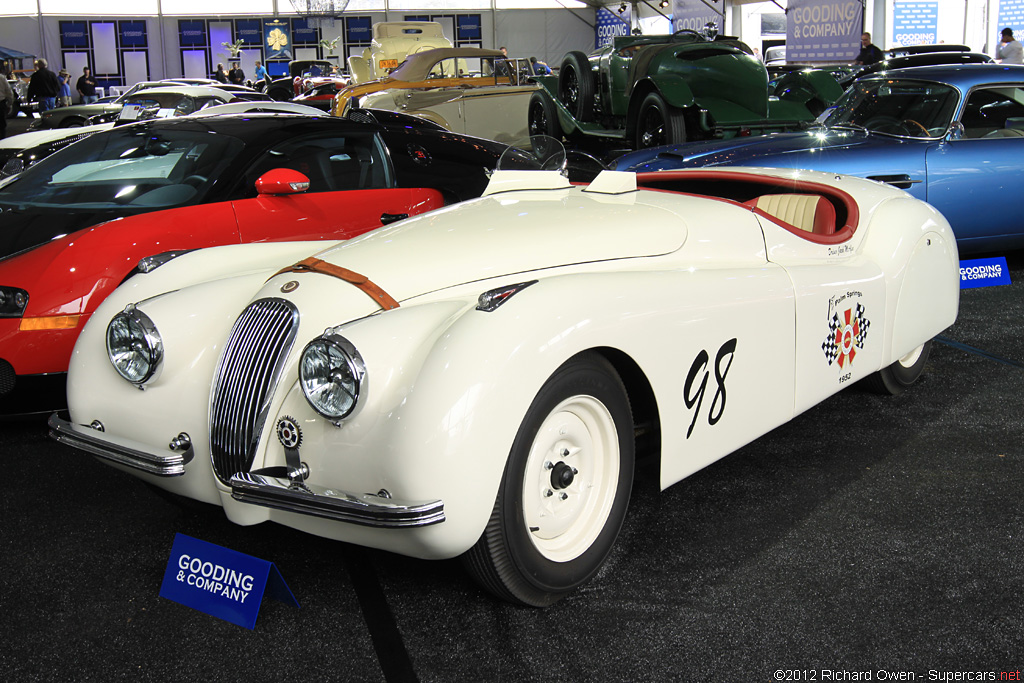 1950 Jaguar XK120 Roadster 660118 – sold for $101,850 Winner at the 1952 Palm Springs Road Races. Believed to be Just the Third Steel XK120 Built. Recently Restored. Certified by the Jaguar Daimler Heritage Trust. California Car for 59 Years. Four-Owner Example. Auction Source: 2012 Pebble Beach Auctions by Gooding & Company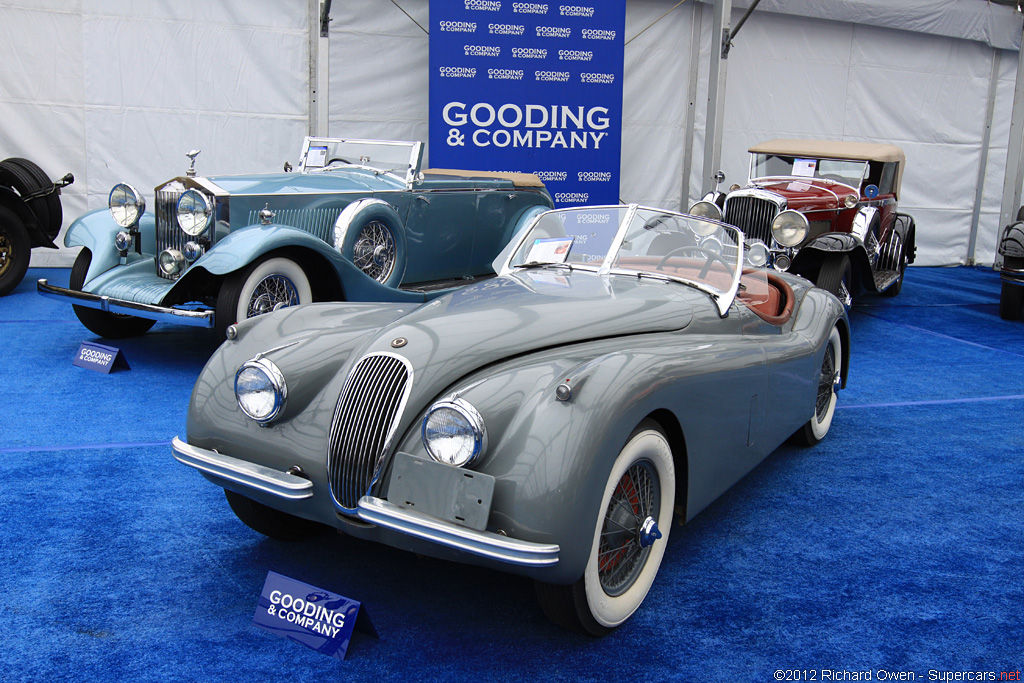 1954 Jaguar XK120 Roadster S676243 – sold for $101,850 Beautifully Preserved, Highly Original XK. Single Family Ownership Until 2012. Matching-Numbers Example. Elegant Color Combination. Prime Candidate for Preservation Display. Offered with Heritage Trust Certificate and Tools.  Auction Source: 2012 Pebble Beach Auctions by Gooding & Company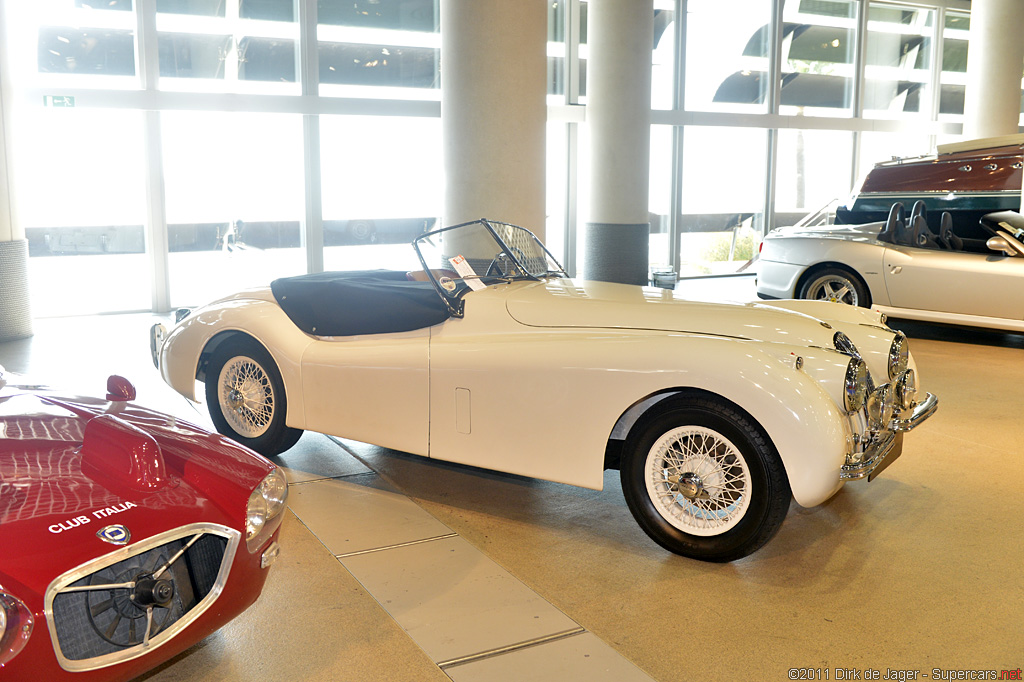 1953 Jaguar XK120 Roadster 674013 – sold for €98,000 Concours quality restoration; only 240 kilometres since completion. Getrag five-speed manual transmission and alloy radiator for enhanced driving performance. Complete with Heritage Certificate. Auction Source: Monaco 2012 by RM Auctions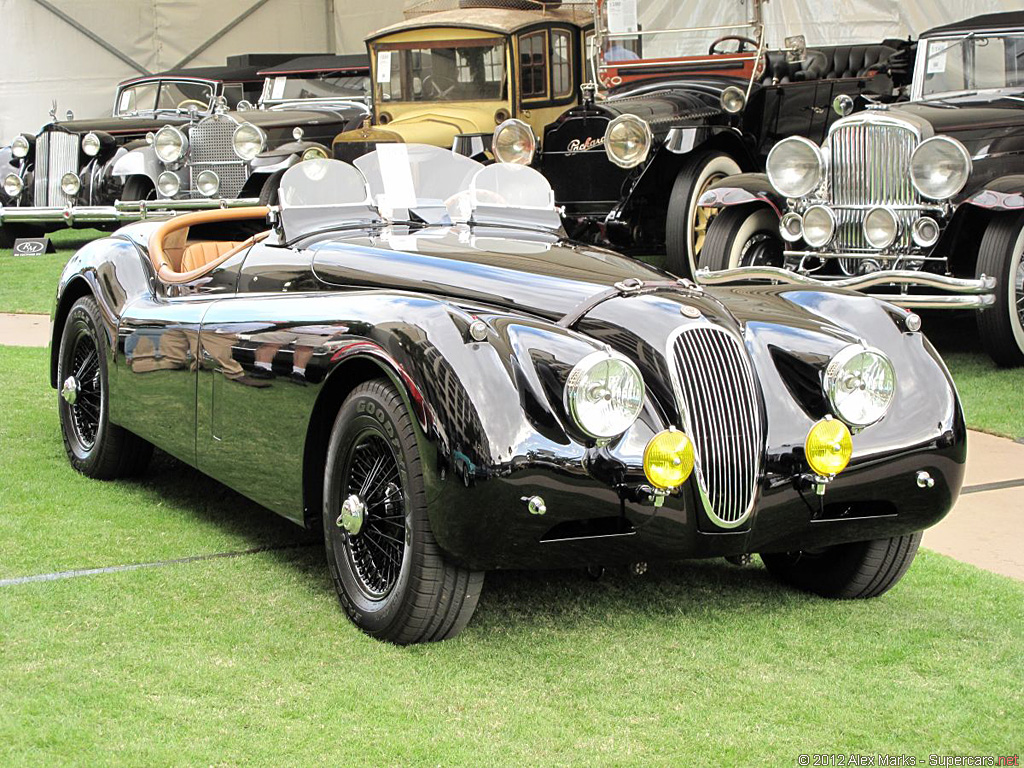 1954 Jaguar XK120 SE Roadster 674498 – sold for $258,500 Highly desirable late-production, LHD US-delivery Special Equipment model. Complete historical file; JDHT Certificate included. Proven show winner; careful upgrades for fast, trouble-free touring.  Auction Source: Amelia Island 2012 by RM Auction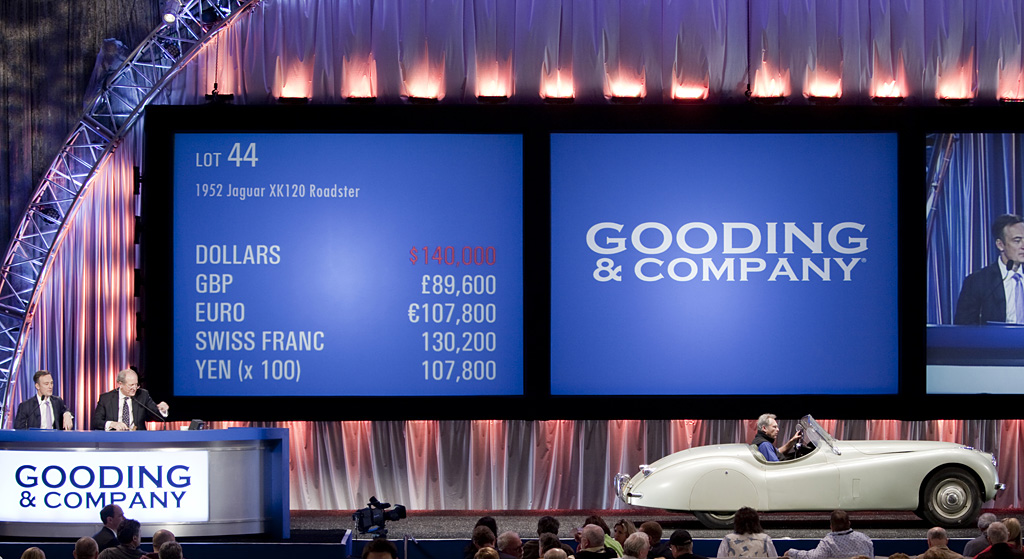 1952 Jaguar XK120 Roadster S671957 – sold for $154,000 A Spectacular Undisturbed Time Capsule. Elegant Factory-Delivered Color Combination. Less than 15,000 Miles from New. Charming History and California Provenance. Wonderfully Original Condition. Matching-Numbers Example. Extraordinary Features and Documentation. Outstanding Candidate for Preservation Display. Auction Source: 2012 Scottsdale Auction by Gooding & Company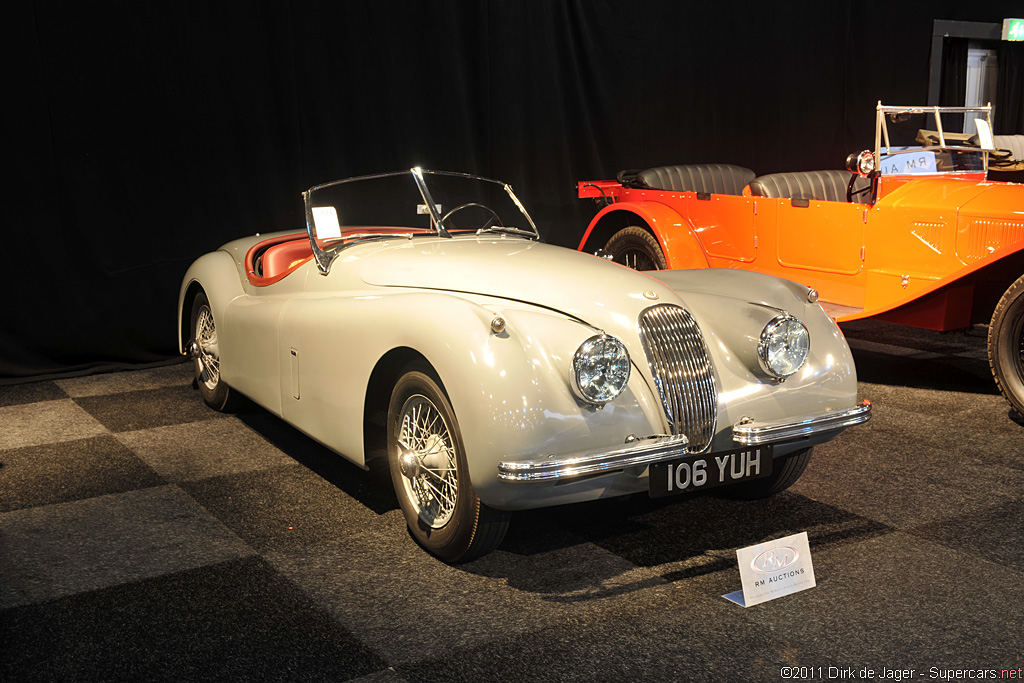 1953 Jaguar XK120SE Roadster – sold for €94,192 This 120SE was built on 16 March, 1953 and dispatched on 23 March, 1953 to the U.S., where it was sent to the Jaguar distributor Hornburg in Los Angeles, California and sold new to Leoti, Colorado Ford dealer Claude S. Heath, Jr. There is a letter in the file from Mr. Heath's son, written in 1998, in which he remembers accompanying his father to collect his new Jaguar and driving it home some 350 miles, never exceeding 50 mph due to the throttle-stop speed restrictor during "running-in." This letter also confirms the recorded original mileage, which astonishingly stands at only 13,000 miles and is believed to be correct, as he and his brother had stored the car on blocks for many years, eventually selling it to Robert Brandes of Kansas in 1977. Auction Source: 2011 London Auction by RM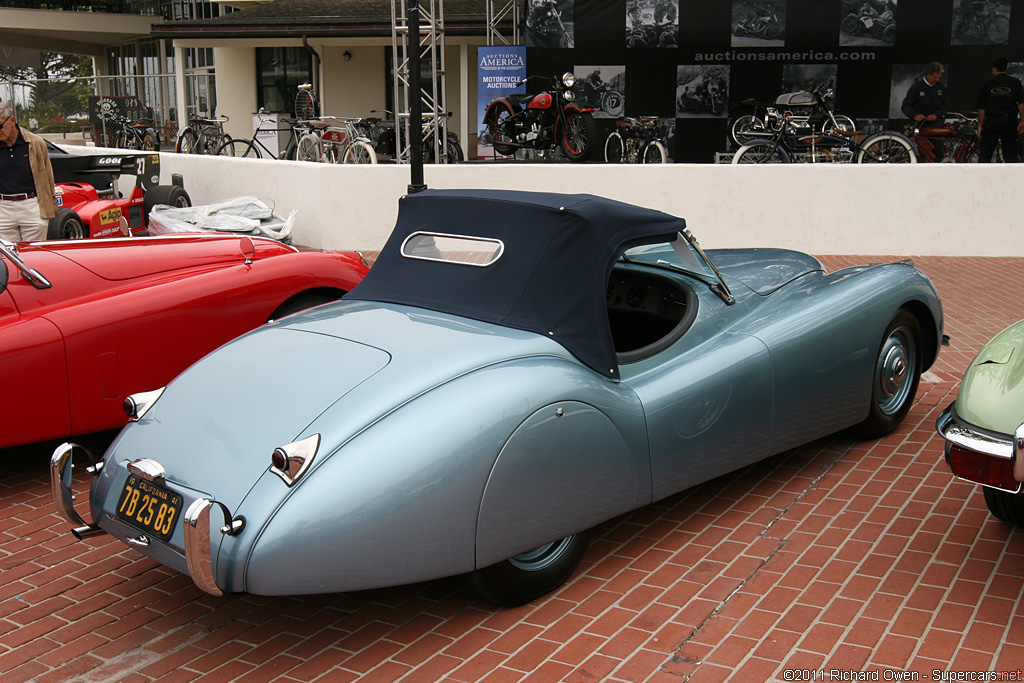 1950 Jaguar XK120 Roadster 670288 – did not sell for $170,000 288th XK120 built. Includes Heritage Certificate confirming fantastic original color combination. National Champion with 99.99 points at several JCNA shows. 100 test miles since restoration. – Complete matching-numbers example. Auction Source: 2011 Monterey Auction by RM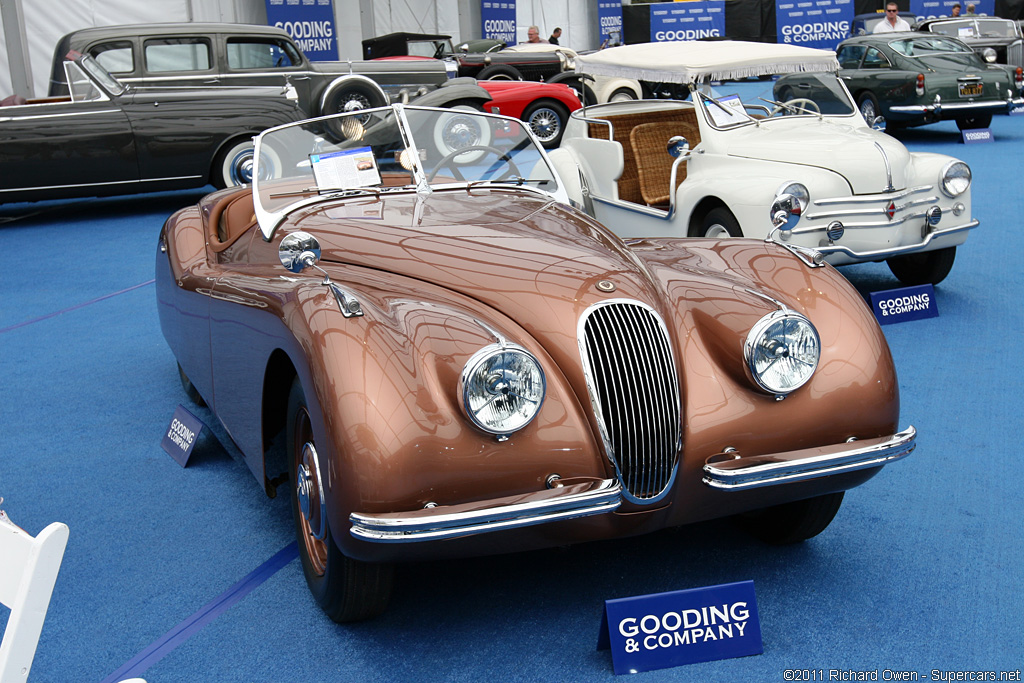 1950 Jaguar XK120 Roadster 670847 – sold for $115,500 Extensive Restoration Completed in 2011. Matching Numbers Certified by Jaguar Heritage Trust. Limited Ownership and Minimal Use From New. Pure Early XK Design. Timeless Elegance and Delightful Performance.  Auction Source: 2011 Pebble Beach Auctions by Gooding & Company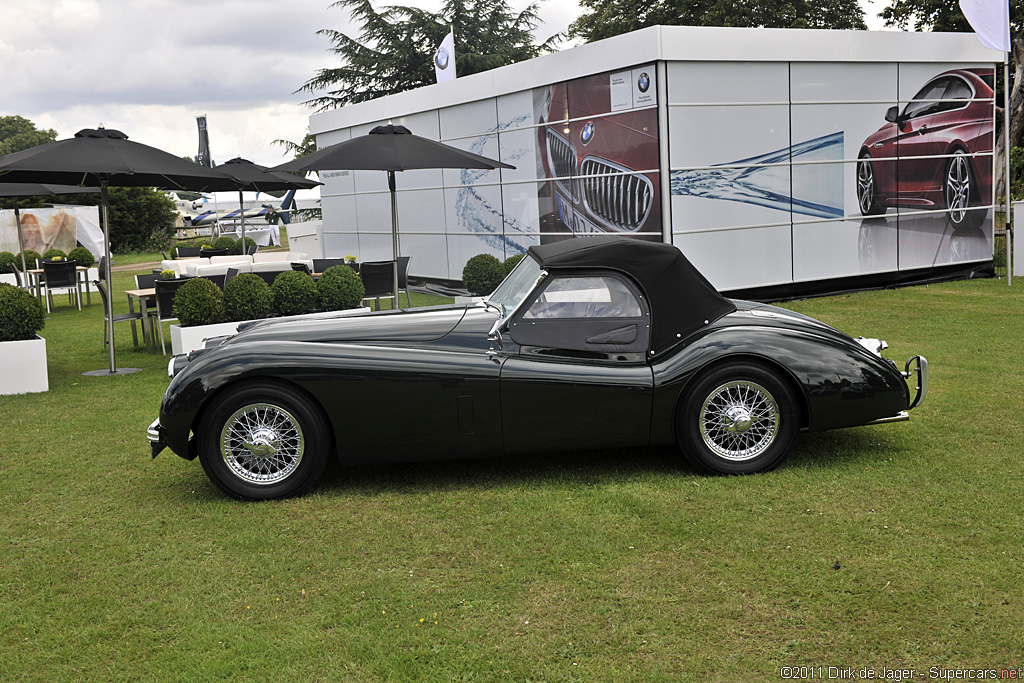 1953 Jaguar XK120 SE Roadster – sold for €67,149 First registered on 1st June 1953, the car has the correct matching-numbers SE engine and has been restored with unusual attention to originality. A discreet battery cut-out switch and electronic ignition are the only significant deviations from the as-delivered configuration. The car is an absolute joy to drive, delivering a wonderful exhaust note. Since restoration it has covered 300 trouble-free miles in Holland and Belgium. Prepared to an exceptional standard, it is particularly well detailed and equally well sorted. It is ready for any serious motoring challenge, be it touring, a regularity run or the famous thousand-mile rallies around the world, including of course the Mille Miglia. It will be supplied with new UK registration, having come from ownership and registration in Holland. Auction Source: 2011 Salon Privé Auction by RM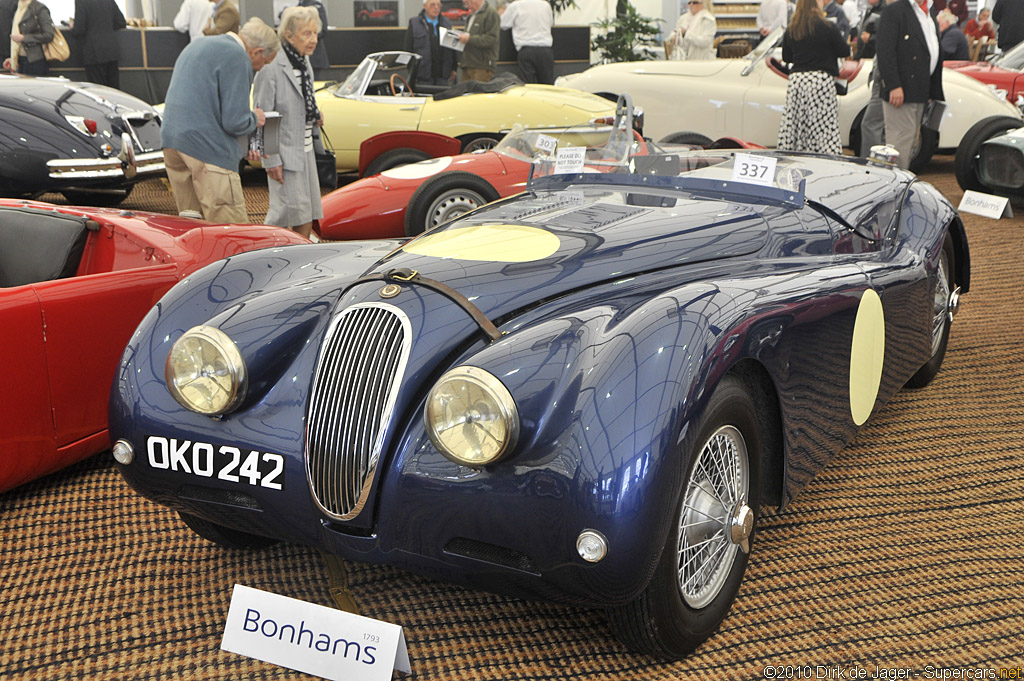 1952 Jaguar XK120 4.2-litre – sold for €88,920 £40 had changed hands and Dexter Brown owned a Jaguar XK120 that had sustained front end damage in a meeting with a lamp post. Eoin Young, writing of this car in Autosport magazine in February 1971, recounts how another XK120 with a rusty body yielded a replacement chassis and Brown built up an E-type 4.2 litre specification engine with gas-flowed head, bigger valves, racing crankshaft, high lift cams and a lightened flywheel, bringing the power up from 250bhp to 290bhp and the price for the race-tuned triple-carburettor engine to £300. Brown worked with Bentley Drivers Club member Harold Pounds to develop the car still further, fitting a close ratio gearbox with overdrive unit from an XK150 as well as 16inch wire wheels and disc brakes. The new car borrowed XK150 suspension. Weight was dramatically reduced by stripping the body to single skin and fitting a lightweight boot lid. Bucket seats replaced the original bench type seating. A detailed list of all Dexter Brown's modifications is on file. The blue livery with white racing decals harked back to the glorious days of David Murray's Ecurie Ecosse team of racing C-types. Auction Source: 2010 Collectors' Motor Cars at Goodwood Revival by Bonhams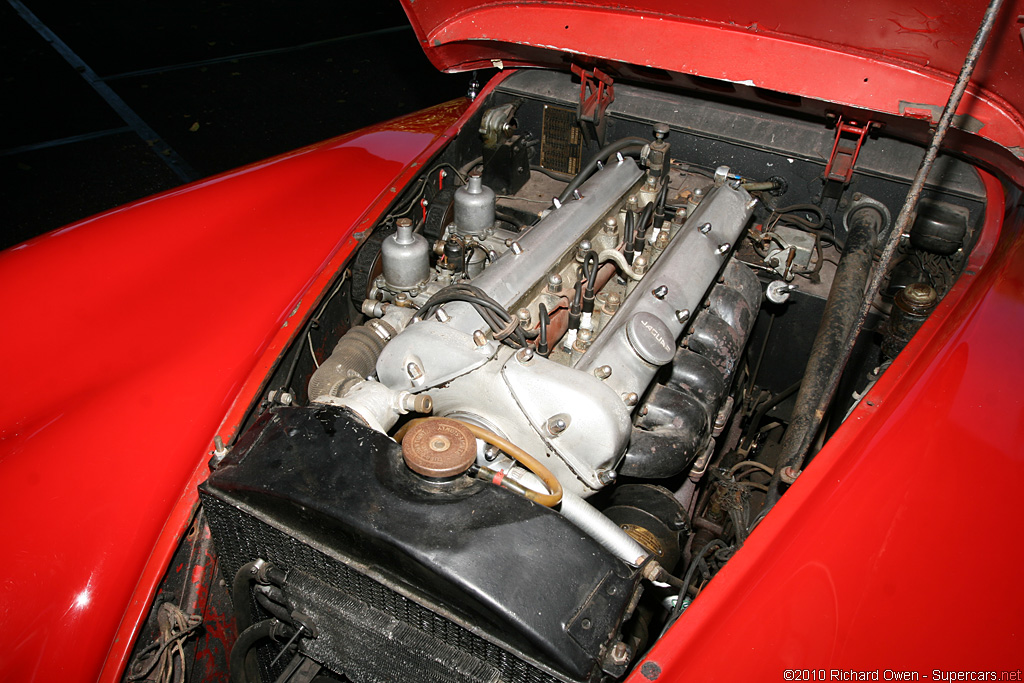 1953 Jaguar XK-120 Roadster S674061 – sold for $39,195 The offered example is lipstick red with a tan interior. It has the original three point headlights and a pair of aftermarket halogen driving lamps. An automatic transmission has been adapted from a later Jaguar model. Other modifications include an auxiliary radiator cooling fan and an under-dashboard radio. This XK120 provides the opportunity to own one of the sporting legends of its era.  Auction Source: Bonhams 2010 Exceptional Motorcars and Automobilia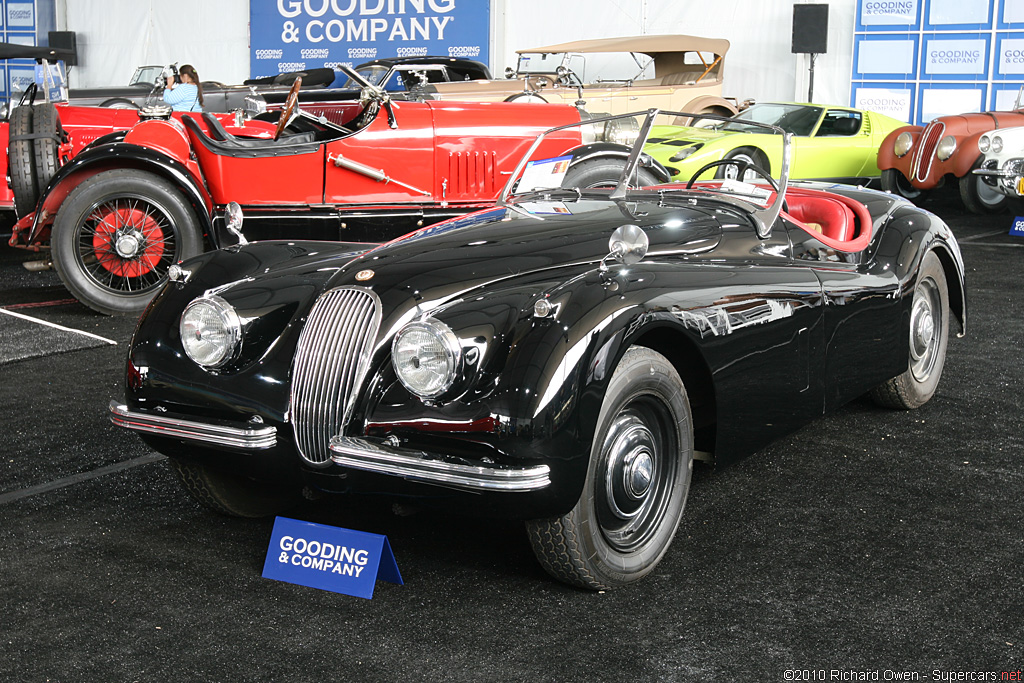 1953 Jaguar XK120 Roadster 673779 – sold for $60,500
Currently displaying just over 50,000 miles, this XK120 is certified by the Jaguar Daimler Heritage Trust to be a matching-numbers example and is accompanied by photographs and receipts of its restoration work, as well as the original owner's manual and a partial assortment of original tools. Recently, the car has been fastidiously detailed by Ensign Restoration Services of Albany, New York, resulting in superb paint, chrome, two-tone interior and engine bay presentation. Regularly serviced by a knowledgeable expert and still displaying the benefits of its well-preserved older restoration, this XK120 Roadster could be enjoyed with confidence and exhibited with pride. Read more about this car. Auction Source: 2010 Gooding & Company Pebble Beach Auction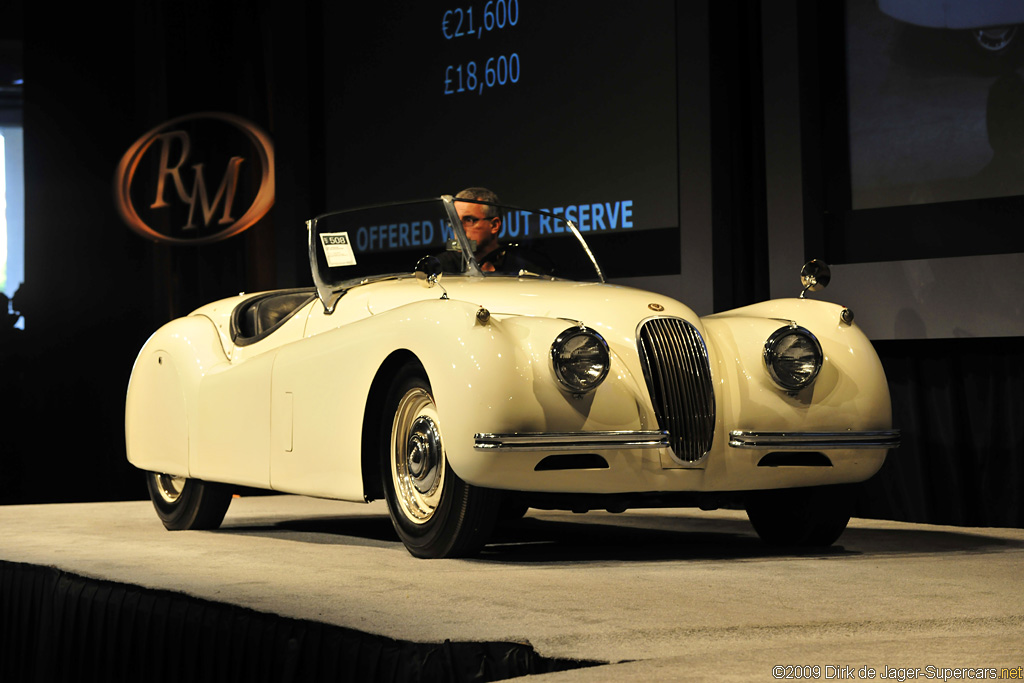 1953 Jaguar XK 120 Roadster – sold for $46,750 The 1953 Jaguar XK 120 Roadster presented here in white with a black interior is a highly original, matching numbers example. It remains highly presentable and well suited for continued driving and enjoyment. With painted steel wheels sporting chrome hubs and rings as well as the highly desirable fender spats, this XK 120 Roadster will undoubtedly draw a great deal of attention. Auction Source: 2009 RM Auctions Sports & Classics of Monterey