1951 Ferrari 340 America
A study of the 'America Ferraris' starts with the type 340 America and continues with the 342/375 Americas. This series represents cars that were marketed towards the American market through Ferrari's American Importer, Luigi Chinetti of the North American Racing Team (NART). In addition, and more importantly, this series also represents Ferrari's exclusive line of custom road cars built with Ferrari's successful motor sport engineering. In fact, the first 340 Americas are competition cars and chassis 0082A claims the 1951 Mille Miglia victory.
Since the 100 or so cars in the series have individual specification, appointments and styling to suit a particular customer or racetrack, the America Ferraris present a very diverse study. The complete story could fill a dedicated book, and since the current literature on these machines is somewhat lacking, the subject is definitely worthy of future publication.
The common theme uniting the America Ferraris is their engine. Compared to older designs, it focuses on large volume and fuel delivery to deliver increased torque. This design philosophy was a fundamental change in direction which Enzo Ferrari copied from US manufacturers in the 1950s; and he wasn't afraid to admit this fact by labeling the cars as such. The decision was motivated by both Aurelio Lampredi and racing driver Raymond Summer who thought an unsupercharged 4.5-liter car was going to beat Alfa Romeo in Formula One racing.
The America Ferraris present an interesting case. These are larger Ferraris with increased consumption, waste, appointments, luxury and prestige. They were purchased by customers which typically had the greatest materialistic needs: royalty, top businessmen and famous personalities. It was these clients which Ferrari wanted to attract. Their plentiful resources supported Ferrari's very broad motor sports campaign, and created some of the most daring Ferrari designs.
340 America – The Beginning
The first America Ferrari was the 340 and it was the first production car to use Ferraris upcoming Aurelio Lampredi engine. Called the long block or a 'Formula One design' it was the larger than any previous Ferrari engine. The company used its large displacement to nearly win the 1951 Formula Championship, but, this engine really became a staple for Ferrari's sports cars a year before. The Lampredi design first debuted at the 1950 Mille Miglia in two 275 S experimental sports cars (0030 MT and 0032 MT) having a 3322cc displacement. Both cars retired due to gearbox problems, but their initial success helped Ferrari conceptualize the 340 America, and move forward with Lampredi's engine.
Chassis appointments for the 340 were very similar to the type 166, with an increased length to accommodate the new engine. Following Ferrari's typical practice, the car was supported by a ladder-type steel tube frame. This chassis was heavy and rigid which did not make many concessions for weight savings. Fortunately, like many other Ferraris from the period, the bulky 340 chassis was overshadowed by a fantastic engine.
As a full-on competition car, the 340 first appeared at the 1950 Paris Auto Salon. By 1951, regular production began and multiple cars contested the Mille Miglia or Le Mans for 1951 and 52. They typically had problems with the high toque output thaty often caused gearbox and rear-end failure.
The highlight victory came at 1951 Mille Miglia when chassis 0082A driven by Villoresi took the overall win. A Le Mans victory eluded the 340, with stiff competition coming from the Jaguar XK120C, Talbot Lago T26GS and Aston Martin DB2.
After completion of several race cars, Ferrari decided to sell detuned versions of the 340 with more refinement for use as exceptional road transportation. Several cars were built, in a very limited series, for Ferrari's most prized customers. These cars sported more decorated bodies from Vignale or Ghia, and were only slightly detuned for road travels. Only about eight of the these road cars were completed and they started a glorious line of road going Ferraris that would be continued with the 342 and 375 America.
After two years of production and 23 purpose-built cars were produced, the 340 line divided into several types. Future types, destined for street use and focusing on luxury and prestige used the America term, while the 340 MM and 375 Plus carried on as competition cars.
The impact left by the 340 was substantial. The new direction often associated with the 340 is an artifact of the transition from Gioachino Colombo, the designer that helped start Ferrari, to Aurelio Lampredi. Soon after the 340, Gioachino Colombo left Ferrari to continue with Alfa Romeo. The choice to use the term America to mark this transition is interesting one. Obviously, America was very important to Enzo Ferrari, important enough to brand the country with his top product.
See full 1951 Ferrari 340 America Gallery here
In Detail
| | |
| --- | --- |
| submitted by | Richard Owen |
| type | Racing Car |
| built at | Maranello, Italy |
| price $ | $20,000 |
| engine | Lampredi V12 w/Dry Sump Lubrication |
| position | Front Longitudinal |
| aspiration | Natural |
| valvetrain | SOHC 2 Valves / Cyl |
| fuel feed | Tripple Weber 40DCF Carburettors |
| displacement | 4101 cc / 250.3 in³ |
| bore | 80 mm / 3.15 in |
| stroke | 68 mm / 2.68 in |
| compression | 8.0:1 |
| power | 164.1 kw / 220 bhp @ 6000 rpm |
| specific output | 53.65 bhp per litre |
| bhp/weight | 215.48 bhp per tonne |
| body / frame | Aluminum over Ladder-Type Steel Tube Frame |
| driven wheels | RWD |
| front tires | 5.50×16 |
| rear tires | 6.00×16 |
| front brakes | Hydraulic Drums |
| rear brakes | Hydraulic Drums |
| steering | RHD Worm & Wheel |
| f suspension | Double Wishbones w/Single Transverse Leaf Spring, Houdaille Shock Absorbers |
| r suspension | Live Axle w/Semi-Elliptic Leaf Springs, Houdaille Shock Absorbers |
| curb weight | 1021 kg / 2251 lbs |
| wheelbase | 2420 mm / 95.3 in |
| front track | 1278 mm / 50.3 in |
| rear track | 1250 mm / 49.2 in |
| transmission | 5-Speed Manual |
| top speed | ~241.4 kph / 150.0 mph |
Auction Sales History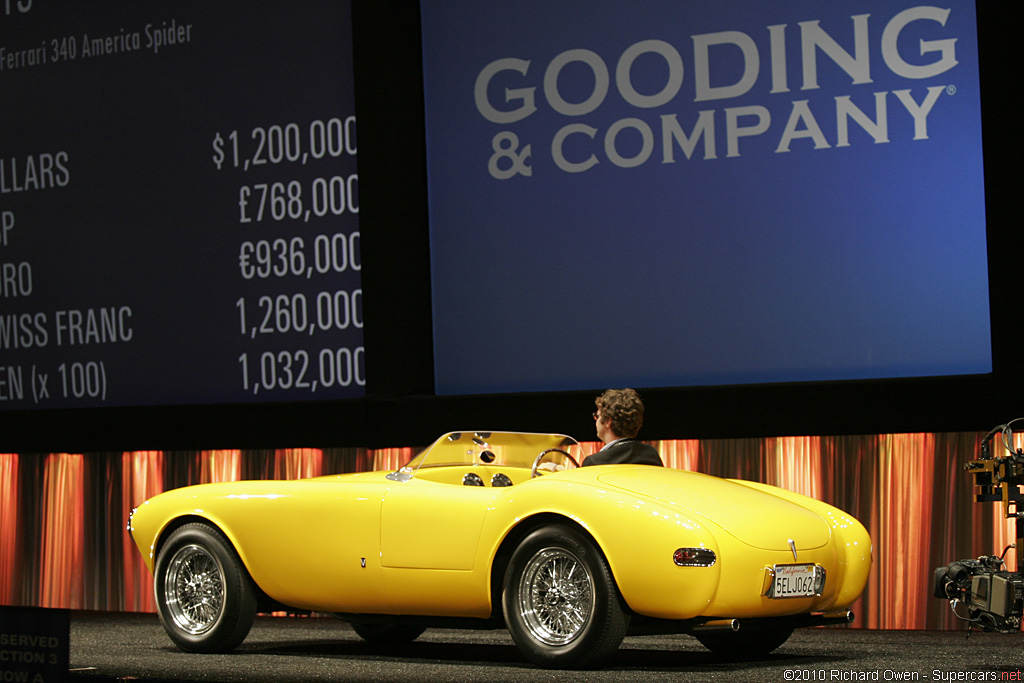 1951 Ferrari 340 America Spider 0140A – sold for $2,530,000. This prized Ferrari continues to receive the loving care and attention that has been lavished on this magnificent sports car since it came into his care three decades ago. Gooding & Company is proud to present this marvelous 340 America on behalf of Mr. Nickel's son, Jeremy Nickel, making it available to fellow enthusiasts for the first time since 1980 and presenting a unique opportunity to those who have always admired this rare and desirable Ferrari sports car. Mr. Nickel participated in all the top events in the US and Europe with this car, well before it had become fashionable to do so. It was the prized possession of a dedicated enthusiast, a man who was never content to do things in half measures.
Not only does this Ferrari benefit from decades of careful stewardship, its significance as an early even-serial-numbered chassis cannot be ignored. It is one of the earliest examples of Enzo's first large-displacement Ferrari sports cars, a prime example of Vignale's skill, one of the first Ferraris to be delivered to the US and a genuine, matching numbers example with a proud history that includes formative auto shows and road races. For the astute collector, this spectacular 340 America offers a key to all the most celebrated events, from the upper concours at Cavallino to the starting ramp at the Mille Miglia, to the finish line at the Ferrari Historic challenge and we encourage serious consideration of this superb early Ferrari sports car. Auction Source: 2010 Gooding & Company Pebble Beach Auction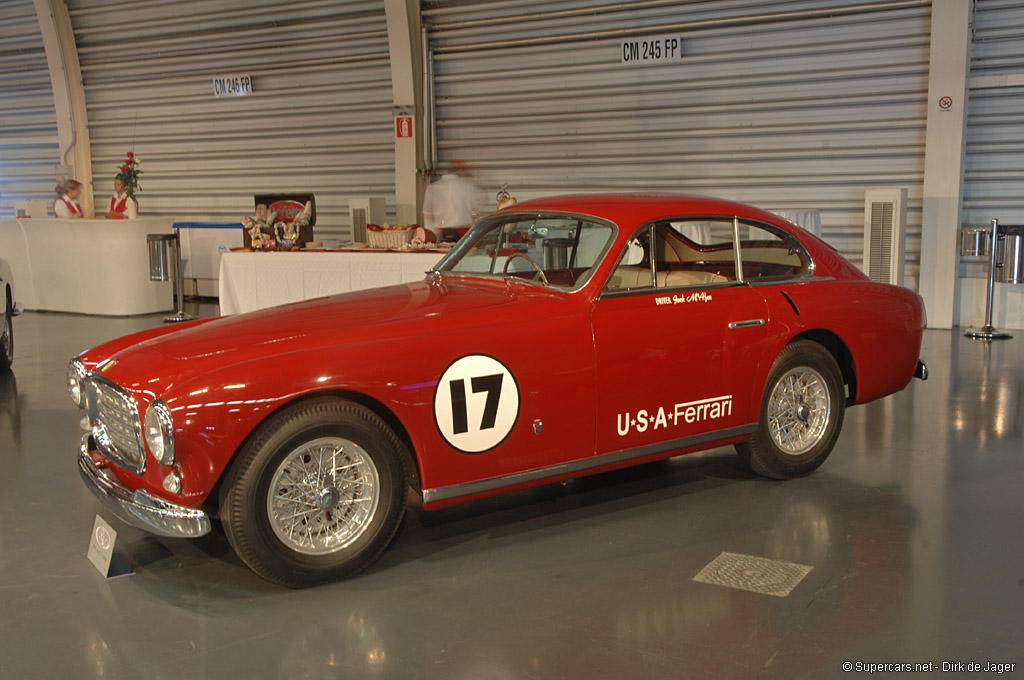 1951 Ferrari 340 America Ghia Coupé 0150A – sold for €575,000. Cosmetically, the condition of the car remains outstanding as well, having been acquired in 2006 by a noted enthusiast and collector. Paint, chrome, and trim are in as new condition, and the detailing of the engine bay and undercarriage is exceptional. An extensive file accompanies the car, including copies of the original build sheets, period photographs, articles, and concours awards.
Today, 0150/A is the rarest of all racing Ferraris – one that retains all its original components, including body, chassis, and drivetrain. It has a wonderful provenance, with a well documented history in period racing. Furthermore, it has never suffered the tragedies of crashes, rebodying, or engine transplants, and it has an unbroken chain of caring owners.
It is the last of just four cars to receive this lovely Ghia coachwork – and the only one with a well known racing history. Eligible for virtually every event from the Monterey Historics to the Mille Miglia, the Tour Auto, or the Goodwood Festival of Speed, it is ready to provide its next caretaker with a superb entry at any concours or driving event – or both. Auction Source: 2008 Leggenda e Passione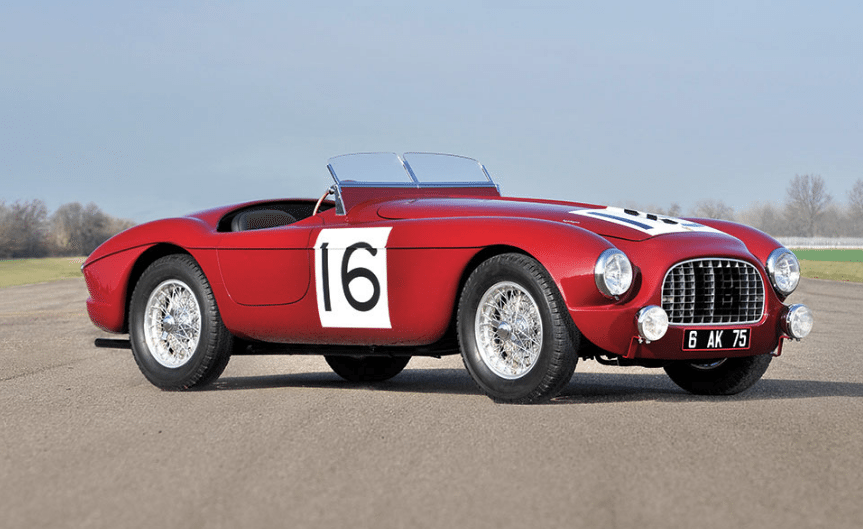 1951 Ferrari 340 America Barchetta by Touring – Sold for €7.280.000 – Assembly of this 340 America Barchetta, chassis number 0116/A, began in January of 1951, with Walter Seghedoni assembling the transaxle, closely followed by assembly of the engine, which was completed in April. Chassis number 0116/A was sold to its first owner, Pierre Louis-Dreyfus, a resident in Paris. Louis-Dreyfus was a regular entrant in the 24 Hours of Le Mans including in this 1951 Ferrari 340 America. In November of 1960, the car was sold to Mr Jacques Alexander Lenglet, a resident of Romainville who traded in his previous daily driver, a Bugatti Type 57SC Atalante. During Mr Lenglet's tenure, he re-registered the car as 9,360 kilometres. Most recently, chassis number 0116/A has been fully restored to its 1951 Le Mans configuration and will certainly continue to be welcomed at the most important historic events worldwide, including the Mille Miglia, Tour Auto, Monaco Historic Grand Prix, and, of course, the Le Mans Classic. Auction Source: 2016 RM Sotheby's Monaco Auction