1952→1955 Porsche 356 'Pre-A' Cabriolet
In March of 1952 Porsche worked in conjunction with Reuter to simply production of the 356 and made several changes including a one-piece, bent windscreen and more significant bumpers which suited the American market. During the four year period, leading up to the 356A, the 'Pre-A' Coupé was constantly upgraded and included a synchromesh gearbox in 1953.
1952 cars also features ventilated disc wheels and optional trim rings that were common on export models. The car also got fully integrated front and rear aprons that extended below the bumpers. The bumpers themselves were enlarged with large guards and featured rubber strips. Small changes in the interior included a new 6000 rpm tach which replaced the clock, smaller gauge bezels, and relocated turn switch from the dashboard to the steering column.
The 1500 was Porsche's newest engine which was quickly fitted with 40 PIBC Solex carburetors to produce 60 bhp @ 5000 rpm in 1952. These retained the Hirth roller-bearing crankshafts which gave Porsche enough clearance to enlarge their engine to 1500cc. Most cars from 1952 until the 356A of 1956 were powered by the 1500 engine but some left the factory with the smaller 1.1 and 1.3-liter engines.
At the time the Porsche was priced above the Jaguar XK120 and positioned itself as a sports-luxury model with reclining seats, Telefunken radio and an excellent level of trim by Karosserie Reuter. This increased cost was a primary reason why Max Hoffman convinced Porsche to make a stripped out Speedster for the American market.
By May of 1952 Porsche were also heavily invested in a race-ready version of the 1500 known as the Type 528. This used an entirely new crankshaft, increased valve lift from a Fuhrmann cam and a higher compression of 8.2:1. Capable of 70 bhp, the first versions were tried in aluminum Gmund coupes at the 1952 Mille Miglia. The unit was available in October of 1952 as the 1500S. At the same time Porsche announced the Normal Type 546 version which used plain bearings and smaller carburetors to reduce noise.
Changes for 1953 included an all-new synchromesh gearbox which departed from VW-sourced gears and allowed for a new set of ratios. Other detail differences of the 1953 model year included a new two-spoke steering wheel by VDM that carried the new company crest. The signal lights were also repositioned both front and rear.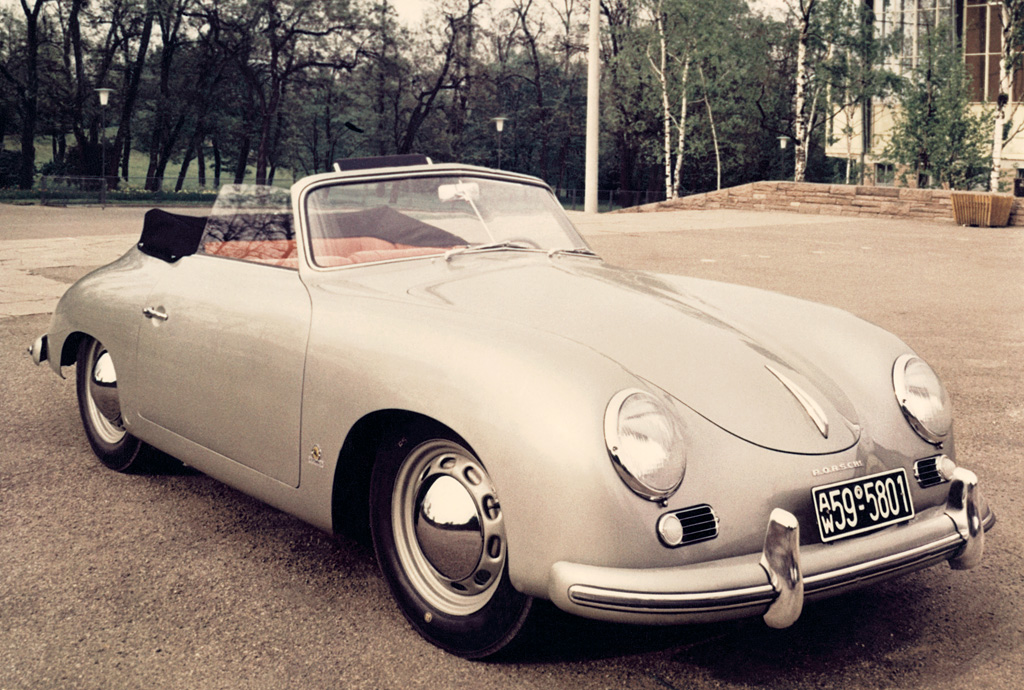 In Detail
| | |
| --- | --- |
| submitted by | Richard Owen |
| type | Series Production Car |
| production years | 1952 – 1955 |
| built at | Stuttgart, Germany |
| body stylist | Erwin Komenda |
| price $ | $ 4,560 |
| engine | Type 527 Air Cooled Flat-4 |
| position | Rear, Longituinal |
| aspiration | Natural |
| valvetrain | Pushrod OHV |
| fuel feed | Dual Solex 40 PIBC Downdraft |
| body / frame | Steel Body over Steel Tub Chassus |
| driven wheels | RWD |
| wheel type | Steel Discs |
| front tires | 5.00-16 |
| rear tires | 5.00-16 |
| steering | VW Worm & Nut |
| f suspension | VW Parallel Trailing Arms, Tubular Dampers |
| r suspension | VW Leading Arms w/Torsion Bars, Hydraulic Lever-Arm Shock Absorbers |
| curb weight | 778 kg / 1713 lbs |
| wheelbase | 2101 mm / 82.7 in |
| front track | 1290 mm / 50.8 in |
| rear track | 1250 mm / 49.2 in |
| length | 3950 mm / 155.5 in |
| transmission | VW 4-Speed Manual |
Auction Sales History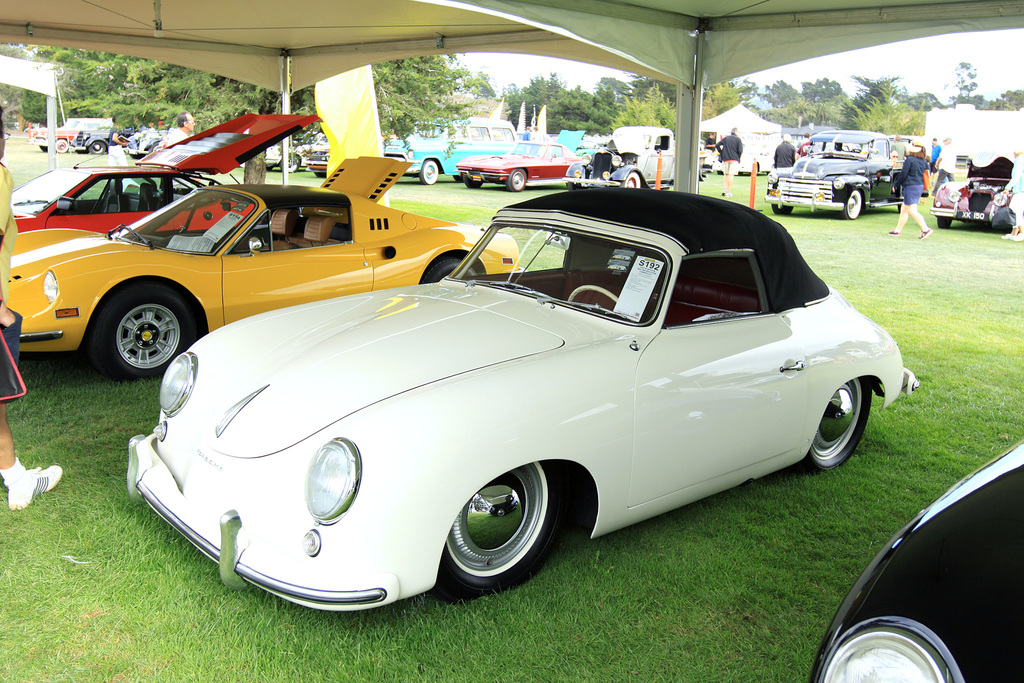 1953 Porsche 356/1500 Reutter Cabriolet 60266 – did not sell for $375,000. Extremely rare 356/1500 Reutter Cabriolet. 1 of 394 built in 1953. Matching numbers. Comprehensive restoration. Correct Ivory exterior and Red leather interior. Black convertible top. Owner's manual. Kardex and Porsche Certificate of Authenticity. Rare Pre-A Reutter Cabriolet. Auction Source: Monterey 2014 by Mecum Auctions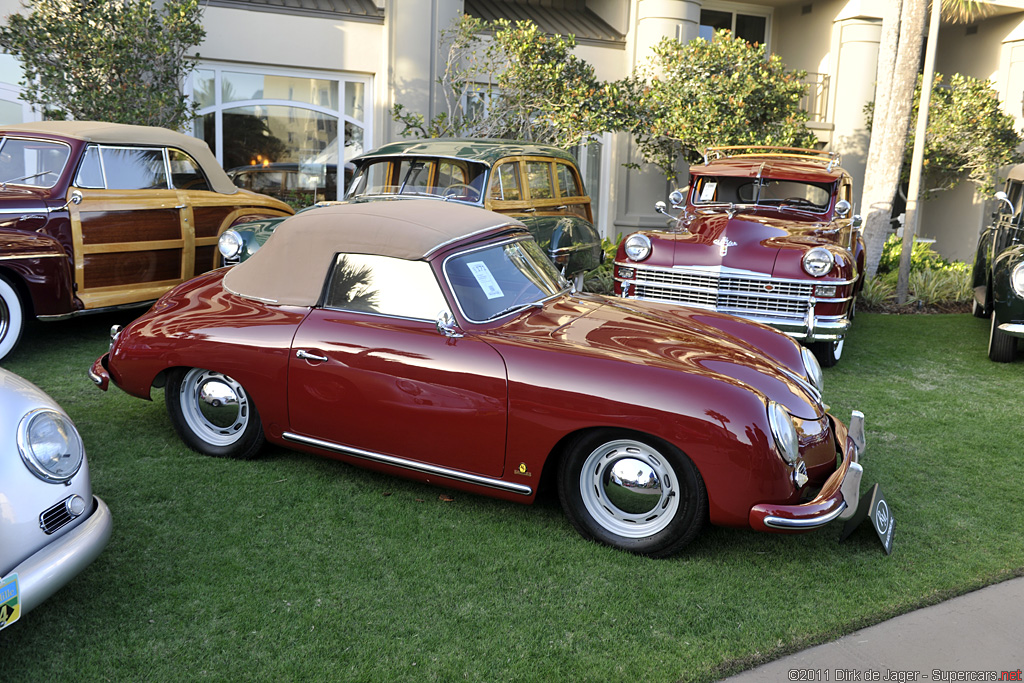 1953 Porsche 356/1500 Cabriolet (Supercharged) 60130 – did not sell for $155,000. Rare "Pre-A" example; restored mid-1990s; from important connoisseur collection. Period-modified with expertly installed 'Pepco' supercharger. Featured as "The Sleeper" in March 1958 PCA Porsche Panorama. Auction Source: Amelia Island 2012 by RM Auctions