1953 Ferrari 375 MM Spyder
Building on the success of the 340 America and its Mille Miglia victory, the 375 MM was released in 1953 as Ferrari's most potent model. These large displacement race cars were built to contest the World Sportscar Championship and competed with the best that Lancia, Alfa Romeo, Cunningham and Jaguar had to offer. Most of the cars were built by Ferrari as racing Spyders, but seven racing Berlinettas and five special-bodied road examples were also made.
By 1953, Ferrari's large V12 by Aurelio Lampredi had already won at the top level of motor sport. Some of their first F1 victories were powered by it until 1953 when the F2 regulations were adopted. However, Ferrari was able to continue with the engine in road racing cars, beginning with the 340 America and later resumed with the successful 375MM.
At first, Ferrari fitted a detuned version of their competition-spec 375 F1 engine in the 340 America chassis to make a hybrid 340/375MM. In 1954 this engine was modified for customer use with a slightly shorter stroke. Called the Tipo 108, these displaced 4522cc and were slightly more responsive for twistier events such as the Targa Florio and Mille Miglia. All the factory coupes used the F1 Tipo 102-spec engine.
The 375 was named after a victory at the 1953 Mille Miglia when Giannino Marzotto and Marco Crosara piloted their Vignale Spyder to overall victory. At the time, it was Ferrari's fifth win in a row at the event which was the most prestigious Italian road race.
LeMans in 1953 was disappointing for Ferrari, who brought three hybrid 340/375MMs and a sole 4.5 liter car. All four cars were let down by their inferior brakes and trumped by the Jaguar C-Type's discs. Despite their best efforts, the Ferraris retired trying to keep pace with Jaguar.
In total, around 26 375MMs were made, most being bodied by Pinin Farina into either coupes or spyders, but a few Vignale spyders were made. Five of these were special road-going examples which were prepared for Ferraris most respected clientele, some being rebodied after the 375's competition career was over.
The 375MM series was later replaced by the 375 Plus, which featured a larger engine that was good enough for Ferrari's much needed win at Le Mans.
See full 1953 Ferrari 375 MM Spyder Gallery here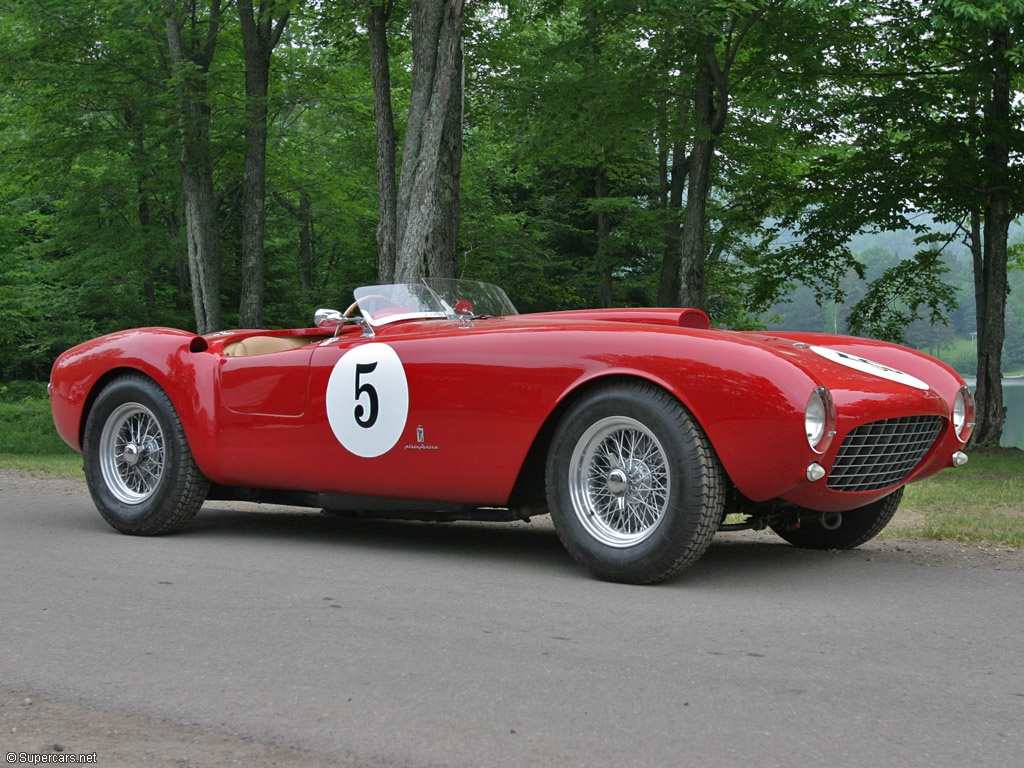 In Detail
| | |
| --- | --- |
| submitted by | Richard Owen |
| type | Racing Car |
| built at | Maranello, Italy |
| engine | Tipo 102, Aluminum Alloy, 60 Degree, V12 |
| position | Front Longitudinal |
| aspiration | Natural |
| valvetrain | DOHC 2 Valves/Cyl |
| fuel feed | Weber 42 DCZ Carburetors |
| displacement | 4522 cc / 275.9 in³ |
| bore | 84 mm / 3.31 in |
| stroke | 68 mm / 2.68 in |
| compression | 9.0:1 |
| power | 253.5 kw / 340 bhp @ 7000 rpm |
| specific output | 75.19 bhp per litre |
| bhp/weight | 311.93 bhp per tonne |
| body / frame | Aluminum Body over Steel Tube Frame |
| driven wheels | RWD |
| wheel type | Boranni Wires |
| front tires | 6.00×16 |
| rear tires | 7.00×17 |
| front brakes | Hydraulic Drums |
| rear brakes | Hydraulic Drums |
| front wheels | F 40.6 x 12.7 cm / 16.0 x 5.0 in |
| rear wheels | R 40.6 x 12.7 cm / 16.0 x 5.0 in |
| steering | Worm & Wheel |
| f suspension | Double Wishbones w/Transverse Leaf Springs |
| r suspension | Live Axle w/Semi-Elliptic Leaf Springs, Twin Shock Aborbers |
| curb weight | 1090 kg / 2400 lbs |
| weight distro | 50 % / 50 % |
| wheelbase | 2600 mm / 102.4 in |
| front track | 1325 mm / 52.2 in |
| rear track | 1320 mm / 52.0 in |
| length | 4175 mm / 164.4 in |
| width | 1325 mm / 52.2 in |
| height | 1320 mm / 52.0 in |
| transmission | 4-Speed Manual |
| top speed | ~280 kph / 174.0 mph |
| race victories | 1954 Nassau Trophy |
Auction Sales History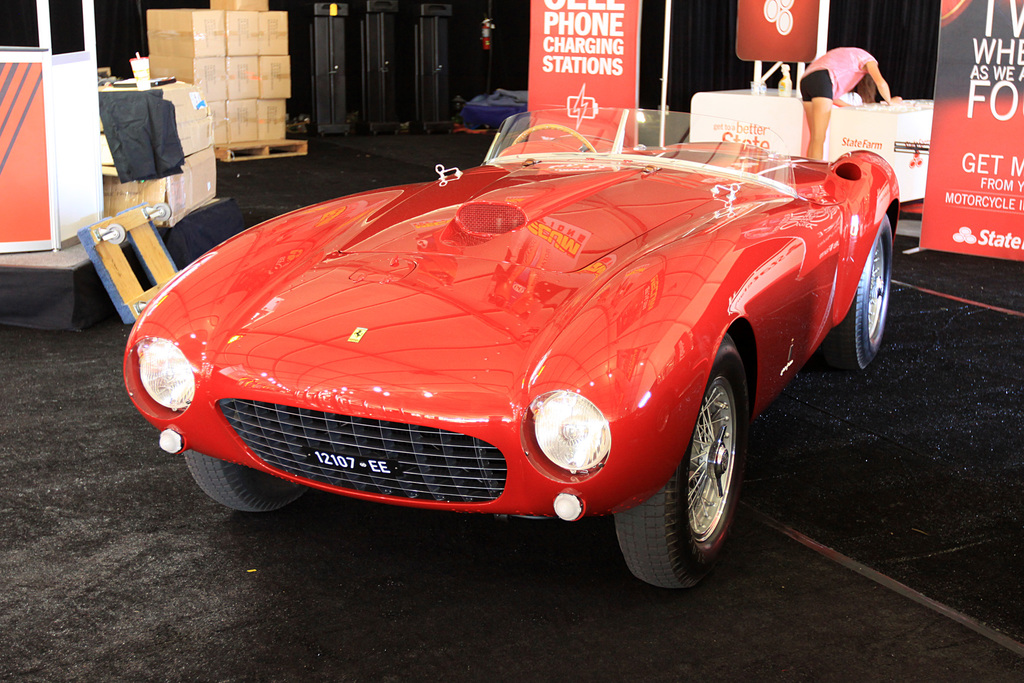 1954 Ferrari 375 MM Spider 0362AM – did not sell for $5,750,000. Serial No. 0362AM, By Pinin Farina. Ordered new by Southern California construction magnate Anthony Parravano. Driven to a remarkable 172 MPH top speed at its first run at El Mirage dry lake in 1954. Driven to 1st Place by Jack McAfee at 0362AM's first organized sports race at Golden Gate Park, June 6, 1954. 1st Place at Offutt Air Force Base in 1954. 1st Place at Palm Springs Road Races in 1954. Entered in the 1954 12 Hours of Sebring. 1st Place at Palm Springs Road Races in 1955. 1 of approximately 16 open coachwork 375 MM Ferraris by Pinin Farina. Driven by Dan Gurney, Bob Bondurant, Skip Hudson, Don Hulette and Otto Becker from 1958-61 in major events. Complete known ownership history: Anthony Parravano: 1954-57. Frank Arciero: 1957-65. Ron Kellogg: 1965-68. Charles Betz and Fred Peters: 1968-Present. Best of Show at the 2013 Carmel Concours on the Avenue. Auction Source: Monterey 2014 by Mecum Auctions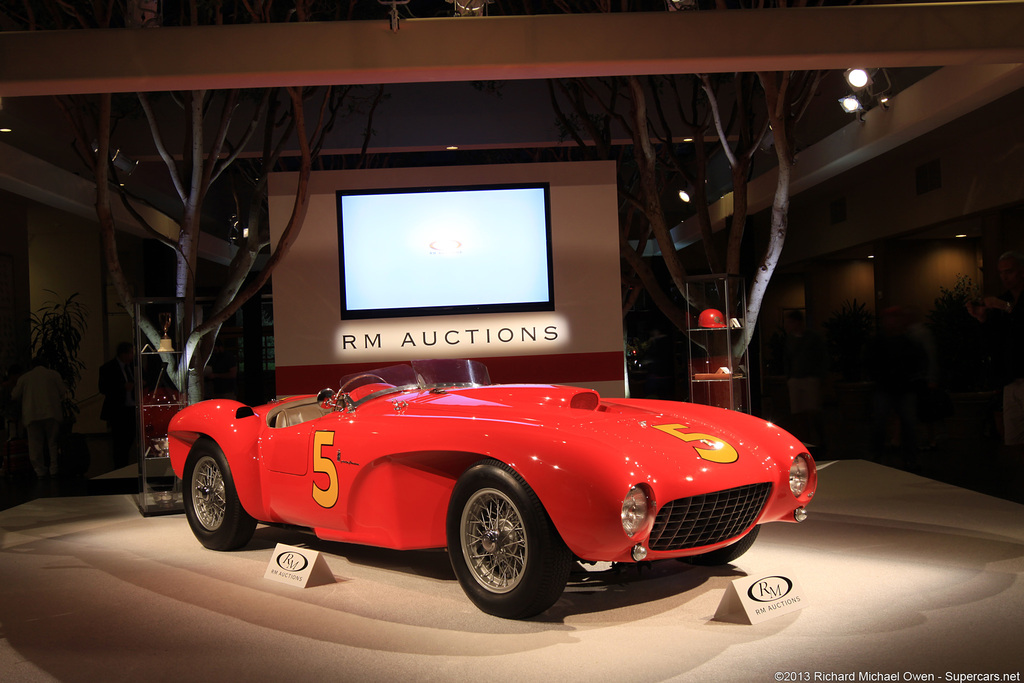 1953 Ferrari 375 MM 0364AM – sold for $9,075,000 The 1954 SCCA National Champion. Commissioned, owned, and raced new by legendary gentleman driver Jim Kimberly. Single-family ownership since 1968. Exhaustive and extremely well-documented restoration. One of only twelve 375MM Spiders. The only 375MM Spider with unique pontoon-fenders, liveried in unique "Kimberly Red".
Auction Source: 2013 Monterey Auction by RM Auctions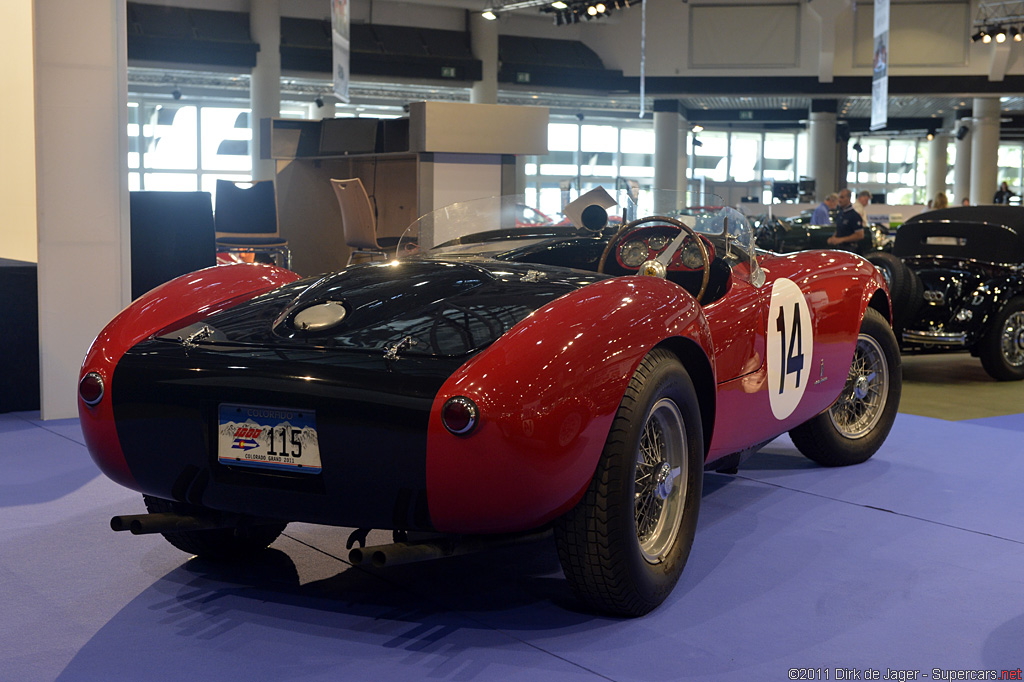 1953 Ferrari 375 MM Spider 0362AM/0374AM – did not sell for €2,900,000 The second of only 15 Ferrari 375 MM spiders bodied by Pinin Farina. Winner of two national championships in Argentina in 1954-55. 18 podium finishes, including 11 wins, between 1954-57. Discovered in Uruguay in 1983; restored in Italy 1984-86. Two Mille Miglia Storicas and four Monterey Historics, four Colorado Grands. Ex-Count Vittorio Zanon, Yoshiho Matsuda, John McCaw. Auction Source: Monaco 2012 by RM Auctions