1953 MG TF
In 1953, MG updated their Midget line to include fully integrated headlights and redesigned front fenders. This updated the somewhat aging line until the MG A of 1955.
In Detail
| | |
| --- | --- |
| submitted by | Richard Owen |
| type | Series Production Car |
| engine | Inline-4 |
| position | Front, Longitudinal |
| aspiration | Natual |
| block material | Cast Iron |
| compression | 8.0:1 |
| power | 42.5 kw / 57 bhp @ 5500 rpm |
Auction Sales History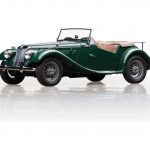 1955 MG TF-1500 HDP467/7691 – sold for $33,000 The example presented here is perhaps the most classic example of a MG TF, as it is finished in the traditional British color scheme of green over a tan leather interior, with a beige convertible soft-top and tonneau cover. The MG's green finish presents quite nicely, and the exterior chrome shines bright, while the top exhibits no flaws whatsoever. Step inside, and it's clear that the interior has been maintained just as well as the exterior, as both seats show only slight wear from normal road use. Nothing but the octagon-shaped gauges (to echo the MG badge) are present to distract the driver from the task at hand.
Auction Source: Paul & Chris Andrews Collection by RM Sotheby's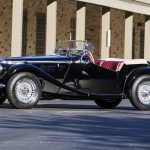 1955 MG TF 1500 HDP467776 – sold for $88,000 The Final Evolution of the Famed T-Series MGs. Exceptional Restoration Completed in 2005. Striking Black over Red Color Scheme. Multiple Award-Winning Example. Accompanied by BMHT Certifcate and T Factory Production Record.
Auction Source: The Scottsdale Auctions 2015 by Gooding & Company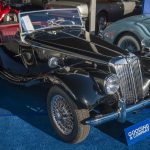 1955 MG TF 1500 HDA46/8363 – sold for $34,100 Last of the "T" Line Model. Original Factory Color Combination. Unrestored, Honest Example. Desireable 1500 Model.
Auction Source: The Scottsdale Auctions by Gooding & Company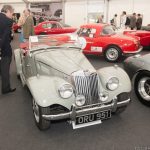 1954 MG Midget TF Roadster HDB16/4902 – sold for €24,000 Something of a rarity, this original right-hand drive example is finished in the attractive but relatively unusual combination of Silver Birch paintwork with red interior trim. We are advised that 'ORU 951' (its original registration) was restored circa the late 1980s while in the hands of the previous owners, who had acquired the MG in 1961, but is otherwise very original. Described as in generally good/very good condition, the car is said to be a joy to drive with very lively performance and no known faults apart from a non-functioning clock. This original and nicely patinated classic is offered with old-style logbook, current MoT/tax and Swansea V5 registration document.
Auction Source: 2012 Goodwood Revival Sale by Bonhams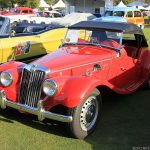 1954 MG TF Roadster HDB461044 – sold for $28,000 Older restoration. New brakes. New water pump. New hoses. New battery. Very original car. Rust free.
Auction Source: 2012 Daytime Auction by Mecum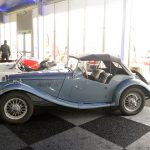 1954 MG TF – sold for €29,784 The 1954 model offered comes form this vintage. In an elegant metallic blue livery with black leather interior, it was bought by the current owner in 1986. It has benefitted from a thorough restoration in the US, after which, it took part in concours d'élégance and MG club outings across the Atlantic. Since the car arrived in France, it has covered approximately 15,000 km. In 2011, major work was carried out on the engine and the bodywork, costing nearly €11,000, all documented in the file of invoices. Beautifully presented and in excellent running order, this car today invites the trouble-free and enjoyable discovery of new destinations.
Auction Source: 2012 Sport & GTs au Mans Classic by Artcurial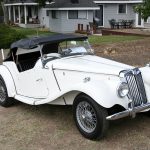 1954 MG TF Roadster – sold for $16,000 Long term Museum vehicle. Nice example.
Auction Source: 2011 Monterey Daytime Auction by Mecum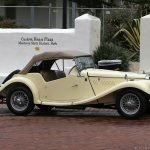 1954 MG TF Roadster – sold for $27,500 Share0  Prior to acquisition by the current owner in early 2010, this 1954 MG TF Roadster benefited from a high-quality, meticulously documented restoration. This west coast car is truly resplendent in its Primrose Yellow exterior finish, complemented by Butterscotch upholstery, and comes complete with weather gear including folding top and a full set of four side curtains. Following a rebuild, the 1,250 cc XPAG engine now displaces 1,306.5 cc. Well maintained and sparingly used since acquisition by the current owner, this sprightly TF is more than capable of offering the visceral driving experience MGs are best known for.
Auction Source: 2011 Monterey Auction by RM
1954 MG TF Roadster – did not sell for €19,985 Finished in burgundy with a biscuit leather interior, this TF was fully restored and is very well equipped with a pair of driving lights, whitewall tyres, wind wings, a rear-mounted luggage rack and a delightful wicker picnic basket. Everything on this car is nicely presented, from the detailed engine bay to the inviting cockpit. It was already restored when acquired by the current owner in Geneva over 20 years ago and has seen very little use since then. Now offered from a private Swiss-based collection, this MG is fully equipped with all weather gear and is a perfect weekend car for both country- and sea-side driving.
Auction Source: 2011 Salon Privé Auction by RM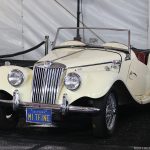 1955 MG TF 1500 – sold for $24,200Surviving records date back to the mid-1970s when Louis Colen of Los Angeles owned the handsome British sports car. Between February and March 1977, the MG was sold to Dennis LaVine of Woodland Hills, who may have first spotted the rare TF in the workshop of Joe Verbiesen & Son on Ventura Boulevard. Shortly after acquiring the car, Mr. LaVine registered it with a clever vanity plate – MITFINE – and proceeded to drive his prized roadster on a regular basis for the next three decades.

Auction Source: 2011 Amelia Island Auction by Gooding & Company