Maserati A6G/2000 Sport
The A6G54 was Maserati's only dual-purpose road/race car made in series production. After the A6GCS became a success on the racetrack, Maserati redesigned the model as a road-going sports car that was more suitable for increased production. Maserati expert Luigi Orsini called the model by its full name: the A6G54 2000 Sport. It was a high performance 2-litre sports chassis that was crafted into either sports tourer or racing car by the many Italian design houses.
Maserati invested little time and capital on A6G54 development by relying on existing designs and choosing to outsource all the bodywork. Thus, no two cars were alike and each reflected the first customer's design preference. What they did have in common was a sporting pedigree from Maserati's past.
Right before the all the Maserati brothers had pulled out of the company in 1947, leaving it to Commandatore Adolfo Orsi, they designed a bulletproof inline-6 engine which would eventually power the A6G54 in its definitive form. Initially, Maserati's six was placed on a simple ladder-type tube frame with a 1.5-liter, inline-six engine producing 65 horsepower that was a low point for Maserati performance. By 1951, a two litre version of the A6 was released and featured some fancy custom bodies, but it took until 1954 to get the design right.
At that time Vittorio Bellentani was brought in to detune the A6GCS racing engine and make it suitable for GT driving. He tuned to the engine to provide a better power curve and fitted a normal wet-sump lubrication system specifically for the A6G54 2000. The twin-spark cylinder head with its 12 wire distributor was offered only as an option. It raised the ante to 190 horsepower in top form.
The chassis was built by Gilco and resembled the simple twin parallel tube design used on he first A6. Suspension upfront consisted of double wishbones with a rigid axle in rear. Steering and braking came from the A6GCS.
Second series A6G 2000 Sports were produced from 1954 until 1957. During that period sixty examples were created despite competition from Ferrari and Fiat with their 8V. As the specification of the A6G54 resembled a sporting nature, especially the Zagato-bodied models, some examples used a special competition cylinder heads. At the time, Maserati was campaigning their A6GCS leaving the A6G54 for the most part to private entrants.
See Also: All Maserati A6 cars plus our full list of awesome Maserati cars and recent Maserati posts and news.
See all Maserati A6G/2000 Sport images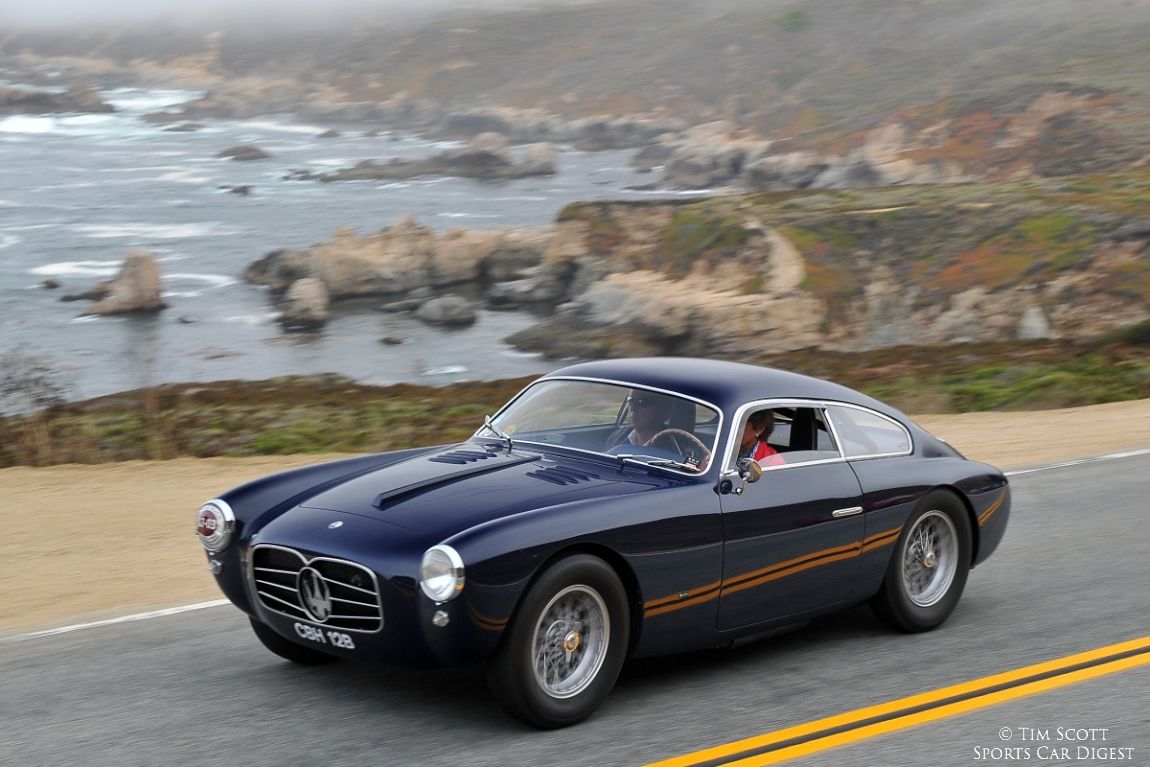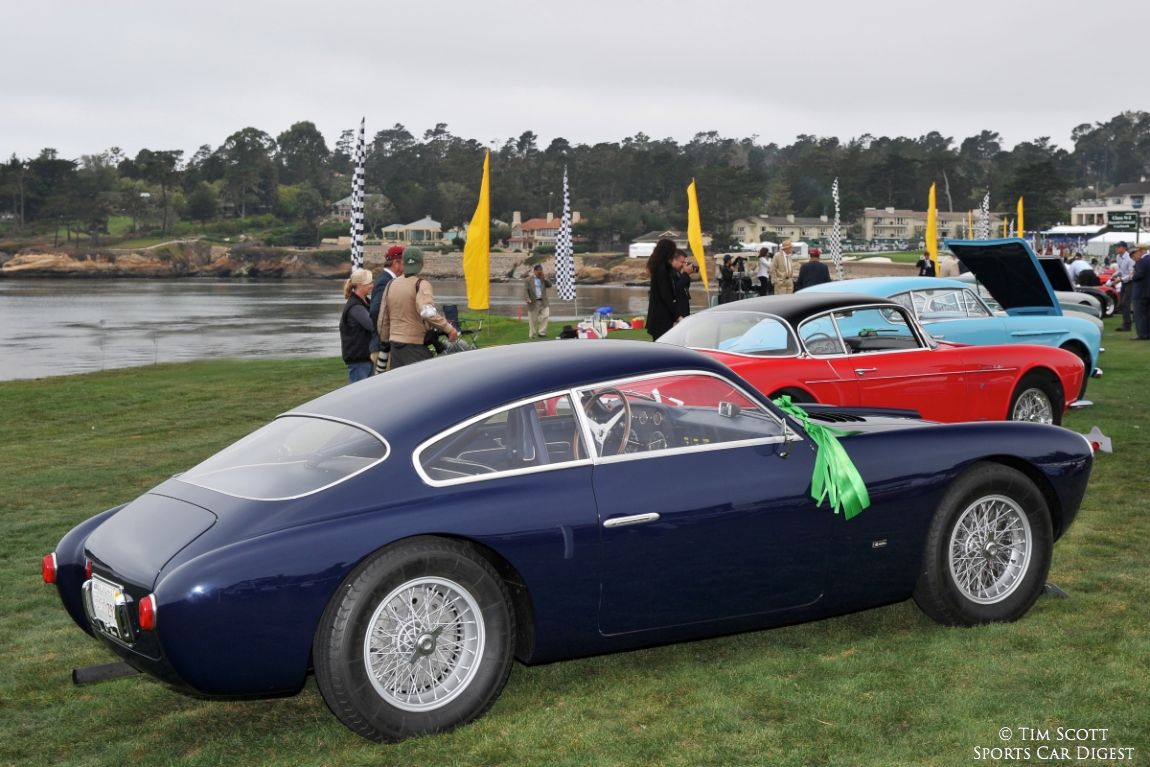 Bodywork
All the cars were sold as bare chassis to be fitted with bodies from some of the best Italian design houses. The most celebrated of these was Zagato's purposeful coupe. Zagato's treatment of the Maserati chassis was similar to the Fiat 8V coachwork from 1954 which was sculpted out of aluminum into a flowing shape. A total of nineteen Zagato Coupes were built and the first, chassis, #2013, was built as a one-of spider. These 20 or so Zagato coupes formed the first concrete relationship between the companies.
Of all the A6G2000s, the Zagato model was the most fit for racing. The methods used by Zagato ensured a lightweight construction. The body was formed, by hand, in aluminum with the Perspex windows all around. Total weight of the Zagato Berlinetta was 840kg (1852lbs). Each car had remarkable differences both inside and out. As an example chassis #2121 was the only A6 to receive the trademark Zagato double bubble roof.
Vignale and Frua made some wonderful examples on the A6G54 chassis the former making a series of striking two-tone spyders. But these lavish bodies and interiors took very long to complete, so Maserati turned to Allemano who made a series of pedestrian coupes that Maserati were listed in the official catalogue.
Eventually the Maserati took the responsibility of building their own bodies and series production of their first 'in house' grand tourer started with the 3500GT in 1957.
See all Maserati A6 cars plus our full list of awesome Maserati cars and recent Maserati posts and news.
Chassis & Sales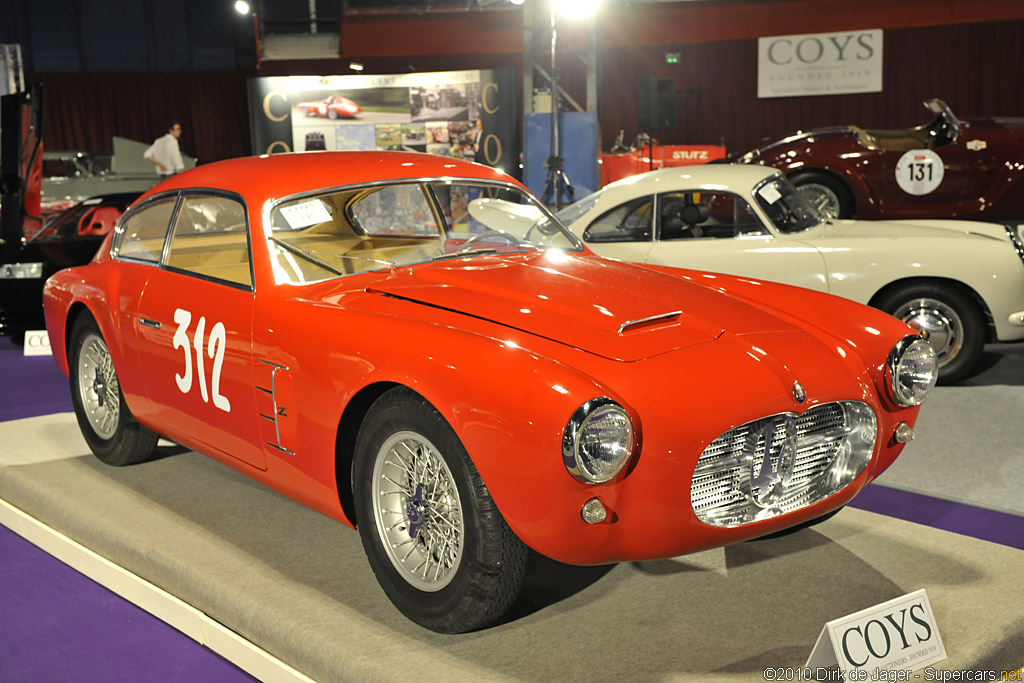 2137-1956 Maserati A6G54 2000 Zagato Berlinetta. Delivered in racing red with a beige (Nocciola) leather interior to Conte Giuseppe Dettaiuti Leopardi on May 29th 1956. It was later purchased by Ulisse Pizzi who entered in in the 1956 Mille Miglia with starting number 312, then the Coppa Intereuropa at Monza with number 61 and finally later that year in the Targa Florio. Later 2137 was donated to the Maserati Museum in 1970 and it was restored. Eventually it was passed to the Panini collection based in Modena where it resided until 2005. At that time it was privately sold and a large restoration was performed with a new body by Franco Ferrari. It was offered at Coys' 2010 Legende et Passion Auction but did not sell with an estimate of €860000 – €950000.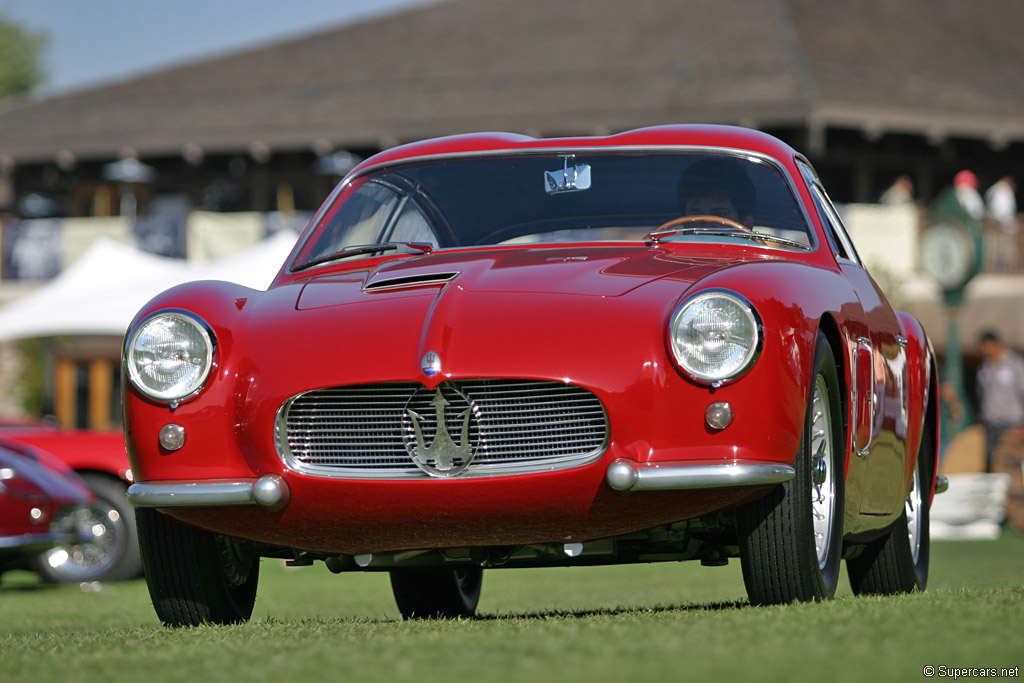 Maserati A6G/2000 Sport In Detail
| | |
| --- | --- |
| submitted by | Richard Owen |
| type | Series Production Car |
| production years | 1954 – 1957 |
| built at | Italy |
| production | 60 |
| engine | Twin Spark, Inline-6 |
| position | Front Longitudnal |
| aspiration | Natural |
| ignition | Marelli ST111DTEM Distributors w/Twin Spark |
| valvetrain | DOHC, 2 Valves / Cyl |
| fuel feed | Tripple Weber 40DCO3 Carburetors |
| displacement | 1985 cc / 121.1 in³ |
| bore | 76.5 mm / 3.01 in |
| stroke | 72 mm / 2.83 in |
| compression | 8.1:1 |
| engine designer | Vittorio Bellentani |
| power | 111.9 kw / 150.1 bhp @ 6000 rpm |
| specific output | 75.62 bhp per litre |
| bhp/weight | 178.69 bhp per tonne |
| redline | 7000 |
| body / frame | Custom Body over Steel Tube Chassis |
| driven wheels | Front Engine / RWD |
| wheel type | Spoked Wire Wheels |
| front tires | 6.60×16 Pirelli |
| rear tires | 6.60×16 Pirelli |
| front brakes | Drums |
| rear brakes | Drums |
| front wheels | F 40.6 x 11.4 cm / 16.0 x 4.5 in |
| rear wheels | R 40.6 x 11.4 cm / 16.0 x 4.5 in |
| steering | Worm & Sector |
| f suspension | Double Wishbones w/Coil Springs, Houdaille Shock Absrobers, Anti-Roll Bar |
| r suspension | Live Axe w/Radius Rods, Quarter Elliptic Springs, Houdaille Shock Absorbers, Anti-Roll Bar |
| curb weight | 840 kg / 1852 lbs |
| wheelbase | 2550 mm / 100.4 in |
| front track | 1360 mm / 53.5 in |
| rear track | 1220 mm / 48.0 in |
| length | 4090 mm / 161.0 in |
| width | 1530 mm / 60.2 in |
| height | 1320 mm / 52.0 in |
| transmission | 4-Speed Manual w/Synchromesh |
| tran clutch | Single Dry Disc |
| top speed | ~210 kph / 130.5 mph |
Maserati A6G/2000 Sport Auction Sales History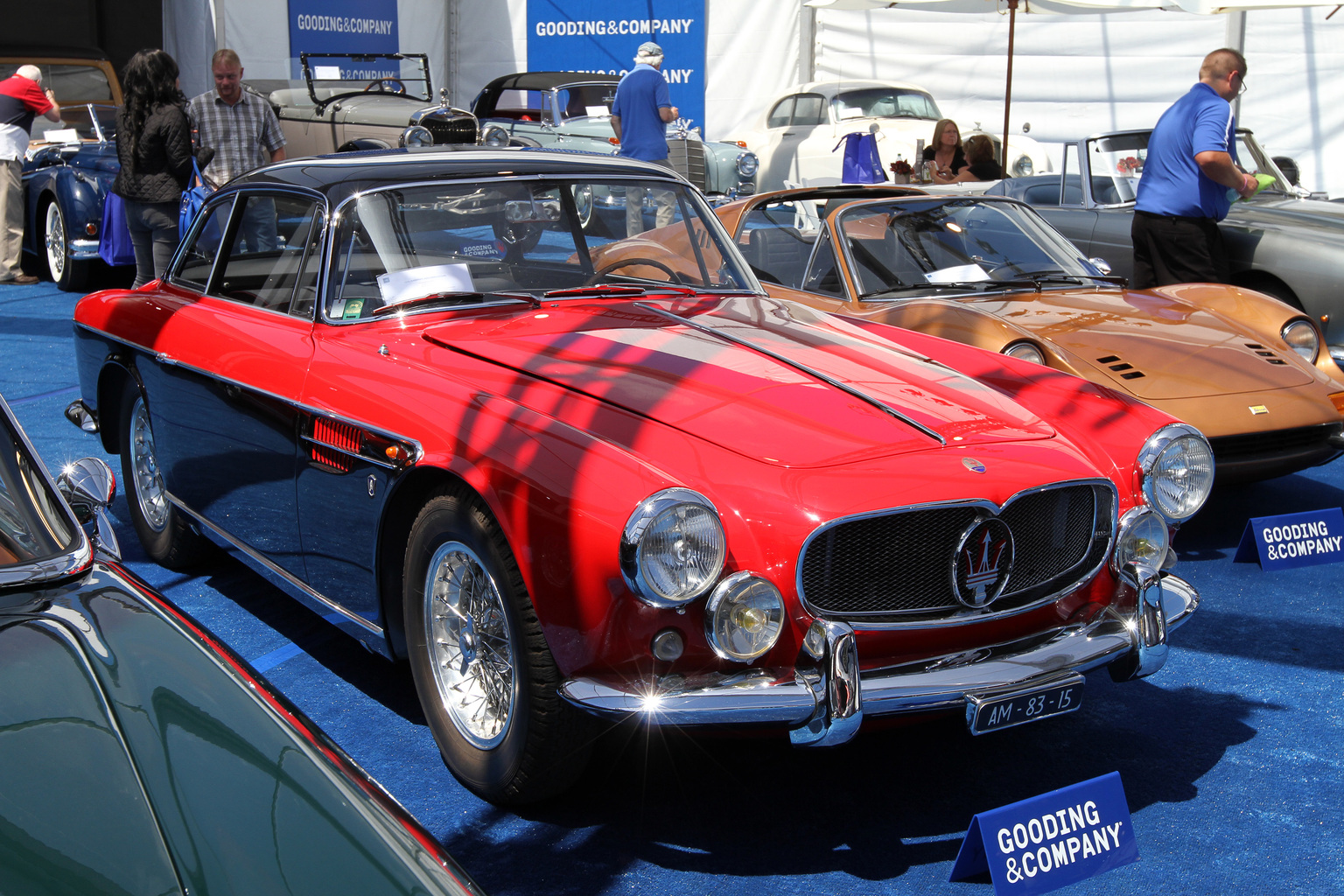 1956 Maserati A6G/2000 Coupe 2147 – sold for $1,045,000 Special-ordered new by Richard L. "Dick" Cicurel who demanded approximately 50 items and upgrades to his car for open-road rally competition. Upgrades include recessed fog lamps, special reversing lights, a shorter rear-end ratio, larger bumpers, and an increased-capacity fuel tank with a racing-style filler cap. Incredibly Well Documented, Including Copies of Factory Paperwork. Exacting Restoration to Original As-Delivered Specifications.  Auction Source: The Pebble Beach Auctions 2015 by Gooding and Company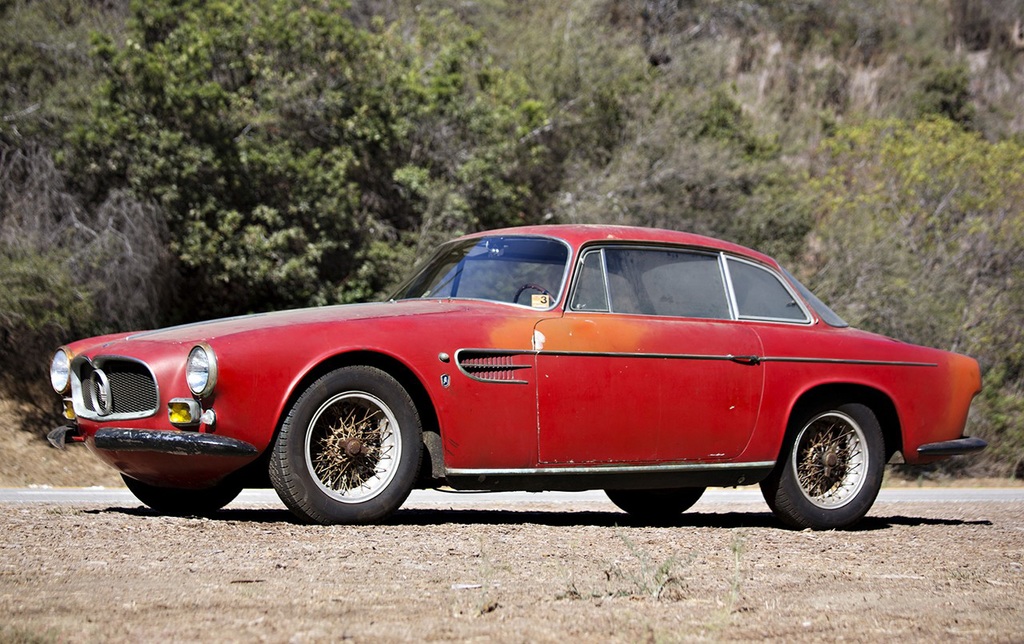 1956 Maserati A6G/2000 Allemano Coupe 2165 – sold for $715,000 A Rare and Exotic Coachbuilt Maserati. One of Only 21 Allemano Coupes Built. Rich, Well-Documented History and Provenance. Ideal Candidate for a Show-Quality Restoration. Eligible for the Most Prestigious Concours and Driving Events. Auction Source: The Scottsdale Auctions 2015 by Gooding & Company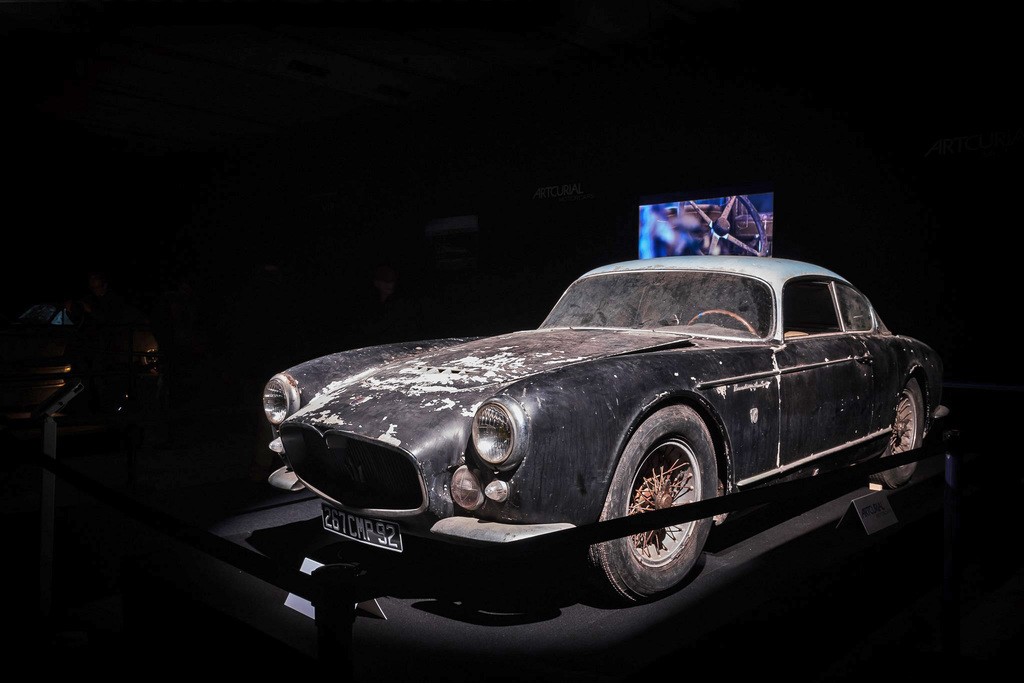 1956 Maserati A6G 2000 Gran Sport Berlinetta Frua 2140 – sold for €2,000,000 Ex Roger Ballion collection. One of just 4 produced; refined, stylish coachwork by Frua. Matching numbers.Exceptional history – in same family for 55 years. Superb condition. 1956 Paris Motor Show. Auction Source: The Baillon Collection at Rétromobile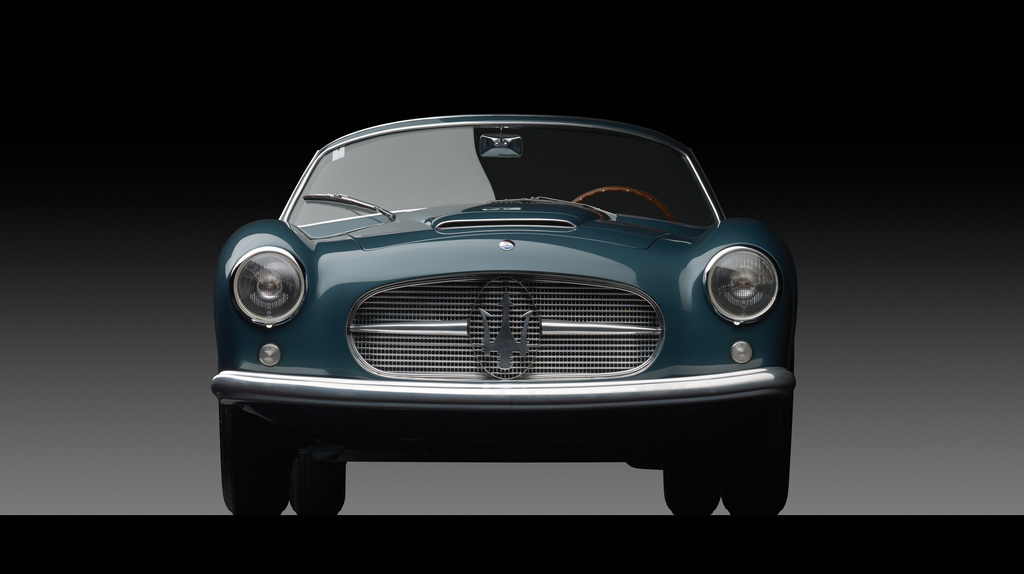 1954 Maserati A6G/2000 Spyder Zagato 2101 – sold for $4,455,000 1954 Maserati A6G/2000 Spyder by Carrozzeria Zagato. The automotive embodiment of la dolce vita. The only Maserati A6G/2000 with spyder coachwork by Zagato. Displayed at the 1955 Geneva Salon and 1958 Paris Motor Show. Auction Source: RM's Art of the Automobile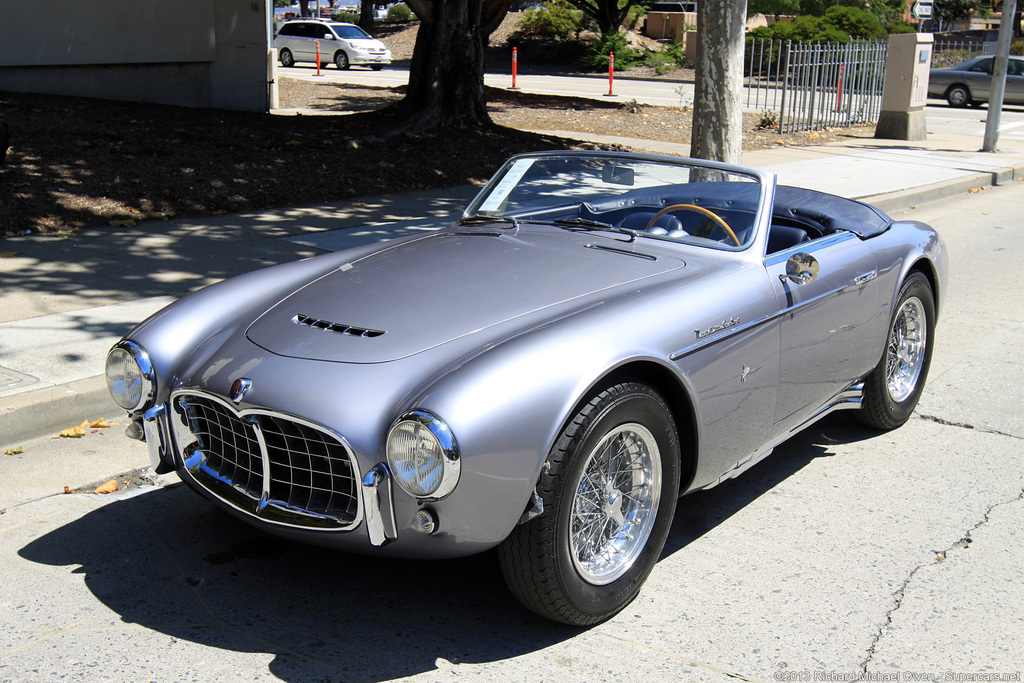 1953 Maserati A6G/2000 Frua Gran Sport 2190 – sold for $2,530,000 The only A6G Frua Spyder with side exhaust. Best Maserati at Concorso Italiano in 2003. Two-time Colorado Grand participant. Auction Source: 2013 Monterey Auction by RM Auctions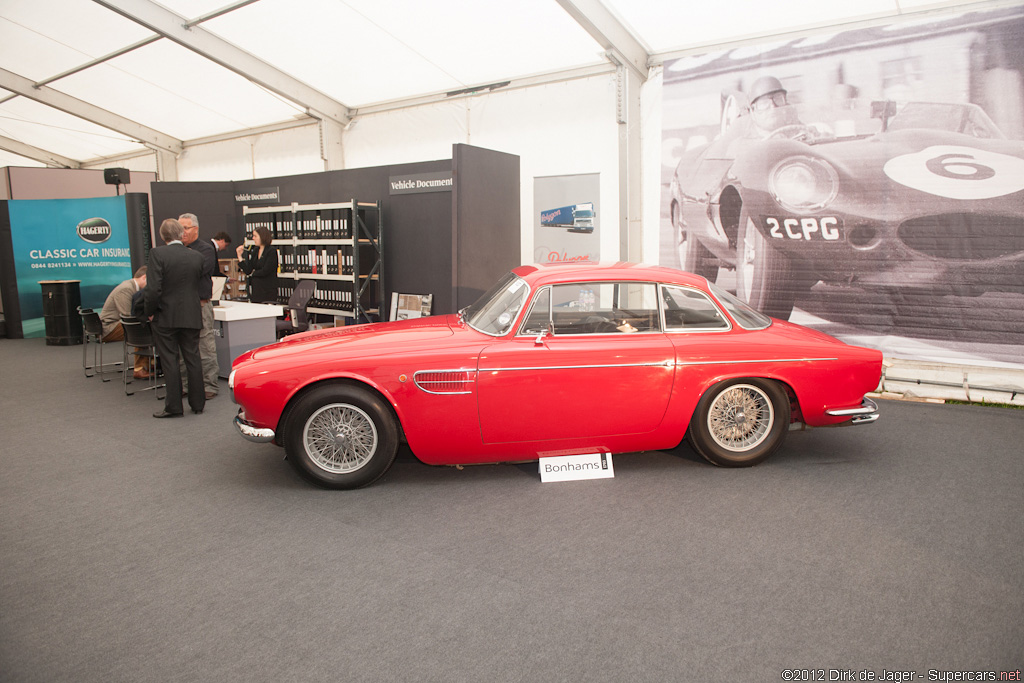 1956 Maserati A6G-2000 Allemano Coupe 2126 – sold for €296,000 anuel 'Toulo' de Graffenried that March. This particular car now offered here – chassis '2126' – was the tenth of these cars to be bodied by Allemano in their attractive Coupe style. It was finished originally in grey paintwork and was delivered on May 28, 1956, to Ciancarelli in Rome. Auction Source: 2012 Goodwood Revival Sale by Bonhams.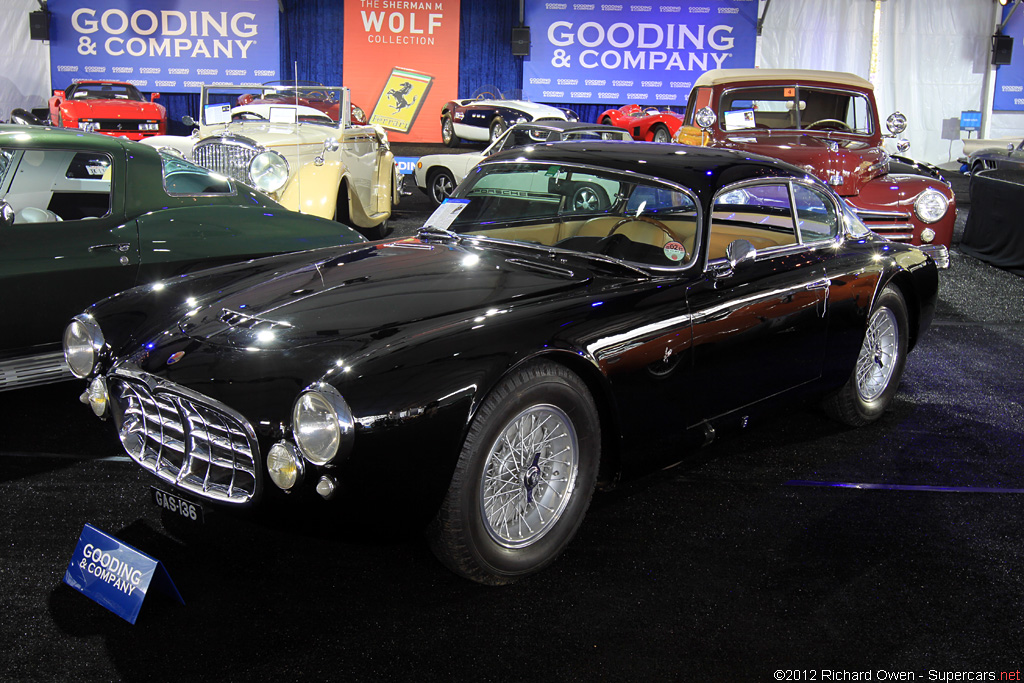 1955 Maserati A6G/2000 Frua Berlinetta 2114 – sold for $1,650,000 An Exceptionally Rare Frua-Bodied A6G/2000 Berlinetta. Glamorous Paris Show Car Pedigree. Beautifully Executed Bill McGrath Restoration. Presented in Outstanding Original Color Scheme. Best in Class and Grand Prix at Salon Privé. Successful Mille Miglia Storica Participant. Part of the Jay Kay Collection Since 2003. One of the Most Fascinating Italian Sports Cars of the 1950s. Auction Source: 2012 Pebble Beach Auctions by Gooding & Company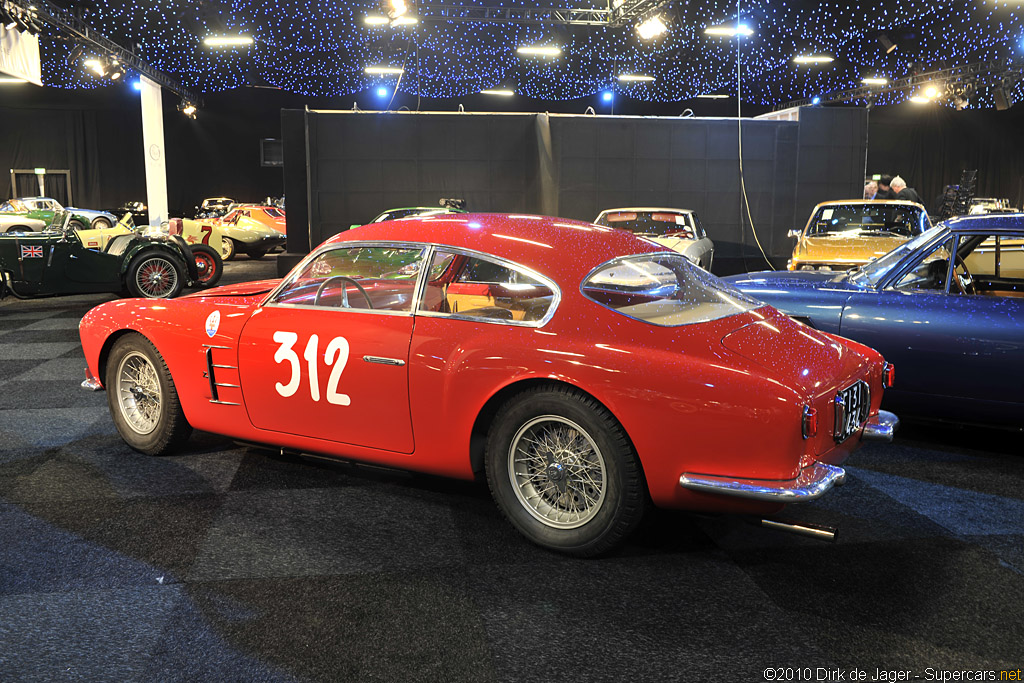 In 1968, the car was gifted to the Maserati Museum in Modena. As per Mr. Cozza (the Maserati factory Archivist), when the car arrived at the museum it was complete but without its body. A restoration was begun but never completed, likely due to financial constraints. Later on, the car was among the parts and Maseratis that were acquired in 2000 by the Modena-based Panini Collection, from where the current owner acquired the car in 2005.
The vendor completed the car's photo-documented restoration just this year and has since participated in the Stanguellini Memorial, the first revival of the Modena circuit. All mechanicals were rebuilt by Candini in Modena, the interior was done by Ferraresi Ferrari and the bodywork was rebuilt by none other than Ferrari Franco (formerly Fantuzzi), the Modena-based specialist whose extraordinary work has included the famed Ferrari 330 TRI/LM among many others.
One of just 20 Zagato berlinettas, with no two completely alike, this car will never meet another like it on the road. With its documented Mille Miglia history, it is eligible for entry in the current series as well as many other historic and vintage racing events. The restoration, by Modenese craftsmen, is exceptional, and the car has been maintained in top condition since completion. This is a very rare opportunity to acquire a top-flight car with impeccable provenance. Auction Source: 2010 Automobiles of London by RM Auctions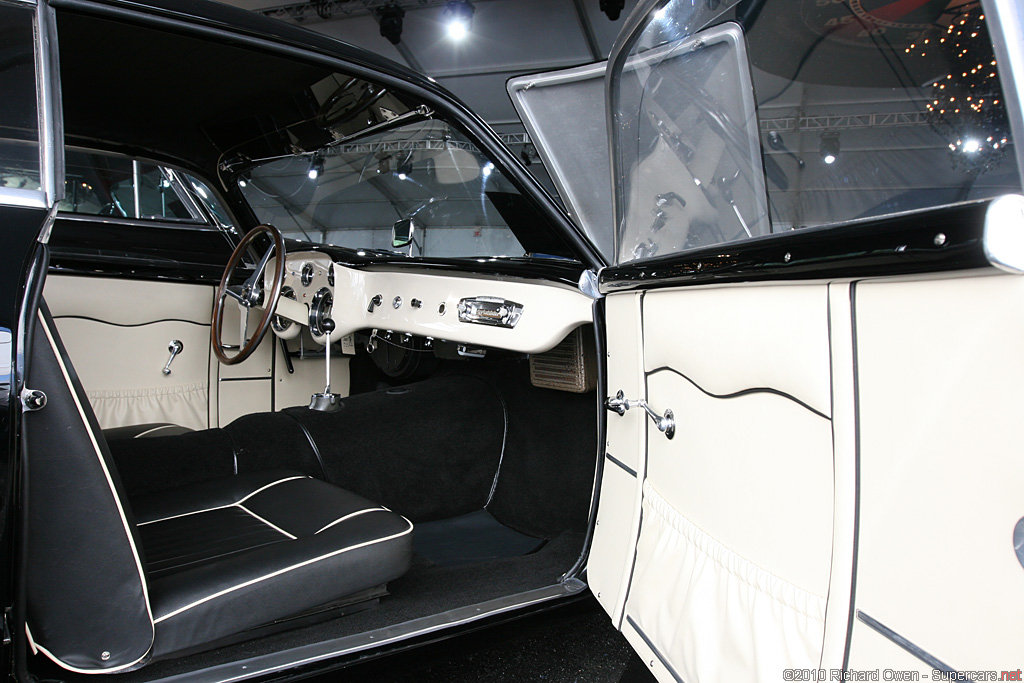 1955 Maserati A6G/54 Zagato Berlinetta 2105 – sold for $1,595,000 In addition to its potential for awards and rewarding drives, this Maserati is offered with a file of paperwork and correspondence that traces its history and provenance, as well as a ledger of expenses for the latest work carried out in Europe.
While many of the A6G/54 Berlinettas have been crashed, modified or compromised, 2105 is an exceptional example in every way, with a "no excuses" past and painstaking restoration that has returned this former Maserati show car to its original splendor.
Offered from one of the finest Maserati collections, this exquisite A6G/54 is among the most evocative and best-performing sports cars of its era and its superb credentials are sure to impress the most discriminating collector. We are very proud to offer this important example for public sale. Auction Source: 2010 Gooding & Company Pebble Beach Auction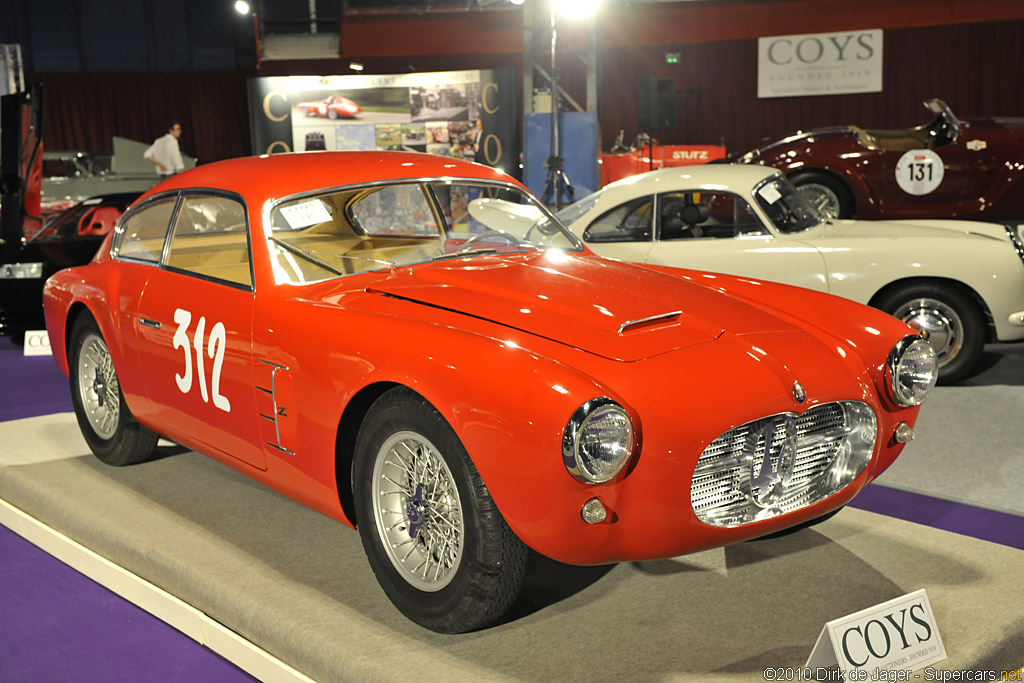 1956 Maserati A6G 2000 Zagato Competition Berlinetta 2137 – did not sell for €850,000 Zagato produced 20 A6G/2000 berlinettas between 1955 and1957, one of which is this example 2137. It is presented in Maserati racing red with a beige (Nocciola) leather interior – the same specification as delivered by the factory in 1956.
The car was delivered by Maserati to Conte Giuseppe Dettaiuti Leopardi on 29/05/1956 (Maserati Invoice no 6481) against a trade in of a Maserati 150S Spider.
In 1957 the car changed hands and became the property of Avv. Ulisse Pizzi. The car took part in the Mille Miglia n.XXIV with starting no. 312, then the Coppa Intereuropa at Monza with number 61 and finally later in that year the Targa Florio.
In 1960, the car was sold to Mario Candrini, the Grandfather of the present owner, who was an owner of several Ferraris and a lover of fine cars.
In 1961 the car passed to Sig. Saverio Spinelli of Florence. It changed hands again in 1962 and became the property of Sig. Di Geronimo of Rome then it moved once again to Florence to Sig. Baronti. The car arrived at the Maserati Museum as a gift in 1970 and the restoration of 2137 began. This particular car was included in the group of Maseratis and parts that were later taken over by the Panini collection based in Modena and it was from them that the current owner purchased the car in 2005. Since then the car has received a full restoration by Modena's finest craftsmen, The mechanics were attended to by Officina Candini and the newly skinned body work done by Franco Ferrari using original photos of the car to achieve a perfect result.
The car has a documented racing history including the 1957 Mille Miglia, Coppa Intereuropa, and the 1957 Tour of Sicily (called the Targa Florio today). The car has received a full nut and bolt restoration by a team of noted Modenese craftsmen. All the work is fully documented and photos will be supplied to the new owner at the time of its sale.
The car retains its original Italian Log book and Foglio Complementario so that the original Black Plates can be reissued if need be. The vendor describes the car as stunning in all respects and ready to compete in the highest profile international historic events or concours d'elegance. Auction Source: Coy's 2010 Legende et Passion Auction