1954 Buick Skylark
To celebrate its' 50th anniversary, Buick released the Skylark in 1953. This model sported the first Buick V8 and featured styling cues from the previous Motorama concept cars.
Arguably, the 1953 Skylark was the pinacle of Buick styling. After 1953, the Skylark line seemed to go downhill. The car got larger with the rest of the industry.
See full 1954 Buick Skylark Gallery here
In Detail
| | |
| --- | --- |
| | |
| type | Series Production Car |
| built at | USA |
| engine | V8 |
| compression | 8.5:1 |
| wheelbase | 3086 mm / 121.5 in |
| top speed | ~166.4 kph / 103.4 mph |
| 0 – 60 mph | ~13.6 seconds |
Auction Sales History
Auction Sales History
1954 Buick Skylark A1047113 – sold for $187,000
The Skylark presented here was beautifully restored while in the ownership of a former collector. During this time, it was finished in the correct and attractive factory color of Lido Green, with a matching two-tone interior, which features the correct "waffled" fabric. Every element, from the beautiful Kelsey-Hayes chrome wire wheels to the unusual but attractive dark green convertible top, was restored or replaced, and utmost attention to detail and accuracy was paid throughout. The restoration was awarded an AACA Junior National First prize, and since joining the Andrews Collection, it has been consistently well-maintained to that same very high standard of excellence.
Auction Source: Paul & Chris Andrews Collection by RM Sotheby's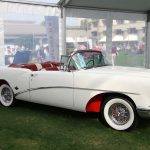 1954 Buick Skylark 7A1090267 – sold for $121,000
This 1954 Skylark was restored by Greg Cook at Cook's Restorations in Gettysburg, Pennsylvania. It was an AACA Senior First Place Grand National award winner soon after completion. Although about two decades old, the restoration has held up very well and even earned a corporate award from Autoweek magazine at Amelia Island in 2003, when Buick was the featured marque. It is finished in correct Arctic White, with a maroon-and-cream interior in the correct distinctive pattern and a white vinyl convertible top. The carpets are of the proper type and fit very nicely. The paint and chrome are both very good, and the undercarriage shows just the slightest signs of use, despite being driven regularly.
Auction Source: 2015 Amelia Island by RM Sotheby's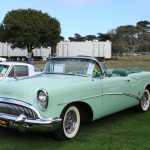 1954 Buick Skylark Convertible 7A1064548 – sold for $110,000 Recent frame-off restoration. 1 of 836 produced in 1954. Nailhead V-8 engine. Dynaflow automatic transmission. New White top. Kelsey chrome spoke wheels. Wide whitewall tires. Power convertible top. Power windows. Power antenna. Power steering. Factory AM radio and clock.
Auction Source: Monterey 2014 by Mecum Auctions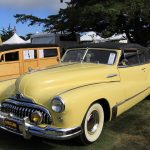 1948 Buick Roadmaster Convertible 50270587 – sold for $45,000
100% of the proceeds go to "Outside the Lens" as a charity donation. The 1948 Buick Roadmaster was a Harley Earl design with the 320 CI engine. 2-speed Dynaflow automatic transmission. Purchased in May of 1998 by the current owner, whom was a local Television Writer and Producer. Kept in meticulous driving condition by The Alan Taylor Co., of Pebble Beach Concourse Fame and restoration specialist. All repairs were also done by Alan Taylor. All history of repairs, registration & inspections files come with the car. In 1948 a series script appeared on the front fenders and the white Tenelite steering wheel that had been used previously was traded in for a black one, in order match the change from a two-tone woodgrain instrument panel to a two-tone gray instrument panel, with silver tone instruments. New optional Custom Trim option was offered, consisting of cloth upholstery with leather bolsters with the robe cord cover and lower door panels done in leatherette. Convertibles acquired power windows, seat and top as standard equipment. Introduction of Dynaflow, the first passenger car torque converter transmission optional on Roadmaster in its first year, it was so popular that by the following it was standard equipment
Auction Source: Monterey 2014 by Mecum Auctions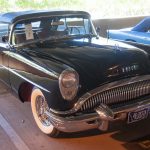 1954 Buick Skylark Convertible 7A1092879 – sold for $110,000 One of just 836 originally built. The last of the exclusive Skylarks. Buick's style and luxury leader for 1954.
Auction Source: 2014 Arizona by RM Auctions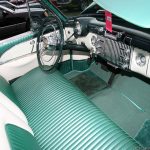 1953 Buick Skylark Convertible – did not sell for $112,500
Inspired by Buick's innovative XP-300 show car, the 1953 Buick Skylark was built as part of that Division's 50th Anniversary commemoration and combined grand styling and bold engineering, most notably in its new 322/188 HP Nailhead V-8 and Dynaflow automatic transmission. The typically fully-optioned example offered here was purchased by its present owner over 20 years ago in Orange County, CA, after which it was completely frame-off restored and finished in its original Ridge Green with matching Green and White interior and White soft top. It has been especially well cared for and remains in excellent condition today.
Auction Source: 2011 Monterey Daytime Auction by Mecum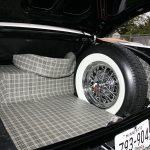 1954 Buick Skylark Convertible – sold for $79,750
The 1954 Skylark presented here benefits from a three-year, no-expense-spared restoration that was completed in the fall of 2007 by David Relf Restorations in Glenwood City, Wisconsin. Traveling only 200 miles since then, this Skylark retains the original engine and transmission and has been maintained to the highest standards. The paint and brightwork, as well as the interior and engine bay, still remain in show-quality condition.
Finished in black with red fender wells and complemented by a correct red leather interior, this example also features a matching red boot and a white convertible top. Sporting five original Kelsey-Hayes wire wheels (rebuilt by Dayton wheels) and period-style wide whitewall tires, this Skylark also has four-way power seat, power steering, brakes, windows, top, and antenna, as well as a Selectronic AM radio.
Also included in the sale are the original jack and tire iron, a new Buick shop and owner's manual and a stamped template (approx. 18″ x 24″) of this actual car from Buick.
Auction Source: RM Auctions' 2010 Sports & Classics of Monterey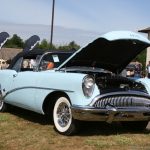 1954 Buick Skylark Convertible – sold for $61,600
Auction Source: 2009 Meadow Brook Concours