1954 Maserati A6GCS/53 Berlinetta
Styled by Pininfarina, the A6GCS Berlinetta was one of the prettiest Maseratis and its racing pedigree was only trumped by its flowing lines and taught proportions. Underneath the skin of this car is a race-bred chassis built by Gilco that was intended for events such as the prestigious Mille Miglia.
The A6GCS chassis was a derivative of the A6 Sportscar that was powered by a short-stroke, double ignition, inline-6 that was one of the last units designed by the Maserati brothers before their departure. Developed initially for Formula 2, the A6 would rev freely up to 7300 rpm and produce 170 bhp.
Stuck in a restricting contract with Ferrari, the Pinin Farina Berlinetta couldn't be sold directly by Maserati. So Rome dealer Giuglielmo Dei acquired six bare chassis and commissioned Pininfarina to complete four cars – no doubt protested by Enzo Ferrari.
One car appeared on the Pinin Farina stand at the 1952 Turin Motor Show and another sister car at the Paris Motor Show. At Rome's 'Concorso Internazionale d'Eleganza,' #2057, a stunning two-tone coupe with an extra low roof line, took the top prize.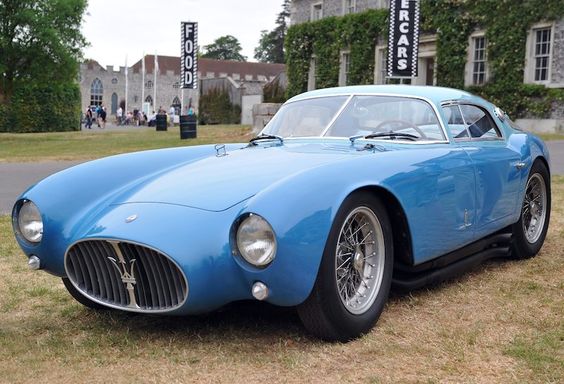 While the achievements of the A6GCS Coupe in motor sports were minimal, their beautiful styling was exciting enough. In 1996, one of the cars, chassis 2059, sold for $3.7 million USD.
Of the four chassis, 2056 & 2059 remain largely original while 2057 & 2060 were rebodied as spyders. The spare bodies were placed on two more cars, so six original Pinin Farina Coupes existed although never at the same time.
See all Maserati A6 cars plus our full list of awesome Maserati cars and recent Maserati posts and news.
Chassis by Chassis
2056 – Crashed by Garvina during the Giro di Sicilia in 1954 and killed co-driver. Abonded by the factory and restored by Carrozzeria Campana in 1991, it has been seen at the Maserati Museum and the Maserati Exhibition in 1998.
2057 – Displayed as a blue two-tone coupe at the Turin Motor Show this chassis has a low cut roof, split front windshield and a rounder tail without fins. Pietro Palmieri raced it at the 1954 Mille Miglia but found the noise and heat too much so it was rebodied into a spyder (by Fiandri?) and possibly renumbered as 2086. The extra body was used on chassis 2070. Franco Lombardi commissioned Giordemengo to build a replica body for 2057 and Giordemengo has since built two more complete replicas.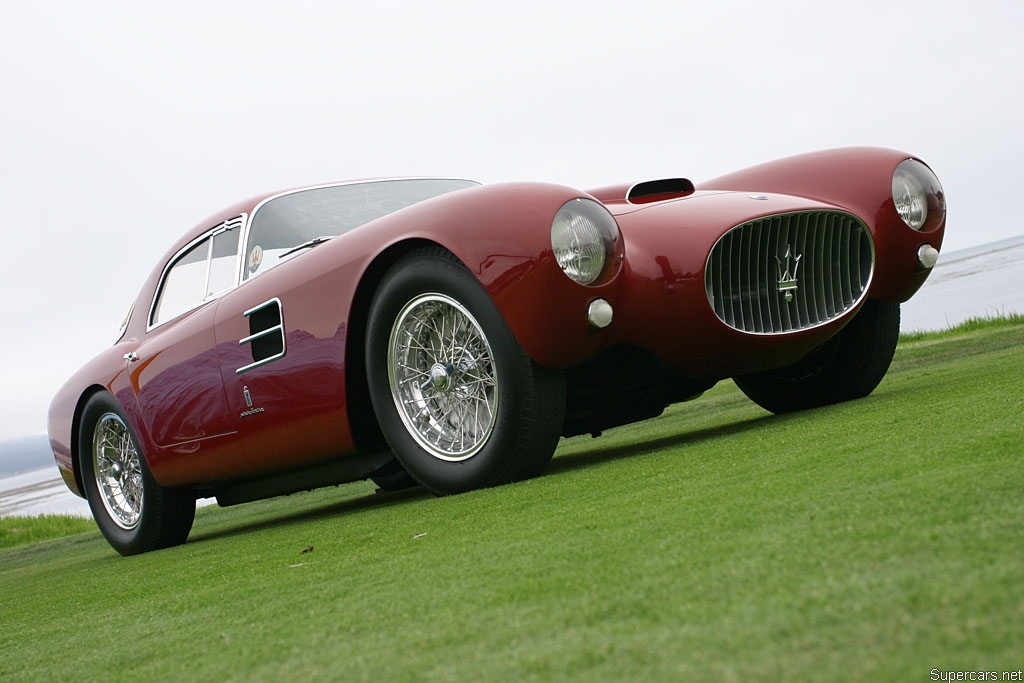 See all 1954 Maserati A6GCS/53 Berlinetta images
2060 – Built in 1954, and originally red with a blue central stripe this car was raced by Scuderia Centro Sud. The original body was replaced for a more sporting spyder with bodywork by Fiandri. The extra coupe body was then bought by Franco Lombardi attached to 2089. In more recent times Count Hubertus von Doenhoff commissioned Church Green Engineering in the UK to rebuilt a replica body for 2060 which is currently painted silver. Offer at a 2002 Bonhams auction, sold afterwards for $950,000 USD. 2089 – After receiving an original body from Scuderia Centro Sud, 2089 was set up for road use and featured in Road & Track.
See all 1954 Maserati A6GCS/53 Berlinetta images
1954 Maserati A6GCS/53 Berlinetta Video
See all our amazing supercar videos
This model was chosen as the most beautiful Maserati by the lovers of the brand during the celebrations of the hundred years Maserati in 2014. Finished in the original two-tone blue livery, it was shown at the 2010 Goodwood Festival of Speed where it won Best of Show in the Cartier Style & Luxe. In 1953 Pininfarina designed this beautiful shape for a few of A6GCS/53 racing chassis. This meant that the cars had racing specifications.
Its extremely lightweight construction weighed just 740 kilograms and the 170 hp 2.0 litre engine fitted in a tubular chassis allow the car to reach a top speed of 235 kilometres/hour. There's no doubt that Pininfarina created a timeless elegance sporty car and its rarity make the A6GCS Berlinetta one of the most sought car by collectors around the world. This amazing Maserati participated at the 2015 Vernasca Silver Flag.
1954 Maserati A6GCS/53 Berlinetta In Detail
| | |
| --- | --- |
| submitted by | Richard Owen |
| type | Racing Car |
| released at | 1952 Turin Motor Show |
| built at | Modena, Italy |
| coachbuilder | Pinin Farina |
| production | 4 |
| engine | Inline-6 w/Double Marelli Ignition |
| position | Front Longitudinal |
| aspiration | Natural |
| block material | Aluminum Alloy |
| valvetrain | DOHC, 2 Valves / Cyl |
| fuel feed | Three Weber 40DC03 Carburettors |
| displacement | 1985 cc / 121.1 in³ |
| bore | 76.5 mm / 3.01 in |
| stroke | 72 mm / 2.83 in |
| compression | 8.75:1 |
| power | 126.8 kw / 170.0 bhp @ 7300 rpm |
| specific output | 85.64 bhp per litre |
| bhp/weight | 188.89 bhp per tonne |
| body / frame | Aluminum over Gilco Tubular Frame |
| driven wheels | RWD |
| wheel type | Wire |
| front tires | 6.00×16 Pirelli |
| rear tires | 6.00×16 Pirelli |
| front brakes | Drums |
| rear brakes | Drums |
| front wheels | F 40.6 x 11.4 cm / 16.0 x 4.5 in |
| rear wheels | R 40.6 x 11.4 cm / 16.0 x 4.5 in |
| f suspension | Wishbones w/Coil Springs, Houdaille Shock |
| r suspension | Rigid Axle w/Leaf Springs, Houdaille Shock Absorbers |
| curb weight | 900 kg / 1984 lbs |
| wheelbase | 2310 mm / 90.9 in |
| front track | 1335 mm / 52.6 in |
| rear track | 1220 mm / 48.0 in |
| transmission | 4-Speed Manual |
| top speed | ~235 kph / 146.0 mph |