1955 Ferrari 121 LM
Ferrari was always willing to adopt new trends in motor sport, to a point of making a new model for each specific race or customer. This is particularly true of his short-lived 6-cylinder cars made for the 1955 World Sportscar Championship.
Just a year earlier, Enzo saw the Jaguar win the 24 Hours of LeMans with their D-Type. Even though it was the chassis technology in the D-Type that made it special, Ferrari mimicked the 6-cylinder XK and it's double overhead camshaft (DOHC) design .
Further motivating Ferrari's 6-pot screamer was success of the four cylinder engine that powered the 500 Mondial and 750 Monza in 1953 as well as 1954. Engineer Aurelio Lampredi took the basic design of these engines and added two additional cylinders. This gave it twin-spark ignition, 3 Weber 50 DCOA3 Carburetors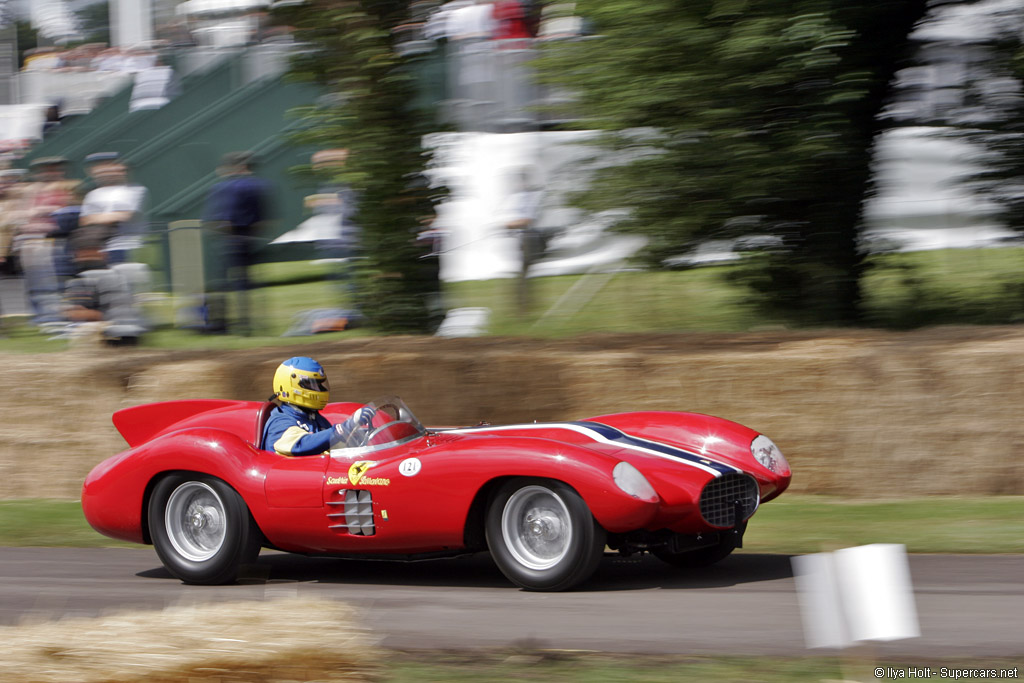 Both the 3.7 liter (Type 118) and 4.4 liter (Type 121) were cast for the 1955 season using a Tipo 509 frame similar to the 750 Monza. This included a ladder-type steel tube chassis with a DeDion rear suspension and wishbones up front.
The body was hand made by the workshops of Sergio Scaglietti. He recalls "We formed the lines of the cars by placing a thin metal tubing over the chassis to get an idea of what the body would look like. Ferrari left the design up to me and we never did a drawing. Instead we relied on this wire 'maquette,' which normally took about three days to make. Once completed, we constructed the body panels."
A total of six cars were made The very first of these showed up to the season opener at the Buenos Aires 1000km but was disqualified in the lead.
The Mille Miglia was all Mercedes-Benz, Stirling Moss and the 300 SLR. But this wasn't without a fight. Lancia driver Eugenio Castellotti was in hot pursuit of Moss and his codriver Denis Jenkinson.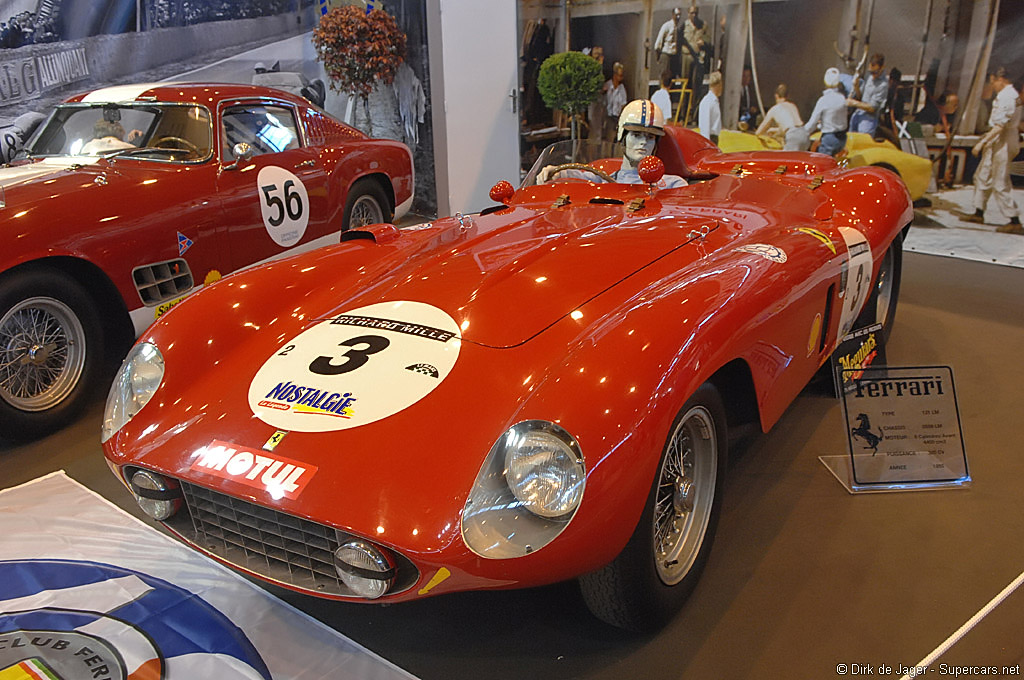 Jenkinson recalls the scenario: "The car was going really well now, and on the straights to Verona we were getting 7,500 in top gear, a speed of 274kph, or close to 170mph…
"Approaching Padova Moss pointed behind and I looked round to see a Ferrari gaining on us rapidly, and with a grimace of disgust at one another we realised it was Castellotti. The Mercedes-Benz was giving all it had, and Moss was driving hard but taking no risks, letting the car slide just so far on the corners and no more. Entering the main street of Padova at 150mph I suddenly realised that Moss was beginning to work furiously on the steering wheel, for we were arriving at the corner much too fast…Just when it seemed we must go head-on into the straw bales Moss got the speed low enough…and as we went bump! into the straw bales with our left-front corner…Castellotti was right behind us, and as we bounced off the bales he nipped by us, grinning over his shoulder."¹
"Through Padova we followed the 4.4-litre Ferrari and on acceleration we could not hold it, but the Italian was driving like a maniac, sliding all the corners, using the pavements and the loose edges of the road. Round a particularly dodgy left-hand bend on the outskirts of the town, I warned Moss and then watched Castellotti sorting out his Ferrari, the front wheels on full understeer, with the inside one off the ground, and rubber pouring off the rear tyres, leaving great wide marks on the road. This was indeed motor racing from the best possible position…following the Ferrari at a discreet distance…"¹
"Out of the town we joined an incredibly fast stretch, straight for many miles, and we started alongside the Ferrari in bottom gear, but try as the Mercedes-Benz did the red car just drew away from us, and once more Moss and I exchanged very puzzled looks. By the time we had reached our maximum speed the Ferrari was over 200 yards ahead, but then it remained there, the gap being unaltered along the whole length of the straight."¹
"At the cut-off point at the end we gained considerably, both from the fact that we knew exactly when the following left-hand corner was approaching and also from slightly superior brakes."¹
"More full-throttle running saw us keeping the Ferrari in sight, and then as we approached a small town we saw Castellotti nip past another Ferrari, and we realised we were going to have to follow through the streets, until there was room to pass…this let Castellotti get away from us, but he was not completely out of sight…but out on the open roads he was driving so near the limit that on every corner he was using the gravel and rough stuff on the edges of the road. This sent up a huge cloud of dust and we could never be sure whether or not we were going to enter it to find the Ferrari sideways across the road, or bouncing off the banks and trees…"¹
Wisely, Moss eased back a little and the Ferrari got ahead of us sufficiently to let the dust clouds settle. Approaching the Ravenna control, as we braked just before the control were a row of pits, and there was '723', Castellotti's Ferrari, having some tyre changes…not surprising in view of the way he had been driving. Our time to Ravenna had been well within the old record but Castellotti had got there before us…" In fact some two minutes before Moss and the mighty Mercedes-Benz. But his efforts to compensate for the time lost in tyre changing then over-stressed '0558 LM's hard-pressed 6-cylinder engine, which failed during the next leg, from Ravenna to Pescara."¹
The four factory works Ferraris could do little against the relentless pace of the Mercedes that kept them in the shadow. One of the cars finished third place overall and it was the best result that the type 121 would attain.
LeMans had to be Ferrari's revenge. Lancia driver Eugenio Castellotti set the fastest lap before the race and the 121s were lined up, numbered #2, #3 and #4. Unfortunately, the worst accident in motor sports history set an ominous tone for the final result. Before the incident both Jaguar and Mecedes-Benz were well ahead of the Italian stallions. Mercedes pulled out after their devastating crash and it was a hollow victory for Jaguar.
Phil Hill recalls LeMans: "the first time I found myself accelerating out of Tertre Rouge corner onto the Mulsanne Straight in it at Le Mans my first thought was that it was dramatically gutless. I soon discovered that this was only because of the extremely tall gear that we had to have for Le Mans. I think our cars were the fastest there; we ran around 180 mph!"¹
"In fact, once the 121LM was into its stride along the Mulsanne straight it was indeed stupendous. Faster than anything I'd ever driven to that point and braking was real hard to get used to"
After Ferrari's LeMans hopes were crushed, the rather unsuccessful six-cylinder project was practically abandoned in favor over the tried and tested V12.
We have included a handful of photos of the 121 LM below, but don't forget to check out the full 1955 Ferrari 121 LM Gallery here.
Ferrari 121 LM Specs & Stats
| | |
| --- | --- |
| type | Racing Car |
| production years | 1955 – 1955 |
| built at | Modena, Italy |
| coachbuilder | Scaglietti |
| production | 3 |
| engine | Type 121 Inline-6 |
| position | Front, Longitudinal |
| aspiration | Natural |
| block material | Siluminium |
| valvetrain | DOHC, 2 Valves per Cyl |
| fuel feed | 3 Weber 50 DCOA3 Carburetors |
| displacement | 4410 cc / 2.69 in³ |
| bore | 102 mm / 4 in |
| stroke | 90 mm / 3.5 in |
| compression | 8.5:1 |
| power | 246.1 kw / 330 bhp |
| specific output | 74.83 bhp per litre |
| bhp/weight | 388.24 bhp per tonne |
| body / frame | Aluminum Body over Steel Tube Frame |
| driven wheels | RWD |
| wheel type | Borrani Wire |
| f suspension | Double Wishbones w/Coil Springs |
| r suspension | DeDion Axle w/Transverse Leaf Springs, Houdaille Dampers |
| curb weight | 850 kg / 1874.25 lbs |
| length | 2400 mm / 94.5 in |
| width | 1278 mm / 50.3 in |
| height | 1284 mm / 50.6 in |
| top speed | ~289.62 kph / 180 mph |
Ferrari 121 LM Auction & Sales Results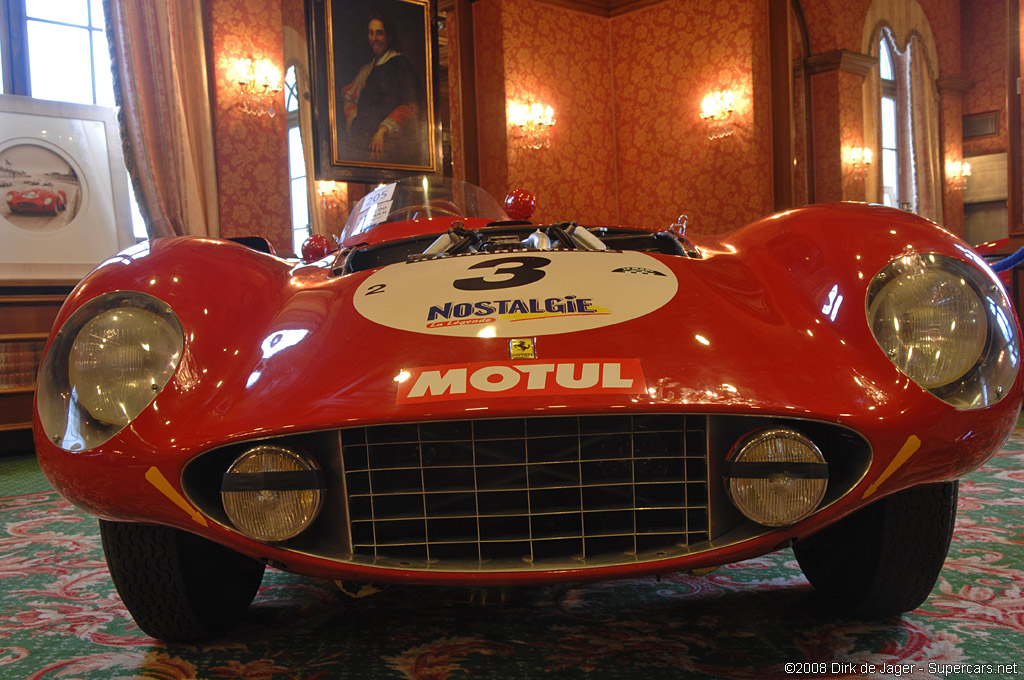 1955 Ferrari 121LM
0558LM. Sold for $3,500,000 | 2008 Prestigieuses Italiennes at Gstaad
The Ex-works – Ex-Phil Hill, Eugenio Castellotti, Umberto Maglioli, Carroll Shelby. This magnificent sports-prototype Ferrari was the fifth and last of the select batch of 6-cylinder big-engined projectiles that provided the absolute spearhead of the factory Ferrari team's endurance racing campaign for 1955. These gorgeously aggressive and exquisitely well-proportioned cars were powered by Tipo 118 and Tipo 121 6-cylinder twin-overhead camshaft engines in 3.7 and 4.4-litre form. This particular individual was assembled upon a Ferrari Tipo 509 (510) Allungato chassis, and it proved to be the most prominent of the three Ferrari 121LMs to be built new to this specification at Maranello. Auction Source: 2008 Prestigieuses Italiennes at Gstaad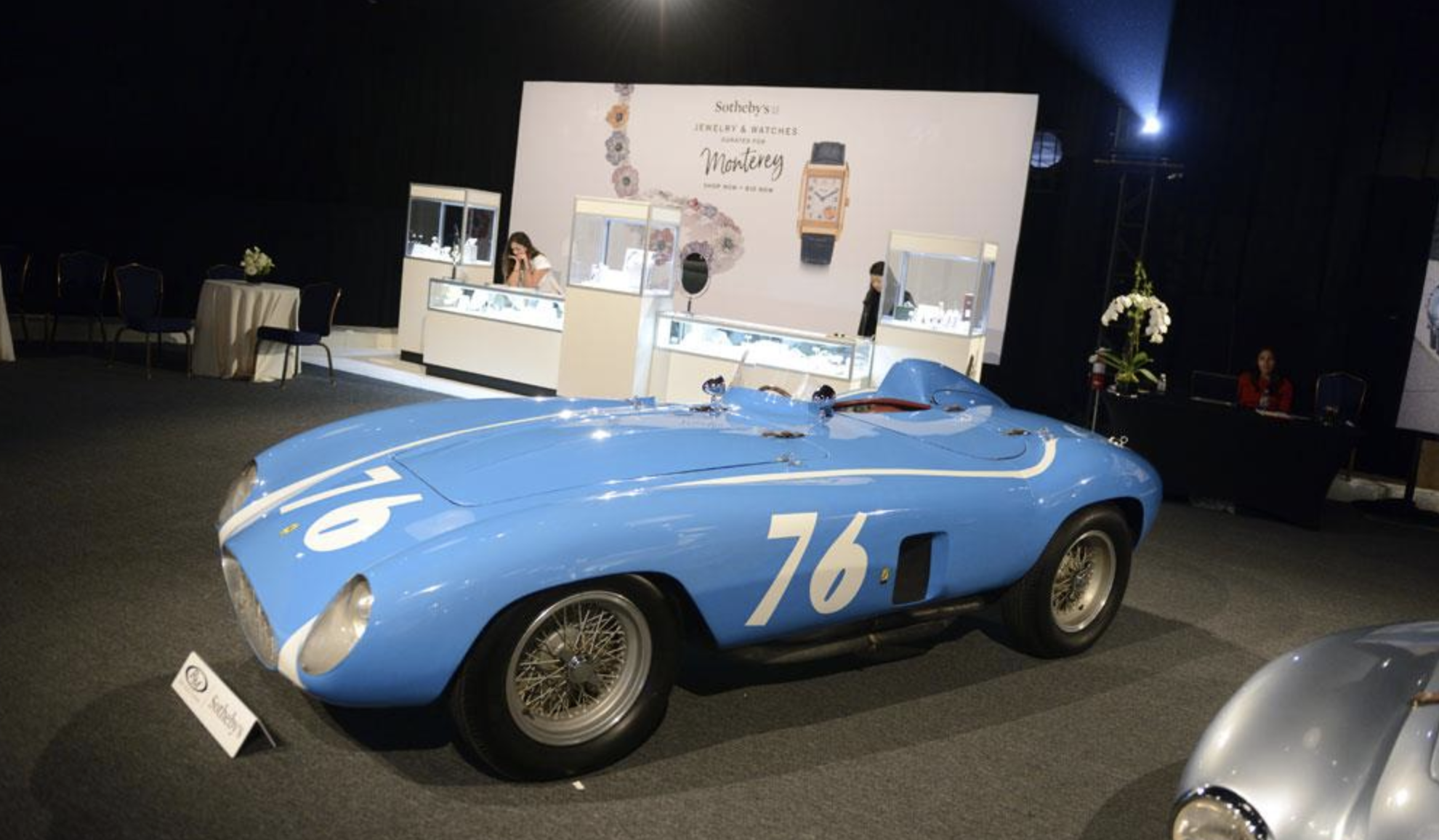 1955 Ferrari 121 LM Spider by Scaglietti
Chassis Num: 0546 LM $5,720,000 | 2017 RM Sothebys
This car, Lot 140, sold for $5,720,000, including buyer's premium, at RM Sotheby's auction in Monterey, CA, on August 18, 2017.  RM Sotheby's Ferrari 121 LM chassis 0546LM is a well-known car. It ran at the 1955 Mille Miglia and the 1955 Le Mans, but it failed to finish both races. After Le Mans, it was sold to a Californian who put Southern California racing legend Ernie McAfee at the wheel. The combination dominated the California amateur circuit — until it didn't.
In the 1956 Pebble Beach Del Monte Trophy Race, McAfee ran off the road and into a tree in this car. The accident killed McAfee and ended sports car racing through Pebble Beach's Del Monte Forest. The owner eventually rebuilt chassis 0546LM, but it would be nearly two decades before the 121 LM returned to the track. Chassis 0546LM was a regular at the Monterey Historics from 1974 to 1995, and it showed up one more time at a 1999 Ferrari Historic race before disappearing until this auction. It reportedly has been in the collection of a secretive and wealthy man from Asia who has a large collection spread around the world.