1955→1956 Austin Healey 100M
Following full-competition 100S, Austin Healey offered a upgraded road-car known as the 100M. The package mainly consisted of engine modifications which raised power from 90 to 110 bhp and exceeded the performance of the later six-cylinder models.
To achieve this modest power increase a high-lift camshaft was fitted, along with larger carburetors, higher-compression pistons, a free-flow intake manifold, a special distributor and a cold air box.
Other upgrades included larger anti-roll bars, while the louvered bonnet was retained by a Le Mans-specification leather strap.
When production ended on July 16, 1956, just 640 examples of the 100M were built. These are distinct from the Le Mans kit that was available to upgrade cars at the dealer or elsewhere.
In Detail
| | |
| --- | --- |
| tags | bn2 |
| submitted by | anonymous |
| type | Series Production Car |
| production years | 1955 – 1956 |
| built at | Longbridge & Warick, England |
| production | 640 |
| engine | Inline-4 |
| position | Front Mounted |
| valvetrain | Pushrod overhead valves |
| displacement | 2659 cc / 162.3 in³ |
| bore | 86.4 mm / 3.4 in |
| stroke | 109.2 mm / 4.3 in |
| power | 82 kw / 110 bhp @ 4500 rpm |
| specific output | 41.37 bhp per litre |
| body / frame | Steel Chassis and detachable body panels |
| driven wheels | RWD |
| wheel type | Steel Wheels |
| f suspension | Wishbones and Coil overs |
| r suspension | Live axle w/ leaf springs |
| wheelbase | 2286 mm / 90 in |
| front track | 1244.6 mm / 49 in |
| rear track | 1295.4 mm / 51 in |
| length | 3835.4 mm / 151 in |
| width | 1536.7 mm / 60.5 in |
| height | 1249.7 mm / 49.2 in |
| transmission | 4-speed and o/d |
| top speed | ~176.99 kph / 110 mph |
Auction Sales History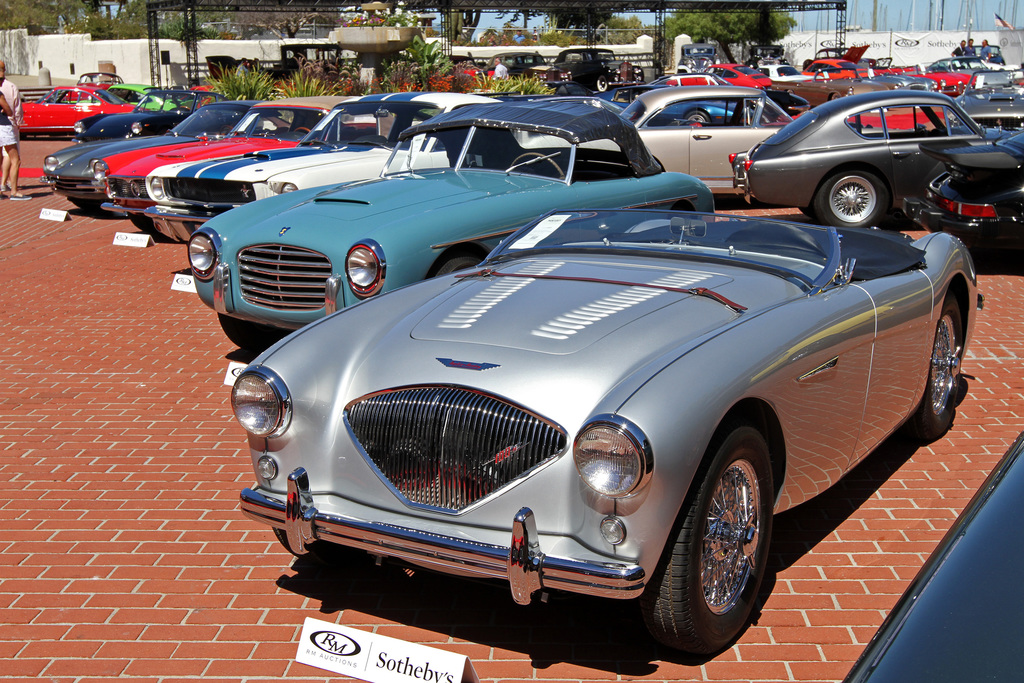 1956 Austin-Healey 100 M 'Factory' Le Mans BN2-L/232319 –
Completed on May 11, 1956, as a left-hand-drive export model, it was originally delivered to Arthur Bruggermann and Company GmbH in Dusseldorf, West Germany. As noted, it was equipped with a laminated windshield, wire wheels, speedometer in mph, a heater, and a louvered hood. Most recently, the 100 M was acquired by well-known Austin-Healey specialists Tom and Randee Rocke, of Healey Lane in Riverside, California. It has just completed a comprehensive, frame-off restoration with an array of further enhancements and upgrades, including a jet-coated exhaust; new 48-spoke chrome wire wheels with new radial tires; jet-coated brake drums; and new wiring, lighting, and electrical components. The exterior was finished in two-stage PPG paint, while the interior was freshly refinished to match, along with rebuilt and refaced gauges.
Auction Source: RM Sotheby's Monterey 2015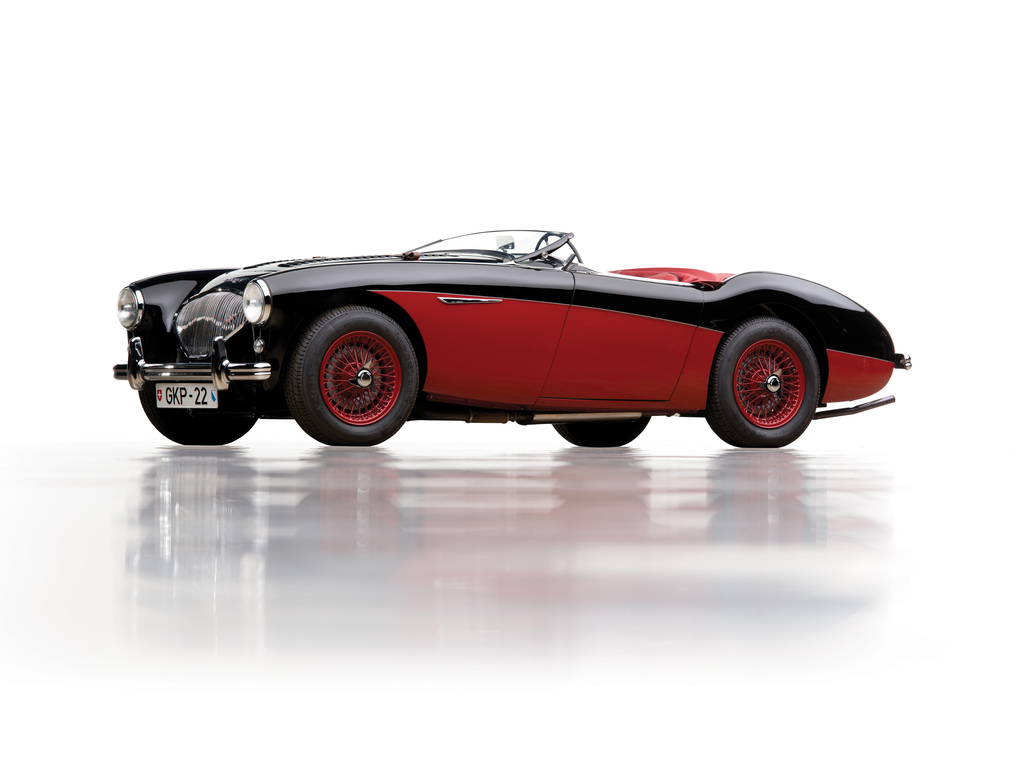 1956 Austin-Healey 100 M 'Le Mans' BN2-L/233008 – s
This factory-built car is documented by a BMIHT Certificate, as well as a registry certificate, as being one of those 640 100 Ms. It is also accompanied by a selection of documentation from earlier owners, who provided detailed information on its restoration. It was originally built with left-hand drive for American export and finished in the color combination that it wears today, Black and Reno Red. It is also still powered by its original engine. This car has been well-preserved over the years, and it displays an impressive level of craftsmanship, including a new red and black interior with color-coordinated carpet and a black top. The engine bay, with its polished surfaces, is also very presentable.
Auction Source: Paul & Chris Andrews Collection by RM Sotheby's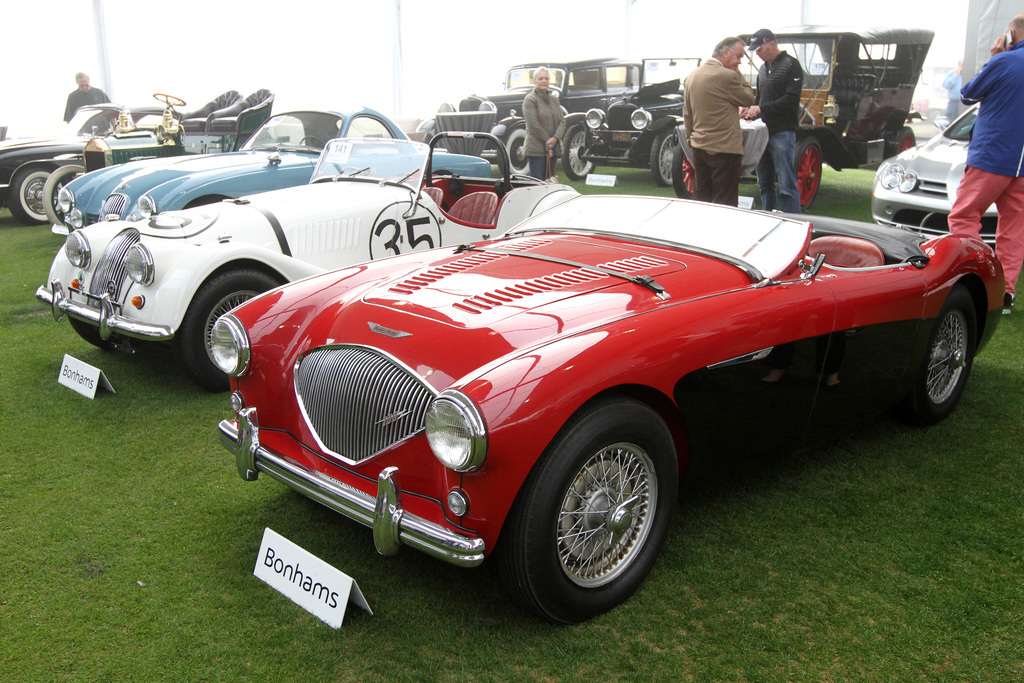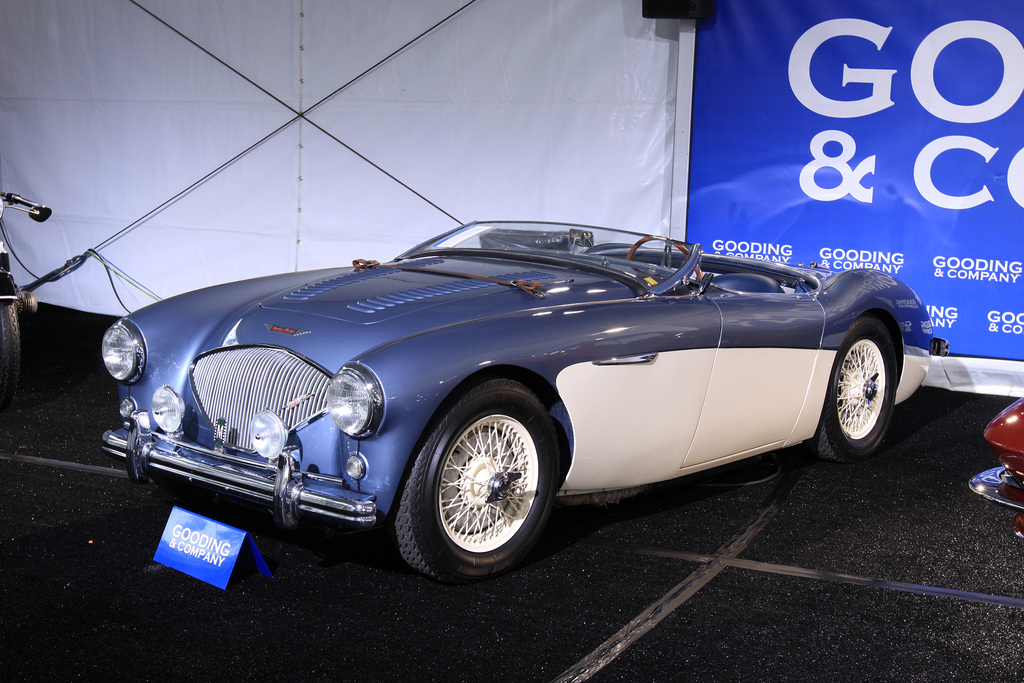 1956 Austin-Healey 100M BN2-L/230787 – sold for $115,500 Mid-1990s Nut-and-Bolt Marque-Expert Restoration. Documented and Confirmed Genuine Factory-Built 100M. Complete with BMHT and 100 M "Le Mans" Registry Certificates. Awarded Best Open Car at the 1998 Amelia Island Concours. One of Just 640 Original Factory-Built 100 Ms. Retaining Its Factory-Original Engine; Highly Correct and Detailed. Strikingly Presented Throughout. Welcome Entry into a Multitude of Desirable Shows and Tours.
Auction Source: The Amelia Island Auction by Gooding & Company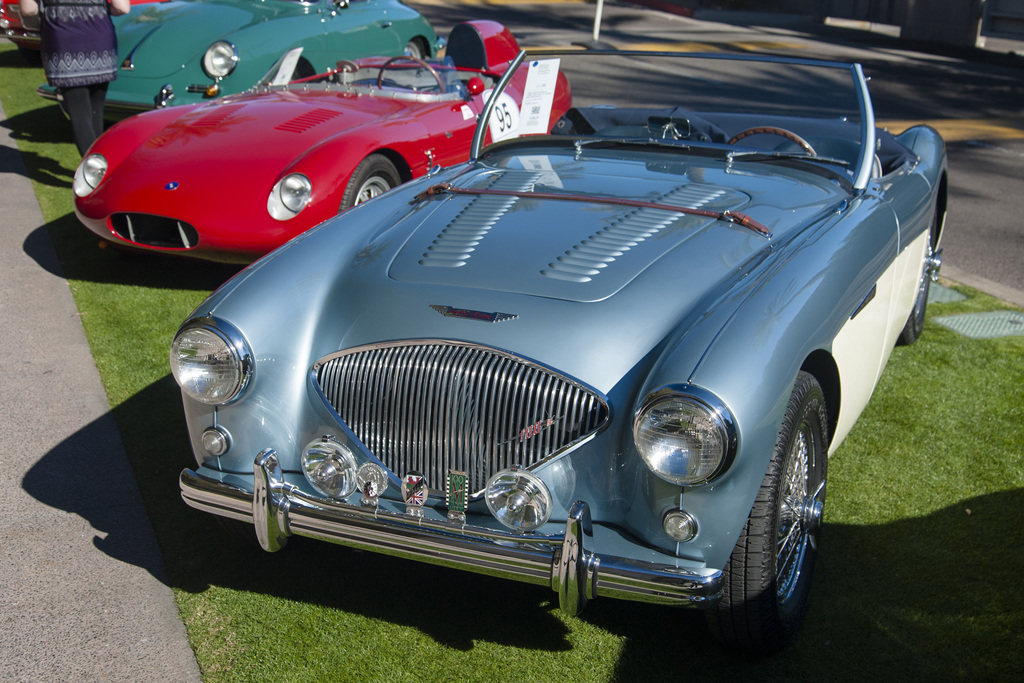 1956 Austin-Healey 100M 'Factory' BN2 Roadster BN2-L/230818 – did not sell for $160,000 One of 640 factory-built 100M models. Meticulous one-and-a-half-year restoration. British Motor Industry Heritage Trust Certificate of Origin, 100M Le Mans Registry Certificate, and Gold 100M Certificate.
Auction Source: 2014 Arizona by RM Auctions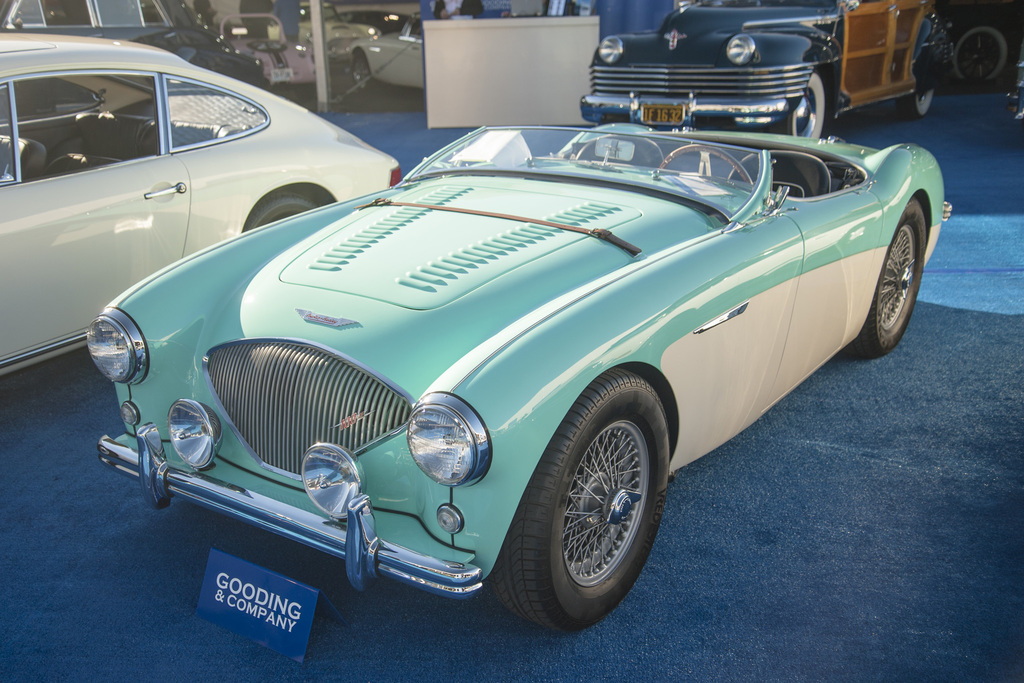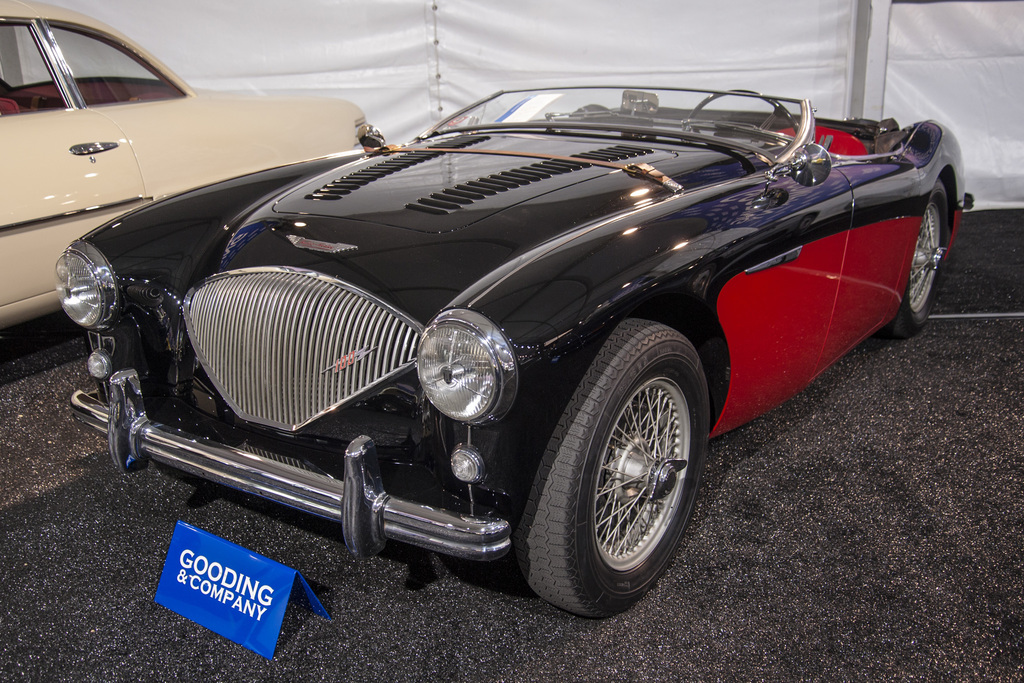 1956 Austin-Healey 100 M BN2-L/232183 – sold for $137,500
One of 640 Original Factory-Built Examples. Complete with BMHT and 100 M Le Mans Registry Certificates. Expert Body and Paint by Beckman Metal Works. Recent Mechanical Service by Antique Auto Restorations. Undisputed Sports Car Icon; Legendary Performance and Style. Ideal Candidate for Vintage Rallies and Events.
Auction Source:
The Scottsdale Auctions by Gooding & Company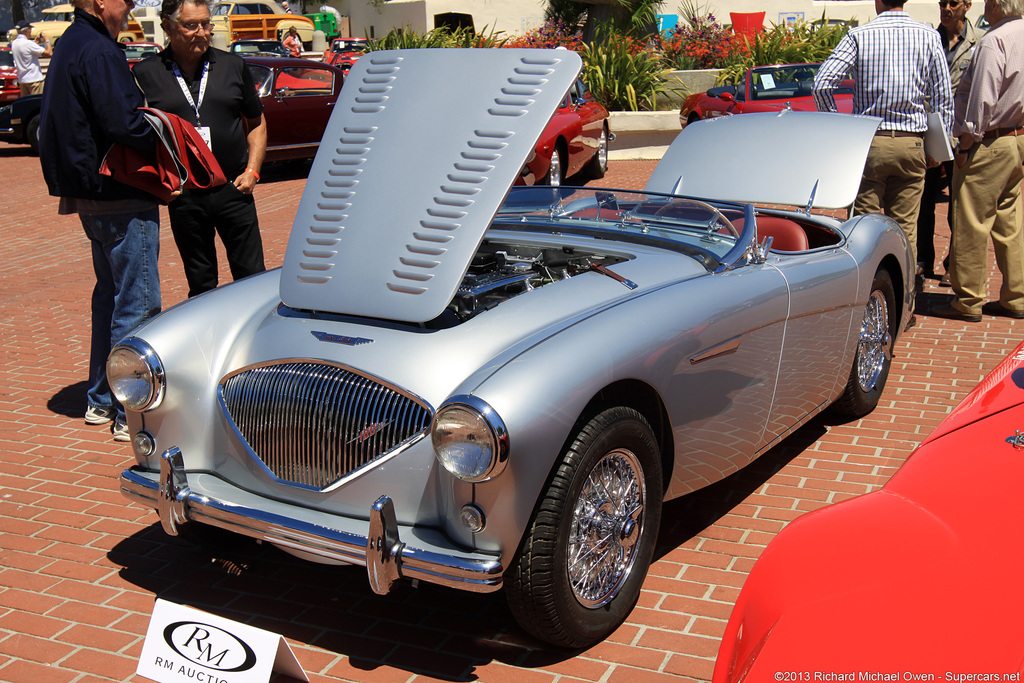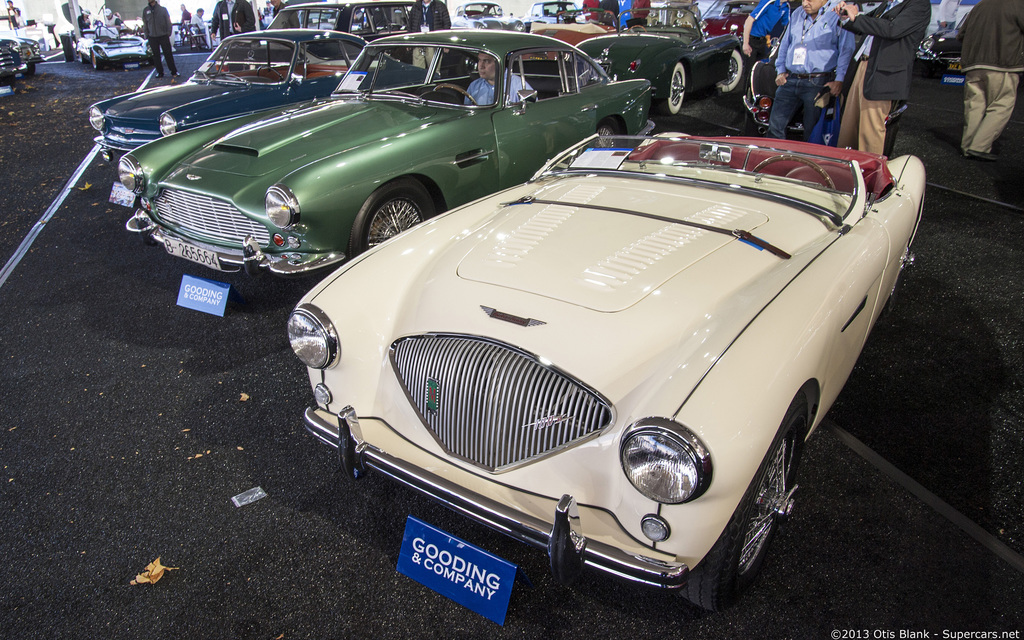 1956 Austin-Healey 100M BN2/L/229821 – sold for $154,000 Rare Factory-Installed Le Mans Modifications. Body-Off Restoration Completed in 2012. Certified by the 100M Registry. Matching-Numbers Certification by the BMIHT. FIVA Inspected and Approved. Just Three Owners over 45 Years. Low-Mileage Example.
Auction Source: The 2013 Scottsdale Auctions by Gooding & Company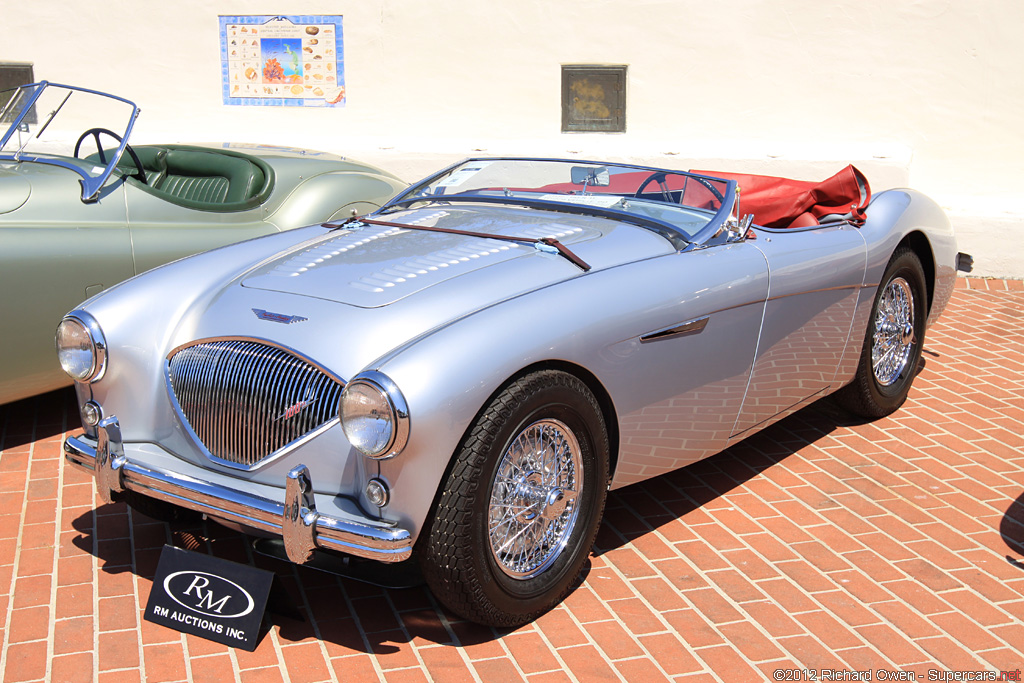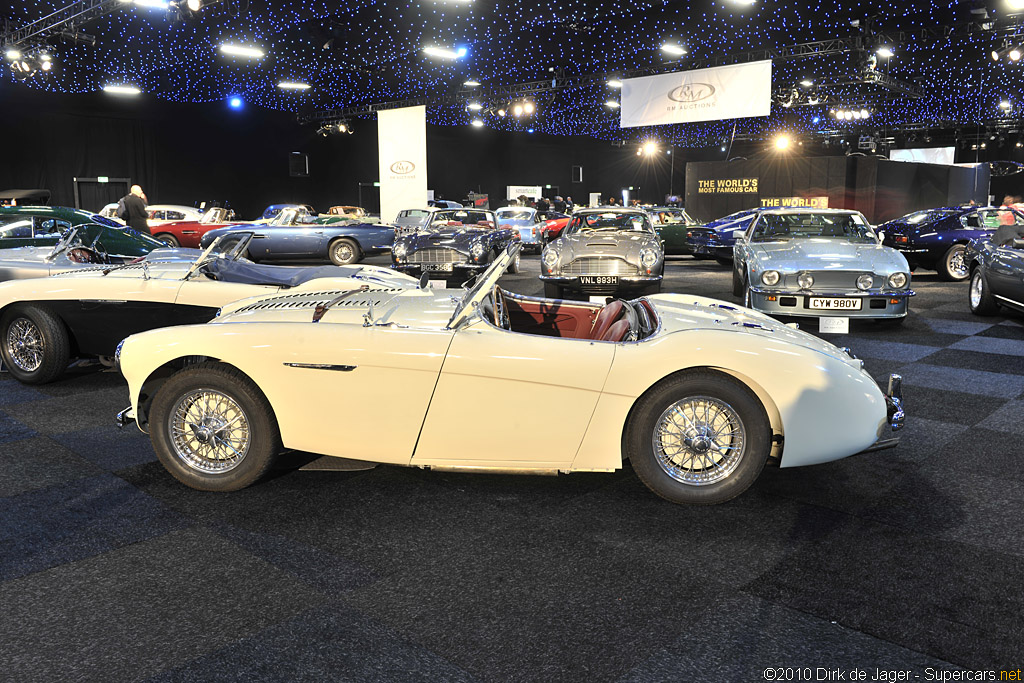 1956 Austin-Healey 100M BN2-L/229932 – s
According to the BMIHT Certificate, BN2-L/229932 was completed on 30 November, 1955 and shipped to the USA on 7 January, 1956, with an Old English White finish and red upholstery. It is believed to have first been sold in California, remaining there until the prior owner acquired it in 2000. At the time, it was a running "survivor" in remarkably solid condition, having benefitted from Southern California's favourable climate.
Auction Source: 2010 Automobiles of London by RM Auctions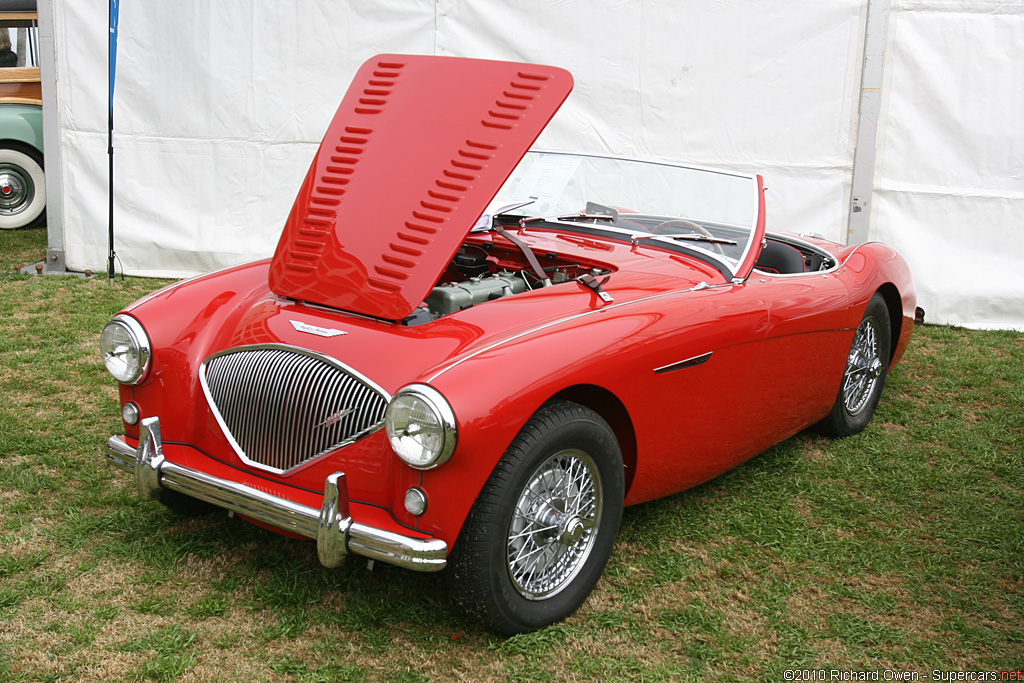 1955 Austin-Healey 100M BN2L/228392 –
As confirmed by its corresponding British Motor Industry Heritage Trust Certificate, this factory-built, left-hand drive Austin-Healey 100M was completed on September 9, 1955, just four days after production of the model commenced. It was immediately shipped to the USA, and as a BN2 model, it was equipped with a four-speed gearbox and overdrive. Other original features included a heater, a laminated windscreen and the louvered bonnet characteristic of a factory-built 100M.
Auction Source: 2010 RM Automobiles of Amelia Island Auction