1956→1958 Porsche 356A/1600 Coupé
Despite looking outwardly similar to the preceding models, Porsche thoroughly updated their 356 line in 1956 and called their new model the 356A. At the core, this included a larger 1600 cc engine, but also a curved-glass windshield and a thoroughly revised suspension.
At the 1955 Frankfurt Motor Show in September of 1955, Porsche released the 356A/1600 to the world with cabriolet, coupe and speedster bodies from Reutter. These were updated to better suit the improved gasoline and tire technologies of the period.
With the 356A came a larger 1582 cc engine that had higher compression to take advantage of the available higher octane fuels. A Type 616/2 Super engine was offered as an option with raised power.
Extensive testing by the experimental department known as Versuchsabteilung resulted in numerous suspension and drive line mounting changes before the final 356A specification was decided. They softened the springs by removing leaves from the torsion cars and fitted stiffer dampers. This was done to take advantage of a more modern tire technology which allowed for a smaller-diameter 15-inch tire and a wider tread with reduced air pressures.
From the outside, the 356A kept to the Porsche mantra of stepwise evolution. The new model was outwardly identical to the previous version except for the wider tires, a small rub-strip below the doors, a fully-curved front window and enamel paint replacing lacquer previously used.
Inside, Porsche fitted an all-new, flat-face dashboard that was sculpted around the new curved windshield. It included a padded-top, locking glovebox and a provision for a modern radio. Other interior appointments included a headlight flasher, automatic interior lighting, self-cancelling signal switches and, most importantly, a lower floor. Popular options were a steering-wheel lock and a clock.
At the 1957 Frankfurt Motor Show Porsche released the T2 body style with exhaust routing through the rear bumper over-riders. More importantly, the T2 cars stopped using the roller-bearing crankshafts and the Hirth crankshaft in the Super models. Other changes included changing the carburation from Solex to Zenith 32 NDIX. By 1959 the 356A was replaced outright by the 356B.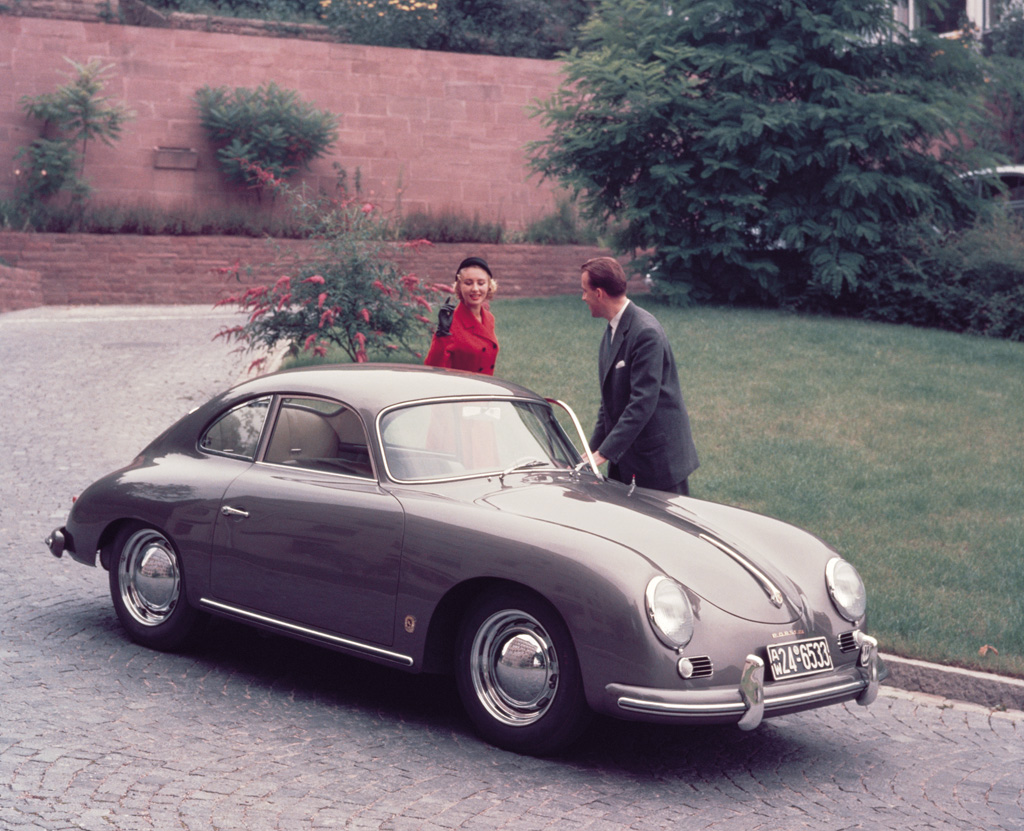 In Detail
| | |
| --- | --- |
| submitted by | Richard Owen |
| type | Series Production Car |
| production years | 1956 – 1958 |
| released at | 1955 Frankfurt Motor Show |
| built at | Stuttgart, Germany |
| body stylist | Erwin Komenda |
| coachbuilder | Reutter |
| price $ | $ 2,995 |
| engine | Type 546 Air Cooled Flat-4 |
| position | Rear, Longituinal |
| aspiration | Natural |
| valvetrain | Pushrod OHV |
| fuel feed | Dual Solex 26 VFJ Downdraft |
| displacement | 1582 cc / 96.54 in³ |
| bore | 82.5 mm / 3.2 in |
| stroke | 74 mm / 2.9 in |
| compression | 8.5:1 |
| power | 44.7 kw / 60 bhp @ 4500 rpm |
| specific output | 37.93 bhp per litre |
| bhp/weight | 68.49 bhp per tonne |
| body / frame | Steel Body over Steel Tub Chassis |
| driven wheels | RWD |
| wheel type | Steel Slotted Discs |
| front tires | 5.60×15 Sport |
| rear tires | 5.60×15 Sport |
| front wheels | F 38.1 x 11.4 cm / 15 x 4.5 in |
| rear wheels | R 38.1 x 11.4 cm / 15 x 4.5 in |
| steering | VW Worm & Nut |
| f suspension | VW Parallel Trailing Arms, Boge Telescopic Dampers, 15mm Anti-Roll Bar |
| r suspension | VW Leading Arms w/Torsion Bars, Hydraulic Lever-Arm Shock Absorbers |
| curb weight | 876 kg / 1930 lbs |
| wheelbase | 2101 mm / 82.7 in |
| front track | 1306 mm / 51.4 in |
| rear track | 1272 mm / 50.1 in |
| length | 3950 mm / 155.5 in |
| transmission | VW 4-Speed Manual |
| top speed | ~164.76 kph / 102.4 mph |
| 0 – 60 mph | ~14.1 seconds |
| 0 – 1/4 mile | ~22.5 seconds |
Auction Sales History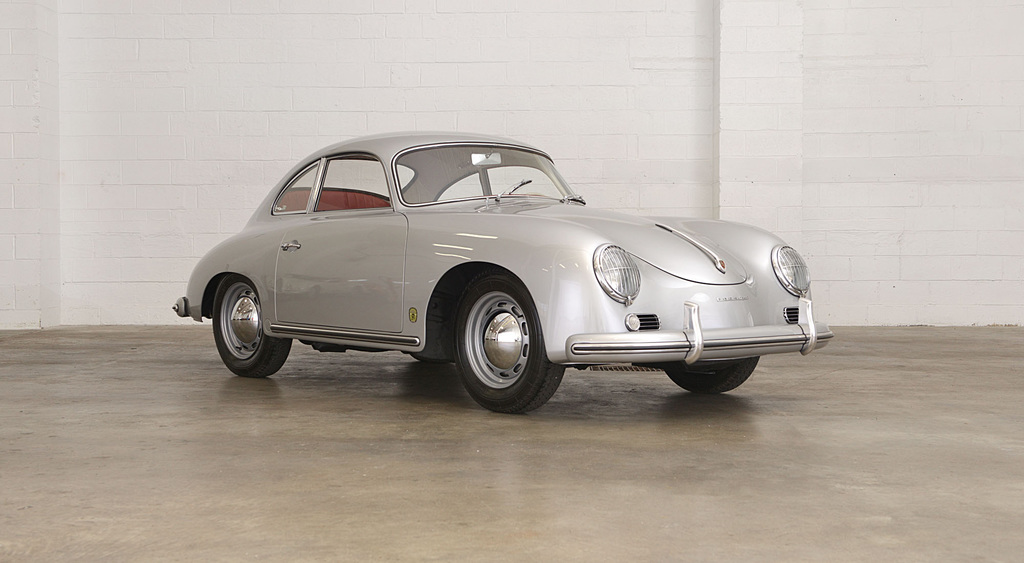 1958 Porsche 356 A Coupe P68139 – sold for $110,000 Matching Numbers. Original Body. Original Chassis. Only 30,015 Miles. Recent Restoration By Marque Specialist. Desirable Colors. Registered With 356 Registry.
Auction Source: 'Rolling Sculpture' 2015 NYC by Keno Brothers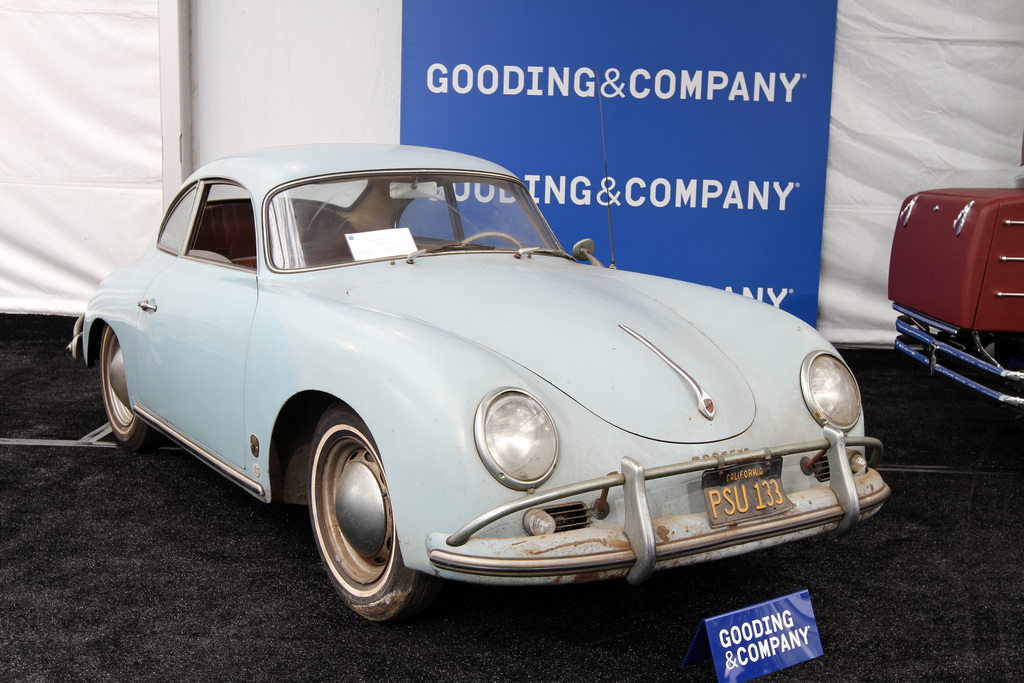 b>1959 Porsche 356 A Coupe 106789 – sold for $140,250 A One-Owner Southern California Garage Find. Highly Original "Black-Plate" Car Parked Since 1971. Striking Meissen Blue over Red Color Scheme. Offered with Original Bill of Sale, German Tourist Plates, and More. A Must for the Serious Porsche Collector. Auction Source: The 2015 Amelia Island Auction by Gooding & Company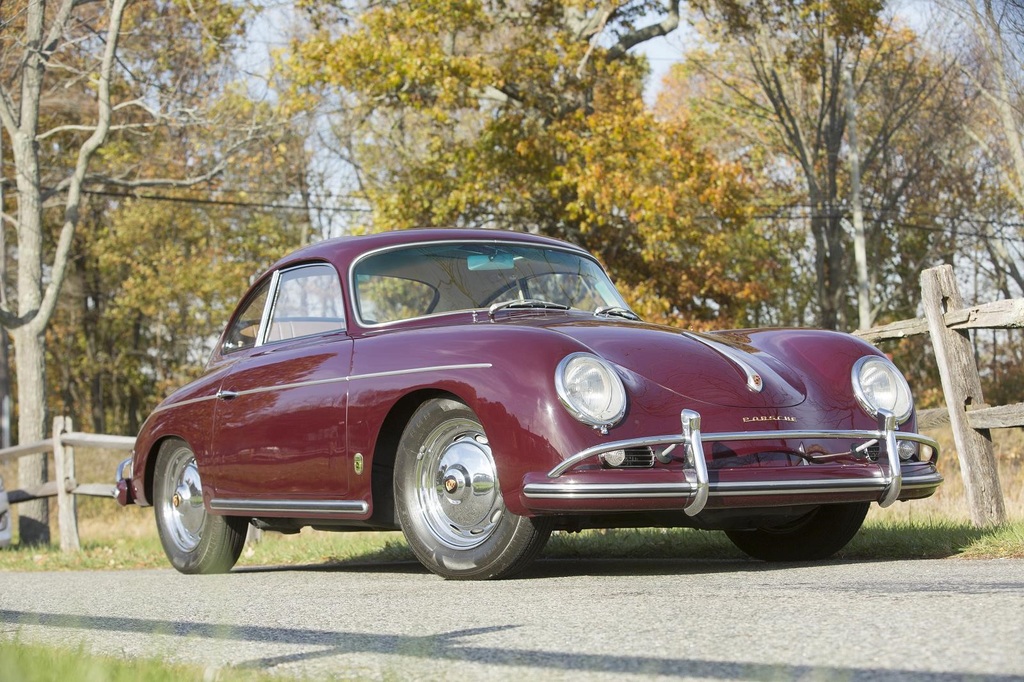 1957 Porsche 356A 1600 Coupe 101972 – sold for $103,400 Desirable 356A Coupe accompanied by original matching numbers engine. Professionally restored throughout and fitted with a 1600 Super engine. Factory delivered in Aquamarine Blue over a red leatherette interior. Excellent entry for vintage rallies and driving events. Simple, elegant and pure version of the legendary Porsche 356. Auction Source: The Scottsdale Auction 2015 by Bonhams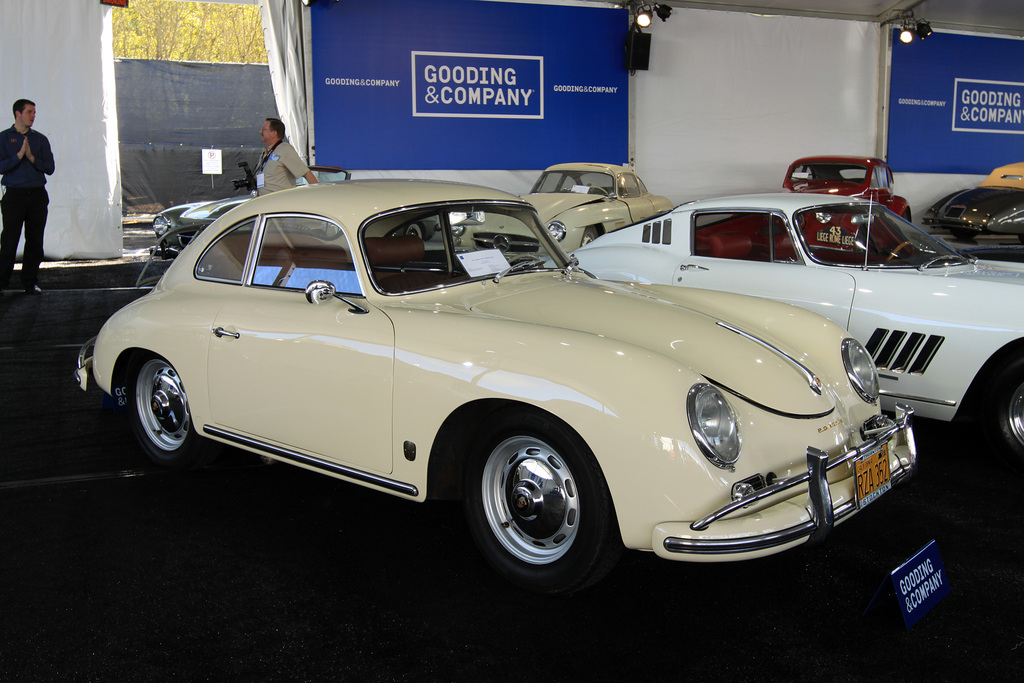 1959 Porsche 356A/1600 Super Coupe 105553 – sold for $137,500 Rare Super Model from the Final Year of 356 A Production. Meticulously Maintained and Documented West Coast Car. Presented in Charming, Original Color Combination.
Auction Source: 2014 Pebble Beach Auctions by Gooding & Company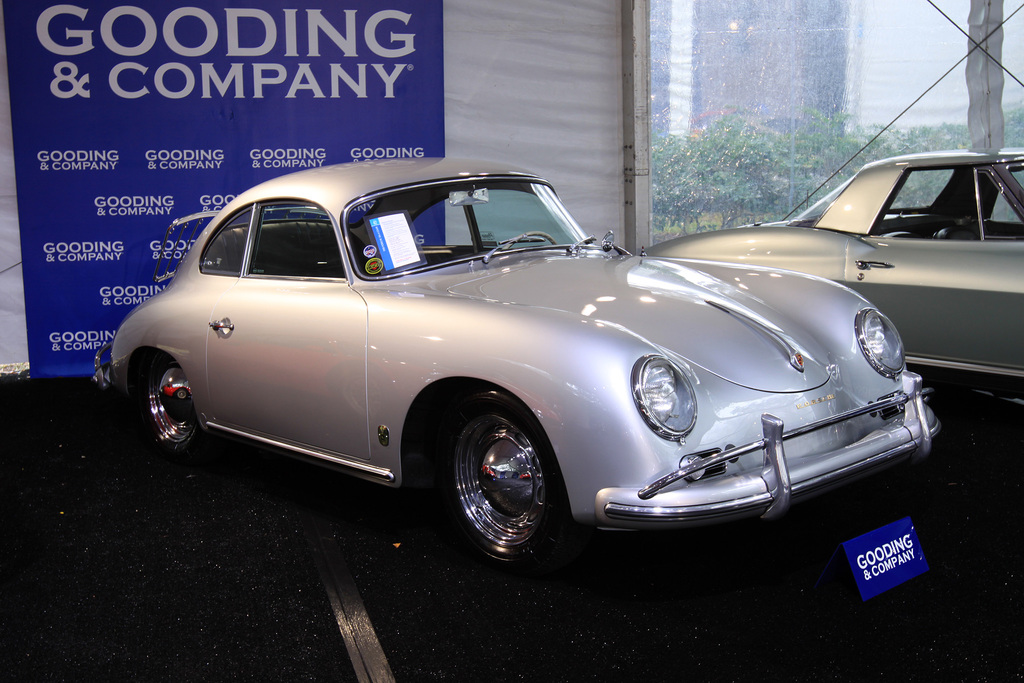 1958 Porsche 356A Coupe 103924 – sold for $159,900 Matching-Numbers Engine, Transaxle, and Body Panels. Restored by Marque Experts. Finished in Original Glasurit Silver Metallic (5706). Accompanied by a Porsche Certificate of Authenticity. Multiple Porsche Club Awards. Sensational Early Reutter Coachwork. A Highly Regarded, California "Black Plate" 356.
Auction Source: The Amelia Island Auction by Gooding & Company