1956→1962 AC Ace-Bristol
Despite being one of Britain's oldest car manufacturers, AC made its best impression with the Ace as debuted at the 1953 London Motor Show. It was one of England's first post-war sports cars, featuring an attractive body and a simple, yet sporting, chassis. In later years, the design was used by Carol Shelby to create the more blatant Shelby Cobra.
Brothers Charles and Derek Hurlock bought AC during and managed it during this transitional period. They partnered with John Tojeiro and bought the production rights for his upcoming sports car. The Ace essentially became a production version of his 1952 Tojeiro Bristol Special. Like that car, the Ace had four wheel independent suspension and a simple frame consisting of two three-inch diameter tubes. These chassis appealed to the Hurlocks because of it's easy design.
On top of this sporting chassis sat a striking body that mimicked traits of Italian sports cars. It was built using methods similar to Touring's superleggera design which used a tube framework to support a welded aluminum skin. An open and spartan roadster body was standard until 1954, when the Aceca Coupe was added with a curved windshield and hinged rear door.
Early Ace's used a an old engine which was designed by John Weller in 1919. This straight-six displaced two liters, and had an SOHC setup which was quite antiquated for the car. It was attached to a Moss gearbox.
From its initial configuration, the Ace was upgraded constantly. Front disc brakes were fitted from 1956, an optional overdrive was offered, the Moss gearbox was replaced by a custom box with Triumph TR3A gears and the engine produced more power almost annually.
In 1956 and after 220 cars had been made, a more definitive Bristol engine offered 120 bhp. AC was inspired by race driver Ken Rudd who fitted one in his. This particular engine was based off a prewar BMW 328 design that was taken as part of war reparations. It produced not only more power but was more capable of a higher state of tune. Original configuration included 3 Solex downdraft carburetors that made the engine quite tall. From the factory, the hotest version offered 130 bhp @ 4750 rpm.
AC Aces made a brief appearances in motor sport, and the car's best moment probably came at LeMans in 1957 when one placed seventh overall. This was followed by an eighth place at the 1958 edition. During this time the Ace provided direct competition to the Jaguar XK 120 and 140, Austin-Healey 100M and Porsche 356 Speedster.
In 1961, AC charged their engine once again to a 2553cc Zepher unit. Only 46 were made with it, and had a more prominent front air intake. One of these models was purchased by Carol Shelby, no doubt inspired by the cars performance at LeMans. He convinced the Hurlocks that Ford's small-block V8 was the way to go.
After 680 cars were built, the Ace was succeeded by the Ford V8-powered Cobra. Since idea was simple and development was completed quickly and this British-American hybrid became an instant winner.
Specification listed is for the 1956 Ace with the Bristol Engine.
Story by Richard Owen
In Detail
| | |
| --- | --- |
| type | Series Production Car |
| production years | 1956 – 1962 |
| built at | Thames Ditton, England |
| engineers | John Tojeiro |
| production | 686 |
| engine | Bristol Inline-6 |
| position | Front Longitudinal |
| aspiration | Natural |
| valvetrain | Pushrod OHV 2 Valves / Cyl |
| displacement | 1971 cc / 120.3 in³ |
| bore | 66.04 mm / 2.6 in |
| stroke | 96.01 mm / 3.78 in |
| compression | 8.5:1 |
| power | 93.2 kw / 125 bhp @ 5750 rpm |
| specific output | 63.42 bhp per litre |
| bhp/weight | 141.24 bhp per tonne |
| torque | 173.54 nm / 128 ft lbs @ 4500 rpm |
| body / frame | Wood-Framed Aluminum Body over Steel Ladder-Type Frame |
| driven wheels | RWD |
| front tires | 5.0-16 |
| rear tires | 5.0-16 |
| front brakes | Discs |
| rear brakes | Drums |
| f suspension | Double Wishbones w/Transverse Leaf Springs, Armstrong Tubular Dampers |
| r suspension | Double Wishbones w/Transverse Leaf Springs, Armstrong Tubular Dampers |
| curb weight | 885 kg / 1950 lbs |
| wheelbase | 2286 mm / 90.0 in |
| front track | 1270 mm / 50.0 in |
| rear track | 1270 mm / 50.0 in |
| length | 3848 mm / 151.5 in |
| width | 1511 mm / 59.5 in |
| height | 1245 mm / 49.0 in |
| transmission | 4-Speed Manual w/Optional Overdrive |
| top speed | ~185.1 kph / 115.0 mph |
| 0 – 60 mph | ~8.2 seconds |
| 0 – 100 mph | ~34 seconds |
1959 AC Ace Bristol BEX 1090 – sold for €304,750
Discovered in a northern Ohio barn in 2006 complete and unmolested. Fitted with a factory heater, oil cooler and oil temperature gauge. Professionally restored to exacting standards equal attention was paid to its running and handling as well as its cosmetics, with suspension, steering, springs, shocks, brakes, instrumentation and wiring either replaced or restored.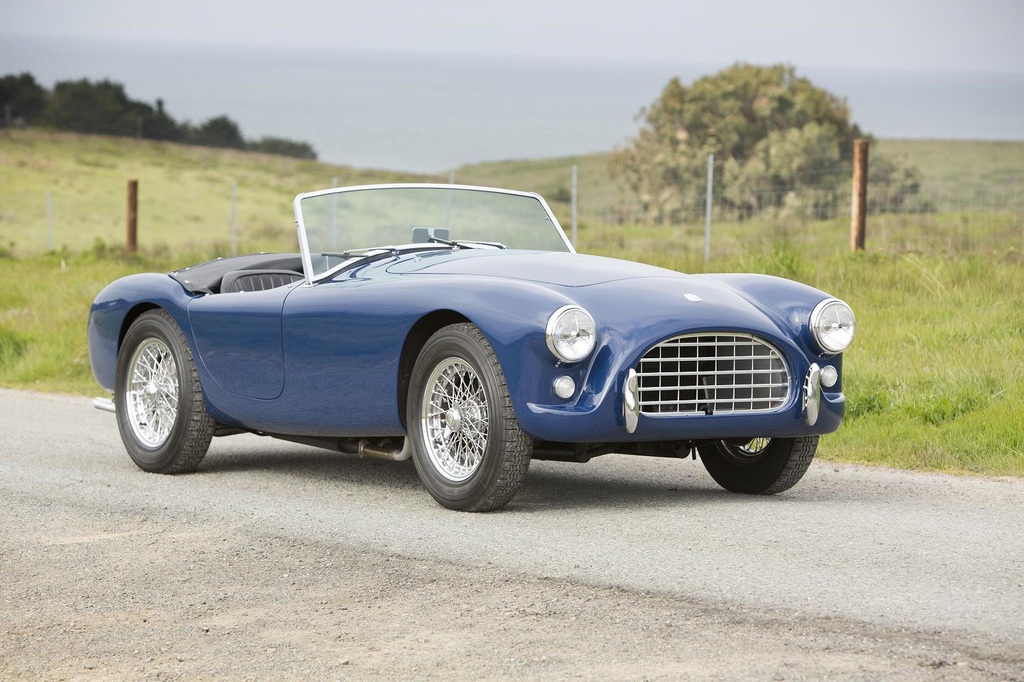 1957 AC Ace-Bristol BEX266 – sold for €224,000
The last "long boot" Ace-Bristol. Originally delivered in Hawaii. Freshly restored with an original "D" engine. Mild-engine blueprinting and tuning for improved performance. It was shipped to Motor Imports, of Honolulu, Hawaii, and is believed to have been one of only a few Ace-Bristols sent to the Aloha State.
Auction Source:
The Chantilly Sale 2015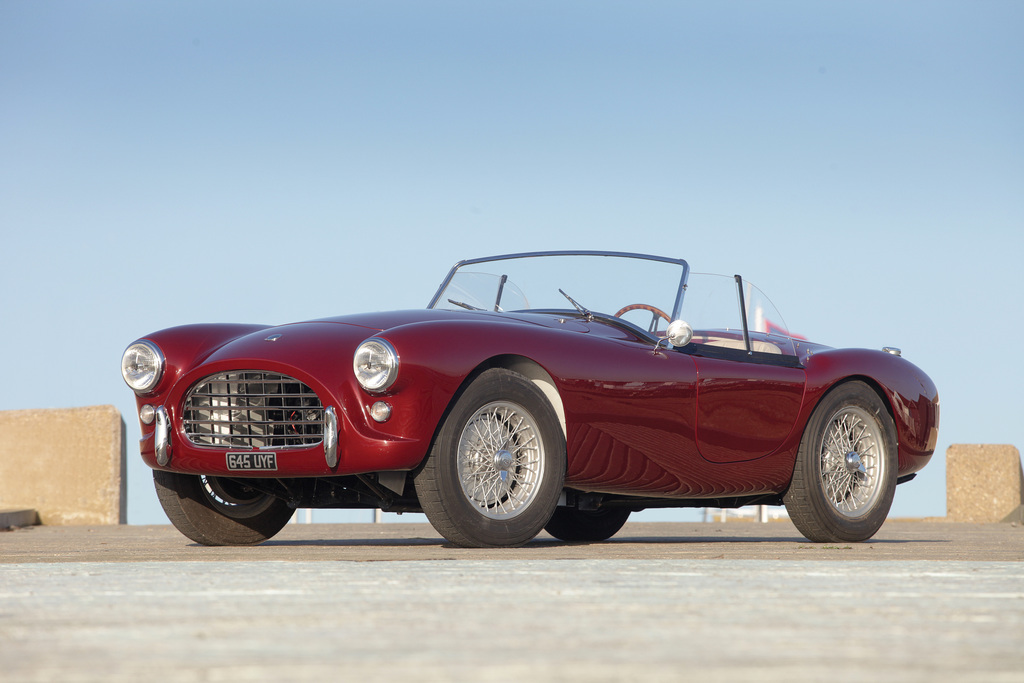 1959 AC Ace Bristol BEX1090 – sold for $286,000
One of only 465 AC Ace Bristols produced. Professionally restored to exacting standards. Colorado Grand participant. Well-understood history. The elegant older brother of the Shelby Cobra.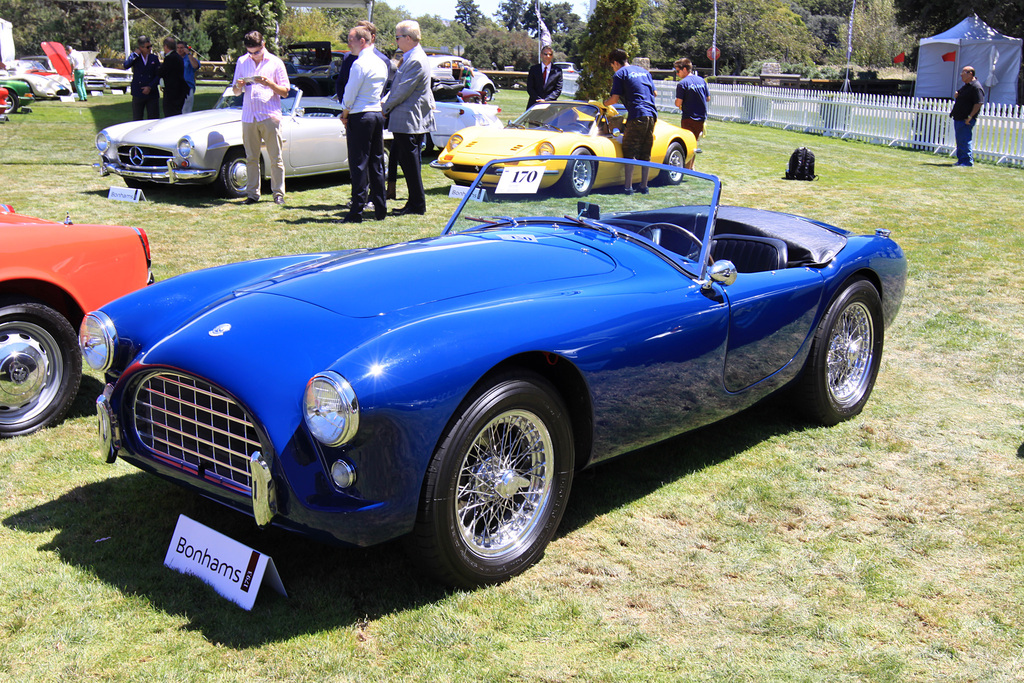 1957 AC Ace Bristol BEX 404 – sold for $308,000
1956 AC Ace-Bristol Roadster BE172 – sold for €188,000
his early Bristol-engined Ace was first registered to AC Cars Ltd, Thames Ditton on 20th July 1956, the car's first private owner being one Peter Gourlay of Guildford, Surrey to whom it was registered on 27th July of that same year. On 21st November 1960 the Ace passed to the second (current) owner, the late Derek Cattley Morris of Clifton, Bristol (a friend of Peter Gourlay). Derek Morris worked for Rolls-Royce in Filton (it is believed on missile development) and used the Ace as his daily driver to work. It is understood that the car was fitted with the racing screen and side pipes very early in its life, while Derek repainted it himself and fitted electronic ignition to cure plug fouling. Derek frequently took the car overseas on camping holidays to various UK and European events including the Claret & Classics Rally in the 1990s. A friend claims the car was never raced or suffered major damage.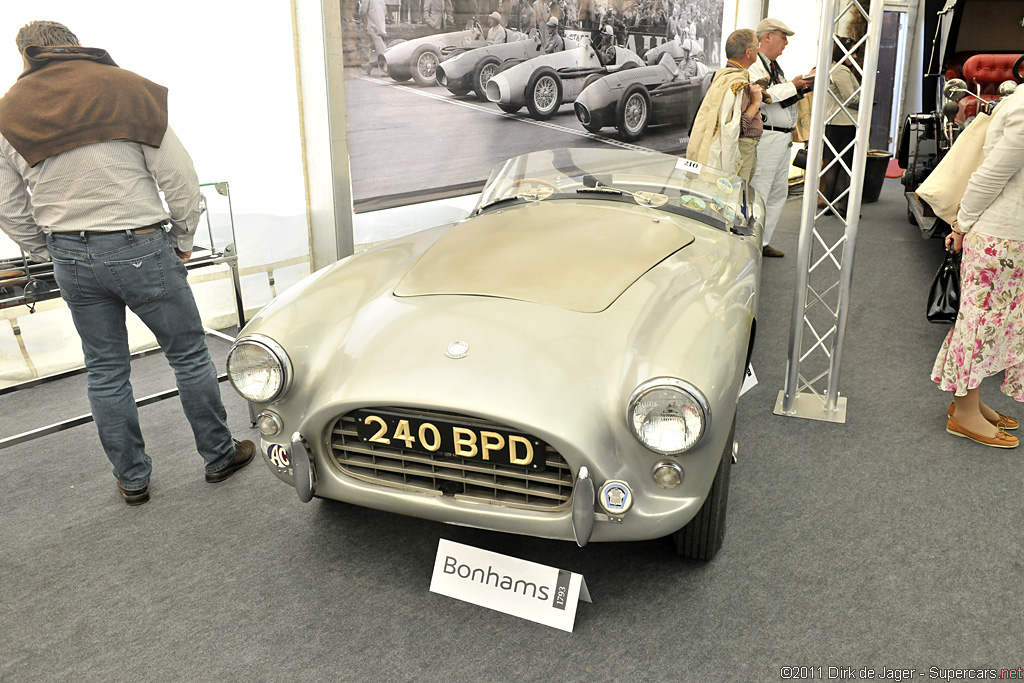 1956 AC Ace Bristol Roadster AEX93 – sold for $148,500
The early car offered here was originally built with the aging six-cylinder AC engine, prior to the availability of the Bristol motor option. Although its build year is 1955, it has been titled as a 1956. Today it has been retrofitted with the desirable 120-hp 100D2 Bristol engine and transmission, freshly rebuilt by Ron Leonard in Denver, Colorado. The present owner bought the car in February 1986, though for some years it sat in his garage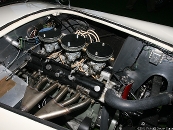 1957 AC Ace Bristol BEX404 – sold for $258,500
One of Only 475 Factory-Built Bristols. Fascinating Southern California History. Stunning Period-Appropriate Livery. Limited Ownership from New. Authentic Matching-Numbers Example. Recently Serviced and Sorted. Perfect for Concours or Driving Events.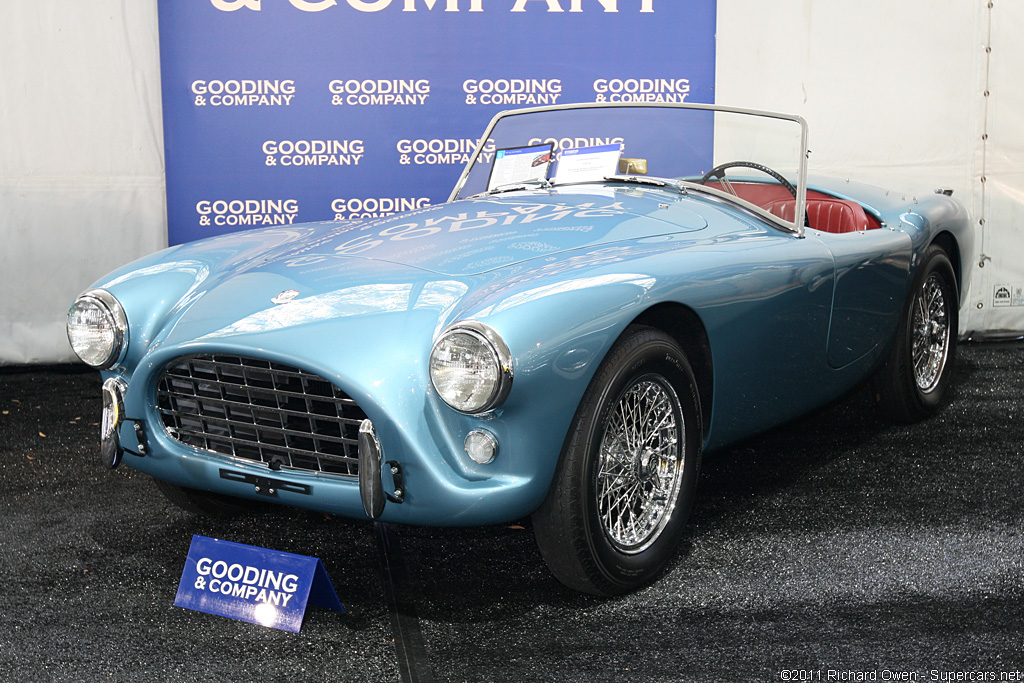 1959 AC Ace Bristol Roadster BEX1090 – sold for $217,250
A comprehensive file accompanies the sale of the Ace and includes extensive restoration receipts and photographs. With its authentic and stunning high-point restoration and mechanical excellence, BEX 1090 is also very rare as one of just 465 Ace Bristols originally produced. A joy to drive, it can also be detailed easily for display on the concours field.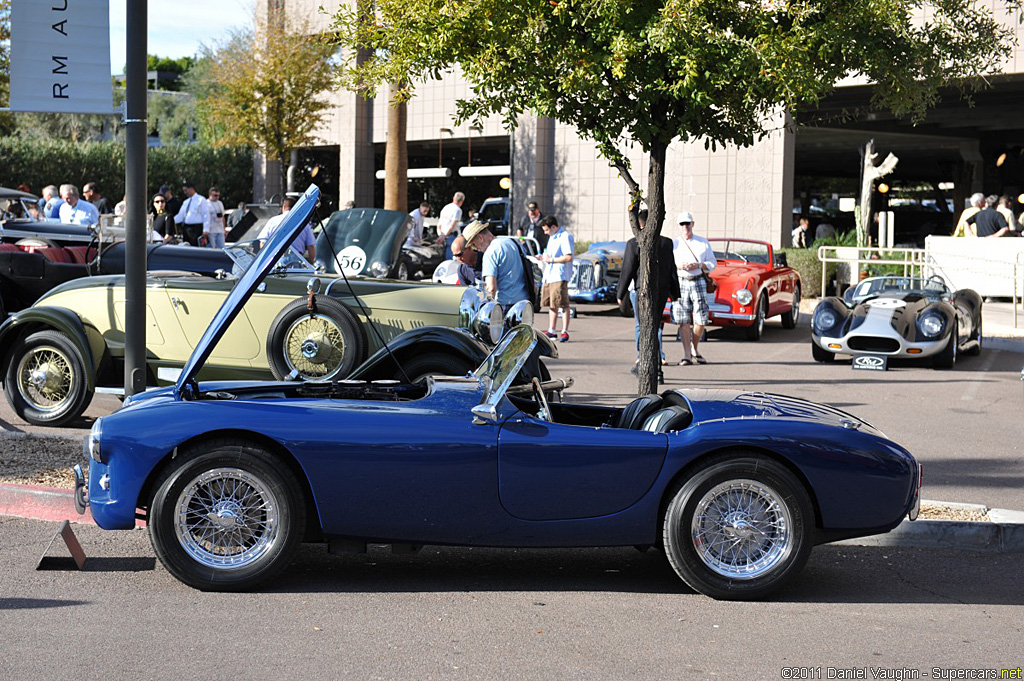 Unrestored 1963 AC Ace-Bristol BEX1210 – sold for $280,500
This AC Ace Bristol has had only one owner for the past 45 years. It was purchased by its owner just after completing his studies at Yale. The car he purchased was one of the last chassis produced.