Ferrari 250 GT Berlinetta (LWB)
Ferrari 250 GT Berlinetta "Tour de France"
Ferrari introduced the 250 GT Berlinetta (LWB) in 1956. It was nicknamed the Tour de France, or TdF, after dominating the French rally over multiple years, sealing a place for itself in sports car racing history. Eventually seventy-seven Tour de France cars were built, of which a number were sold for GT races from 1956 through 1959.
The 250 GT represents the longest running road and race series in Ferrari history. Introduction of this legendary model came when Alfonso de Portago drove one the very first examples, 0415GT, to victory at the 1955 Bahamas Speed Weeks in Nassau. Their achievement marked the beginning of Ferrari's domination in GT racing with "a very long line of legendary and unbeatable 3 litre berlinettas" known as the 250 GT.1
Not long after being introduced, the 250 GT was winning races for Ferrari's best customers. Opposition in the 3-liter class "was obliterated until the Cobras arrived and won in 1964; nevertheless, this was no easy task for them and they had to use a much larger motor." 
From 1954 through to 1959, Ferrari manufactured roughly one hundred purpose-built coupes for endurance sports car racing on the long wheel-base chassis. While winning the Tour de France (TDF) and other important events, these cars proved their versatility and became the racer of choice amongst top drivers.
Scaglietti displayed their own 250 GT prototype, which became known as the limited-production, Series I, "no-louvre" 250 GT Berlinetta. The first customer car was built in May 1956, with production now the responsibility of Scaglietti in Modena. Fourteen "no-louvre" and nine "14-louvre" Series I and II Berliettas were made. There were four series of 250 GT Berlinettas. In mid-1957 the Series III cars were introduced, with three louvres and covered headlights. Eighteen were produced. The 36 Series IV cars; retained the covered headlights and had a single vent louvre. Zagato also made five "no-louvre" superlight cars to Ugo Zagato's design.
After Ferraris took the top three places at the 1957 TDF, the race organizers lent their event's name to the victorious design. Starting in Nice and ending five days and 3345 miles (5383 km) later in Paris, the Tour de France was a highlight event in its day. It tested both durability and versatility through several road rally, circuit and hill climb stages. Since this test was grueling, most competitors, sometimes up to 70 percent, didn't finish. After the 250 GT won the event in 1957, it continued the trend for the next eight years and won a record nine times in a row.
The common link between all 250 GTs was their surefire three-liter engine designed by Gioacchino Colombo. This engine was the smaller of the two developed by Ferrari and was needed due to new restrictions on engine size. After the serious 1955 LeMans incident, a three liter limit was imposed in an attempt to curb high speed accidents. Ferrari's three liter engine was still good for 230 to 250 horsepower and kept up regularly with the prototype entrants.
The entire car was similar to the 250 Europa GT of 1954 with upgraded front suspension, fully synchromesh gearbox and shorter engine. The chassis took advantage of this engine to ahve a 2600mm wheelbase. Called the Tipo 508, the 250 GT kept this chassis with only slight revisions until a shorter 2400mm unit replaced it in 1959.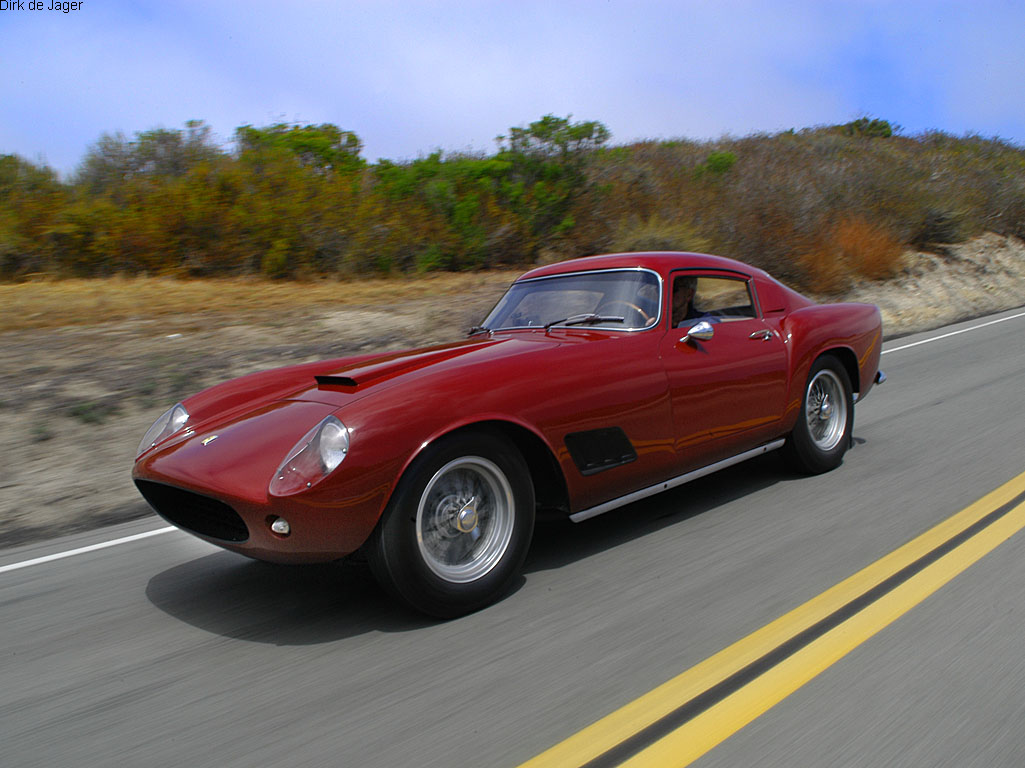 Each chassis received a hand-crafted body, and most were bodied by Scaglietti & C. based on four Pinin Farina showcars. Zagato, a Milanese design house known for their lightweight construction, bodied some particularly potent examples and Camillo Luglio became an Italian Champion in his.
Progressive development and hand crafted bodies meant that no two 250 GT Berlinettas were the same. Differences were incorporated into the body from year to year, with subtle details such as sliding or wind-up windows, cowled or covered or plain headlights and varied hood louvers distinguishing each car. The first TDFs were modeled after the 250 MM, both having the same general proportions and wrap-around rear windscreen. Later changes to body included a smaller rear windscreen, the addition louvers on the C pillar for cockpit cooling and more pronounced rear fenders. By 1959, a new front end included open headlights to comply with Italian law as well as provide more light.
While dominating the Tour de France, the 250 TdF went on to class victories at the Mille Migla and many other Italian events. In its day this car was the racer of choice until replaced by the 250 GT SWB, its disc-brake successor.
Author and owner Jess G. Pourret describes the car very safe with "a very clean road-holding and handling, a sturdiness of motor and chassis, and a seriousness of mechanical construction." He notes that "out of so many races over that 10 year period it is amazing to note the rarity of fatal results." As for complaints he lists "interior ventilation marginal on hot days or during racing time, waterproofing also marginal, noise level quite high, […] mechanical worries for the careless or brutal driver, gearbox synchronization a little weak on racing use, clutch very good for the light footer but short for the heavy ones, brakes bordering on real discretion above 150 kmh (93 mph)."
Pictures
See full 1956 Ferrari 250 GT Berlinetta Gallery here

Specs & Performance
| | |
| --- | --- |
| | |
| type | Racing Car |
| built at | Maranello, Italy |
| body stylist | Pinin Farina |
| coachbuilder | Scaglietti & C. |
| predecessor | 1953 Ferrari 250 MM |
| engine | Tipo 128C 60º V12 |
| position | Front Longitudinal |
| aspiration | Natural |
| block material | Silicon Aluminum Alloy |
| valvetrain | SOHC, 2 Valves per Cyl |
| fuel feed | Triple Weber 36DCL3 |
| displacement | 2953 cc / 180.2 in³ |
| bore | 73 mm / 2.87 in |
| stroke | 58.8 mm / 2.31 in |
| compression | 9.2:1 |
| engine designer | Gioacchino Colombo |
| power | 186.4 kw / 240 bhp @ 7000 rpm |
| specific output | 81.27 bhp per litre |
| bhp/weight | 224.3 bhp per tonne |
| redline | 7500 |
| body / frame | Aluminum Body over Tipo 508 Tubular Frame |
| driven wheels | RWD w/LSD |
| wheel type | Borrani RW3077 Wires |
| front tires | 6.00×16 |
| rear tires | 6.00×16 |
| front brakes | Aluminum Drums w/ Hydraulic Assist |
| rear brakes | Unassisted Aluminum Drums |
| front wheels | F 40.6 x 12.7 cm / 16 x 5 in |
| rear wheels | R 40.6 x 12.7 cm / 16 x 5 in |
| f suspension | Double Wishbones w/Coil Springs |
| r suspension | Live Axle w/Longitudinal Half-Elliptic Springs, Lower Rods |
| curb weight | 1070 kg / 2359 lbs |
| wheelbase | 2600 mm / 102.36 in |
| front track | 1354 mm / 53.3 in |
| rear track | 1349 mm / 53.1 in |
| transmission | 4-Speed Manual |
| tran clutch | Multi-Disc |
| gear ratios | 2.48:1, 1.64:1, 1.231:1, 1.000:1 |
| top speed | ~241.4 kph / 150.0 mph |
| 0 – 60 mph | ~5.2 seconds |
Auction Sales History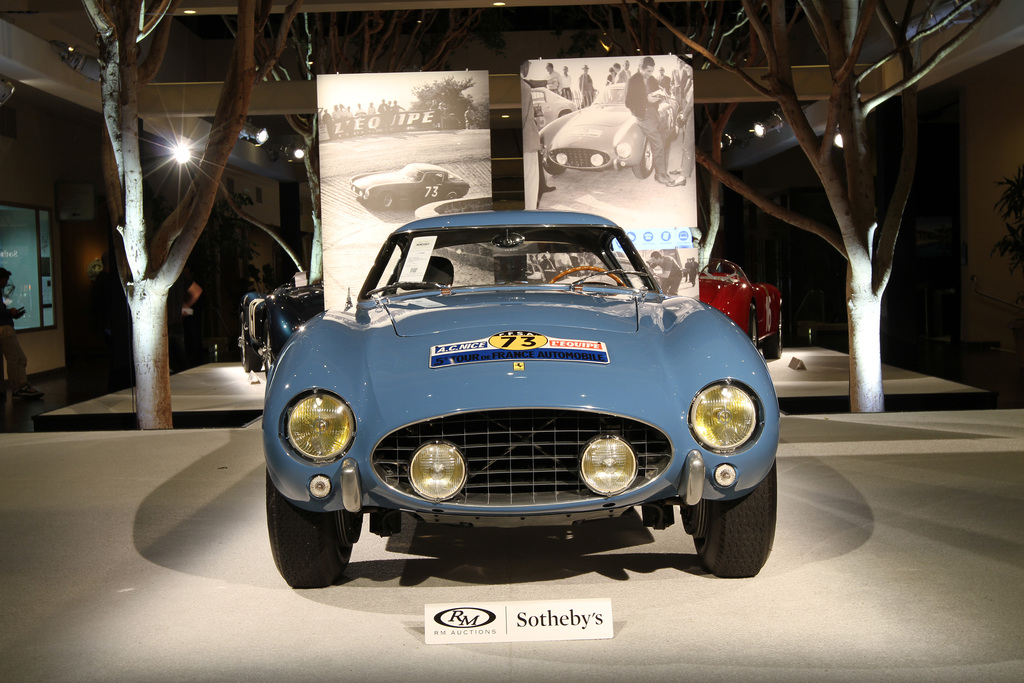 1956 Ferrari 250 GT Berlinetta 0557GT – sold for $13,200,000. Placed 1st overall at the 1956 Tour de France Auto. The actual car that instituted the "Tour de France/TdF". Nomenclature. Raced and owned by the legendary Marquis Alfonso de Portago. The fifth of only seven Scaglietti-bodied first-series competition berlinettas. Awarded First in Class at Pebble Beach and Meadow Brook and the Prix Blancpain Award at the Louis Vuitton Concours d'Elegance. Cavallino Classic Platinum award winner. A once-in-a-lifetime opportunity to acquire one of the most historically significant competition Ferraris of all time. Auction Source: RM Sotheby's Monterey 2015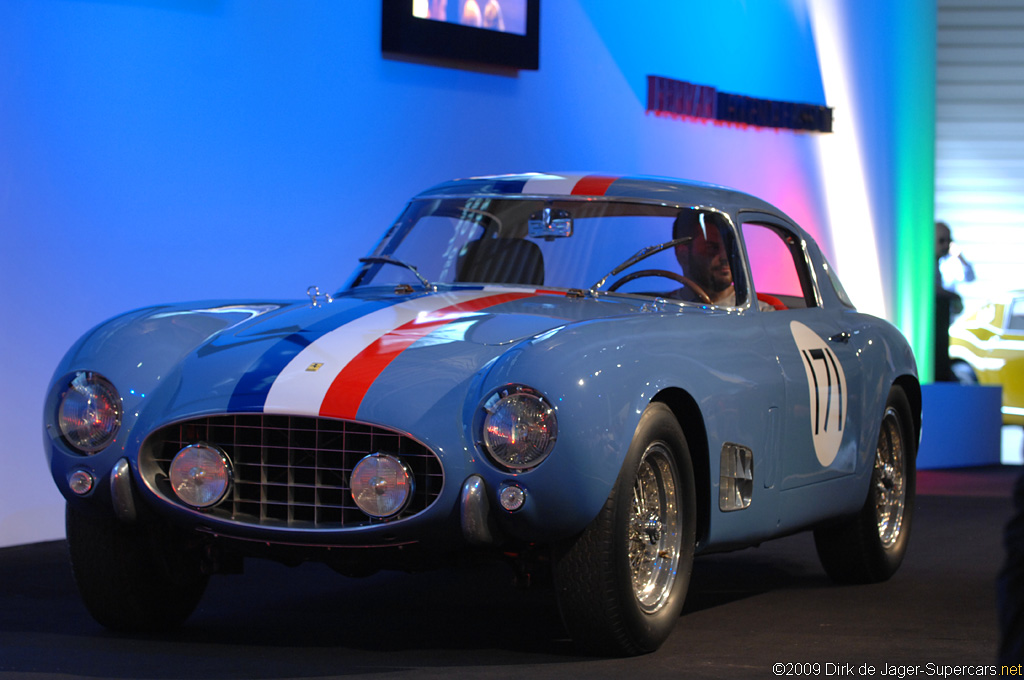 1956 Ferrari 250 GT Berlinetta (Tour de France) 0563GT – sold for €2,310,000. Ferrari 250 GT Berlinetta (Tour de France) chassis no. 0563 GT is one of the most legendary Ferrari dual-purpose road/race cars and is the last of the series of eight cars produced in this body style. With its outstanding competition history it is certainly of the most desirable closed 12-cylinder Ferraris and it would be eligible for all the important historic races and events around the world, including the Tour Auto, Mille Miglia Storica and Shell Ferrari Maserati Historic Challenge, where it would be very competitive in the drum brake class. In fact, closed 12-cylinder Ferraris eligible for the Mille Miglia very rarely come onto the market today. With breathtaking looks, fantastic performance and great handling, early Ferrari 250 GT competition cars such as 0563 GT remain some of the most coveted models in the marque's history. Auction Source: 2009 Leggenda e Passione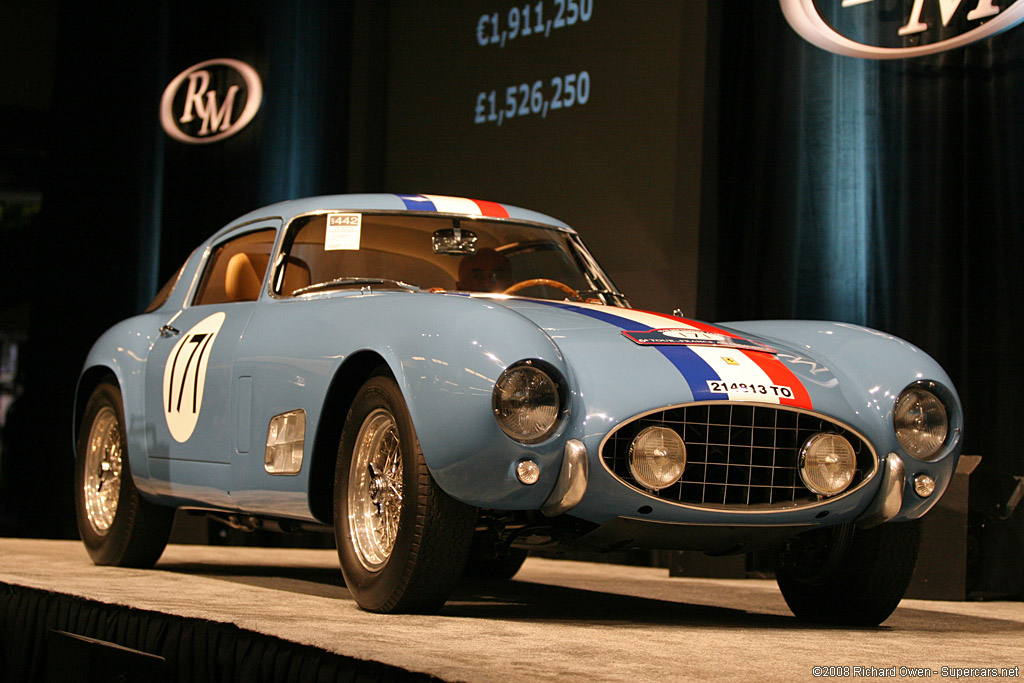 1956 Ferrari 250 GT Tour de France Berlinetta 0563GT – did not sell for $3,900,000. The Ferrari 250 GT Tour de France presented here, chassis number 0563 GT, was sold new by Ferrari SpA to Racing Sport S.r.l of Torino, Italy on September 10th, 1956. Racing Sport then leased the car to Nice resident, Jacques Peron. The fifth Tour de France was held between September 17th to 23rd in 1956 and Peron, with co-driver Jacques Bertrammier took the car to 8th place overall. In October that year at the 12th Coupe du Salon at Montlhéry, Peron finished a fine second place.