1956 Ferrari 250 GT Boano Coupé
At the Geneva Show in in March 1956, Ferrari displayed the replacement for the 250 Europa GT. Architecture for the new car was quite similar to its predecessor, but the styling was slightly updated.
Pinin Farina was responsible for the new design which included a much smaller front grill and discrete rear tail fins. These changes were borrowed from the Series II 410 Superamerica which had similar traits.
Chassis 0429GT was first displayed at Geneva with a steel body and aluminum doors and hood. This was followed up by four more Pinin Farina prototypes, two completely made in aluminum. These cars had a distinctive kick-up rear fenders that were not included when the model reached production.
Ferrari and Pininfarina were cautious to get the design right since the GT Coupe would be one of Ferrari's first production cars with a stabilized design that span over 100 cars. This was nothing compared to numbers of other mass-produced Italian cars, but a huge step for Ferrari.
The new GT shared the same 2600mm wheelbase and aluminum alloy, Colombo-designed V12 as the Europa GT. Small changes were made to the design to increase production feasibility. Attached was a full synchronized four-speed transmission offering a top speed of 125 mph (200 kph).
100 Boanos
Ferrari was very serious about producing the 250 GT Coupe in large numbers, so much so Pinin Farina couldn't handle the expected production workload, especially since their new factory at Grugliasco wasn't complete. Ferrari instead turned to Mario-Felice Boano of Carrozzeria Boano for production of the bodies and interiors based on the Pinin Farina design.
Boano had both a design house in Turin and a production plant in Brescia that could handle large orders. Called Carrozzeria Boano Lavorazioni Speciali, they had a dedicated factory in Brescia that was produced with funding from the Ellena family. They gladly accepted the order from Ferrari which was significant. Because Boano acted as a subcontractor, his name was never mentioned in the promotion of the model.
Eventually, 65 cars were built at Boano's facility until Ellena took over the facility completely. An additional 40 cars were built as the 250 GT Ellena before the model was phased out for a completely Pinin Farina-built model. Chassis numbers ranged from 0429GT to 0675GT.
Ferrari 250 GT Boano Coupé Gallery
See full 1956 Ferrari 250 GT Boano Coupé Gallery here
Sources & Further Reading
1. Anselmi, Angelo et. al. Making a Difference, Le Edizioni Dell Opificio: 2006.
2. Edgerton, David. 'Boano'. Cavallino 38, April/May 1987.
Ferrari 250 GT Boano Specs & Performance
| | |
| --- | --- |
| | |
| type | Limited Production Car |
| released at | 1956 Geneva Motor Show |
| built at | Brescia, Italy |
| body stylist | Pinin Farina |
| coachbuilder | Carrozzeria Boano |
| production | 118 |
| predeccesor | 1953 Ferrari 250 Europa |
| succeccesor | 1958 Ferrari 250 GT Coupé |
| engine | Type 128B/C 60º V12 |
| position | Front, Longitudinal |
| aspiration | Natural |
| block material | Siluminium |
| valvetrain | SOHC, 2 Valves / Cyl |
| fuel feed | 3 Weber 36 DCL/3 Carburetorts |
| displacement | 2953 cc / 180.20 in³ |
| bore | 73 mm / 2.9 in |
| stroke | 58.8 mm / 2.3 in |
| power | 179.0 kw / 240 bhp @ 7000 rpm |
| specific output | 81.27 bhp per litre |
| bhp/weight | 183.77 bhp per tonne |
| torque | 261.7 nm / 193 ft lbs @ 5000 rpm |
| body / frame | Steel or Aluminum Body over Tipo 508 Steel Tube Chassis |
| driven wheels | RWD |
| wheel type | Boranni Wire |
| front tires | 6.00×16 Englebert |
| rear tires | 6.00×16 Englebert |
| front brakes | Drums |
| rear brakes | Drums |
| front wheels | F 40.6 x 15.2 cm / 16 x 6 in |
| rear wheels | R 40.6 x 15.2 cm / 16 x 6 in |
| f suspension | Double Wishbones w/Coil Springs, Houdaille Shock Absorbers |
| r suspension | Live Axle w/Semi-Ellipic Leaf Springs, Houdaille Shock Absorbers |
| curb weight | 1306 kg / 2880 lbs |
| wheelbase | 2600 mm / 102.4 in |
| front track | 1354 mm / 53.3 in |
| rear track | 1349 mm / 53.1 in |
| length | 4458 mm / 175.5 in |
| width | 1676 mm / 66.0 in |
| height | 1346 mm / 53.0 in |
| transmission | Type 508B 4-Speed Manual |
| tran clutch | Twin Plate Dry |
| top speed | ~201.13 kph / 125 mph |
| 0 – 60 mph | ~5.9 seconds |
| fuel capacity | 100 litres or 26.40 gal. |
Ferrari 250 GT Boano Auction Sales History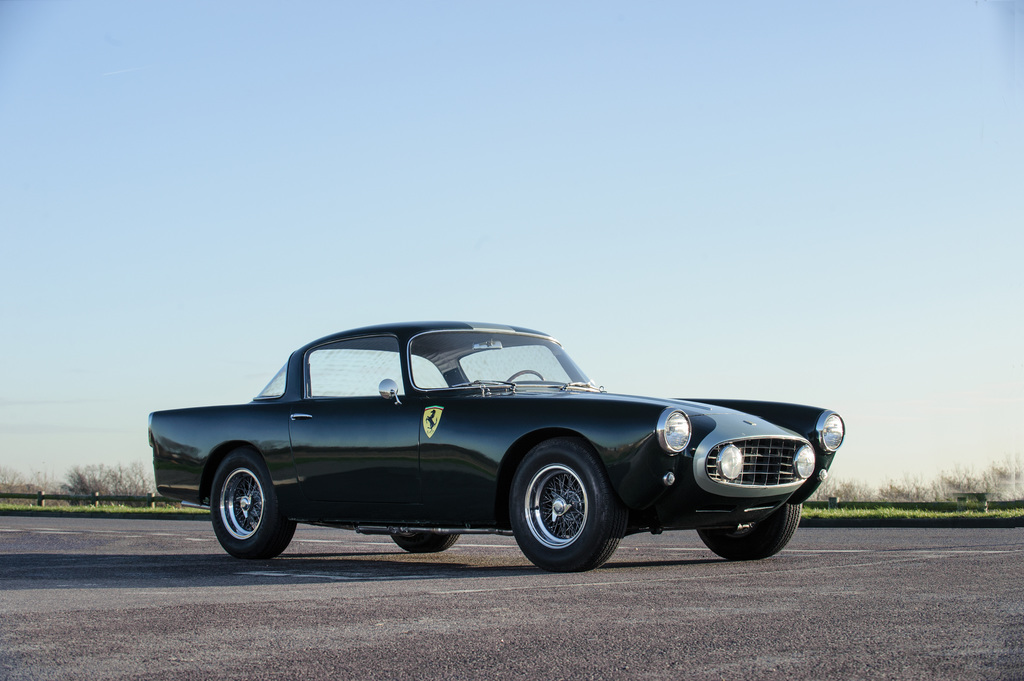 1957 Ferrari 250 GT Coupé by Ellena 0755GT – sold for €403,200 The 1958 Chicago Auto Show car. The 17th of 50 "High Roof" Coupés built. Restored to drive fast; an excellent event Ferrari. Auction Source: 2015 Paris by RM Auctions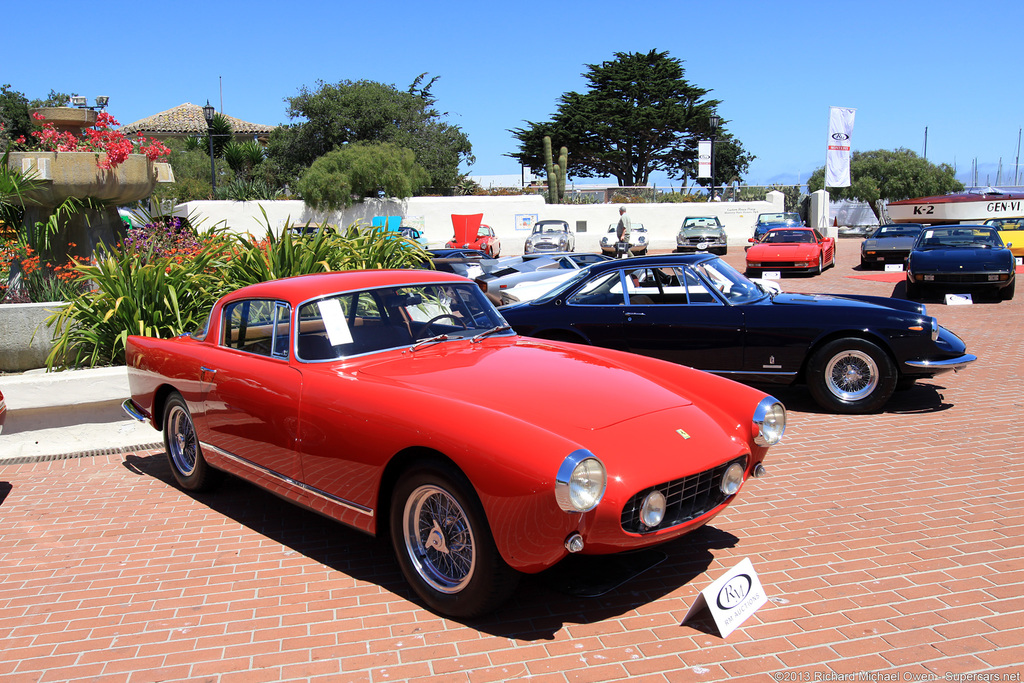 1956 Ferrari 250 GT Boano Coupe 0625 GT – sold for $726,000 Attractive and rare low-roof design by Boano. Single ownership since 1993. Immensely drivable example that is eligible for any rally. The 2000 Concorso Italiano Best of Show winner. Auction Source: 2013 Monterey Auction by RM Auctions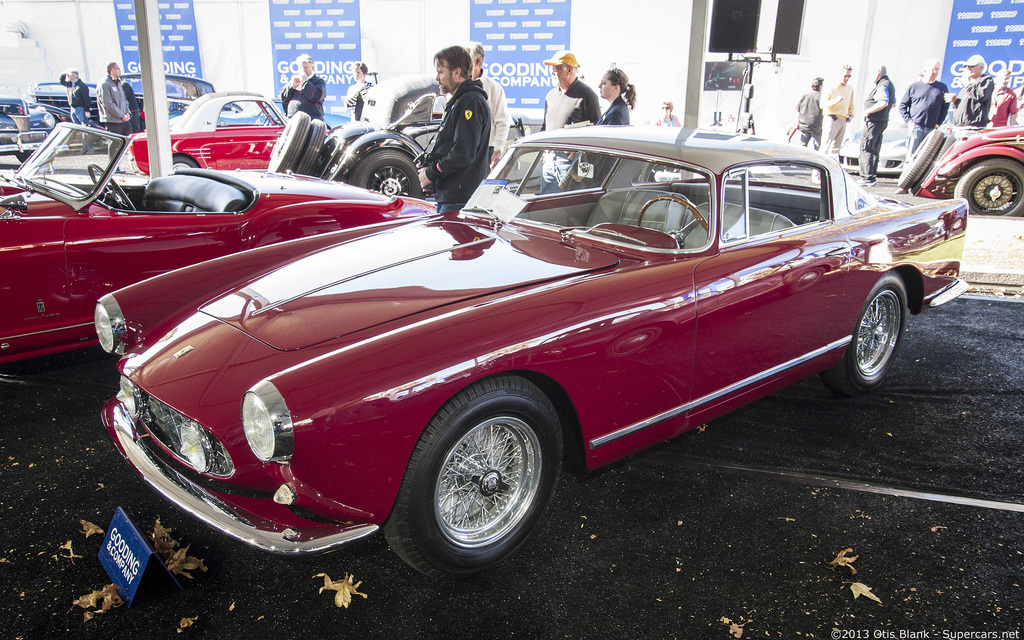 1957 Ferrari 250 GT Boano Low-Roof Berlinetta 0605GT – sold for $836,000 Stunning Presentation of a Classic 250 Ferrari. Long-Term California Car with Limited Chain of Owners. Displayed at Pebble Beach in 1974 and 1980. Recently Completed Show-Quality Restoration. Accompanied by an Exhaustive File of Receipts and Documentation. Certified by Ferrari Classiche. Eligible for the Finest Driving Events and Concours. Documented by Ferrari Historian Marcel Massini. Auction Source: The 2013 Scottsdale Auctions by Gooding & Company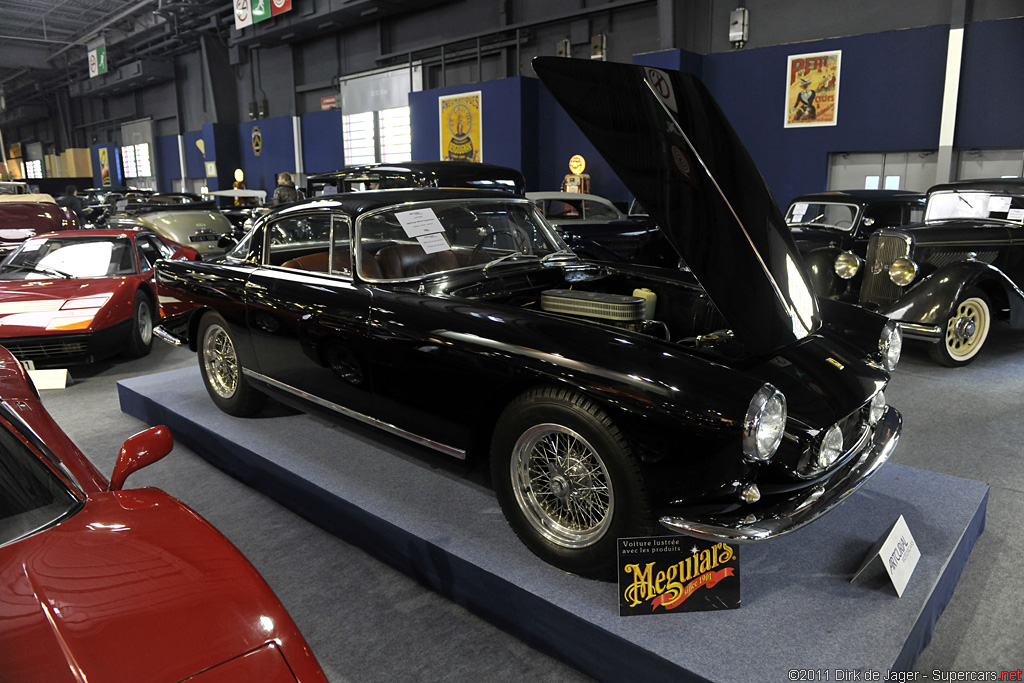 1956 Ferrari 250 GT coupé Boano 0543GT – sold for €477,478 The Ferrari 250 GT Boano coupé on offer, was built in 1956 and sold new in France to the Parisian establishment Autoval. At that time it was metallic grey with brown leather interior. From 1958, it could be found in the US, where it has spent most of its life. Owned by two enthusiasts, one from California and the other from Hawaii, this 250 GT took part in various trials, at Palm Springs, Santa Barbara and Dillingham Field (Hawai). Auction Source: 2012 Artcurial Motorcars à Rétromobile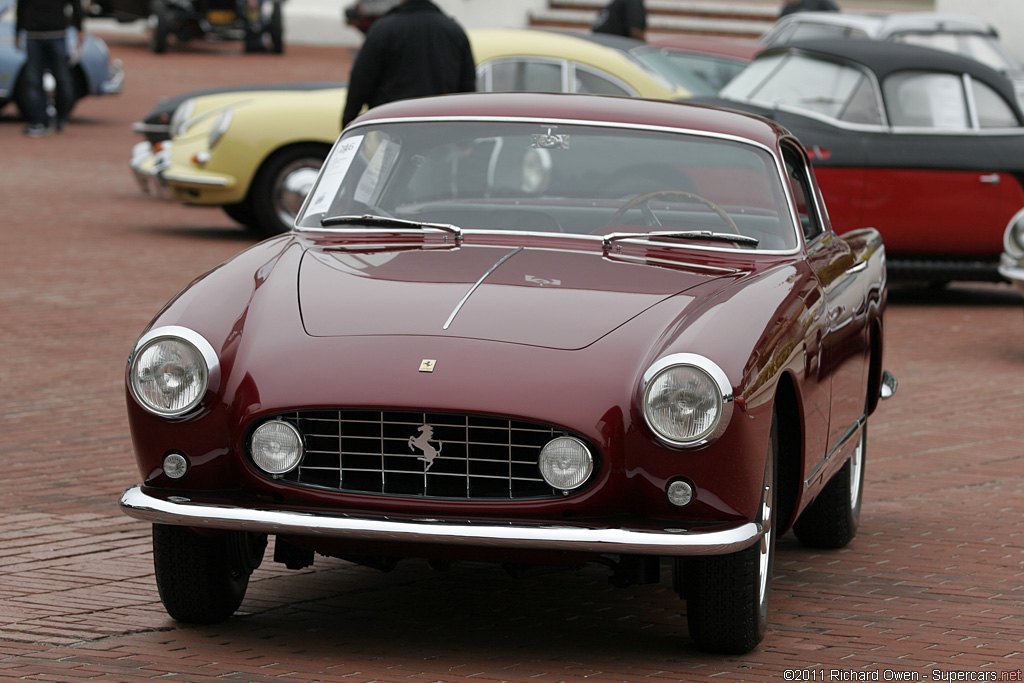 1955 Ferrari 250 GT Europa Low-Roof Alloy Berlinetta by Carrozzeria Boano 0447GT – sold for $660,000 Fascinating history from new. An important evolutionary link to Ferrari's series-production road cars. Formerly in the long-term ownership of noted collector Frits Kroymans. The car was then owned by an individual in Pennsylvania and has known history until mid-1987, when it was advertised with a 100-point Pebble Beach quality restoration. Noted Ferrari collector Frits Kroymans ultimately acquired the car in 1992. Auction Source: 2011 Monterey Auction by RM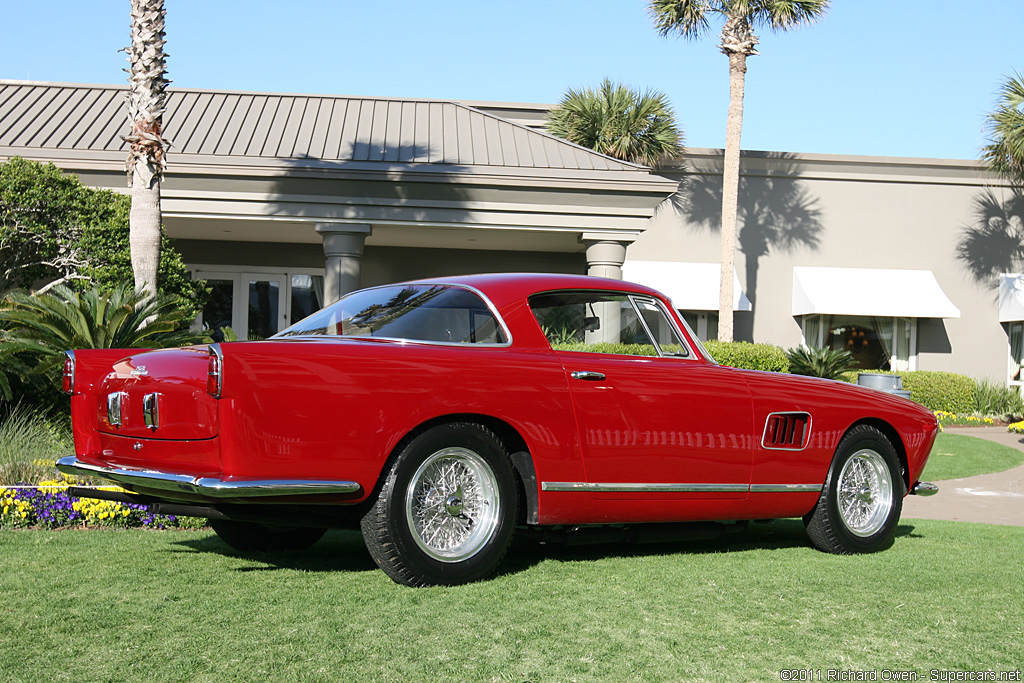 1957 Ferrari 250 GT Boano Low Roof Berlinetta 0673 – sold for $605,000 In the period spanning 1999 – 2001, 0673 GT was treated to a complete disassembly and restoration at Black Horse Restorations, from which it emerged resplendent in claret paint with a grey leather interior with burgundy piping. The sizable investment in restoration was honored with a Platinum Award from the Ferrari Club of America at the 2001 Orange County Concours d'Elegance. Rick Intile of New York bought the car afterward. Auction Source: 2011 Amelia Island Auction by RM Auctions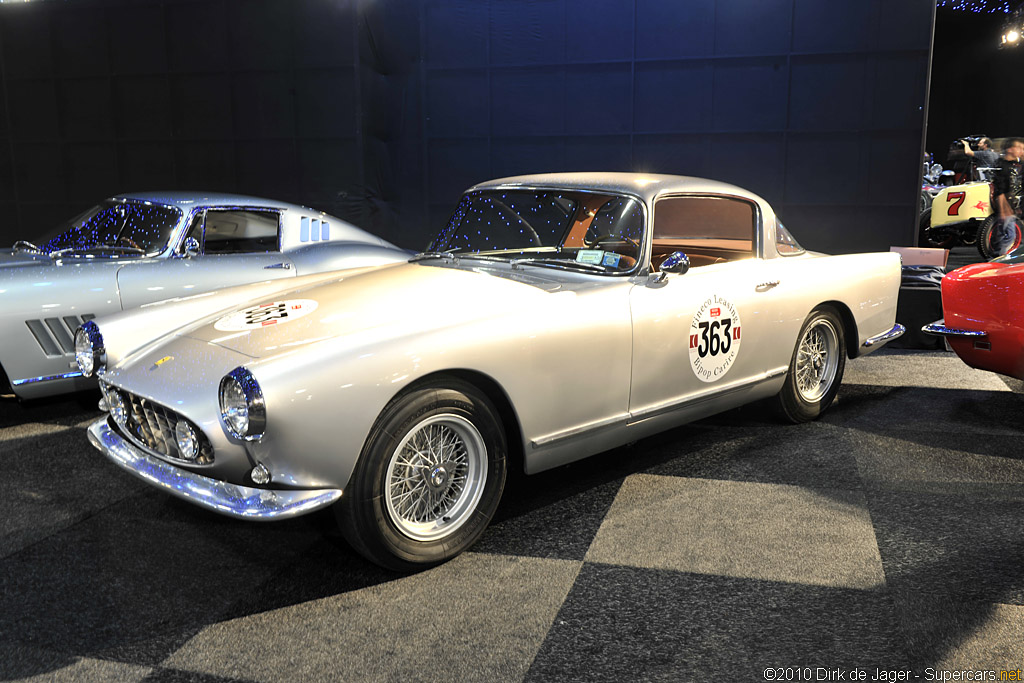 1957 Ferrari 250 GT Ellena Coupé 0785GT – did not sell for $228,620 The Ellena Coupé presented here, chassis no. 0785 GT, is the 21st example built, completed by the factory in February 1958 before being delivered to its first owner Yomo Sitia of Milan, Italy. Exported to the United States in the late 1950s, by 1960 0785 GT was owned by Richard Bell of New York City. Richard Nordquist of Minneapolis eventually acquired the car in the early 1980s, and in 1984 it was purchased by noted Japanese collector Yoshiho. Auction Source: 2010 Automobiles of London by RM Auctions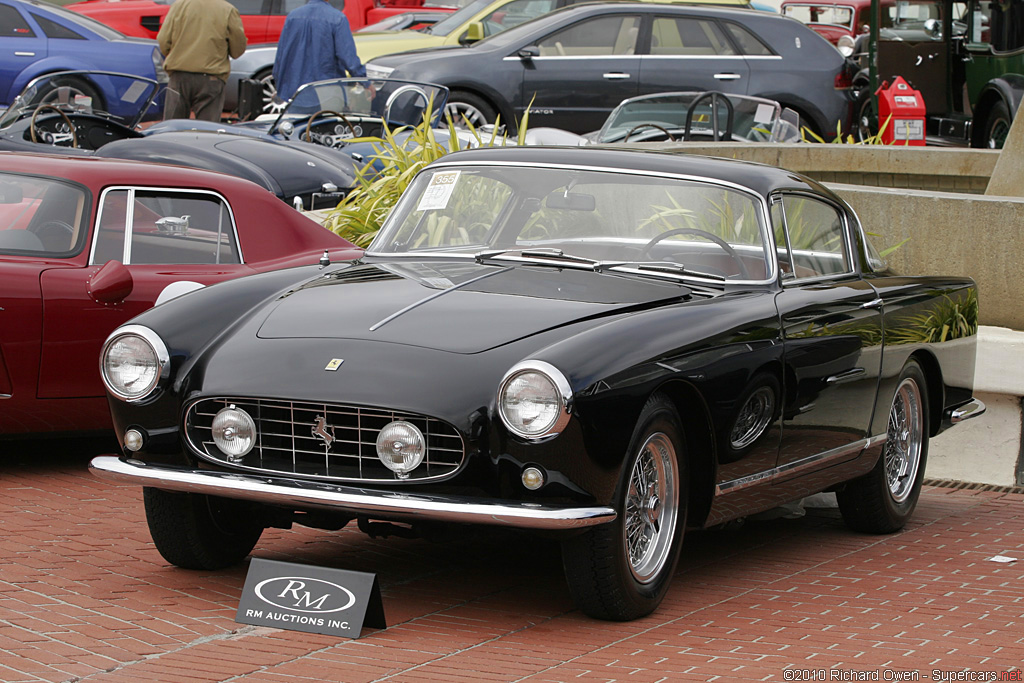 1956 Ferrari 250 GT Coupe by Boano 0543GT – sold for $440,000 Originally painted silver grey with a tan interior, the Ferrari 250 GT Boano offered here is the 56th example built and sports a beautiful black finish while retaining its correct tan interior. Benefiting from a concours-quality restoration that is only a few years old, the paint and brightwork still remain in exceptional condition as the car has only been driven sparingly and has been maintained to the highest standards in climate-controlled. Auction Source: RM Auctions' 2010 Sports & Classics of Monterey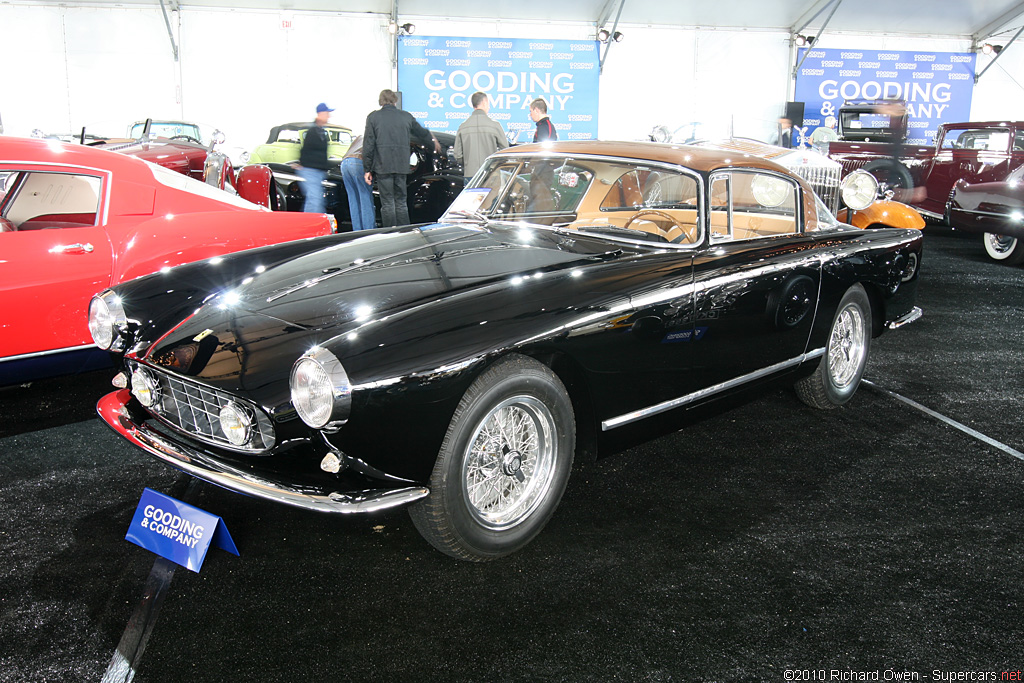 1957 Ferrari 250 GT Low-Roof Berlinetta 0641GT – sold for $605,000 This splendid Ferrari offers deeply detailed black paint and a lustrous copper roof. Its correct wool carpets, tan leather upholstery and elegant dash console all combine to offer a grand touring experience of unequaled quality. Eminently presentable and poised for future concours success, this car is also eligible for the California Mille, Colorado Grand, Copperstate 1000 and possibly the Mille Miglia Storica. Auction Source: 2010 Gooding & Company Pebble Beach Auction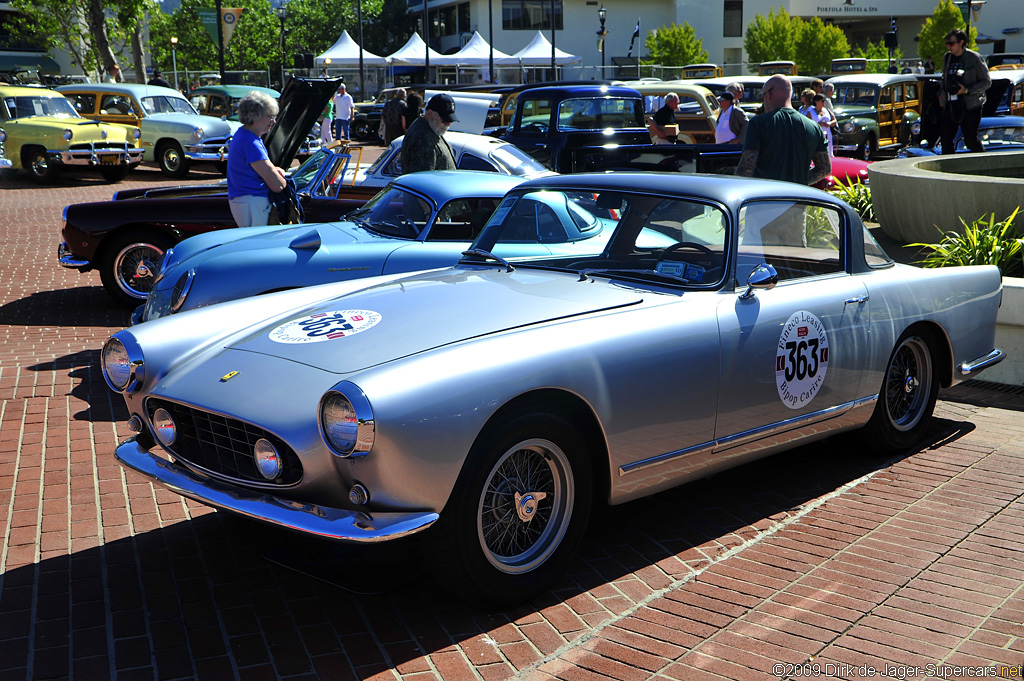 1957 Ferrari 250 GT Ellena Coupe – sold for $220,000 The Ellena Coupe presented here, chassis no. 0785 GT, is the 21st example built, completed by the factory in February 1958 before being delivered to its first owner Yomo Sitia of Milan, Italy. Exported to the United States in the late 1950s, by 1960 0785 GT was owned by Richard Bell of New York, NY. Richard Nordquist of Minneapolis eventually acquired the car in the early 1980s and in 1984 it was purchased by noted Japanese collector Yoshiho. Auction Source: 2009 RM Auctions Sports & Classics of Monterey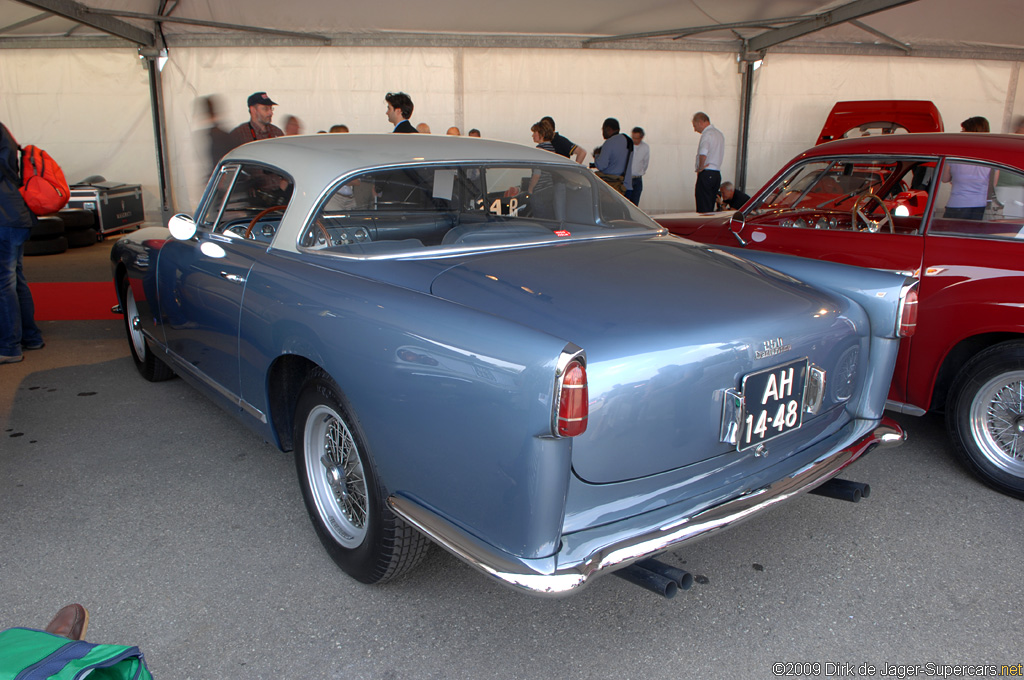 1956 Ferrari 250 GT Coupe Boano 0569 GT – sold for €401,500 Finished in a period correct colour scheme of mink blue with a silver roof, the car comes with original FIVA papers, old DEUVET vehicle-passport, old FIA papers and extensive leather-bound history file, with photographic restoration record. The Ferrari 250 GT was certainly Mario Felice Boano's most celebrated work as an independent coach builder and the alloy-bodied variant is the rarest and most desirable of the series. The Boano-bodied Auction Source: 2009 Leggenda e Passione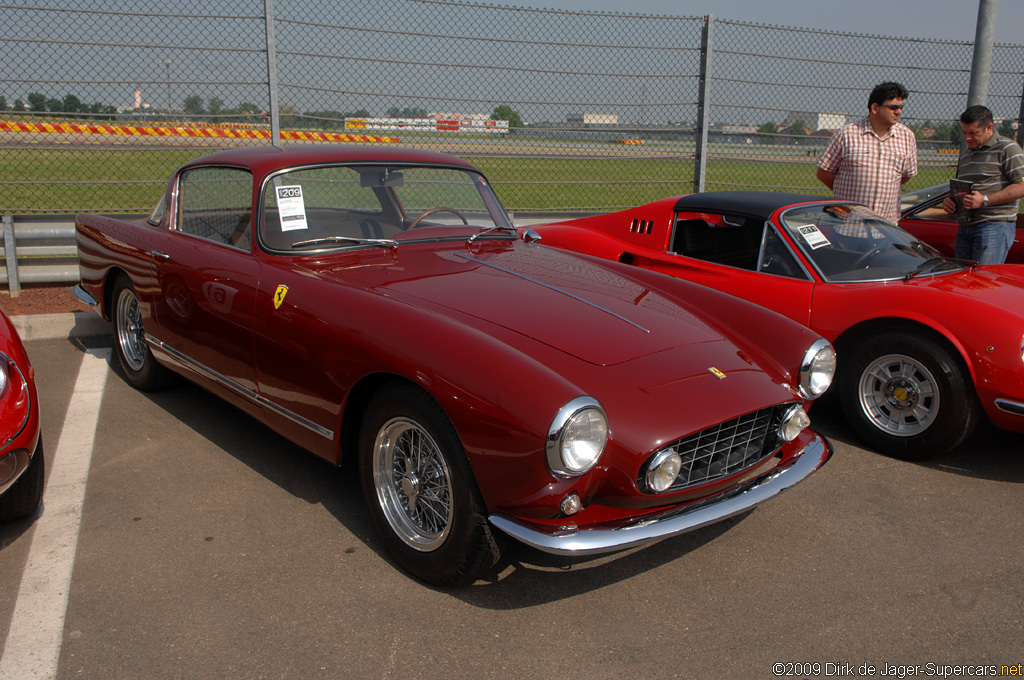 1957 Ferrari 250 GT Ellena Coupe 0819 GT – sold for €275,000 The example presented here, chassis 0819 GT, is the 26th of the 50 total units produced by Carrozzeria Ellena, originally finished in dark red with a tan interior. Delivered new to Ferrari Representatives of California in Hollywood in November 1957, its ownership trail reappears in the early 1970s, when it was sold to John Hajduk's MotorKraft in Bensenville, Illinois. Hajduk was deciding whether to restore 0819 GT when two local youngsters Auction Source: 2009 Leggenda e Passione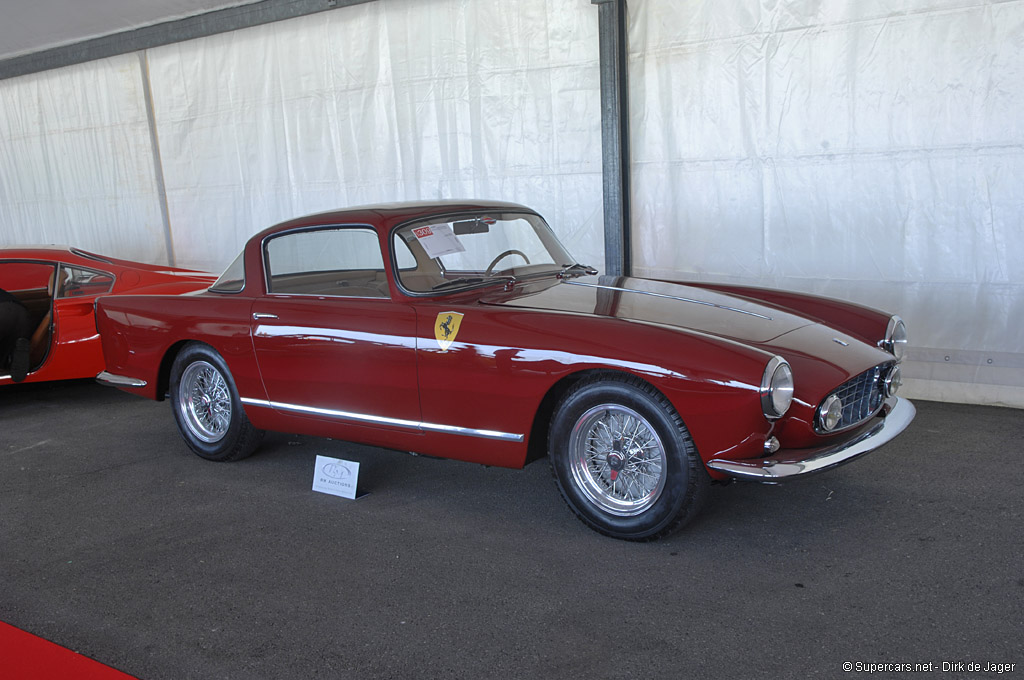 958 Ferrari 250 GT Ellena Coupe 0819GT – sold for €385,000 The example presented here, chassis 0819 GT, is the 26th of the 50 total units produced by Ellena, originally finished in dark red with a tan interior. Delivered new to Hollywood, California, its ownership trail reappears in the early 1970s, as it was sold as a restoration project to John Hajduk's MotorKraft in Illinois, who himself would sell the car as a long-term ground-up restoration project to two gentlemen from Chicago. Auction Source: 2008 Leggenda e Passione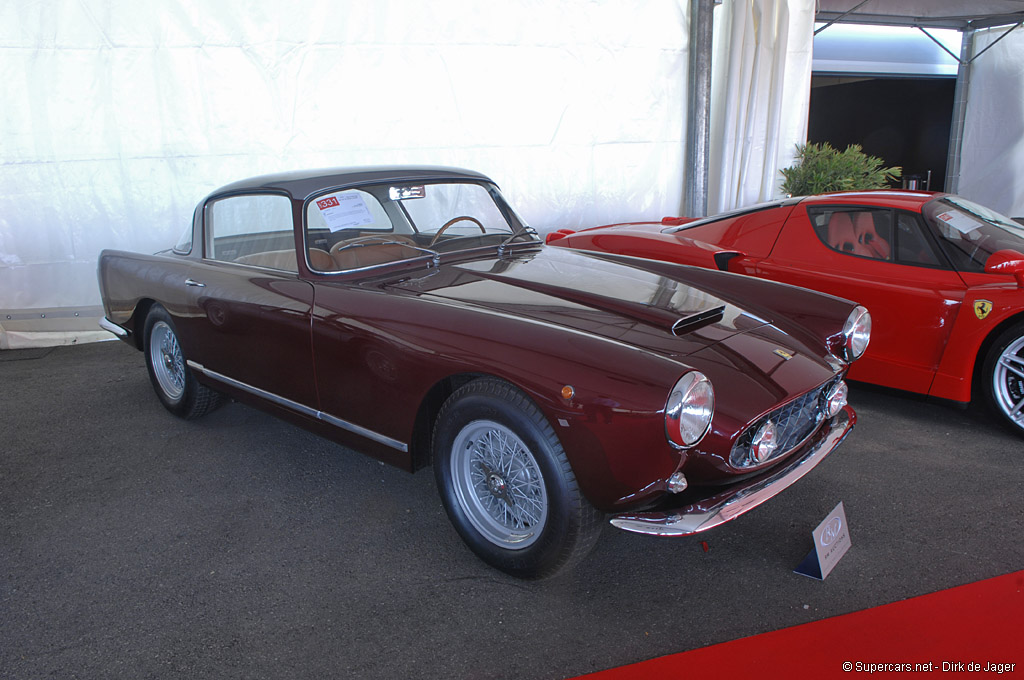 1958 Ferrari 250 GT Ellena Coupe 0817GT – did not sell for €225,000 0817GT will need to be returned to the Vendor for further work to complete certification. Vendor will pay for the necessary modifications which will include removal of the front air scoop, replacing of the rear lights and the addition of the correct Ferrari 250GT Ellena badge. Auction Source: 2008 Leggenda e Passione