1956 Porsche 356A/1500GS Carrera Coupé
With the Carrera nameplate, Porsche had produced their first real production sports car. Named after Porsche's victory at the Carrera Panamerica, this model mated the potent four-camshaft engine from the 550 RS Spyder into the 356's unassuming chassis. Specifically, this car used the Type 547/1 engine which was much more free-revving and powerful in the 356A chassis and body.
Porsche described the model in their 1956 American brouchure "We predict that the new Camera engine by Porsche will take the motoring world by storm. The name "Camera" was given to this great power plant in honor of its victories in the Camera Mexicana in 1952, 1953, and 1954. With the Camera engine, the Porsche production car takes advantage of the FIA Grand Turismo class, and becomes the first production sports car in the 1500 class to reach 125MPH limit, and at the same time remain a comfortable and easy handling touring car. No engine was ever put to such rigorous test as the Carrera. Known during its trial period as the engine which powered the famous Porsche Spyder to victory after victory, the Carrera is in keeping with the Porsche spirit and is the latest in a series which has dominated the scene since its first day on the track. The Carrera may be had in either the Coupe, the convertible or the Speedster."
Called the 1500RS, the Carrera engine was an air-cooled, four-cylinder engine that was designed by Ernst Fuhrmann to be an out-and-out racing unit. This engine used a complex system of bevels and shafts for the valvetrain, as well as a dry-sump lubrication system. Further distinguishing it was an aluminum block with chrome-plated cylinder walls and twin-spark ignition.
Fuhrman personally motivated the Carrera 356 after fitting his own car with a four-cam. He recalls "In fact I put the first one in my own car… And people around here drove it and said, 'that's not so bad!'" This was good news, since four-cam unit had to sit further back behind the rear wheels than the standard engine. Soon after, Ferry Porsche had a four-cam in his own 356A.
However, the idea to install the Fuhrmann 4-cam in to the 356 was not new. Some of the very first cars to come from Gmünd featured this engine for racing. It is reported as many as four Coupes and 14 Speedsters were equipped with it.
Not surprisingly then plans were drawn up to release a performance version of the 356A at the 1955 Frankfurt Motor Show. It used a slightly detuned version of the 550 engine called the 1500GS, but it was internally identical to the 550 Spyder's with a slight decrease in compression and power. To fit the four-cam into the rear compartment a steel shroud was used. Furthermore the distributors were reversed for access and the new muffler system with twin pipes was fitted.
The only drawback to the system was virtually unreachable spark plugs. The system used two distributors for twin spark ignition. The driver had control of the coils and could test each circuit from the dashboard, using both to aid in cold starting.
To accommodate the new power, larger tires were fitted, as was new instrumentation including an 8,000 rpm tachometer and 180 mph (250 kph) speedometer. Due to the new equipment and an oil tank, weight was increased 105 lbs over the standard model.
When finally released to the public, the car could reach 200 kph (124.3 mph) and reach 60 mph in about 11.25 seconds. As launched at Frankfurt all 4-cam cars were named Carrera after two 550RS Coupes had done so well at the Mexican Carrera Panamerica race.
On the track, the 356 wasn't light enough to keep up, so it was primarily sold as a road car. In May of 1957, Porsche distinguished the model by splitting up the Carrera nameplate offering both a Carrera de Luxe and Carrera GT version. The de Luxe was fitted with a heater and smaller 30m carburetor venturis for a better torque curve. At the same price, Porsche offered the GT version with different muffler that had no heater and little deadening. It was also equipped with a larger 21 gallon fuel tank and Porsche 550 front brakes.
In Detail
| | |
| --- | --- |
| submitted by | Richard Owen |
| type | Series Production Car |
| built at | Germany |
| coachbuilder | Reutter Karosserie |
| price $ | $ 5,995 |
| engine | Type 547/1 Flat-4 w/Dry Sump Lubrication |
| position | Rear, Longitudinal |
| aspiration | Natural |
| block material | Aluminum |
| valvetrain | DOHC, 4 Valves per Cyl |
| fuel feed | 2 Type 40PII Knecht-Filtered Twin-Throat Solex Carburetors |
| displacement | 1498 cc / 91.4 in³ |
| bore | 85.09 mm / 3.35 in |
| stroke | 66.0 mm / 2.6 in |
| compression | 9.0:1 |
| power | 82.0 kw / 115.0 bhp @ 6200 rpm |
| specific output | 76.77 bhp per litre |
| bhp/weight | 124.59 bhp per tonne |
| torque | 118.6 nm / 87.5 ft lbs @ 5200 rpm |
| body / frame | Unitary Steel Monocoque |
| driven wheels | RWD |
| front tires | 5.90-15 Super Sport |
| rear tires | 5.90-15 Super Sport |
| curb weight | 923 kg / 2035 lbs |
| wheelbase | 2101 mm / 82.7 in |
| front track | 1306 mm / 51.4 in |
| rear track | 1273 mm / 50.1 in |
| transmission | 4-Speed Manual |
| top speed | ~193.1 kph / 120.0 mph |
| 0 – 60 mph | ~11.5 seconds |
| 0 – 100 mph | ~33.5 seconds |
| 0 – 1/4 mile | ~17.7 seconds |
Auction Sales History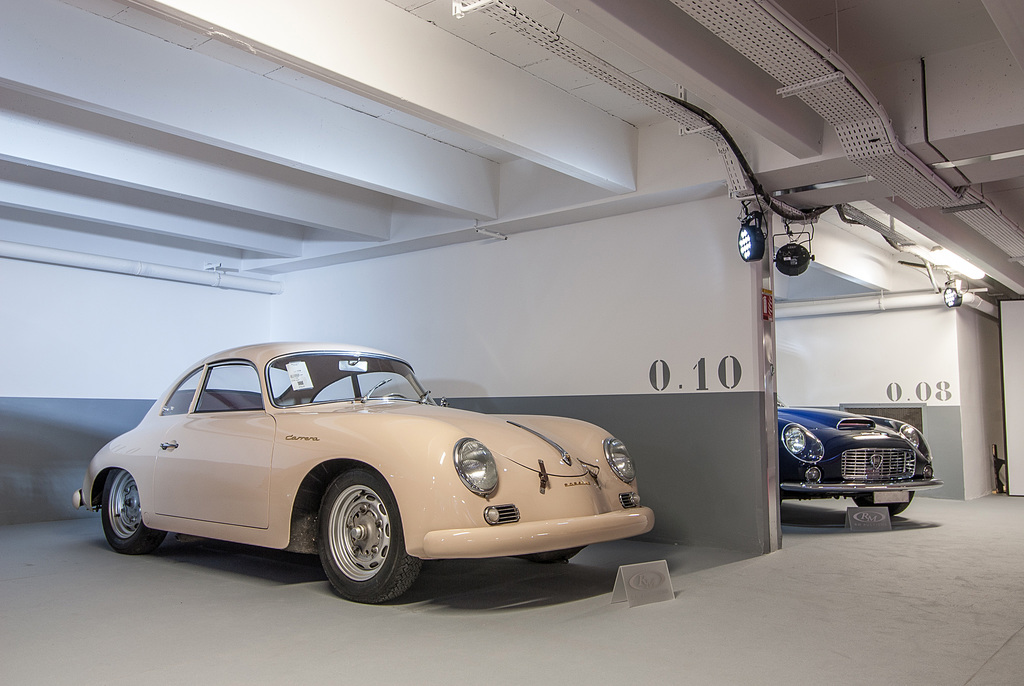 1957 Porsche 356 A Carrera 1500 GS/GT Coupé 58368 – sold for €420,000. A rare and desirable early four-cam Coupé prepared for vintage events. Stunning original colour combination; copy of Kardex included. Fully restored by marque experts in Italy. Auction Source: 2014 Monaco by RM Auctions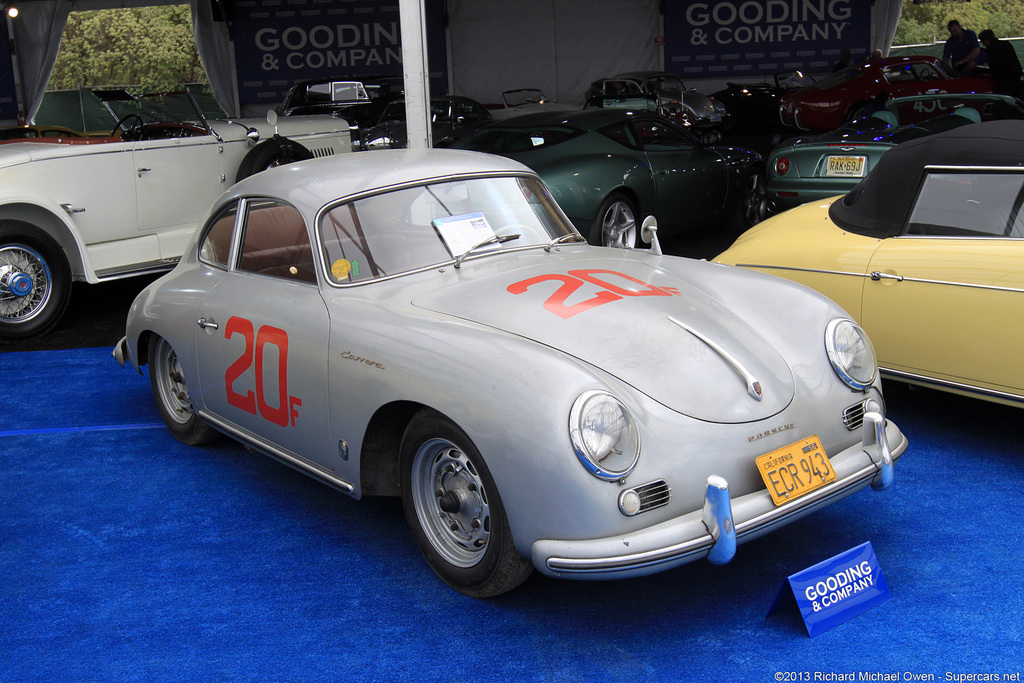 1856 Porsche 356 A 1500 GS Carrera Coupe 55485 – sold for $715,000. A Rare and Desirable Four-Cam Porsche. Raced at Pebble Beach, Palm Springs, and Arcata. Five 1st in Class Finishes in 1956. California Car with Unbroken Provenance. Matching-Numbers Engine, Gearbox, and Body Panels. Approximately 40,000 Miles from New. Exceptionally Original Unrestored Condition. Pebble Beach Preservation Class Award Winner. Of fered with a Wealth of Important Documentation. Never Before Offered for Public Sale. Auction Source: Gooding & Company's 10th Anniversary 2013 Pebble Beach Auction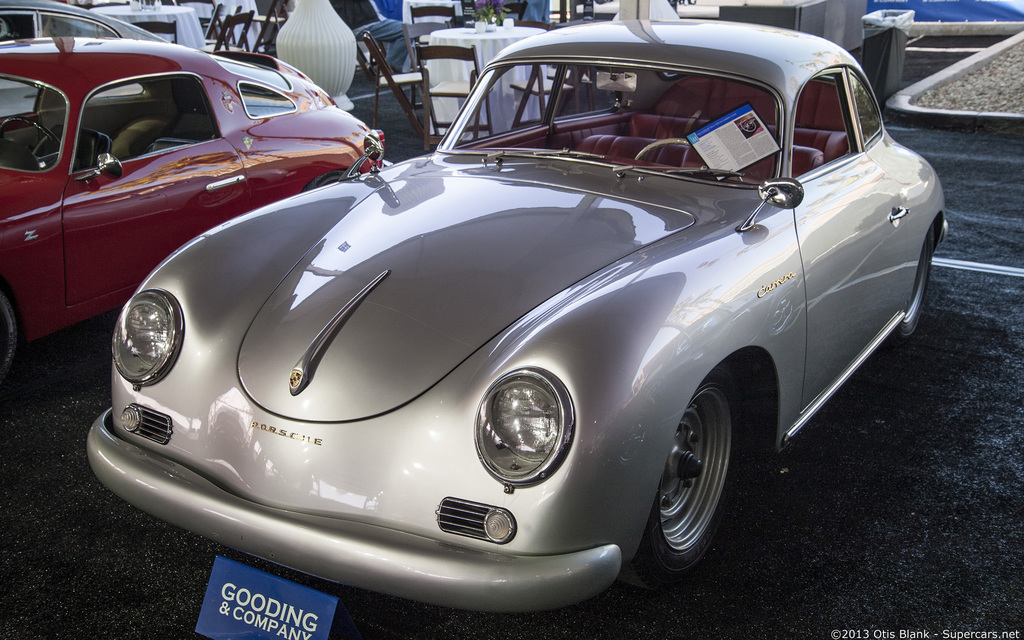 1956 Porsche 356 A 1500 GS Carrera Coupe 57998 – sold for $385,000. A Rare and Desirable Early 4-Cam. Thoughtfully Upgraded Specifications. Well-Prepared for Event Use. A Veteran of Multiple Long-Distance Events. 4-Cam Engine Prepared and Serviced by Noted Specialists. Auction Source: The 2013 Scottsdale Auctions by Gooding & Company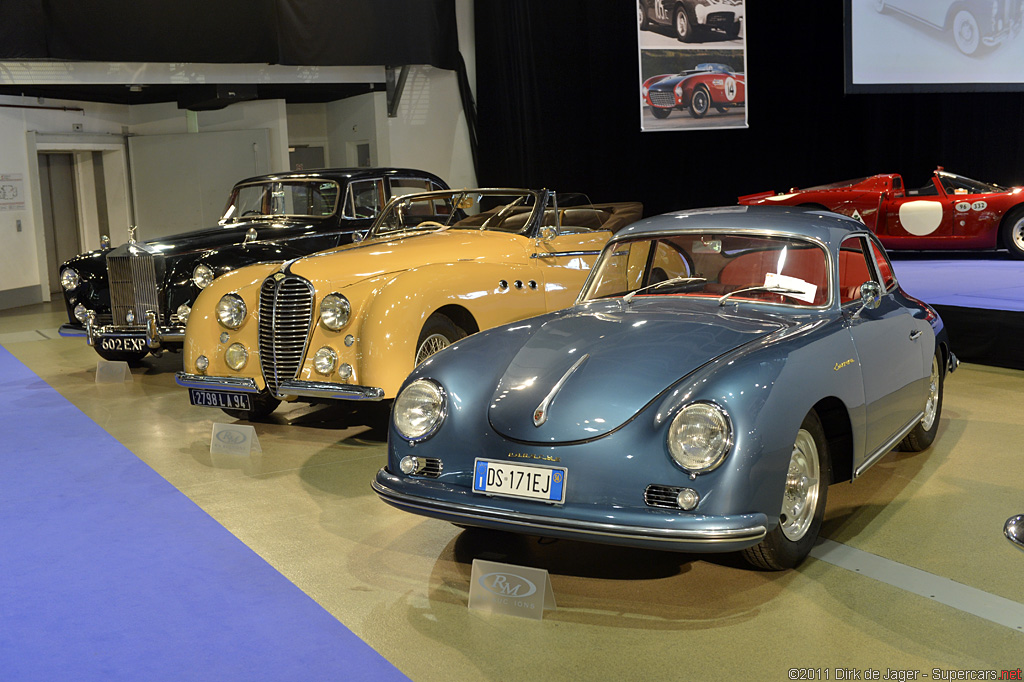 1956 Porsche 356A/1500GS Carrera 56417 – sold for €235,200. Chassis no. 56417 was first delivered in 1956 to U.S. distributor Max Hoffman in New York, before returning nearly fifty years later to Europe in 2004, in sound condition. The car retained its original floor pan, doors and front and rear deck lids, along with its numbers-matching body. It was fully-restored in Italy from 2005 to 2006 and was fitted with a period-correct 547/1 four-cam Carrera engine (no. 90863) that was fully rebuilt by Armin Baumann.
Painted a smashing combination of Aquamarine Blue Metallic with brilliant red full leather interior, it is also highlighted by reproduction Rudge wheels. The car remains in overall excellent condition and comes with its Italian EC title and an ASI gold plate. It is eligible for the Mille Miglia, as well as other vintage racing events. One of the most sought after Porsches to the 356 faithful, this is an opportunity to own a unique and rare piece of Porsche history. Auction Source: Monaco 2012 by RM Auctions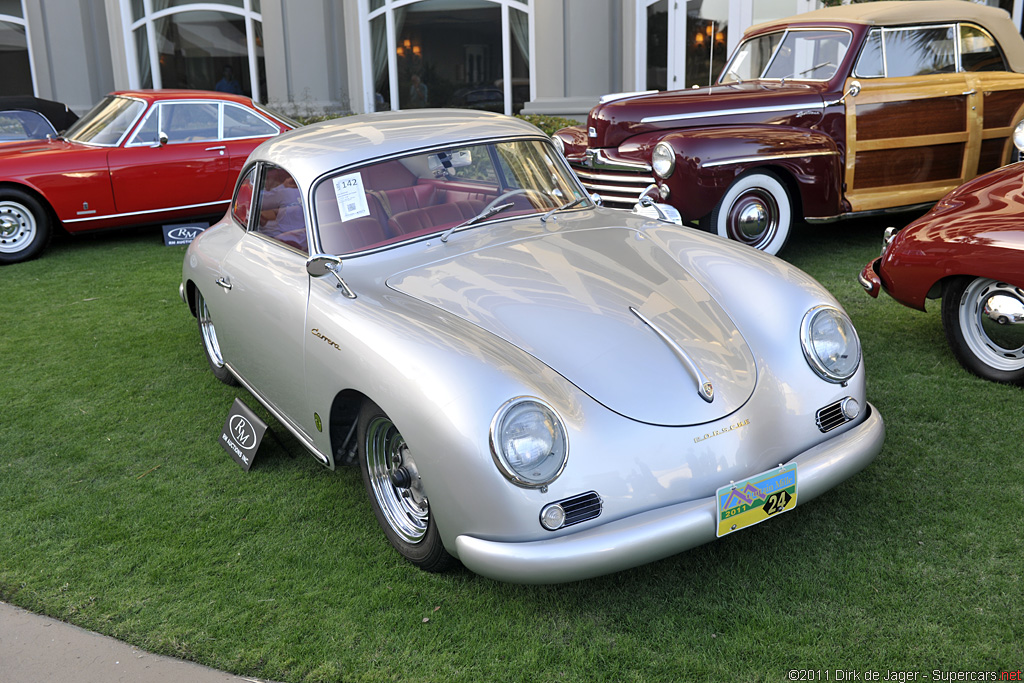 1956 Porsche 356A Carrera GS Coupe 57998 – sold for $288,750 Two-year total restoration by Porsche specialists completed in 2000. Correct four-cam engine built by Gerry McCarthy. Certificate of Authenticity by Porsche Cars North America. Major rally successes with the current owner, including . Targa Newfoundland, two Carolina Trophies, New England 1000 and the Virginia Mountain Mille. Auction Source: Amelia Island 2012 by RM Auctions