1957 Dual-Ghia Convertible
During the post-war revival, Virgil Exner at Chrysler hired Turin-based Ghia to build a number of special concepts on Dodge chassis. Among these were four Dodge Fire Arrows show cars that were designed and engineered as a feasible road-going model. They were extensively exhibited across America but were never put in production. This motivated Eugene Casaroll to buy the design and build the car himself.
Having started one of the first automobile shipping companies in America, Casaroll was a big player in the industry. He had seen the Firearrrow concept cars and wanted to continue the sensation they caused at the motor shows. The first step was to start Dual Motors in Michigan which was the launching point for the Dual-Ghias.
Dual Motors bought bare chassis straight from Dodge then shipped them to the doors of Carrozzeria Ghia in Italy. One of Casaroll's partners, Paul Farago enlarged the overall design of the show cars to better accommodate passengers and luggage. Ghia applied finishing touches such as signature tail fins and an updated interior and many luxurious appointments. The partnership was mutually beneficial and Casaroll agreed to call their new project the Dual-Ghia.
For a limited production Italo-Anglo hybrid, the Dual-Ghia was quite a success. Casaroll targeted his marketing towards the rich and famous who would could afford the car's expensive craftsmanship. At $7,600 USD, the Dual-Ghia cost even more than a top of the line Cadillac. However, this didn't stop customers like Frank Sinatra, Peter Lawford, Eddie Fisher, Glenn Ford and Desi Arnaz from cashing in. They were most likely drawn to the car's Italian style and finish with the V8's American power.
Built in both coupes and convertibles around 117 Dual-Ghias were made from 1957 onwards. This was far below Casaroll's initial estimate of 150 cars per year, but still a great number for a specially-built car.
The Dual-Ghia was followed up in 1961 with the L6.4. With newer styling and a larger engine, this was Casaroll's comeback attempt. Only 26 cars of these were completed before high-overhead costs and poor sales ended Dual Motors.
Story by Supercars.net
In Detail
| | |
| --- | --- |
| production | 117 |
| price $ |  $7600 USD |
| engine | D500 Red Ram Dodge Hemi V8 |
| position | Front Longitudinal |
| aspiration | Natural |
| valvetrain | Puuhrod OHV, 2 Valves per Cyl |
| displacement | 3523 cc / 215 in³ |
| bore | 92.2 mm / 3.63 in |
| stroke | 96.52 mm / 3.80 in |
| power | 193.9 kw / 260 bhp |
| specific output | 73.8 bhp per litre |
| bhp/weight | 159.22 bhp per tonne |
| driven wheels | RWD |
| front brakes | Drusm w/Servo Assist |
| f brake size | mm / in |
| rear brakes | Drusm w/Servo Assist |
| r brake size | mm / in |
| f suspension | Wishbones w/Coil Springs |
| r suspension | Live Axle w/Semi-Ellipric Leaf Springs |
| curb weight | 1633 kg / 3600 lbs |
| wheelbase | 2921 mm / 115 in |
| transmission | Chrysler Power-Flite Automatic |
| gear ratios | :1 |
Auction Sales History
1957 Dual-Ghia 134 – sold for $264,000 The Epitome of Italian and American Postwar Luxury. One of Approximately 100 Examples Produced. Carrozzeria Ghia Styling with Chrysler Hemi Power. Over a 10-year period, Bill Pearce brought this Dual-Ghia back to showroom condition. His reward was a Best in Class honor at the 2008 Louisville Concours d'Elegance.
Auction Source: The Pebble Beach Auctions 2015 by Gooding and Company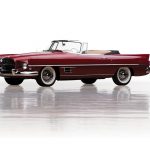 1957 Dual-Ghia Convertible 162 – sold for $429,000 An exceptionally restored example. Formerly the personal car of Dual-Ghia expert Joe Morgan. Shown at the Pebble Beach Concours d'Elegance. The height of Jet Age luxury.
Auction Source: Paul & Chris Andrews Collection by RM Sotheby's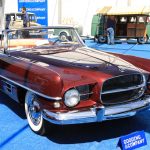 1958 Dual-Ghia 185 – sold for $484,000 Believed the Personal Car of Dual-Ghia Company Founder Eugene A. Casaroll. 24 Years in the Collection of One of the Foremost Marque Authorities. Thorough Restoration Completed in 2014. Accompanied by Rare Accessories and Sales Literature. One of the Most Exclusive Automobiles of the Postwar Era.
Auction Source: 2014 Pebble Beach Auctions by Gooding & Company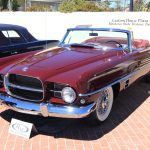 1958 Dual-Ghia Convertible 195 – sold for $385,000 Two owners from new; single ownership for over 50 years. Freshly restored by marque specialists. Accompanied by its original Bill of Sale and title.
Auction Source: 2014 Monterey by RM Auctions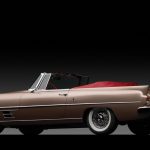 1957 Dual-Ghia Convertible – sold for $456,500 1957 Dual-Ghia Convertible on chassis 145. Resplendent in Bronze with a red interior, it is arguably the finest restored and most stunning Dual-Ghia convertible in existence and a very special and prestigious example of one of the most elite and exclusive automobiles of its generation.
Auction Source: RM's Art of the Automobile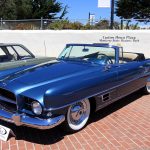 1957 Dual-Ghia Convertible 100 – sold for $330,000 Believed to have been the first production Dual-Ghia built. Formerly the property of Ken McBride. Freshly completed three-year restoration by Joe Morgan.
Auction Source: 2013 Monterey Auction by RM Auctions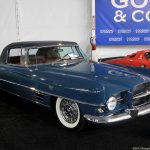 1957 Dual-Ghia DG154 – sold for $495,000 One of Just 117 Examples Produced. Based on the Virgil Exner-Designed Firebomb Show Car. Luxurious and Powerful Italian- American Hybrid. Stunning Color Combination. Fresh Concours-Level Restoration with Outstanding Attention to Detail. Desirable Hemi Engine Option.
Auction Source: Gooding & Company's 10th Anniversary 2013 Pebble Beach Auction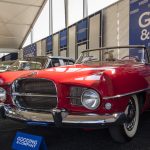 1957 Dual-Ghia Convertible 134 – sold for $176,000 Limited Chain of Ownership. Beautiful Ghia Styling. Chrysler Hemi Power. One of Only 117 Produced. Post-war Coachbuilt Luxury.
Auction Source: The 2013 Scottsdale Auctions by Gooding & Company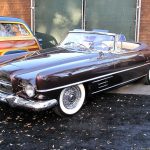 1958 Dual Ghia DG191 – sold for $214,500 Beautifully Restored. Legendary Hemi Engine. Premier Choice of the 1950s Jet Set. Stylish Ghia Design. Distinctive Late-Production Features.
Auction Source: The Amelia Island Auction 2012 by Gooding & Company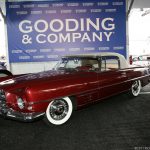 1957 Dual – Ghia – sold for $200,000
This well-preserved Dual-Ghia was originally owned by Clyde and Evelyn Young of Monterey, California. Mr. Young was a local automobile dealer and active in the car hobby. They exhibited their Dual- Ghia at the Pebble Beach Concours d'Elegance on four occasions – 1957, 1961, 1964 and 1970 – and were awarded a prize each time. The car is pictured twice in the well-known Robert T. Devlin book, Pebble Beach, A Matter of Style, including a shot on the ramp receiving its prize in 1961. The car is sold with documentation from this early period, including copies of the original invoice, dealer price sheet, registration cards and transport records. A mid-1960s service record from Monterey, indicating that the car had by then covered some 32,000 miles, is still attached to the car in the driver's doorjamb. Also, the engraved factory plaque bearing the name of Mrs. Clyde Young remains affixed to the dash of the car to this day.
The Dual-Ghia's present owner has enthusiasti- cally cared for and enjoyed the car since 1988, and it now shows less than 45,000 miles. Recognizing that this car may be one of the best unrestored Dual- Ghias available, the owner has completed a short photo-biography on the car. He states that the en- gine and transmission are original to the car, in good running condition and appear to have never been rebuilt. He also states that most of the paint on the car could be the original 15 coats of lacquer, as some typical crazing is present. The interior leather is described as original with the inviting patina of Connolly leather. Overall, the car shows no signs of neglect and presents as an honest, well-maintained survivor, retaining much of its authentic character that is so often lost after a restoration.
Auction Source: 2011 Pebble Beach Auctions by Gooding & Company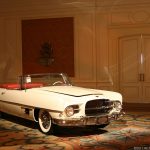 1957 Dual-Ghia Convertible 158 – sold for $247,500
One of about 117 examples built new. One of the most luxurious and exclusive cars of its era. Fully restored and in superb condition. Ex-Wayne Davis Collection.
It was Casaroll's intention to build and sell 150 cars per year. Unfortunately, his refusal to compromise on any detail of the car's quality proved to be the company's undoing, as even at such stratospheric prices, it was reported that the company lost money with every car it sold. The example presented here, chassis 158, was sold new in Southern California for $7,920. Finding its way through Newport Beach, the car ultimately resided in Odessa, Texas for a number of years, owned by personal friends of noted collector Wayne Davis. A former employee of his eventually conducted a thorough restoration on the car in the late 1980s, encompassing every mechanical component and cosmetic element. Despite this older restoration, the quality and condition remain outstanding.
Auction Source: 2011 Amelia Island Auction by RM Auctions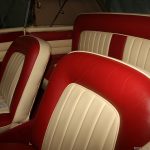 1958 Dual-Ghia Convertible 192 – sold for $275,000
Once a fixture in a prominent East Coast collection, this stunning, first-generation Dual- Ghia was initially purchased by a collector and, for some years, was fastidiously maintained in the temperate Floridian climate. Before being sold to its current owner, the Dual-Ghia was the subject of a painstaking restoration that was carried out to a very high standard. Today, it stands as one of the finest examples of this rare breed of Italian-American motorcars and its magnificent condition creates a stunning overall presentation.
Auction Source: 2011 Amelia Island Auction by Gooding & Company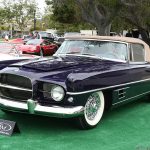 1958 Dual-Ghia Convertible 5169 – sold for $159,500
This stunning example is the 69th car built. It joined a large private collection in August 2007 and was acquired by the prior owner about five years earlier. It clearly continues to benefit from a comprehensive and professional body-off-frame restoration by Kanter Concepts of Santa Ana, California. Much of the work was performed by noted Dual-Ghia restorer Mike Damon and completed in early 2007.
Restorative work included a complete strip and repaint, a full mechanical and chassis restoration, a new top, a new interior, and new carpets. The brightwork is show quality, and every detail was addressed, from new wiring to rebuilt instrumentation. Today, it is offered in virtual concours-quality condition. Having not been shown yet, it stands ready to compete – and win – on the show field.
Auction Source: RM Auctions' 2010 Sports & Classics of Monterey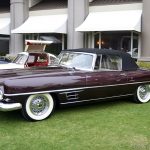 1958 Dual-Ghia D500 Convertible DG191 – sold for $209,000
The first known owner of this particular car, chassis 191, was Mrs. Grace Danko of Woodstock, New York. In fact, 191 stayed in the New York area for many years as it was then sold to Mr. Peter Balis of Baliston Lake, who in turn sold it to Wayne Huie of Memphis, Tennessee. Mr. Huie ultimately sold 191 to an enthusiast in Canada, where it has resided ever since.
Beautifully presented in every respect, the car has since benefited from a professional, show-quality restoration. It is finished in Eggplant, the same color with which it left the factory, as evidenced by paint remnants uncovered during the restoration. It is a striking finish, made all the more stunning by a burgundy/cream interior, Kelsey-Hayes wire wheels, dual rear antennas and the lack of rear fins, which were an omission on later Dual-Ghias, reflecting the eventual move away from the flamboyant aerospace-inspired designs of the 1950s. The vendor believes this car to be one of the rare Dual-Ghias to leave the factory without fins, although no documentation is currently available to support this. In fact, the owner even went through the trouble of having molds made for these fins and elected not to use them after being convinced it never had them to begin with. Furthermore, many of the experts and judges who have viewed the car attest to its authenticity and factory correctness.
Auction Source: 2009 Automobiles of Amelia Island RM Auction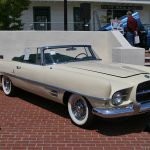 1957 Dual-Ghia Convertible 486 – sold for $176,000
The example presented here is thoroughly restored and finished in Ivory White, maintaining an excellent and attractive finish. The chrome and stainless steel trim, convertible top and green boot all impart a handsome appearance and an impression of proper maintenance. Fittingly, this bespoke automobile rides on a set of period-correct wide whitewall tires that surround a beautiful set of chrome-plated Kelsey-Hayes 40-spoke wire wheels.
The attractive and well-presented passenger's compartment is trimmed in dark green leather upholstery, accompanied by matching green carpeting. As well, the ivory painted dash is topped with dark green padding, and is complemented by an attractive engine-turned insert, which houses the gauge package. The car is equipped with power brakes, power-operated windows, and a Town and Country AM radio. The trunk area is lined in gray carpeting, and appears virtually as new.
Underhood, the powerful 315 cubic inch D-500 engine with its chrome valve covers is cradled within a tidy engine bay. Notably, the under hood area is largely period-correct with the exception of easily replaced items such as hoses and clamps.
In its time, it was said that a Rolls-Royce was reserved for those who could not obtain a Dual-Ghia. Fittingly, this Dual-Ghia is a very fine example, and its sale presents an excellent opportunity for a lucky enthusiast to acquire a very rare and exclusive automobile.
Auction Source: 2008 Monterey Preview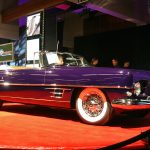 1958 Dual Ghia Convertible – sold for $247,500
The Dual Ghia offered here is the 69th car of 117 built. Acquired by the vendor about five years ago, it has benefited from a comprehensive professional body off restoration by longtime Dual Ghia enthusiast Fred Kanter's company, Kanter Concepts of Santa Ana, California. Much of the work was done by noted Dual Ghia restorer Mike Damon, completed just six months ago. As a result, this stunning example has never been shown and stands ready to compete – and win – on the concours field.
Work included a complete strip and repaint, a full mechanical and chassis restoration, and new top, interior, and carpets. Chrome trim and brightwork is show quality, and every detail was attended to from new wiring to rebuilt instruments. Fitted with the desirable D500 Red Ram Dodge hemi engine, it is consequently very quick. With its luxury appointments, power options, and exquisite restoration, driving no. 69 must certainly be the closest possible experience to traveling back in time to drive off in a new Dual Ghia – as one of Casaroll's chosen few.
Auction Source: 2007 Monterey Preview