1957 Ford 'Battlebird'
Ford's Thunderbird series, which debuted in 1955, was designed more as a stylish and fast boulevard cruiser than an out-and-out sports car. However in late 1956, perhaps sensing the early V8 Corvette's potential as a track weapon, Ford decided to build and race two Experimental Class 1957 T-Birds.
Peter De Paolo Engineering, a Long Beach, California based race shop subsidized by the Ford Motor Company, got the job of preparing two T-Birds, later dubbed "Battlebirds" by the media. Famed racecar constructors Jimmy Travers and Frank Coons were in turn retained by De Paolo to carry out most of the actual modifications.
"Battlebird" Specifications
Extensive use of aluminum to replace standard T-Bird steel components in order to save weight was employed. This included the door, hood and trunklid skins, head- and tail-lamp housings, side-vent doors, passenger side tonneau cover and a beautiful streamlined full length driver's side head fairing. Heavy duty stock car type suspension, steering and brakes were adapted as well as a dual exhaust system, with tail pipes being faired into the rear of the rocker panels. The lightweight Halibrand magnesium road wheels with 3-eared knock-offs were fitted with Firestone racing tires. The original interior was completely removed and replaced with a single lightweight racing seat located behind a small six-gauge instrument pod that replaced the original dashboard layout.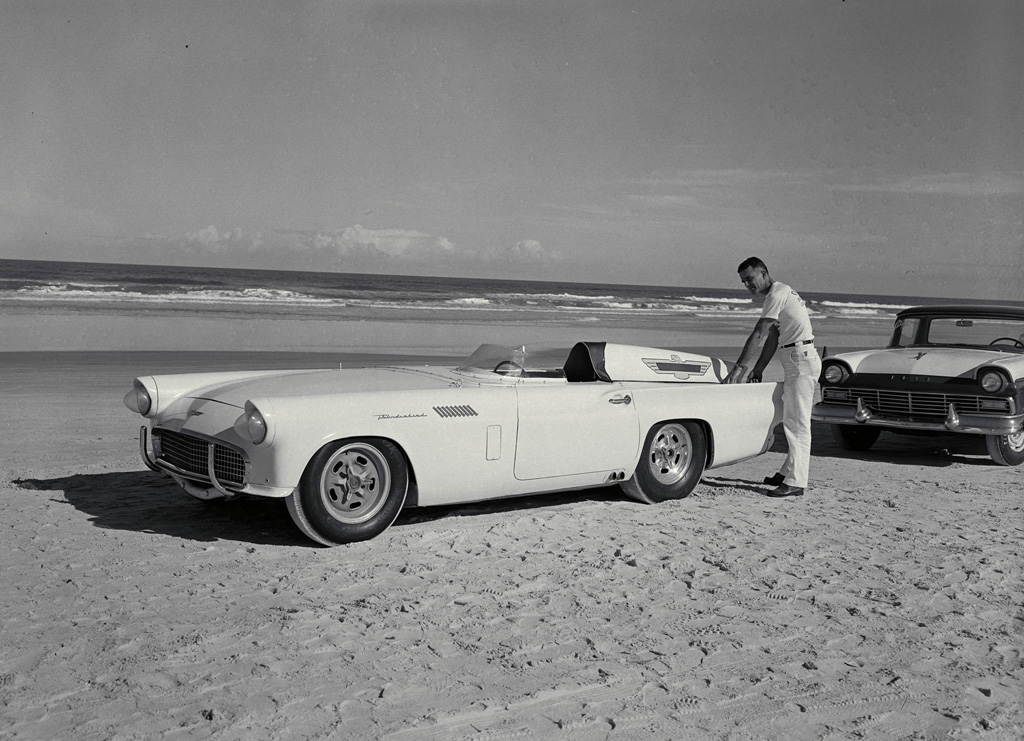 The #98 "Battlebird" was powered by a highly modified Hilborn-injected 312 Ford Y-Block V8 with magneto ignition. No suitable American 4-speed transmission existed in 1956, so a Jaguar XK120 unit was adapted, as well as a Halibrand Quick-Change rear end. Removal of bumpers and liberal hole-drilling in steel components was also undertaken by the De Paolo team. Weight distribution was improved by moving the engine back six inches and placing it four inches lower. The end result was essentially a "full-race" American automobile that still looked like a 1957 Thunderbird but had very little in common with its normal showroom relative.
A Sports Cars Illustrated (July 1957) article entitled "Ford's 400 Horse T-Birds" said it best: "Performance wise the 'Birds were little short of being domestic Ferraris. On second thought they should have been – for each of these finely engineered cars must have cost more than $20,000!"
The "Battlebirds" on the Track
Specifically constructed for the highly publicized Daytona Beach two-way flying mile speed runs, the two cars made their first appearance on February 9th, 1957.
Driven by Chuck Daigh, this T-Bird, numbered as "98" and fitted with injection and a McCullough supercharger, reportedly made a 200 plus mph run before "ventilating" its block and preventing a return run, which disqualified it from the record book. After that, the blower was removed, and the new engine took Daigh to a third place at 93.312 mph in the standing mile acceleration class. #98 was then entered in the local airport road course races where stock car driver Marvin Panch placed second to Carroll Shelby's 4.9 Ferrari. When the Automobile Manufacturers' Association decreed that its members were to withdraw from racing events in 1957, the Ford Motor Company sold off the two experimental "Battlebirds" to the private sector.
Story by RM Auctions
In Detail
| | |
| --- | --- |
| | |
| type | Record Car |
| built at | USA |
| production | 2 |
| engine | Y-block V8 |
| position | Front Longitudinal |
| aspiration | Natural |
| fuel feed | Hilborn Injection |
| power | 261.0 kw / 350 bhp |
| driven wheels | RWD w/Halibrand QC |
| wheelbase | 2590.8 mm / 102 in |
| transmission | Jaguar 4-Speed Manual |
Auction Sales History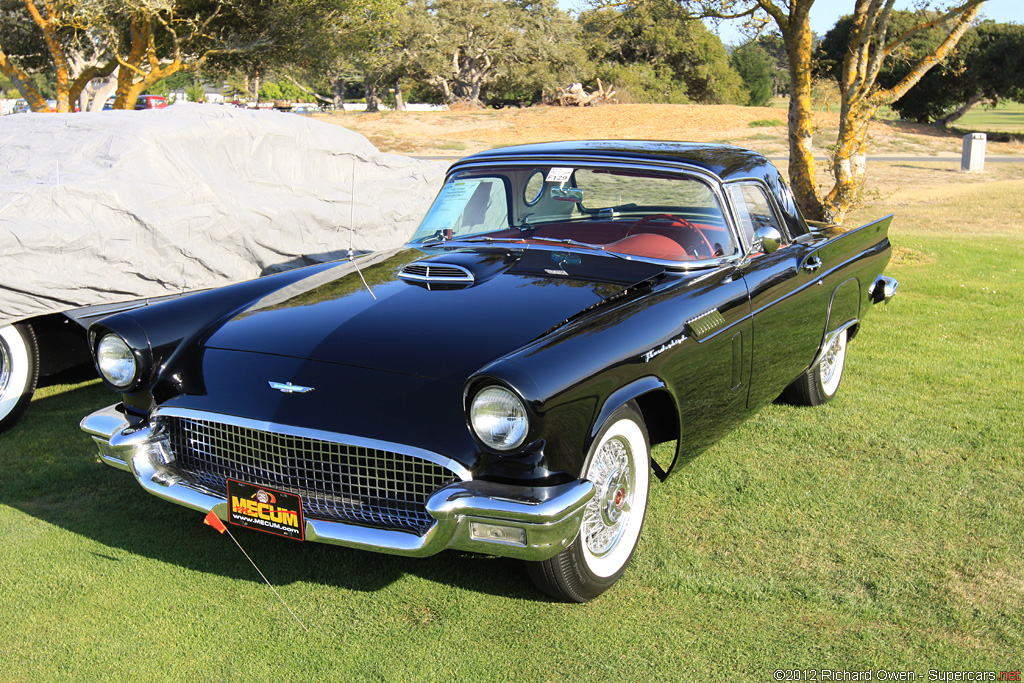 1957 Ford Thunderbird – sold for $33,000. Thunderbird fans will love the elegance of this beautifully restored 1957 "Baby Bird," which was restored in 2010 to its present spectacular condition. Finished in beautiful Raven Black with a matching porthole hard top and all-Red interior, it is very well equipped with Ford's new 312/245 HP 4-barrel Thunderbird V-8, here decorated with the optional chrome dress-up kit and mated to a Ford-O-Matic transmission; power steering and brakes and a Town and Country radio. Chromed wire wheels, wide Whitewall tires and fender skirts add to the beauty quotient. Auction Source: 2012 Daytime Auction by Mecum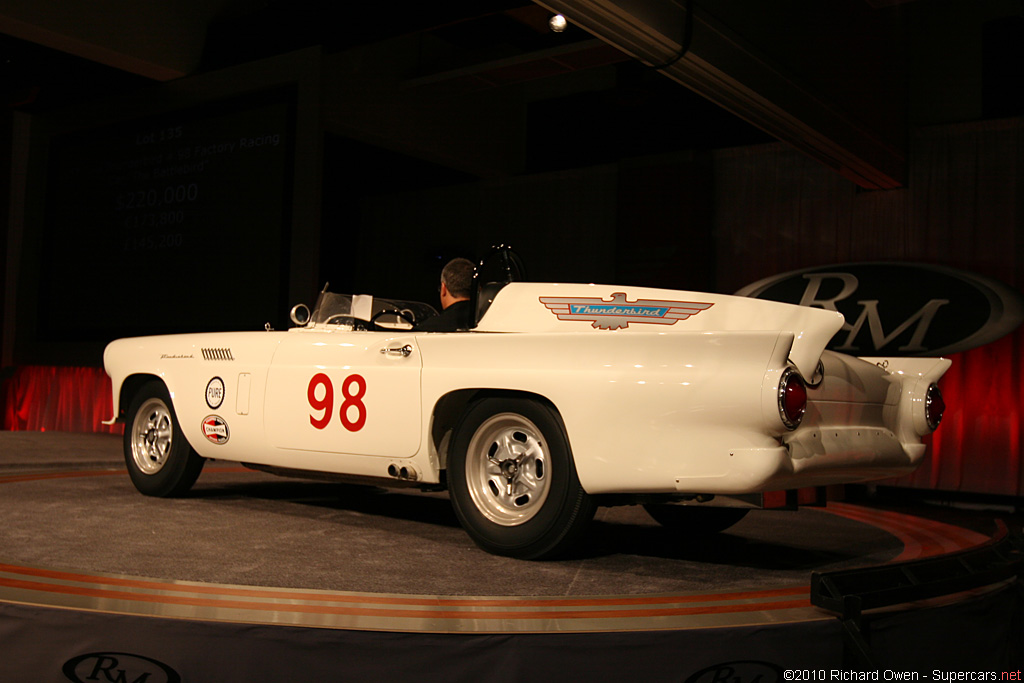 1957 Ford Thunderbird # 98 Factory Racing Car "The Battlebird" – sold for $280,500 The only remaining "Battlebird". Driven by Chuck Daigh and Marvin Panch at Daytona in 1957. After much national show success and vintage racing participations, including the Monterey Historics, this consignment presents a rare and unrepeatable opportunity for an acquisition of what is surely the most famous 1957 Factory-built racing T-Bird extant. Auction Source: RM Auctions' 2010 Sports & Classics of Monterey