1957 Ford Custom Phase 1 Supercharged
In response to the 1957 NASCAR regulations which allowed both fuel injection and supercharging, Ford Division General Manager Robert S. McNamara initiated an engine development program that included supercharged Ford Customs.
McNamara said "the installation on the 312 CI 4V carburetor engine of a new design McColluch supercharger for use on the Ford car and Thunderbird which would provide operational characteristics equal to or better than any fuel injection system at present day development.
The supercharger option would carry a rating of 300 horsepower." Presented by McNamara as the Ford Motor Company Supercharger Program, it mandated the production of sixty-five Ford Custom Two-Door Sedans, twenty Ford Convertibles and fifteen Thunderbirds.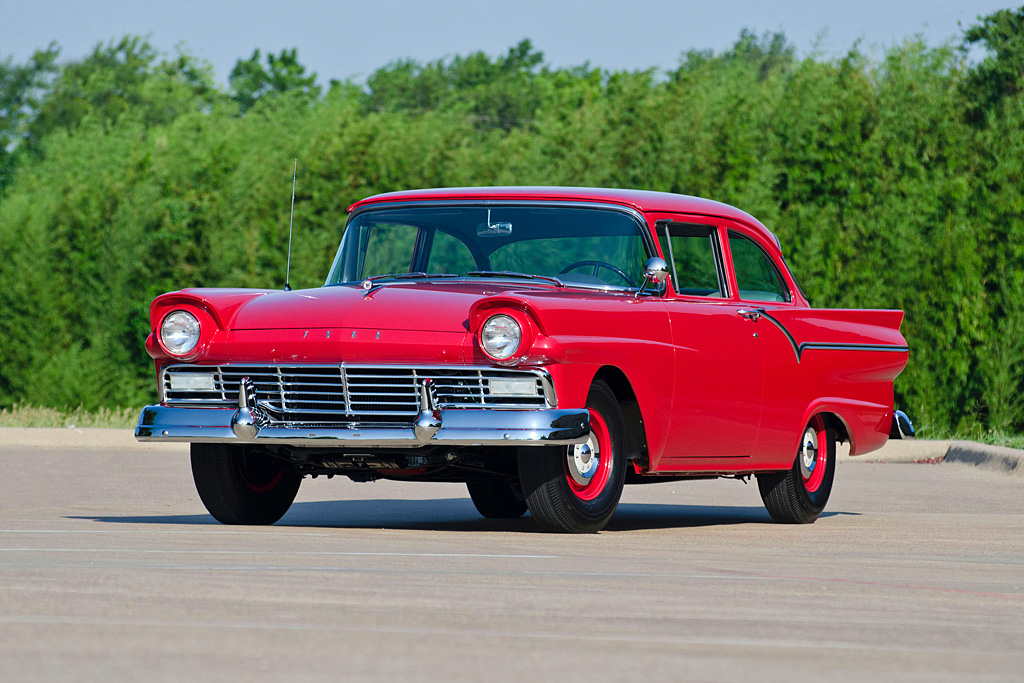 At their 2011 Dallas, Texas Auction, Mecum offered our feature car but it failed to meet the reserve with a high bid of 190,000 USD. It was described as:
This Flame Red 1957 Ford Custom 2-door sedan is one of only three so-called "Phase 1 Fords" now known to exist. It has been in the famed Amos Minter collection for 21 years, during which time it was professionally restored to its present Concours condition. It has always retained its original 312/300 HP Thunderbird V-8 engine and Paxton-McCullough supercharger, which was removed for the first time in the car's history during the Minter restoration, which included the installation of a correct LeBaron Bonney interior, weatherstripping and window channels, and all-new tinted glass. With just 21 test miles on the car since the restoration was completed, it remains equipped as originally built with the factory 3-speed manual transmission, Town and Country signal seeking radio, safety package, padded dash, seat belts, padded visors and clock delete.
Arguably the rarest 1957 Ford in the world, this magnificent factory special is accompanied by extensive documentation that includes the original dealer and customer invoices.
Story by Supercars.net & Mecum Auctions