1957 Ford Fairlane 500 Skyliner
In mid-model-year 1957, Ford introduced the first-ever mass-produced retractable hardtop convertible, the Fairlane 500 Skyliner. The brainchild of Ford engineer Gil Spears, this innovative design was originally intended for the 1956 Lincoln-Continental Mark II. However, the skyrocketing development costs of the Mark II prohibited the retractable hardtop's application, with the idea picked up by the Ford division instead.
In 1957, Ford beat Chevrolet in sales for the first time in decades, by a substantial 10 percent margin at that. While only 20,766 Fairlane 500 Retractables were sold, compared with total Ford production numbering 1,655,068 vehicles, they certainly contributed to Ford's success by pushing the engineering and stylistic envelope further than competing marques. Most importantly, throughout its three-year production cycle, the Skyliner consistently drew large crowds into Ford showrooms, which came to witness this space age engineering marvel in action.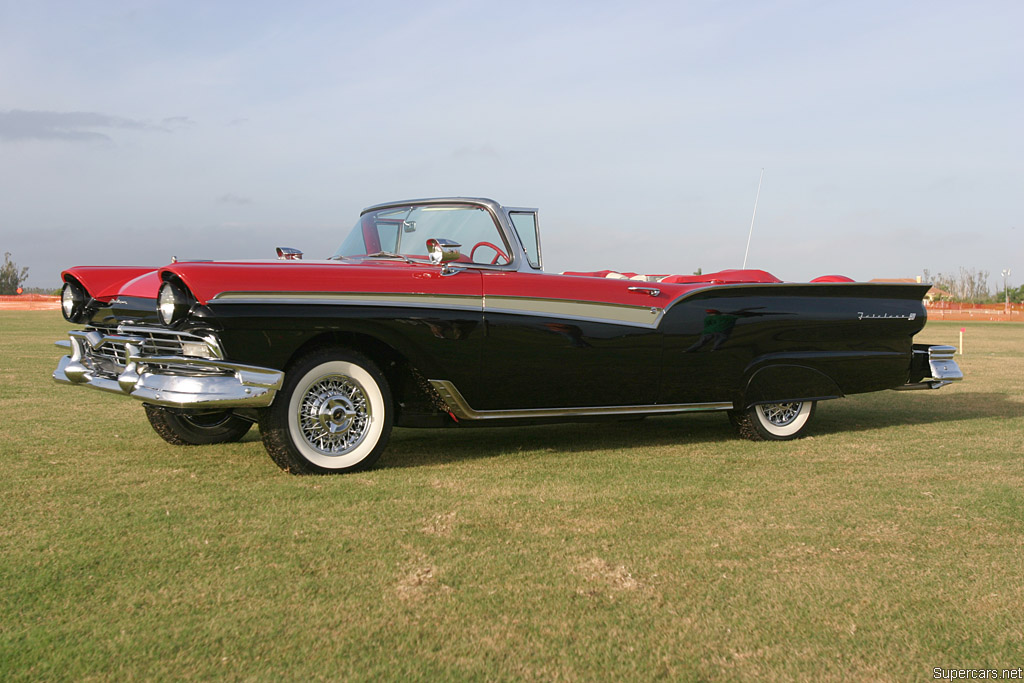 Story by Rm Auctions
Auction Sales History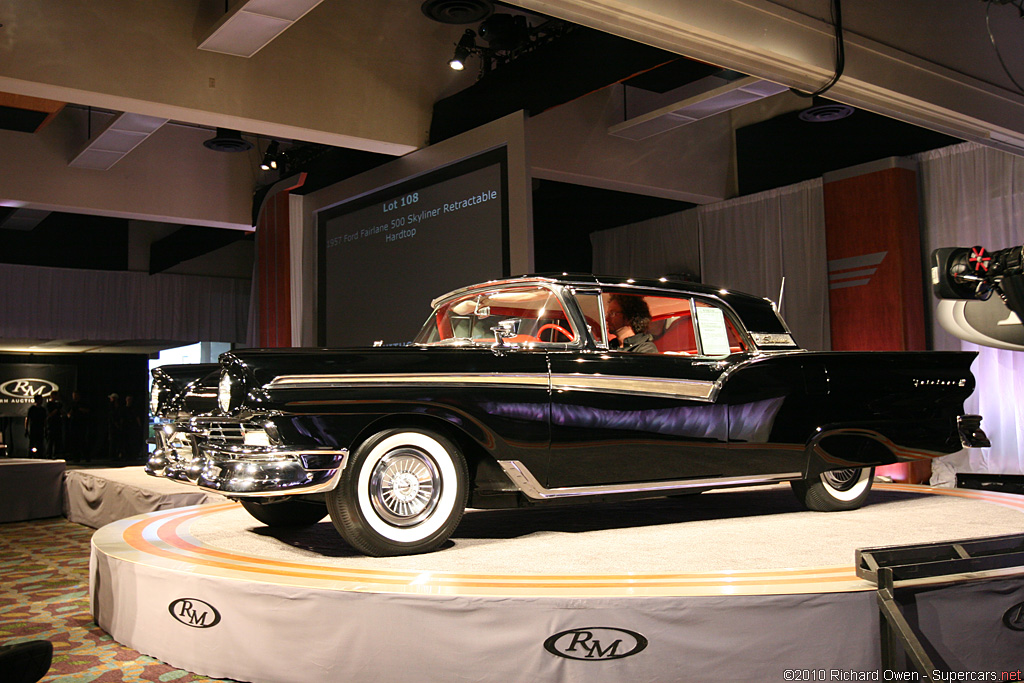 1957 Ford Fairlane 500 Skyliner Retractable Hardtop – sold for $49,500 Well-sorted and continuing to benefit from a high-quality older restoration, this 1957 Fairlane 500 Skyliner is a great example of the most-expensive Ford model for 1957, originally priced from $2,942. With a black finish and a red and white two-tone interior that remains in very nice condition, the Skyliner also features a powerful "Thunderbird Special" 312 V8.
Well-sorted and continuing to benefit from a high-quality older restoration, this 1957 Fairlane 500 Skyliner is a great example of the most-expensive Ford model for 1957, originally priced from $2,942. With a black finish and a red and white two-tone interior that remains in very nice condition, the Skyliner also features a powerful "Thunderbird Special" 312 V8, a Ford-O-Matic automatic transmission, power steering, rear fender skirts, air conditioning and dual fender-mounted rear-view mirrors. The top mechanism was recently serviced, and the engine compartment was detailed. It presents very nicely. All this 1950s dream machine requires is a new owner and an open road. Auction Source: RM Auctions' 2010 Sports & Classics of Monterey