1957 Maserati 150GT Prototipo
In 1956/1957 Maserati put together this 150GT prototype from leftover racing parts. The two-seat cabriolet body was also totally unique and the only one of its type.
This Maserati likely started life as an A6G racecar that was later fitted with Maserati 300S components. In 1956 it was built up as a prototype using a two-liter version of the four-cylinder engine from the 150S.
Taking cues from the 4CTF single-seat race car, Vittorio Bellentani designed the 4-cylinder engine with advanced features such as dry-sump lubrication, an aluminum alloy block with cast iron liners and options such as a hemispherical combustion chamber with a 80º angled valves and twin-plug ignition.
The 150GT chassis was sent to Fantuzzi to be bodied in a style similar to the Pietro Frua A6G cabriolets. Unique to the design are accent dashes that run between the center of the grill and the front blinkers. Furthermore, the side exhaust and right-hand drive configuration hint at the car's earlier life as a racecar.
Maserati only made one copy of the 150GT before moving onto the production 3500GT. Sometimes this prototype roadster is referred to as a 1500GT which would make sense given the lineage.
In concours condition, the 150GT recently underwent a mechanical restoration by Steve Hart Racing. In 2013, Gooding & Co. will offer the sole 150 GT at their Scottsdale sale in Arizona with an estimate of over $3,000,000 USD.
See full 1957 Maserati 150GT Prototipo Gallery here
In Detail
| | |
| --- | --- |
| submitted by | Richard Owen |
| type | Concept / Prototype Car |
| built at | Italy |
| body stylist | Pietro Frua |
| coachbuilder | Fantuzzi |
| engineers | Valerio Colotti, Guerrino Bertocchi |
| production | 1 |
| engine | Inline-4 w.Dry Sump Lubrication |
| position | Front, Longitudinal |
| aspiration | Natural |
| ignition | Twin Magnetos |
| block material | Aluminum |
| valvetrain | DOHC 2 Valves / Cyl |
| fuel feed | 2 Weber 45DCO03 |
| displacement | 2000 cc / 122.05 in³ |
| engine designer | Vittorio Bellentani |
| power | 141.7 kw / 190 bhp @ 7500 rpm |
| specific output | 95.0 bhp per litre |
| body / frame | Aluminum |
| driven wheels | Front Engine |
| front tires | Pirelli 5.25×16 |
| rear tires | Pirelli 5.5×16 |
| front brakes | Hydraulic Drums |
| rear brakes | Hydraulic Drums |
| front wheels | F 40.6 x 11.4 cm / 16 x 4.5 in |
| rear wheels | R 40.6 x 11.4 cm / 16 x 4.5 in |
| steering | Worm Gear |
| f suspension | Double Wishbones |
| r suspension | de Dion-Type Tube Axle, Transverse Leaf Spring |
| transmission | 4 or 5 Speed Manual |
Maserati 150 GT Spider Auction Results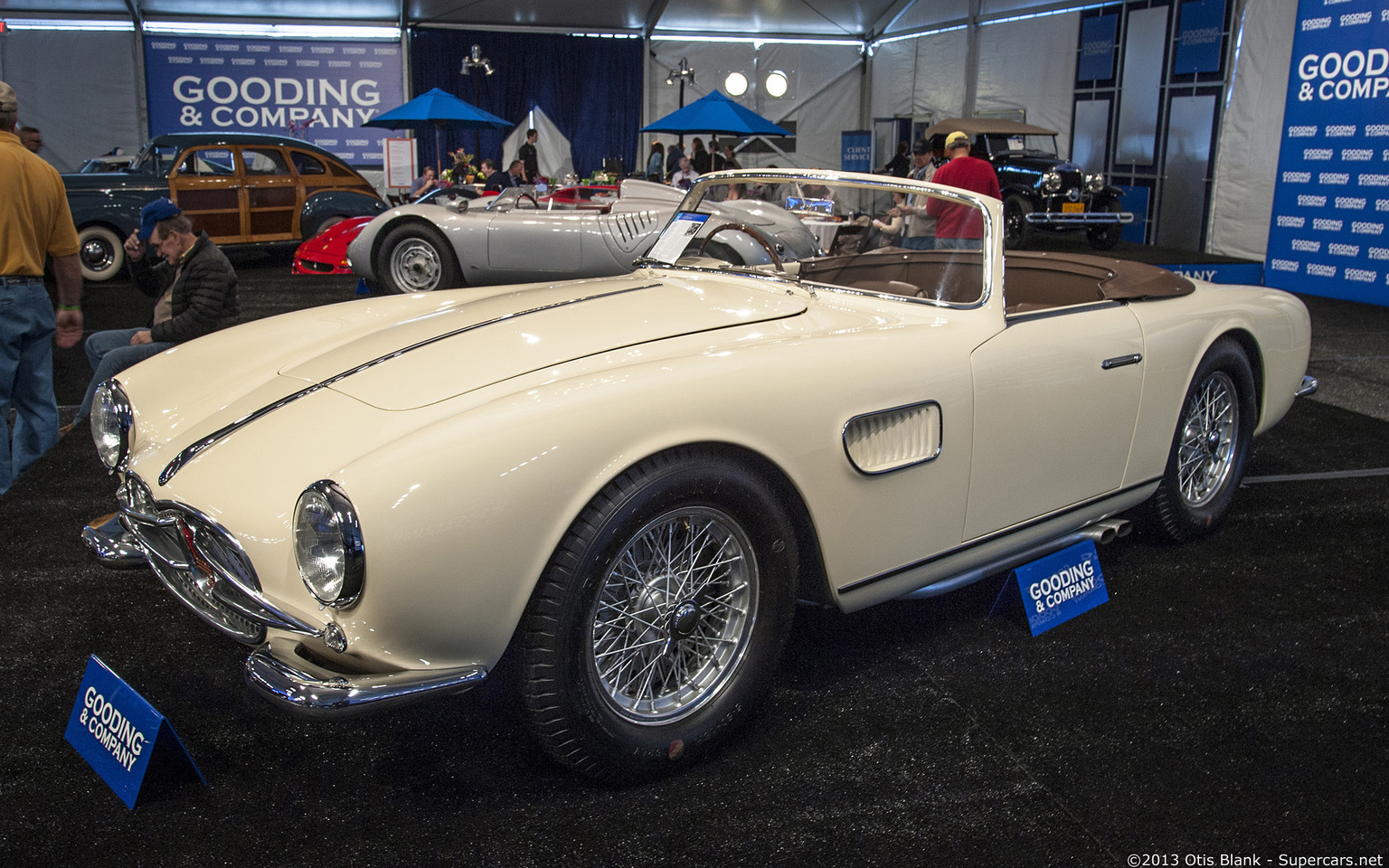 1957 Maserati 150 GT Spider – sold for $3,080,000. A Singular Maserati Sports Car with a Rich, Fascinating Pedigree. High-Performance Experimental Chassis with Full Competition Features. Unique Alloy Coachwork by Carrozzeria Fantuzzi. Extensively Researched History. Genuine, Matching-Numbers Example. Exceptional Restoration to the Highest Standards. Mechanical Preparation by Marque Specialist Steve Hart. Ideal Candidate for Premier Concours and Driving Events. Offered with Comprehensive Documentation File. An Irreplaceable Part of Maserati History. Auction Source: The 2013 Scottsdale Auctions by Gooding & Company