1957 Maserati 450S
Built to contest the 1957 World Sportscar Championship, the 450 S was the biggest threat to Jaguar, Ferrari and Aston Martin. At the forefront of its competitor's minds was the awesome 400 bhp V8.
Maserati had repeated success with the 3-litre 300S, when they decided to take advantage of the displacement limits. Engineer Guilo Alfieri decided to depart from the inline-6 and instead turn to a V8 by the fact that it would "have to reach certain power limits and possess indispensable harmony among stress levels and thermal loads of consumption."
Motivated by Tony Parravano and need for an engine that could contest Indianapolis, the V8 was first tested in a car in late 1956. With a quad cam, twin spark V12 power was an impressive 390 bhp or 400 bhp on a good day. This left Ferrari scrambling to come up with a competent alternative.
This engine was fitted into a modified 300/350S chassis with inadequate braking for the V8's power. None-the-less factory driver Juan Manuel Fangio out accelerated the competition and could win if the car kept running.
Maserati entered the 450 in all seven races for the World Sportscar Championship. In the end, it was a dead tie between Ferrari and Maserati at the final round, and Ferrari took the cake once almost all the Masers dropped out.
The 450S only achieved two notable victories at the 12-Hours of Sebring and Swedish GP in 1957. Many times it failed but not due to engine failure. At the same time Maserati was actively involved in F1, giving Fangio his fifth Driver's Championship so many resources and time were diverted from the 450 to the legendary 250F.
Stirling Moss convinced Maserati to build a special Coupe for LeMans using plans by Frank Costin. The body was finished by Zagato and painted bright red. During the 24 Hours, the Maserati suffered from overheating problems and retired with a broken drive shaft. It was later converted into a road car by Maserati
After 1957 Maserati decided to retire from racing all together, leaving the 450S as their last great sports racing car. Many of the 10 cars produced made their way to America, and won even more events driven by Carroll Shelby, Jim Hall, and Temple Buell.
See all our Maserati 450S posts and Maserati Race Cars. We also have our full list of awesome Maserati cars and recent Maserati posts and news.
See all Maserati 450S Images
Maserati 450S Video
The magnificent, powerful, gorgeous Maserati 450s presented by Alain De Cadenet in the serie "Victory by design" on Speed.
This video shows this iconic racing car, with awesome sounds and those stunning lines on the move. Epic.
Maserati 450S In Detail
| | |
| --- | --- |
| tags | Maserati 450S |
| valvetrain | DOHC 2 Valves / Cyl |
| displacement | 4477 cc / 273.2 in³ |
| bore | 93.8 mm / 3.69 in |
| stroke | 81 mm / 3.19 in |
| compression | 9.5:1 |
| power | 298.3 kw / 400.0 bhp @ 7200 rpm |
| specific output | 89.35 bhp per litre |
| bhp/weight | 506.33 bhp per tonne |
| body / frame | Aluminum |
| driven wheels | Front Engine |
| front tires | Pirelli 6.0×16 |
| rear tires | Pirelli 7.0×16 |
| front brakes | Hydrualic Drums |
| rear brakes | Hydrualic Drums |
| front wheels | F 40.6 x 12.7 cm / 16.0 x 5.0 in |
| rear wheels | R 40.6 x 14.0 cm / 16.0 x 5.5 in |
| steering | Worm & Sector |
| curb weight | 790 kg / 1742 lbs |
| wheelbase | 2400 mm / 94.5 in |
| front track | 1350 mm / 53.1 in |
| rear track | 1300 mm / 51.2 in |
| length | 4350 mm / 171.3 in |
| width | 1550 mm / 61.0 in |
| height | 1000 mm / 39.4 in |
| transmission | 5-Speed Manual |
| top speed | ~320.3 kph / 199.0 mph |
Maserati 450S Auction Sales History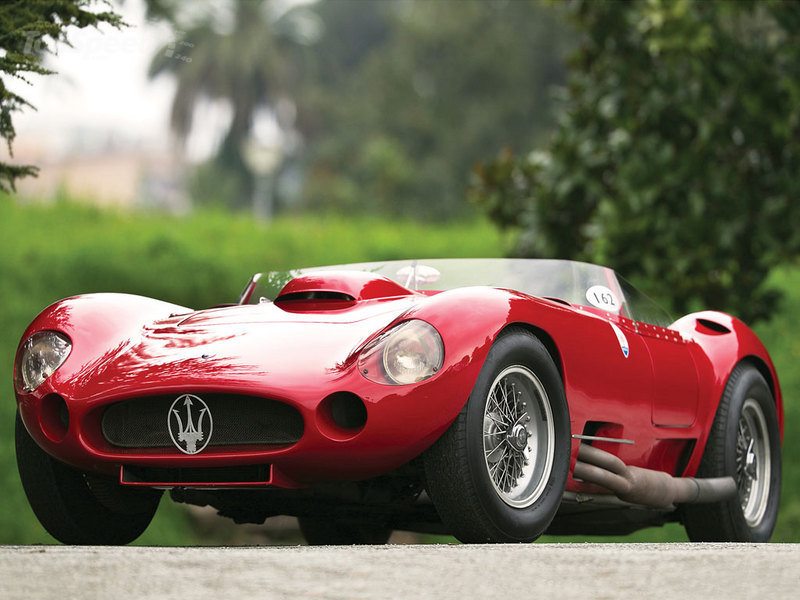 1956 Maserati 450S Prototype 3501/4501/350SI-10 – did not sell for €3,500,000  Prototype of the legendary 450S. Works entry at the 1956 Mille Miglia, driven by Stirling Moss with Denis Jenkinson Authenticated by correspondence from Maserati S.p.A. Restored with the factory's consultation in 1987 The ultimate evolution of Maserati's sports racing prototype Auction Source: 2014 Monaco by RM Auctions