1958 Ferrari 250 Testa Rossa
While Testarossas might bring back memories of the 1980s, Miami Vice and a mid-engine supercar with massive side strakes, it's this 1958 model which holds the more important place in Ferrari history. Not only was the 250 Testa Rossa (TR) one of Ferrari's most successful race cars on the track, but it also had unorthodox, but purposeful body by Scaglietti & C.
Developed for the 1958 season, the 250 Testa Rossa was designed for both Scuderia Ferrari and private entrants. Engine choice was the most critical factor since the Commissione Sportiva Internazionale (CSI) had limited engine size to 3.0 in an attempt to slow top speeds. Ferrari had two choices best suited for their new sports car that were tested in 1957. Both a V6, and a small version of the quad-cam V12 were tried in two special prototypes, but neither of these were chosen. Instead, the SOHC V12 was used which had already proved its reliability powering the 250 GT Berlinetta to consecutive Tour de France victories.
Synthesis of the Columbo V12 and 500 TR chassis made up the 250 Testa Rossa underpinnings. These components were preferred over the complex quad camshaft and dual-ignition solutions found in the 335 which were also heavier. But, the 250 Testa Rossa was really much more than the combination of existing engineering. It introduced a design philosophy that focused on reliability over outright performance. Ferrari wanted to sell consistent cars that could endure for 24 hours.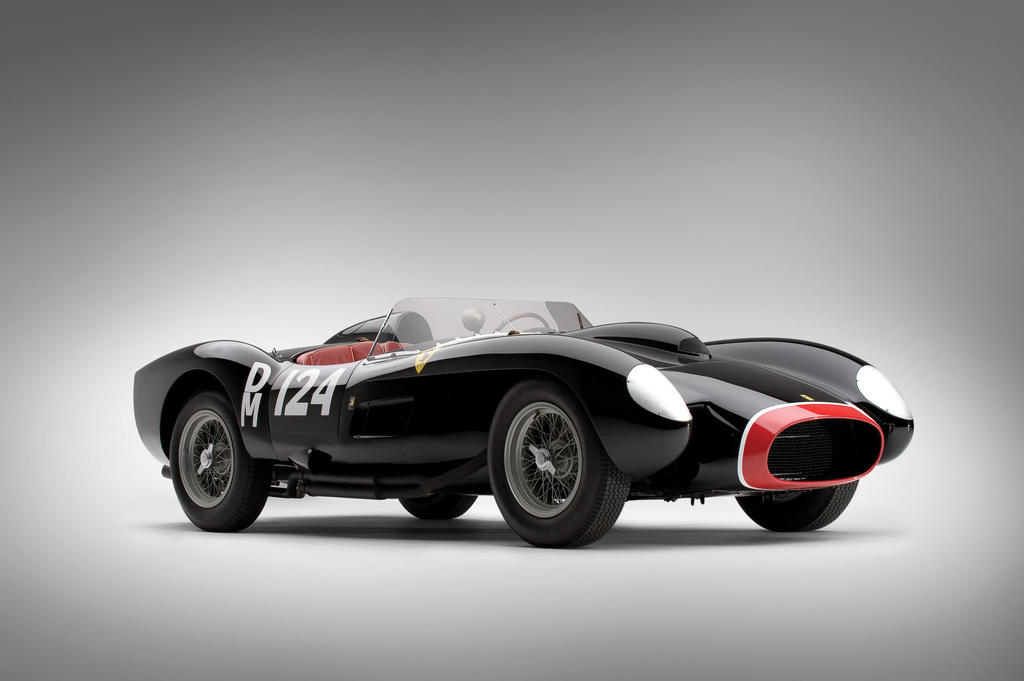 After modifying chassis 0666TR and 0704TR during the 1957 season with various 250GT, 290MM, 335 or 500TR parts, a final specification was reached. Ferrari announced the 250 Testa Rossa at their pre-season press conference held in November 1957. The car was intended for independent customers who raced at America's SCCA races and the CSI's World Sportscar Championship. As factory involvement was limited to the larger races, private entrants were left to contend the SCCA and smaller European events.
As released, the 250 Testa Rossa had seemingly modest engineering. The drum brakes or 250 engine were indeed old technology compared to the disc brakes and DOHC setups that were available. Also, compared other cars of the era, the Testa Rossa chassis was made more bulky to take on many of the ditches and walls which these cars met. Such throw backs followed the original design philosophy and helped the Testa Rossas endure to win many races.
All the customer cars featured a chassis similar to the 500TR (Testa Rossa) which retained the live-axle rear end. Another common feature was the remarkable 'pontoon' bodywork designed by Sergio Scaglietti and his firm at Scaglietti & C. Under the leadership of Gian Carlo Guerra, the company worked without drawings, instead going straight to a wire framework. They used a nose similar to the period F1 cars with cutaway fenders sometimes called sponsons. The idea was to expose the large brake drums to aid in cooling. While striking and exciting this shape was unstable at high speeds. To fix the aerodynamics, Ferrari modified the design to feature bodywork that was a fully enclosed design.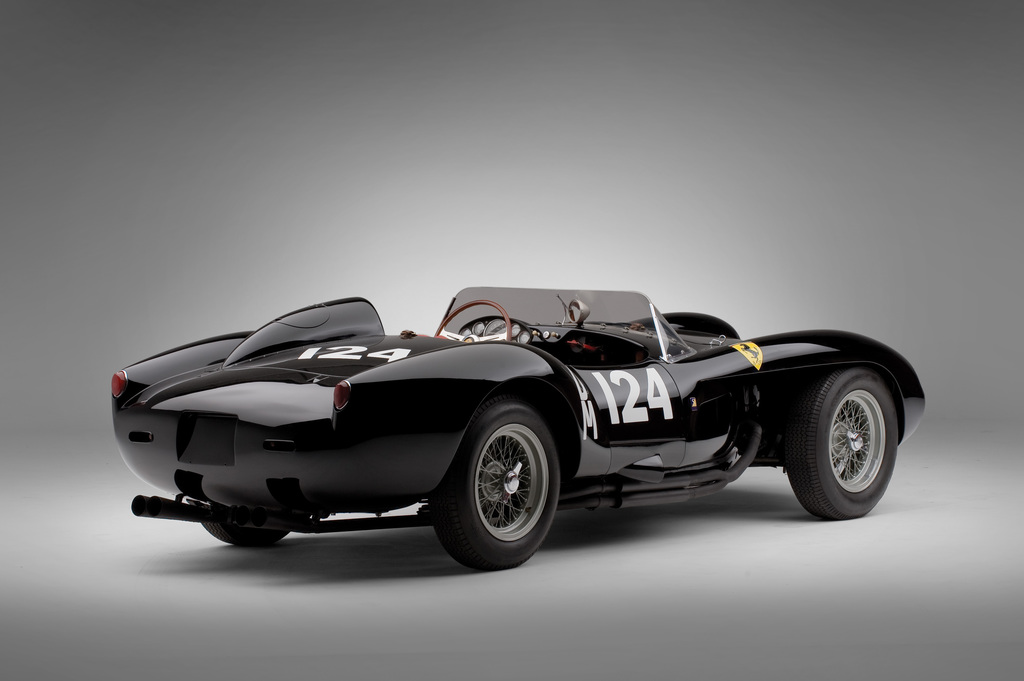 At this point is important to mention the superior factory Testa Rossas which Ferrari ran and distinguish them from the customer cars which Ferrari sold. After the first few races, it was apparent to Ferrari that they had to upgrade the Testa Rossa if they were to win the CSI's Sports Car Championship. The team cars were upgraded to include a De Dion rear axle and an all enveloping body.
Both the customer and works Testa Rossas used the Tipo 128 engine, with 290MM camshafts, high-compression pistons and larger bearings to produce 300 bhp. Having a single cylinder displacement of 250cc and bright red valve covers, it's this potent engine which the car is named after.
Racing
During the 1958 season, Ferrari entered factory works cars in the most important races. These cars racked up championship points in the CSI's World Sportscar Championship. Four cars, including prototypes #0666 and #0704, were used by Ferrari which were modified in several ways throughout the season. The two other cars were chassis #0726 and #0728 and, like the prototypes, had De-Dion type rear suspensions. These four cars were called TR58s, but each had individual specification.
Most of the Testa Rossa's success in 1958 can be attributed to the factory works effort and a lack of competition in the new 3.0 liter class. Factory drivers Luigi Musso, Mike Hawthorn, Peter Collins, Wolfgang Von Trips, Phil Hill, Oliver Gendebien and Wolfgang Seidel usually ran alongside several privateers which meant that Ferrari outnumbered the competition at every major race.
Ferrari easily won the opening rounds at Buenos Aires and the Sebring 12-Hour. Back in Europe there was more competition, but Luigi Musso and Oliver Gendebien still won the Targa Florio in their TR58.
At the Nürburgring 1000kms Ferrari was surprisingly beaten. In Germany the much more complicated and powerful Aston Marin DBR1 became the Testa Rossa's main rival. With seven Ferraris present, Stirling Moss and Jack Brabham beat the factory works Ferraris. Ferrari blamed the inferior fuel, but this was just the tipping point of Aston Martin's success.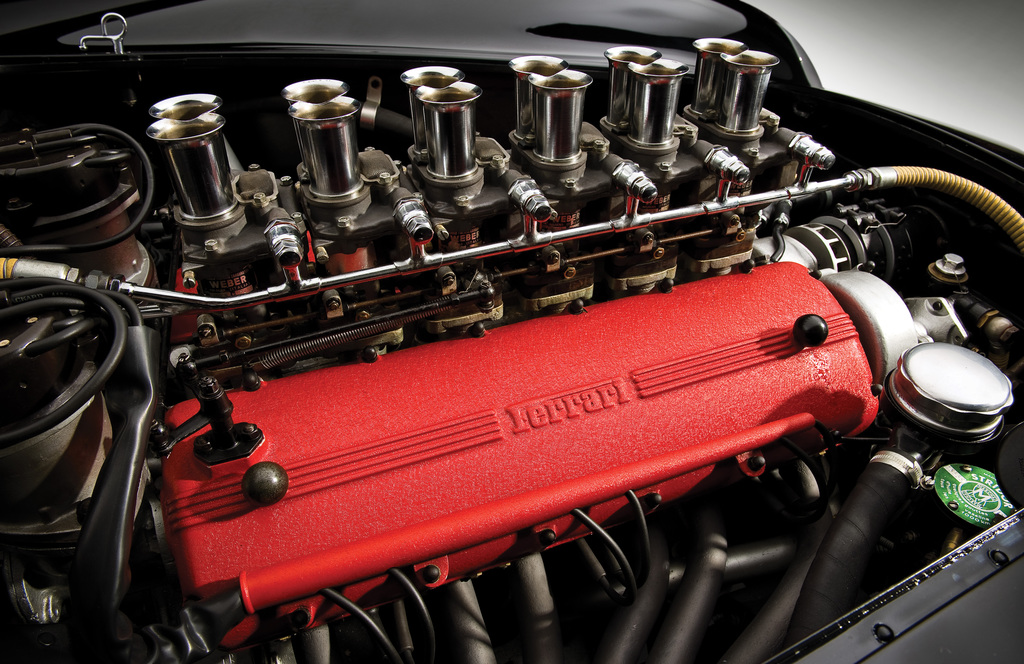 After Nürburgring Ferrari had already clinched the Manufacturer's Championship, but the all important 24 Hours of Le Mans was still on the calendar. Scuderia Ferrari won with Olivier Gendebien and Phil Hill driving a TR58, but the third-placed Porsche 718 RSK was a sign of things to come from Porsche.
It is important to mention the Testa Rossa as it applied to American SCCA racing. Many of the customer cars ran short tracks of America, sometimes winning class victories, but they were up against large V8-powered specials such as the Listers and Scarabs that were more suited for sprinting. Also, due to the lack of support in America, many broken engines couldn't be fixed and some Testa Rossas some were stuffed with V8 engines.
After winning Le Mans, Ferrari secured the Manufacturer's Championship and eased off sportscar racing to focus on F1. They also ceased delivery of the customer Testa Rossas in 1958, leaving a limited production of 19 cars plus the prototypes. However, they continued development of the factory-backed works cars which achieved so much success in the season. Ferrari knew they needed to improve the Testa Rossa if it was to keep pace with the increasing Aston Martin DBR1 threat. By 1959, Ferrari released a heavily refined TR59 with body work from Fantuzzi. But was it good enough?
Gallery & Photos
See full 1958 Ferrari 250 Testa Rossa Gallery here
Videos
Specs & Performance
| | |
| --- | --- |
| submitted by | Richard Owen |
| type | Racing Car |
| built at | Maranello, Italy |
| body stylist | Scaglietti & C. |
| coachbuilder | Scaglietti & C. |
| production | 20 |
| engine | 60° Tipo 128LM V12 |
| position | Front Longitudinal |
| aspiration | Natural |
| block material | Aluminum Alloy |
| valvetrain | Chain-Driven SOHC, 2 Valves per Cyl |
| fuel feed | 6 Twin-Throat 38 DCN Weber Carburettors |
| displacement | 2953 cc / 180.2 in³ |
| bore | 73 mm / 2.87 in |
| stroke | 58.8 mm / 2.31 in |
| compression | 9.8:1 |
| power | 223.7 kw / 300.0 bhp @ 7200 rpm |
| specific output | 101.59 bhp per litre |
| bhp/weight | 377.83 bhp per tonne |
| torque | 380.98 nm / 281 ft lbs @ 5500 rpm |
| body / frame | Aluminum over Tipo 526B Steel Tube Frame |
| driven wheels | RWD w/ZF Limited Slip Differential |
| wheel type | Borrani RW |
| front tires | 5.5×16 Englebert |
| rear tires | 6.5×16 Englebert |
| front brakes | Aluminum Drums |
| rear brakes | Aluminum Drums |
| front wheels | F 40.6 x 14.0 cm / 16 x 5.5 in |
| rear wheels | R 40.6 x 14.0 cm / 16 x 5.5 in |
| steering | ZF Steering Box |
| f suspension | Unequal A-Arms w/Coil Springs, Houdaille Shock Absorbers, Anti-Roll Bar |
| r suspension | Live Axle w/Semi-Elliptic Leaf Springs, Houdaille Shock Absorbers, Trailing Arms |
| curb weight | 794 kg / 1750 lbs |
| wheelbase | 2250 mm / 88.6 in |
| front track | 1307 mm / 51.5 in |
| rear track | 1294 mm / 50.9 in |
| length | 3959 mm / 155.9 in |
| width | 1523 mm / 60.0 in |
| height | 964 mm / 38.0 in |
| transmission | 4-Speed Manual |
| tran clutch | Single Dry Plate |
| top speed | ~259.1 kph / 161.0 mph |
| 0 – 60 mph | ~6.0 seconds |
Auction & Sales Results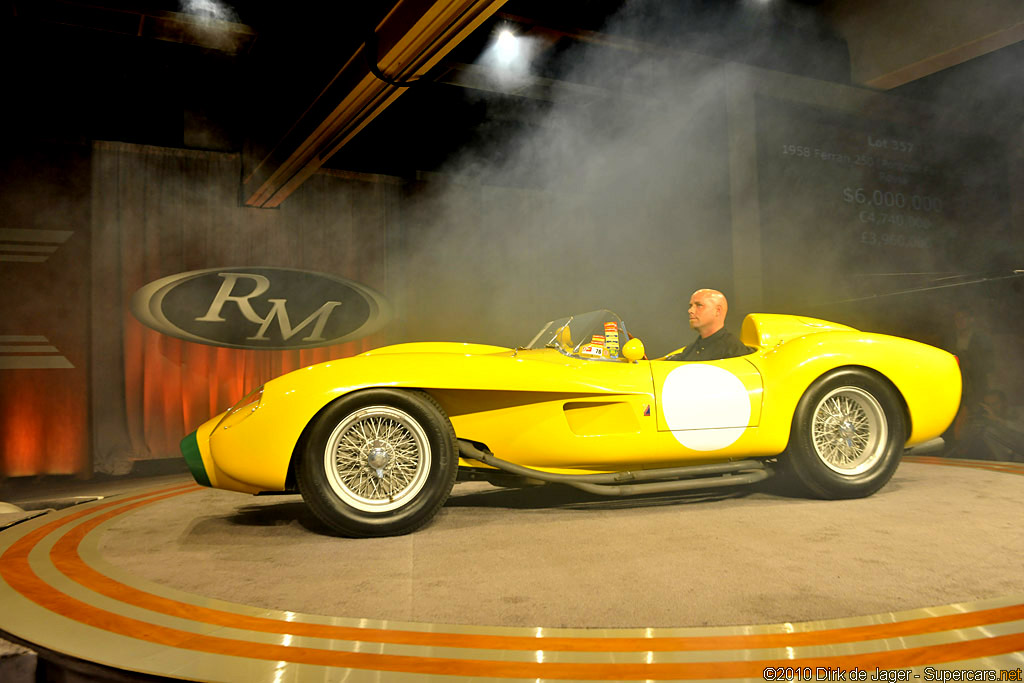 1958 Ferrari 250 Pontoon Fender Testa Rossa 0738TR
– One of only 21 Ferrari "Pontoon Fender" Testa Rossas built. Well known and carefully documented history from new. Colombo-designed three-liter, 300 hp, SOHC V12 matching numbers, original engine. Comes with race-prepared Ferrari Classiche spare 250 TR Engine.
Currently equipped with its original matching-numbers engine and with over a half-century of competitive racing to its credit, this is unquestionably one of the most desirable sports racing cars in existence. Testa Rossas seldom come to market. In the past decade, just three have been made available for purchase. Even more important is the fact that despite having replacement coachwork, 0738/TR is arguably one of the most correct and authentic of those that survive. The entire essence of what Ferrari stands for is captured within this single car – for the capable Ferraristi this opportunity surely cannot be missed! Auction Source: RM Auctions' 2010 Sports & Classics of Monterey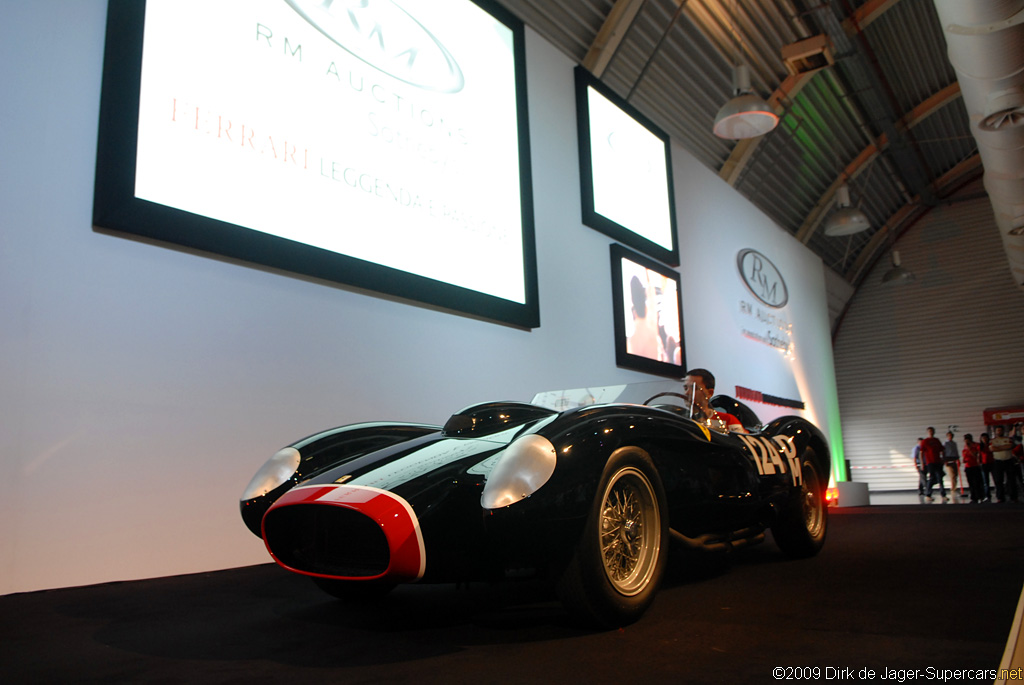 1957 Ferrari 250 Testa Rossa 0714TR – sold for €9,020,000 Fourth Ferrari 250 Testarossa built and the second customer car. With its Scaglietti bodywork, 0714 is truly stunning – like a great sculpture it begs to be touched. Its incredible racing history puts the car far beyond most other 250 Testarossas, if such a thing can be said. Auction Source: 2009 Leggenda e Passione
Sources & Further Reading
Finn, Joel E. Testa Rossa V12, Newport Press: 1979.
Mallepelle, Paolo. 'The Ferrari Sports Racer.' Cavallino 42, Dec 1987.
Mangiamele, Guy. '250 Testa Rossa'. Cavallino 67, Feb 1992.
Pomeroy, Larence. 'Succeeding a Champion.' Motor, Apr 1958.
Prunet, Antione. Ferrari Sports Racing and Prototype Competition Cars, Haynes: 1983.