1958 Fiat Abarth 500
To promote their extensive catalogue of Fiat aftermarket products, Abarth created this 500 to showcase show fast they could make an entry level car go. Afterwards, Fiat was impressed enough to order 100 copies and offer them through the local dealers.
Once the Fiat Nuova 500 was launched in 1957, its iconic shape and economic, two cylinder engine made it a staple of Italian motoring. The larger Fiat 600 would later become Abarth's signature car and its inline-4 engine went on to power Abarths for the extended life of the company.
Abarth applied himself to the small 500 engine, but did not increase capacity, instead opting for more fitness through mild tuning which included a higher compression ratio, larger Weber carburetors, and exhaust system. These changes increased the original 13 bhp from 21 to 27 bhp.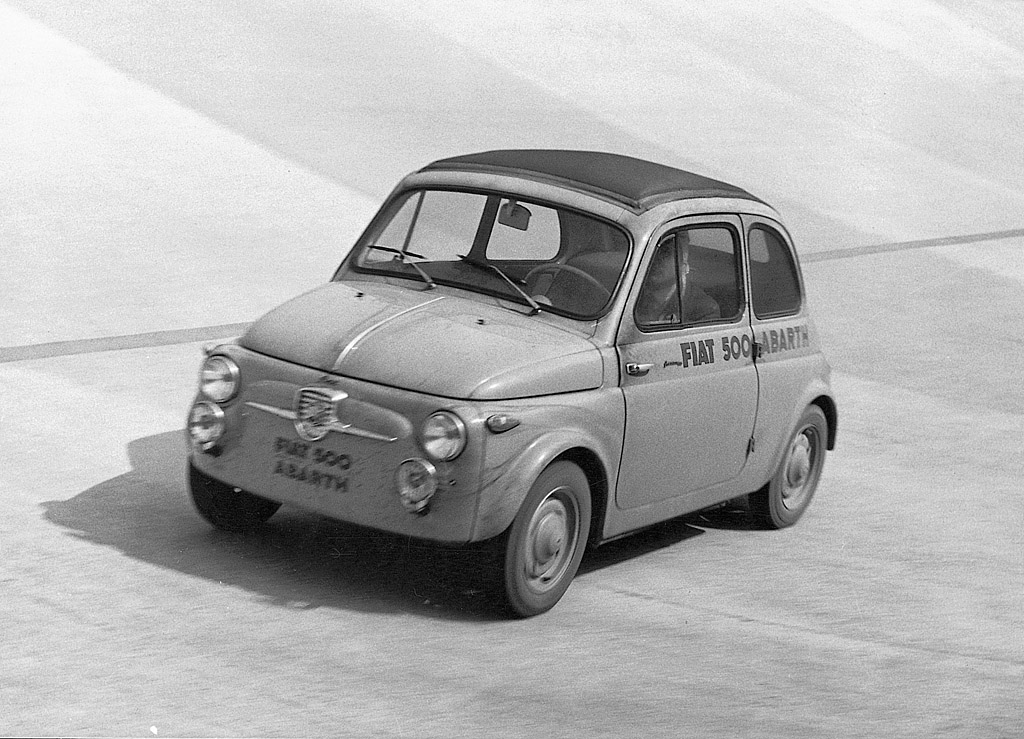 While the Nuova 500 had nowhere near the performance associated with the Abarth name, it demonstrated what was possible and probably helped sell more Fiat accessories. This was further emphasized by a particular example which was tuned to 27 bhp using a special hemispherical cylinder head. It was flanked by a huge 'FIAT ABARTH 500' script on the sides and was given a seven day demonstration run from February 13th till the 20th at the Monza Autodromo. During the week, it was driven by the many of the press and people associated with building the car. Achieved an average speed of 108 kph, Abarth garnered acclaim by both the local and international press.
After the runs, which broke six records in all, Fiat became interested and offered Abarth rewards for future victories in motor sport. Shortly thereafter, Abarth prepared cars such as the 595, 695 and 1000 to contest the 750cc, 850cc and 1000cc classes.
Bibliography and Further Reading
Braden, Pat & Schmidt, Greg. Abarth Fiat Simca Porsche Street Race Record, Osprey, United Kingdom: 1983.
Cosentino, Alfred. Abarth Guide, Nigensha Publishing, Japan: 1984.
Greggio, Luciano. Abarth, the man, the machines, Giorgio Nada Editoire, Italy: 2002.
In Detail
| | |
| --- | --- |
| | |
| type | Racing Car |
| built at | Turin, Italy |
| engine | Inline-2 |
| position | Rear Longitudinal |
| aspiration | Natural |
| valvetrain | Pushrod, OHV |
| fuel feed | 1 Weber 26IMB Carburettor |
| displacement | 479 cc / 29.2 in³ |
| compression | 10.5:1 |
| power | 19.4 kw / 26 bhp @ 5000 rpm |
| specific output | 54.28 bhp per litre |
| bhp/weight | 59.09 bhp per tonne |
| body / frame | Unit Steel |
| driven wheels | RWD |
| front tires | 125X12 |
| rear tires | 125X12 |
| front brakes | Drums |
| rear brakes | Drums |
| steering | Worm & Sector |
| f suspension | Independant w/Upper Trailing Arms, Transverse Leaf Springs, Hydraulic Dampers |
| r suspension | Independant w/Upper Trailing Arms, Coil Springs, Hydraulic Dampers |
| curb weight | 440 kg / 970 lbs |
| wheelbase | 1840 mm / 72.4 in |
| front track | 1121 mm / 44.1 in |
| rear track | 1135 mm / 44.7 in |
| length | 2970 mm / 116.9 in |
| width | 33528 mm / 1320 in |
| height | 33020 mm / 1300 in |
| top speed | ~118 kph / 73.3 mph |