1959 Ford Galaxie Skyliner
Produced for just three years (1957-59), the car sold a total of 12,915 units in 1959, its third and final year, despite a $400+ premium over a conventional Sunliner convertible that offered vastly more trunk space. Prices began at $3,346, making it the most expensive full-size Ford. It was also the heaviest. Conventional soft-top convertibles outsold it nearly four to one. Despite the complex retractable top mechanism, the system was very reliable. Over 600 feet of wiring were used spread among ten power relays, eight circuit breakers, ten limit switches, three drive motors, and four lock motors to make the magic happen.
The Galaxie joined Ford's lineup at mid-year, replacing the Fairlane 500 as the top model in the full-size Ford series. The Skyliner, formerly part of the Fairlane 500 line, would be renamed a Galaxie mid-year, befitting its top-of-the-line status. The new model helped Ford to all but tie rival Chevrolet for number one in industry sales. Ford called its 59s "the world's most beautifully proportioned cars." Others agreed, too, as the conservative, squared-off design would be the first American car to win an award from fashion authority Comte' Francais de l'elegance at the Brussels International exposition.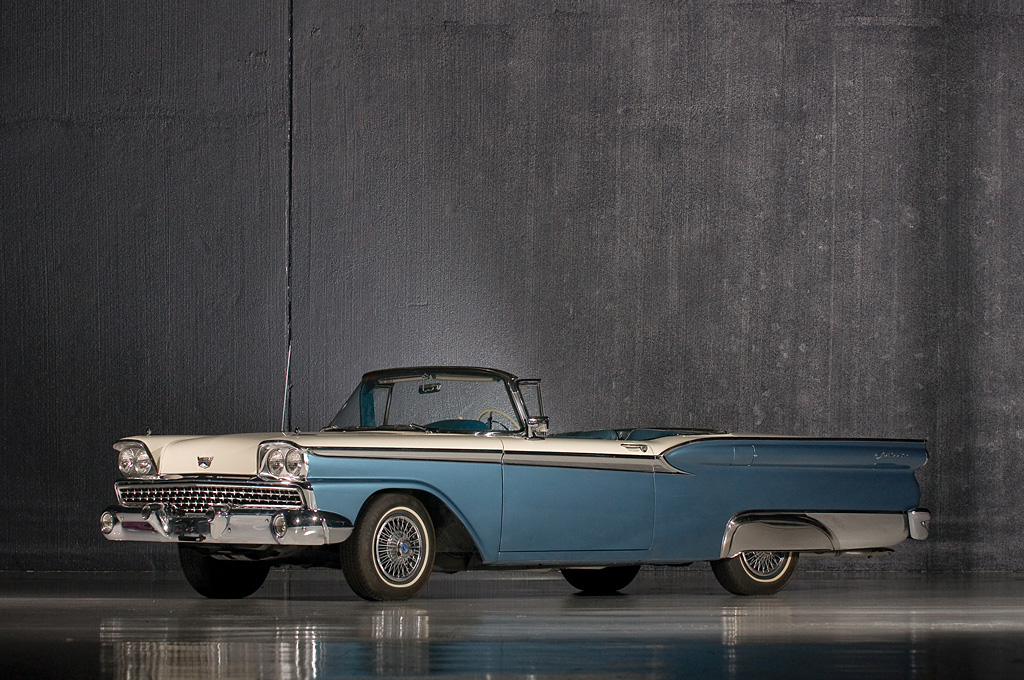 Auction Sales History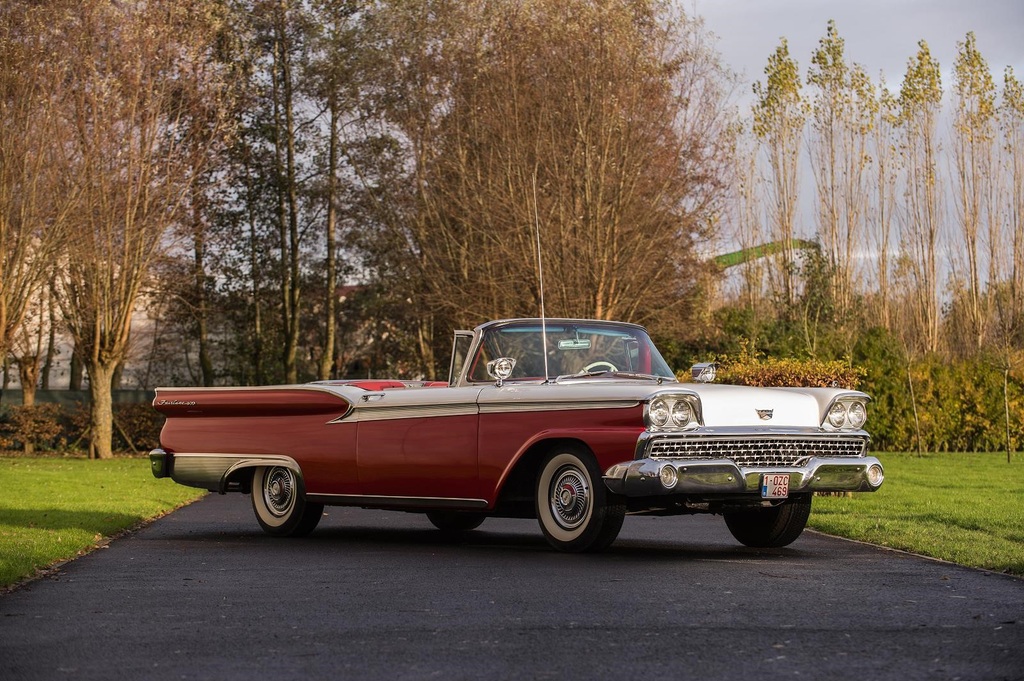 1959 Ford Fairlane 500 Galaxie Skyliner Convertible B9RW103574 – sold for €28,750 This rare and historic example of Detroit's engineering exuberance was assembled at Ford's San Jose plant on 17th October 1959 and originally finished in two-tone Raven Black/Colonial White. The car is powered by the 332ci (5,442cc) 225bhp V8 engine with two-barrel carburettor (3,654cc on registration papers) and has the three-speed Cruise-o-matic automatic transmission and optional lights in the external mirrors.
Cosmetically restored over 20 years ago, since when it has very little use since, the car benefits from a recent mechanical check over and is described as in generally good condition, interior included. The body was repainted in red/white during the restoration. Purchased by the current owner in 2011, the car comes with cancelled Canadian (Quebec) and US (State of Florida) title deeds; sundry maintenance invoices; magazine featuring the Fairlane 500 Skyliner; 1959 Ford sales brochure; and Belgian registration papers/technical inspection dated June 2012. Auction Source: 2015 Les Grandes Marques du Monde au Grand Palais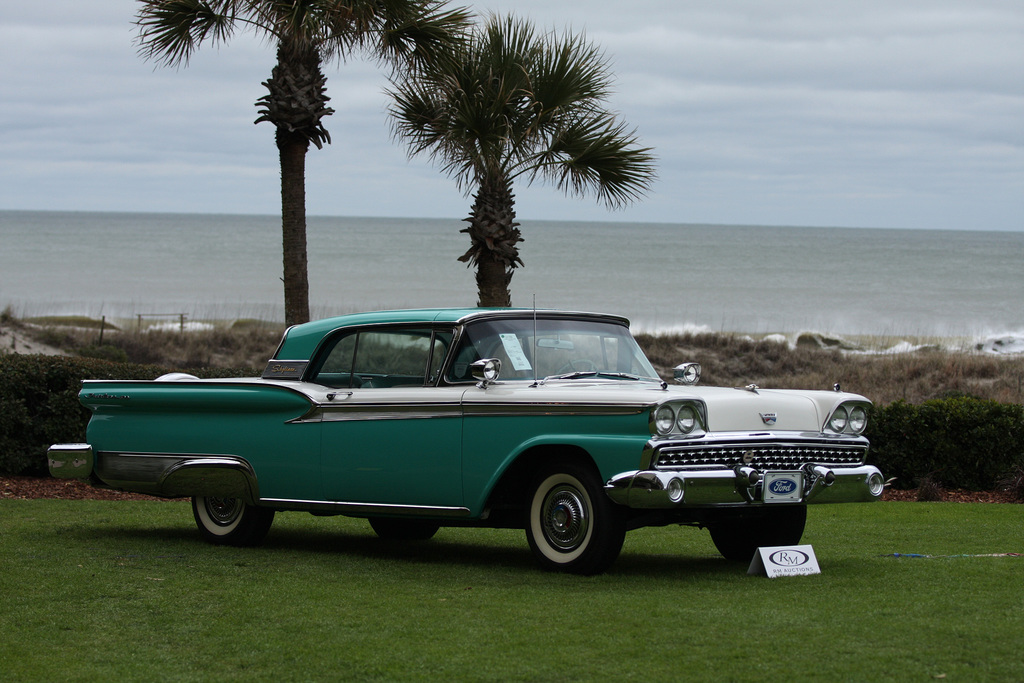 1959 Ford Galaxie Skyliner Retractable Hardtop B9KW107468 – sold for $66,000 Offered from the collection of Richard and Linda Kughn. Ford's famed "Hide-Away Hardtop". An outstanding restoration; well equipped with accessories and options. Displayed at the Meadow Brook Concours and the Glenmoor Gathering. Still show ready in all regards. Auction Source: Amelia Island 2014 by RM Auctions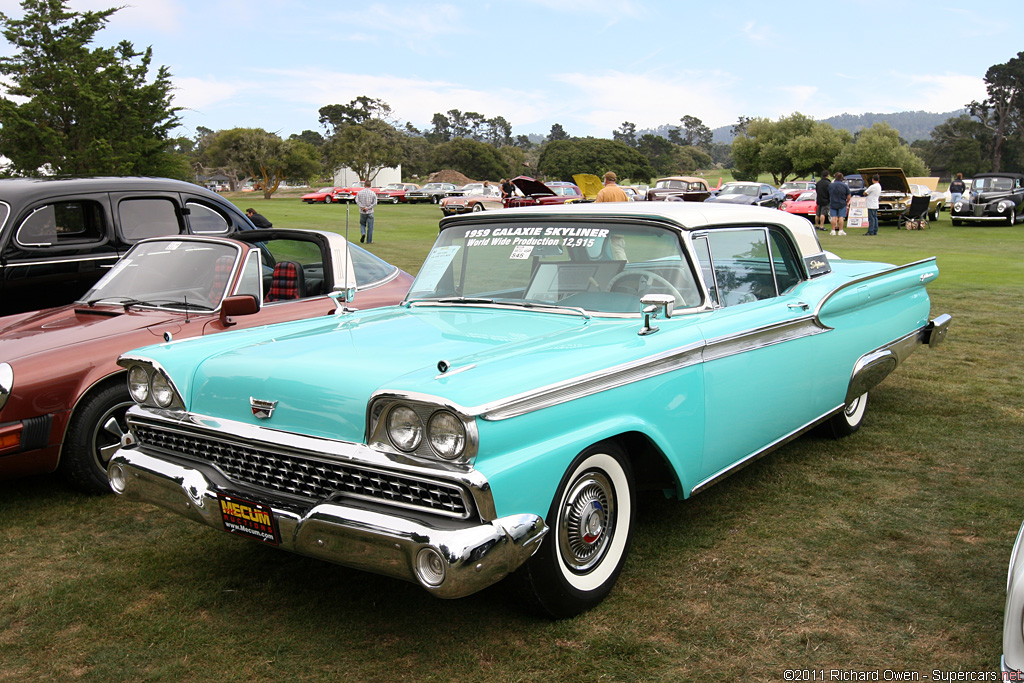 1959 Ford Galaxie Skyliner Convertible – sold for $42,000 This exceptional 1959 automatic Skyliner with California history has had a total restoration. Powered by a 352 Thunderbird special V-8 motor with 300 HP. Finished in great 50's colors of Colonial White and Indian Turquoise. Chrome is new and stainless trim is polished. New correct wide whitewall tires. Hubcaps with sunburst centers. Options include power steering, brakes, air conditioning, and polar air conditioner. Only 12,915 produced. Auction Source: 2011 Monterey Daytime Auction by Mecum
1959 Ford Fairlane Galaxie 500 Skyliner 352 CI, Automatic – sold for $37,000. 1959 was the final year of production for Ford's amazing retractable roof Skyliner. One of 12,915 produced, the two-tone Blue and White Skyliner presented here is a pristine, completely restored two-owner rarity equipped with a 352 CI V-8 and 3-speed automatic, both rebuilt. The refurbished top mechanism is fully operational and the car has received a new interior and new chrome, both rendered to show quality standards. Optional equipment includes power steering, power windows and a Town and Country radio. A pristine example of Ford's ever-fascinating Fifties-era classic. Auction Source: 2010 Mecum at Monterey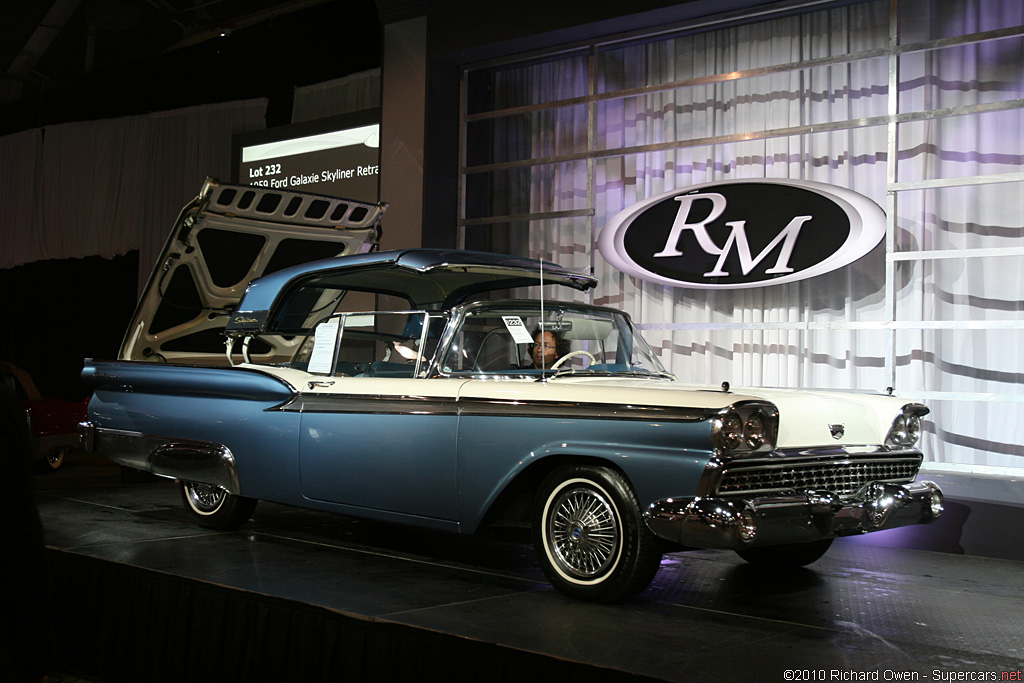 1959 Ford Galaxie Skyliner Retractable Hardtop – sold for $37,400. Finished in blue and white with a matching interior, this Skyliner is very well equipped with power-steering, AM radio, automatic transmission, stainless steel fender skirts and wire wheel covers. The car presents nicely and currently shows less than 38,200 miles. In its most recent ownership, it has been part of a large private collection and has been carefully stored and cared for ever since. It is certain to draw a crowd wherever it is driven and shown – a perfect cruise night vehicle! Auction Source: 2010 Vintage Cars of Meadow Book by RM Auctions