1959 Lister Costin
After a fire at Jaguar's own Browns Lane Plant destroyed the competition department in February 1957, Lister picked up pieces. Two years later they produced the Lister Costin which was in many ways a D-Type successor.
Many customers seeking a Jaguar-powered sports race car turned to George Lister and Sons a well-established engineering firm. Within it Brian Lister was passionate about race cars and their fabrication after building his own Cooper-MG in the late 1940s. This transitioned into building for John Tojeiro and later cars wearing his own Lister badge using Bristol, Rover, MG or Jaguar engines.
Some of the first Jaguar Listers were built in 1957 and these achieved great success. This led to the British Petroleum-sponsored Knobbly Listers of 1958. Jaguar also referred Briggs Cunningham's US-based team to Lister to replace the aging D-Types in their fleet.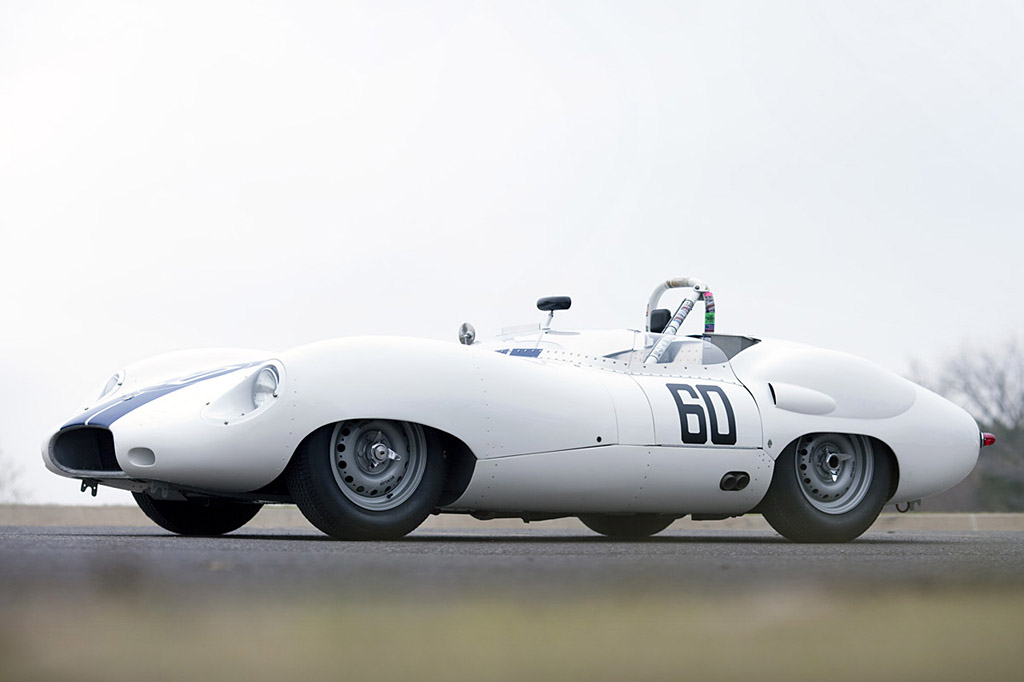 For the 1959 season aeronautical engineer Frank Costin was hired to redesign the Knobbly into a more aerodynamically efficient shape. Afterward a similar shape was used for Lotus's Mark VIII and Eleven.
Keen to help privateers, the Jaguar factory supplied competition-spec engines while Lister's first US importers, Jim Hall and Carroll Shelby, fitted the Chevrolet V8 in the same chassis.
In total nine Costin Listers were built; two with Jaguar power and seven with Chevrolet V8 engines.
Chassis & Sales
BHL 123-One of Two Briggs Cunningham Costin Listers Jaguars. Prepared by legendary Cunningham team chief mechanic Alfred Momo for the inaugural 12 Hours of Sebring race in 1959. The drivers included the Lister works team driver and Jaguar Le Mans veteran, Ivor Bueb, and the great Stirling Moss. At the 1959 12 Hours of Sebring, Moss was piloting the Lister in third place when he made a scheduled pit stop. Impatient to rejoin the race, Moss shot away before the tank was full and subsequently ran dry on the course.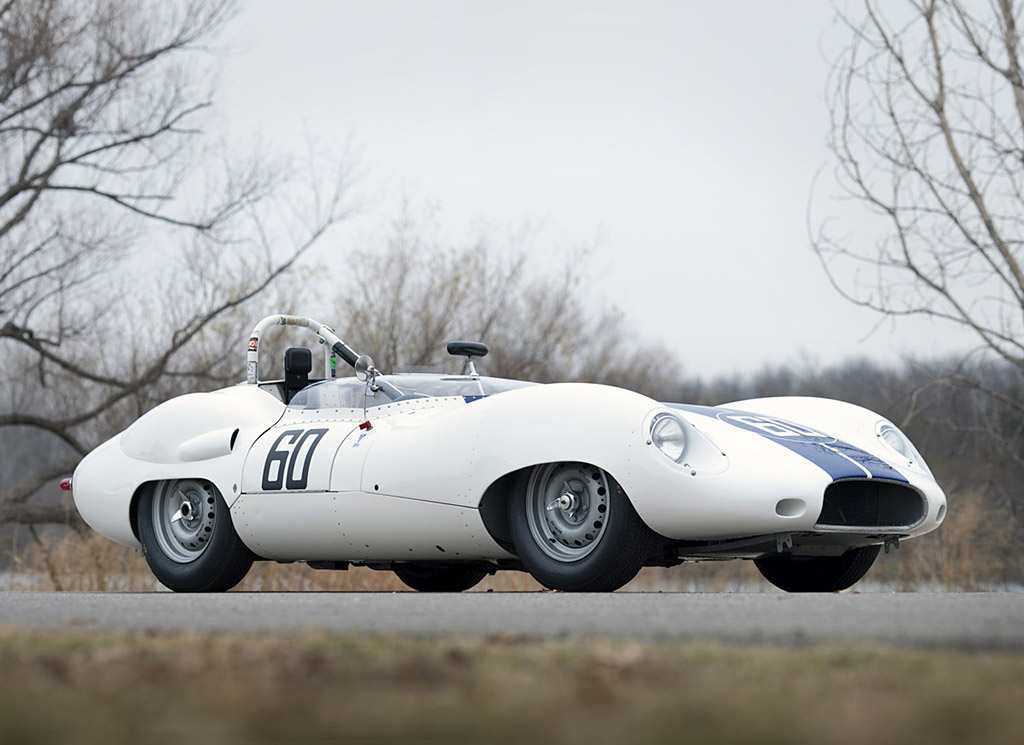 Briggs hired Walt Hansgen to drive the new Lister Jaguar at the following venues: Virginia International Raceway, the Cumberland International Races in Maryland, Bridgehampton Race Circuit and Watkins Glen. Hansgen also achieved second and fourth place finishes capturing the 1959 SCCA C-Modified National Championship. BHL 123 was also raced that year by Briggs Cunningham himself, who placed third at Thompson Raceway.
In 1961, the Lister was bought by well-known eastern US dealer/racer Bob Grossman for Phil Forno, who raced it with co-drivers Ed Crawford and Dr. Dick Thompson. By 1976, the car was back in England where it was campaigned by Tony Crossingham. Two years later, BHL 123 was purchased by William Symons who kept it until 1983 when it was sold to Chris Drake. It returned to America that same year to Dean G. Watts, who lavished time and money on the original engine and chassis – including the creation of more rugged alloy suspension uprights and the installation of a roll bar.
In 1989, after Mr Watts's ownership, BHL 123 went back to England. The following year it was owned by well-known vintage dealer Dan Margulies, who registered the car with the FIA Historic Vehicle Identity program. It passed through the hands of a few appreciative UK collectors until it once again returned to America, where the present owner purchased it in 2000.
The car went through a full mechanical restoration in 2000 by Lister experts The Vintage Connection in Oklahoma City. In 2003, the same team completed a comprehensive, body-off restoration. A more recent comprehensive cosmetic and mechanical restoration by the same team took place during 2008 and 2009. Sold at Gooding & Co's 2010 Scottsdale Auction for $1,000,000 USD.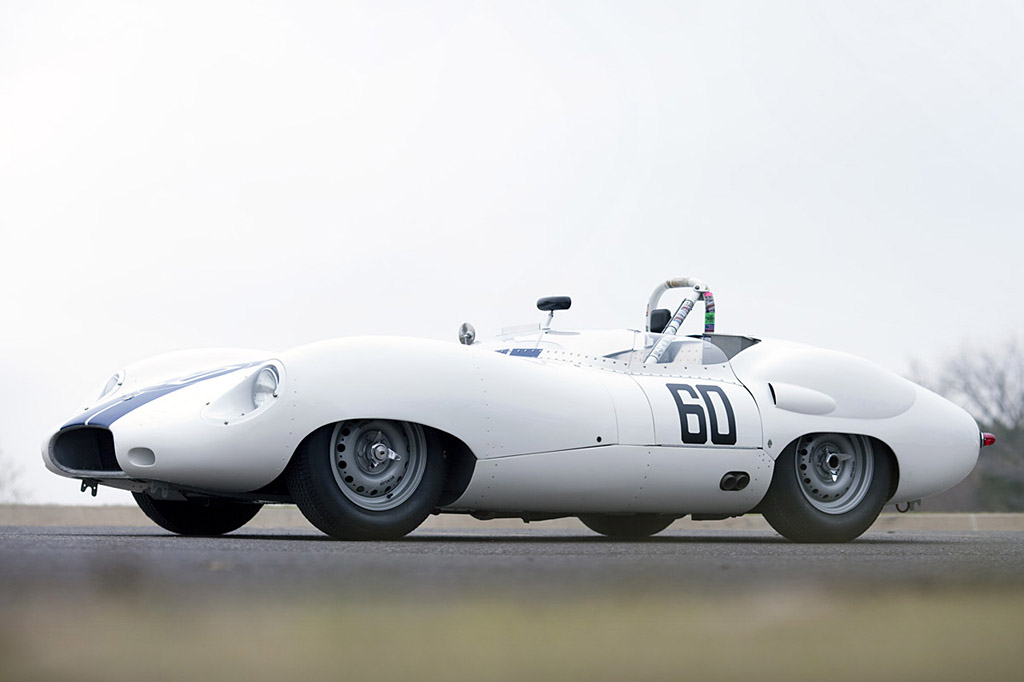 In Detail
| | |
| --- | --- |
| | |
| type | Racing Car |
| built at | Cambridge, England |
| body stylist | Frank Costin |
| production | 9 |
| predeccesor | 1954 Jaguar D-Type |
| engine | Jaguar Inline-6 |
| position | Front Longitudinal |
| valvetrain | DOHC |
| fuel feed | Triple Weber 45DCOE Carburetors |
| power | 223.7 kw / 300 bhp @ 6200 rpm |
| body / frame | Aluminum Body over Steel Chassis |
| front brakes | Girling Discs |
| rear brakes | Girling Discs |
| f suspension | Independant |
| r suspension | De Dion-Tube Axle w/Coil-Over-Dampers |
| transmission | 4-Speed |
| key drivers | Ivor Bueb, Stirling Moss, Walt Hansgen |