1959 Porsche 356A/1600GS Carrera de Luxe Coupé
Of all the Carreras, the 1959 de Luxe was best suited for the road. Not only was it the most luxurious 356, but it was also was the only year to get the large 1600cc 4-cam engine.
Porsche began producing the Carrera de Luxe model in May of 1957 alongside the Carrera GT. It was a road-going alternative to the GT racecar that featured basic amenities such a heater and sound deadening. In 1958, the arrival of the 1600cc engine by technical director Klaus von Rücker meant that the rest of the car could also benefit from upgrades.
The Type 692/2 engine was a much different engine than the 1500cc unit it replaced. The newer unit used plain main bearings instead of roller bearings. Furthermore, the distributors were moved to the end of the crankshaft and the engine shroud was better attached to the 356A body. With twin Solex carburetors, the somewhat detuned version offered 105 bhp @ 6500 rpm. This was contrasted quite heavily by the Carrera GT which could produce 141 bhp with higher compression and Weber carburetion.
Specific to the de Luxe was a new Eberspächer B3 heater that took up all available space in the engine compartment. Inside, the car featured more sound deadening than ever before and had real glass windows, unlike the Plexiglas versions on the GT.
Sports Car International was able to test a de Luxe Coupe and found that the 2100 lb car could reach 60 mph in 10.8 seconds and reach a top speed of 118 mph. This was somewhat disappointing and may be the reason the de Luxe wasn't sold in any great numbers.
Less that 100 De Luxe Speedsters, Roadsters and Coupes came off the production line in 1959 before the model was phased out and replaced by the pushrod 356 Super 90. However, the Carrera line continued to be produced, but only in GT form for the serious racing enthusiasts.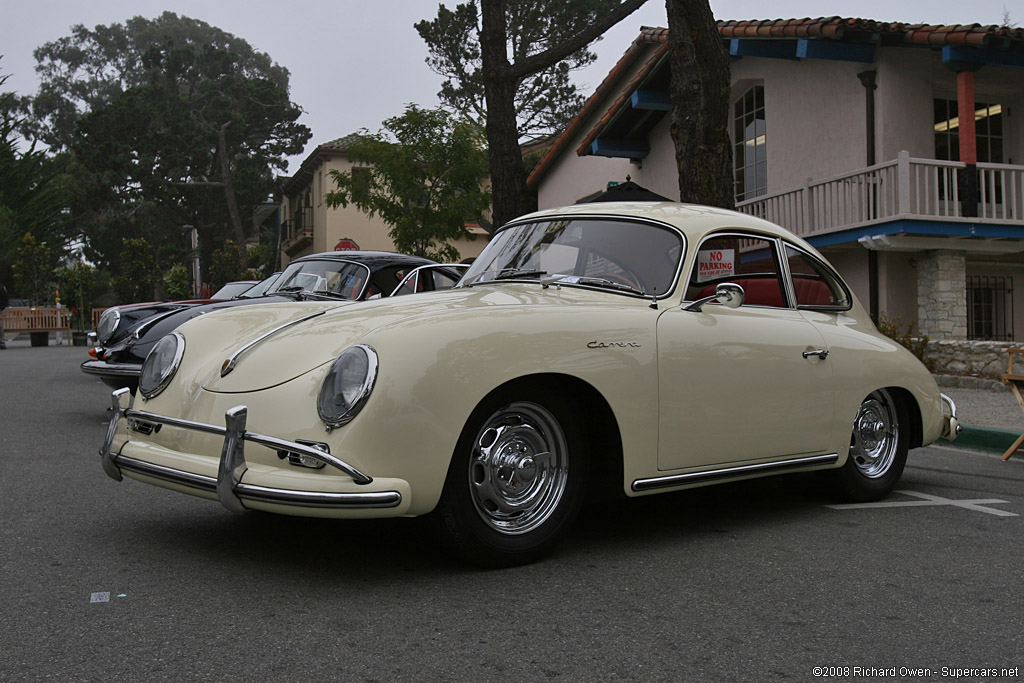 In Detail
| | |
| --- | --- |
| submitted by | Richard Owen |
| type | Series Production Car |
| coachbuilder | Reutter Karosserie |
| engineers | Klaus von Rücker |
| engine | Type 692/2 Boxer-4 |
| position | Rear, Longitudinal |
| aspiration | Natural |
| valvetrain | DOHC, 2 Valves per Cyl |
| fuel feed | 2 Solex P40II-4 Carburetors |
| displacement | 1587 cc / -1.0 in³ |
| bore | 87.5 mm / 3.4 in |
| stroke | 66 mm / 2.6 in |
| compression | 9.5:1 |
| power | 78.3 kw / 105 bhp @ 6500 rpm |
| specific output | 66.16 bhp per litre |
| bhp/weight | 110.18 bhp per tonne |
| torque | 120.7 nm / 89 ft lbs @ 5000 rpm |
| redline | 7500 |
| body / frame | Unit Steel w/Aluminum Doors, hood |
| driven wheels | RWD |
| front tires | 5.60-15 |
| rear tires | 5.60-15 |
| curb weight | 953 kg / 2100 lbs |
| transmission | 4-Speed Manual |
| top speed | ~189.86 kph / 118 mph |
| 0 – 60 mph | ~10.8 seconds |
| 0 – 100 mph | ~28.4 seconds |
| fuel capacity | 79.48 litres or 21 gal. |
Auction Sales History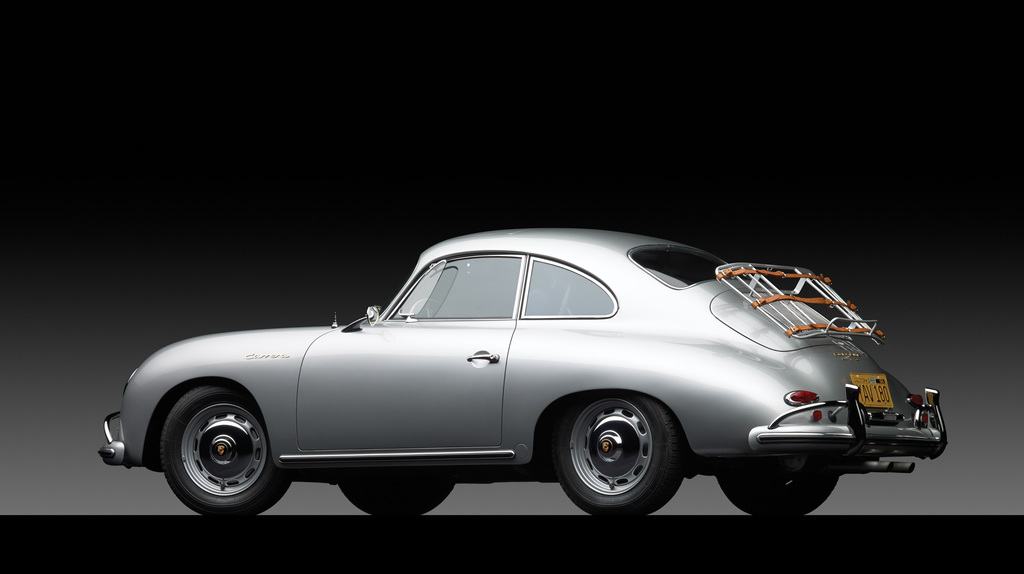 1959 Porsche 356 A Carrera 1600 GS 'Sunroof' Coupé 108399 – sold for $605,000. While many Porsches of this type were campaigned on the track, it appears that this 1959 Porsche 356 A Carrera 1600 GS 'Sunroof' Coupé was specified by its first owner, Robert Blackwood, of Atlanta, Georgia, for long-distance touring. It was delivered with a long list of factory options, according to its Porsche Certificate of Authenticity, including a Blaupunkt radio and two loudspeakers, a rear luggage rack, an electric clock, an 80-liter fuel tank, a factory-installed roll bar, and a very desirable and rare sunroof. When considering these options, and also the Carrera 1600 GS-specification drivetrain, this Porsche would certainly have been one of the priciest and most desirable examples delivered stateside that year. Auction Source: RM's Art of the Automobile