1962 Porsche 718/8 W-RS Spyder
During four active years as a sports car prototype, this 718 RS Spyder, chassis number 718 047, visited virtually every race track in Europe and travelled as far afield as the Americas.
Although laid out to take the new eight cylinder engine, this Spyder, distinguished by its sleek aluminum body wrapped over a steel tube frame, celebrated its debut in the famous 1961 Targa Florio still powered by the proven four. Driven by the Porsche factory's star drivers, Dan Gurney and Jo Bonnier, it scored an immediate second place, behind a Ferrari. In 1962, however, an eight-cylinder engine from the Porsche F1 race car, enlarged to 2.0 litres, replaced the four camshaft four-cylinder. Thus Grand Prix experience gave the GT prototype a fresh chance in the newly-prescribed World Endurance Trophy. Following sensational class victories in the 1962 Targa as well as the Nurburgring 1000km, where this car was third overall both times, Porsche captured second place in the World Cup for Speed and Endurance.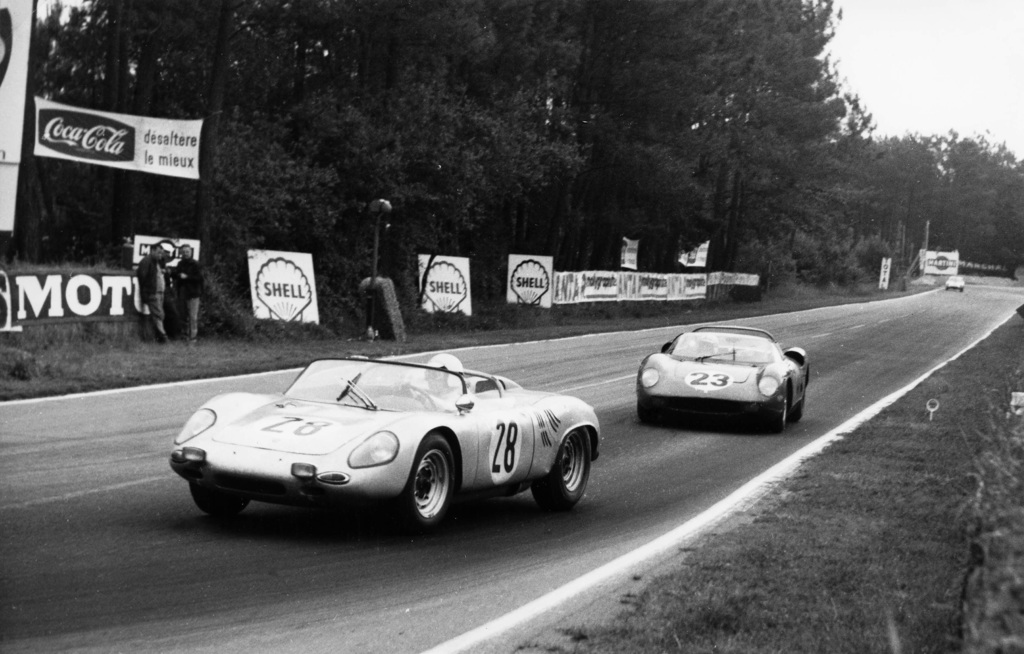 In the middle of 1962, the RS Spyder entered another arena: hillclimbs. Producing 210bhp, the 718/8 RS Spyder was to make its presence felt in the battle for the European Hillclimb Championship, previously the domain of private drivers with four-cylinder Spyders. This RS with Edgar Barth at the wheel set everything straight during the 1963 hillclimb season. Modified and boasting a further 30bhp, it brought Porsche and Barth the European Hillclimb Championship.
The heavily-used RS was an old friend to every mechanic in the racing department at Porsche by this time and they nicknamed it Grandmother in recognition of its unusually long racing life. In 1964 it extended its already legendary career further still with renewed success for Barth, who retained the European Hillclimb Championship in 1964.
In Detail
| | |
| --- | --- |
| | |
| submitted by | Richard Owen |
| type | Racing Car |
| built at | Germany |
| predeccesor | 1961 Porsche 718 RS61 Spyder |
| engine | Boxer-8 |
| valvetrain | DOHC, 2 Valves per Cyl |
| fuel feed | 4 Carburetors |
| displacement | 1981 cc / 120.9 in³ |
| power | 156.6 kw / 210 bhp @ 8400 rpm |
| specific output | 106.01 bhp per litre |
| bhp/weight | 328.12 bhp per tonne |
| body / frame | Aluminum over Tubular Steel Space Frame |
| driven wheels | RWD w/LSD |
| front brakes | Discs |
| rear brakes | Discs |
| f suspension | Independant w/Coil Springs |
| r suspension | Independant w/Coil Springs |
| curb weight | 640 kg / 1411 lbs |
| wheelbase | 2335 mm / 91.9 in |
| length | 4020 mm / 158.3 in |
| width | 930 mm / 36.6 in |
| transmission | 6-Speed Manual |
| top speed | ~259.1 kph / 161 mph |