1963→1968 Lancia Flaminia Super Sport
In 1963, Lancia and Zagato updated the Flaminia to Super Sport specification. The new model featured a 2,775cc engine that made the model capable of 130 mph.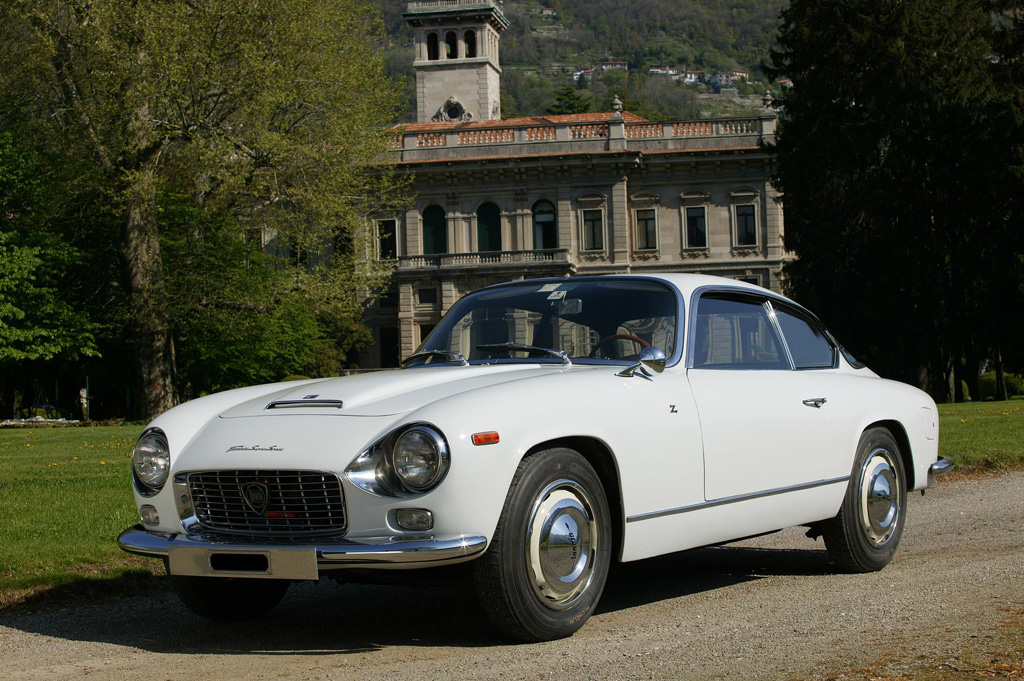 In Detail
| | |
| --- | --- |
| submitted by | Richard Owen |
| type | Series Production Car |
| production years | 1963 – 1968 |
| built at | Italy |
| production | 150 |
| engine | 60º V6 |
| position | Front, Longitudinal |
| displacement | 2775 cc / 169.34 in³ |
Auction Sales History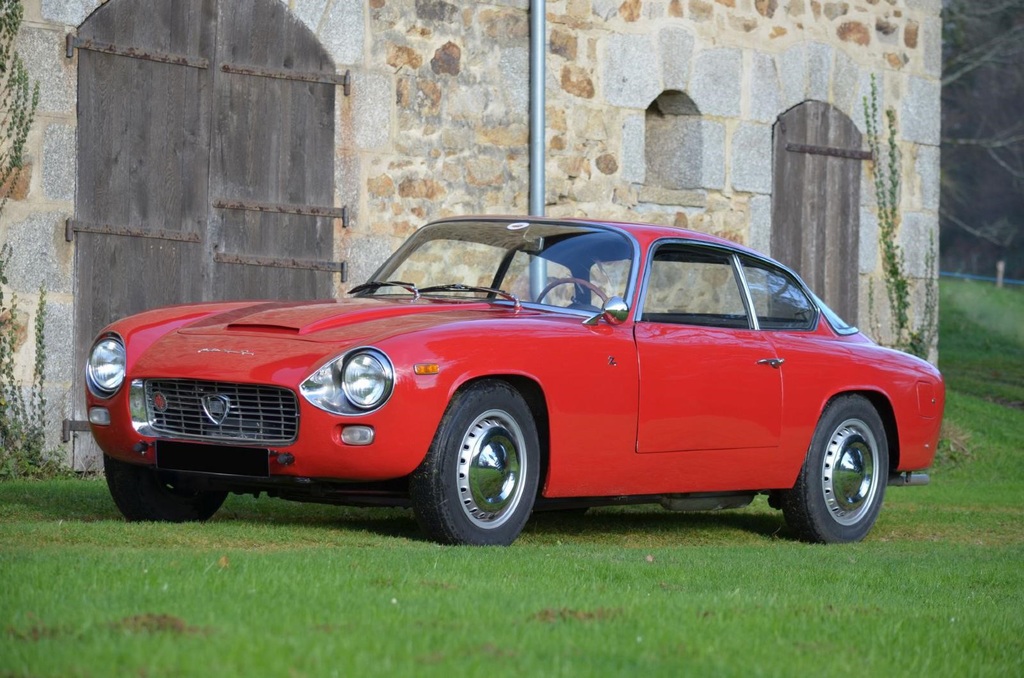 1968 Lancia Flaminia Super Sport Zagato 2.8 3C 826232002130 – sold for €220,520. This car has been in the hands of a Lancia enthusiast for more than 35 years. An honorary member of the Lancia Classic Club, he acquired the car towards the end of the 1970s from a dealer who had discovered it in Brittany. Having kept the car for four years as it was, the owner then undertook a restoration that allowed him to use the car regularly for the next three decades.
An expert on Italian engineering, he was able to rebuild the engine and the clutch himself. Re-fitted in 2013, the engine runs very well, and the owner has informed us that the car has covered just 2,000 km since. The body had new paintwork a few years ago at which time the sills and jacking points were renewed. In 2014, the front brake calipers were replaced. The odometer showed 47 396 km when we inspected the car, and the original, preserved interior displays a lovely patina. The bumpers, being re-chromed at the time of photographing, will be delivered with the car.
It comes with very rare Borrani wheels and will be sold with a bracket for spotlights that used to be fitted. Auction Source: Rétromobile 2015 by Artcurial Motorcars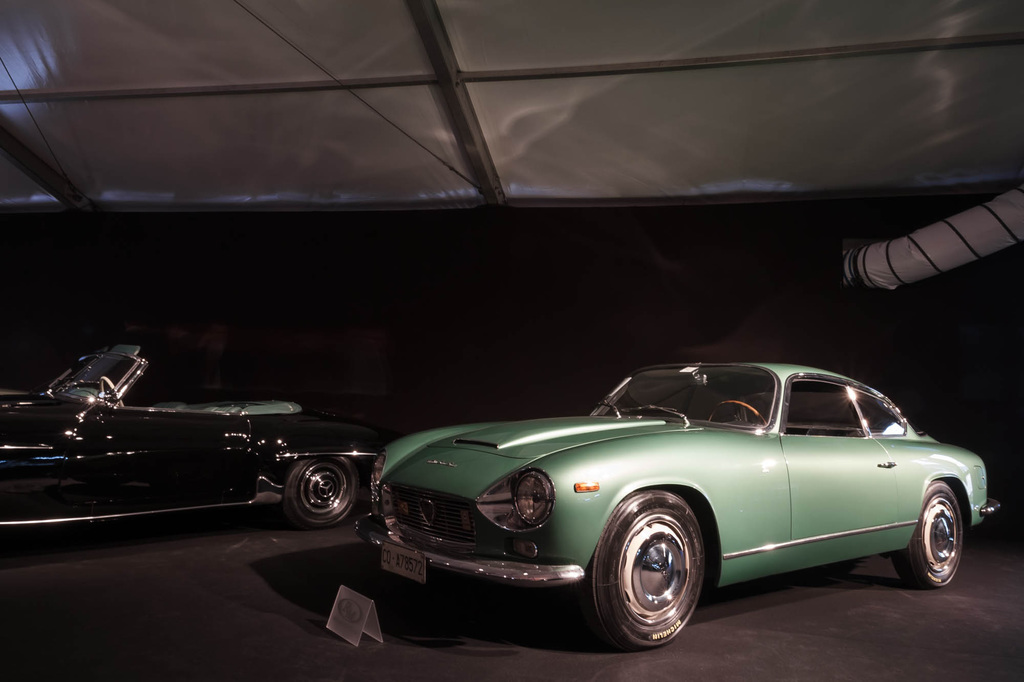 1966 Lancia Flaminia 2.8 Super Sport 826.232 002114 – sold for €201,600. The Zagato Super Sport offered here was imported into Italy in April 1982, and it has had a succession of Italian enthusiast owners over the last three decades. Since 1992, it has remained a part of a prominent collection that has included all variants of the Flaminia 2.8 chassis, and it has been the star of that collection. It has recently undergone a full repaint in an original shade of metallic green, which has reportedly been used on only a handful of Super Sports, as well as a complete service of the brake callipers, pads, and hoses and a sorting of the engine, carburettor, and starter. The interior has been preserved, as has the original window glass and tool set. Auction Source: 2014 Paris by RM Auctions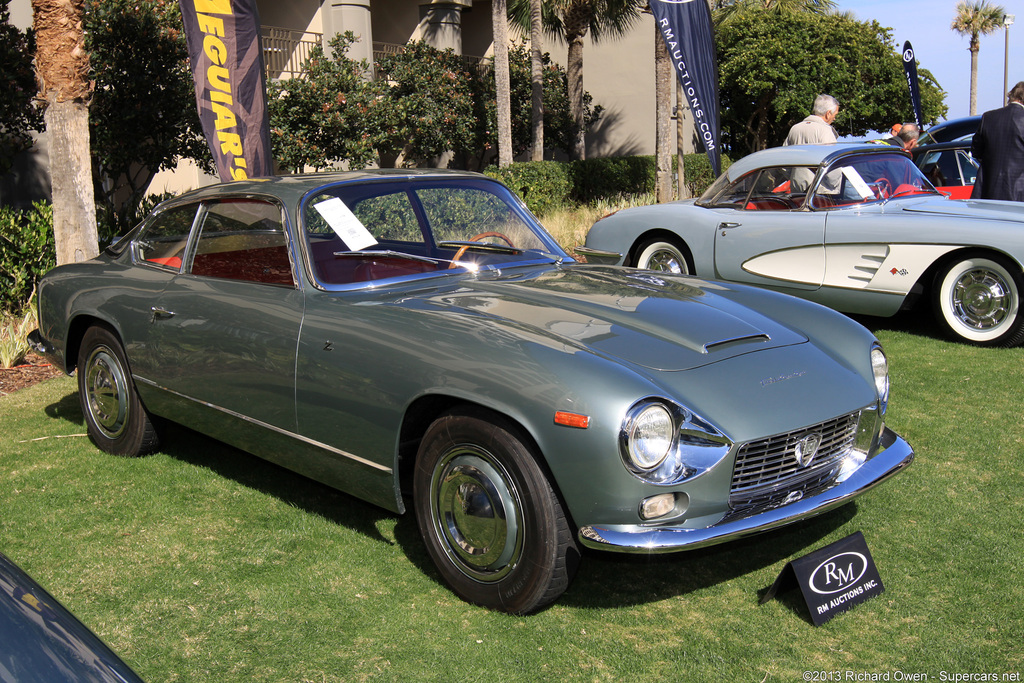 1967 Lancia Flaminia Super Sport 826.232.002121 – sold for $192,500. In 2008, this well-cared-for original car was treated to a complete restoration, with both body and mechanicals redone in his shop. When finished in 2009, it made a rare public appearance at the 30th Anniversary Meadow Brook Concours d'Elegance, where it was much admired. Looking down the smooth flanks of the alloy body, the light reflects evenly from panel to panel, evidence of the quality of the body and the evenness of the shut lines. The bright trim and both the chromed and polished aluminum appears even and well fitted. The interior shows hardly any traces of use, with well fitted seat and door upholstery, dashboard instruments, and carpeting. Under the hood, the quality and correctness of the restoration continue, with proper finishes, clamp hoses, and clips clearly visible. Auction Source: 2013 Amelia Island by Rm Auctions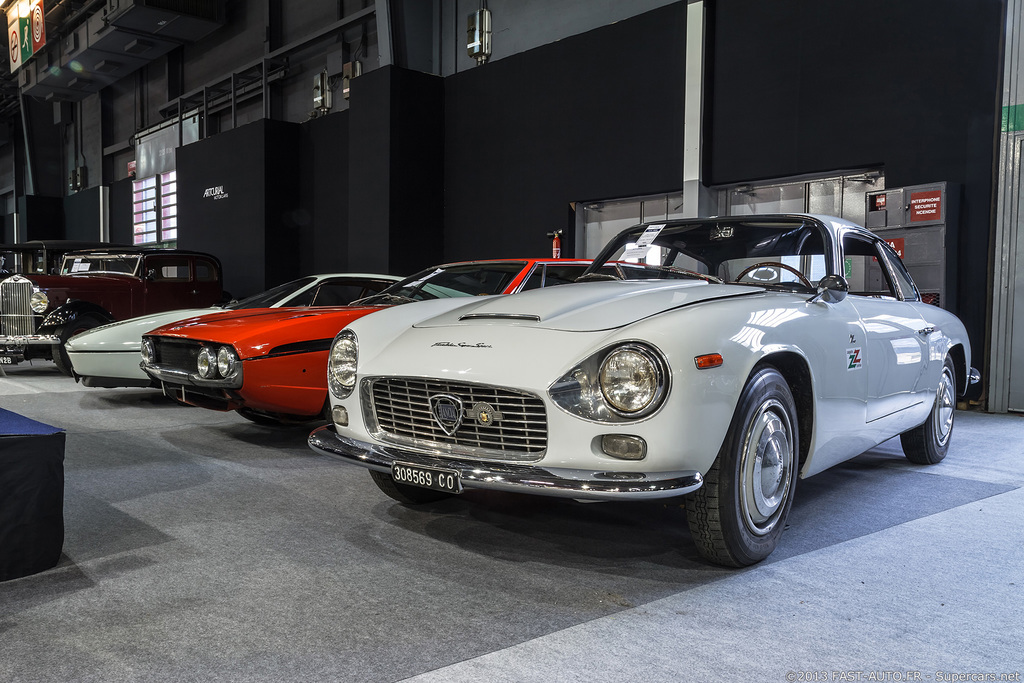 1965 Lancia Flaminia Super Sport 826232 2045 – sold for €154,877. This car is first hand: it was purchased new in Italy, and has had one owner, and it still has its original Como registration number of 308,569. Of the 150 examples made, this one's chassis number indicates that it was the 45th built. It comes in a beautiful white "Saratoga", the colour it has had since new, though the car was completely repainted in 2008.
The chrome bits were redone in 2010. It contains no trace of corrosion, no trace of any accident and floors are in perfect condition. It retains its original upholstery in Connolly leather and the interior has undergone a thorough review conducted by Milan based specialist Unokimica. The mechanicals were looked into by preparer Gabriele Terzi of Bergamo, who has mounted sharper new camshafts and a stainless steel exhaust, which should allow the engine to develop more power than the original 150bhp. The car has a new set of Michelin X tyres. All ready for a second owner of one of the finest cars from the 1960s. Auction Source: Artcurial Motorcars à 2013 Rétromobile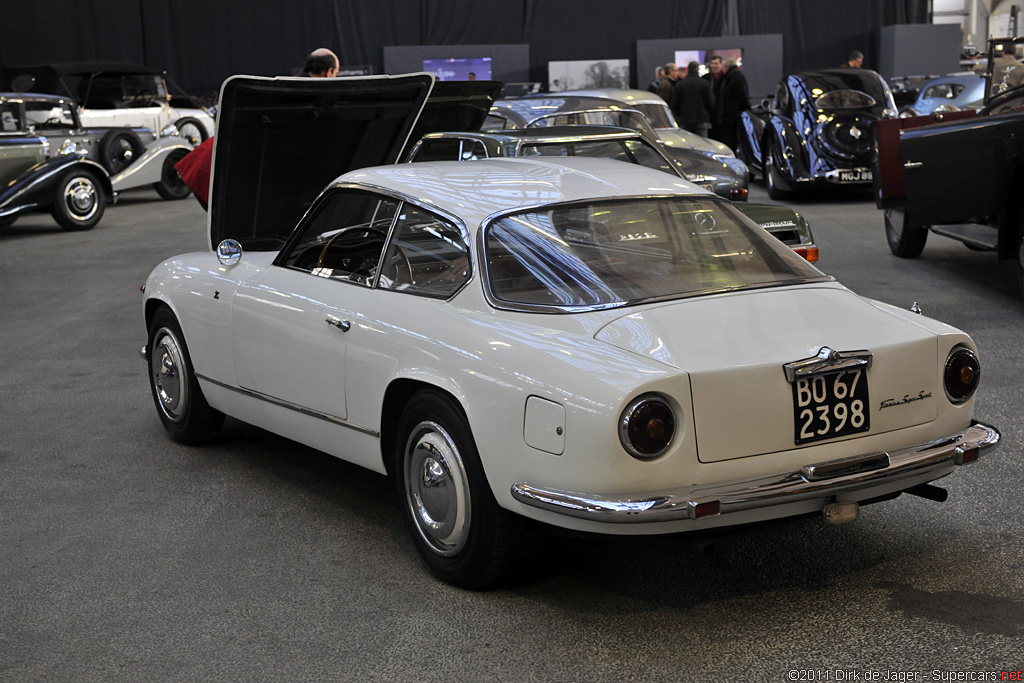 1968 Lancia Flaminia Super Sport 'Double Bubble' Coupé 2149 – sold for €149,500 ways in the hands of Italian collectors, this very original example of the last word in old-style Lancia design is one of only 150 Zagato Super Sports made. This, the penultimate car produced, is finished in white with beautifully patinated original red leather interior and is described as in generally excellent mechanical condition. Offered with old-style Italian libretto. Auction Source: The Paris Sale 2012 by Bonhams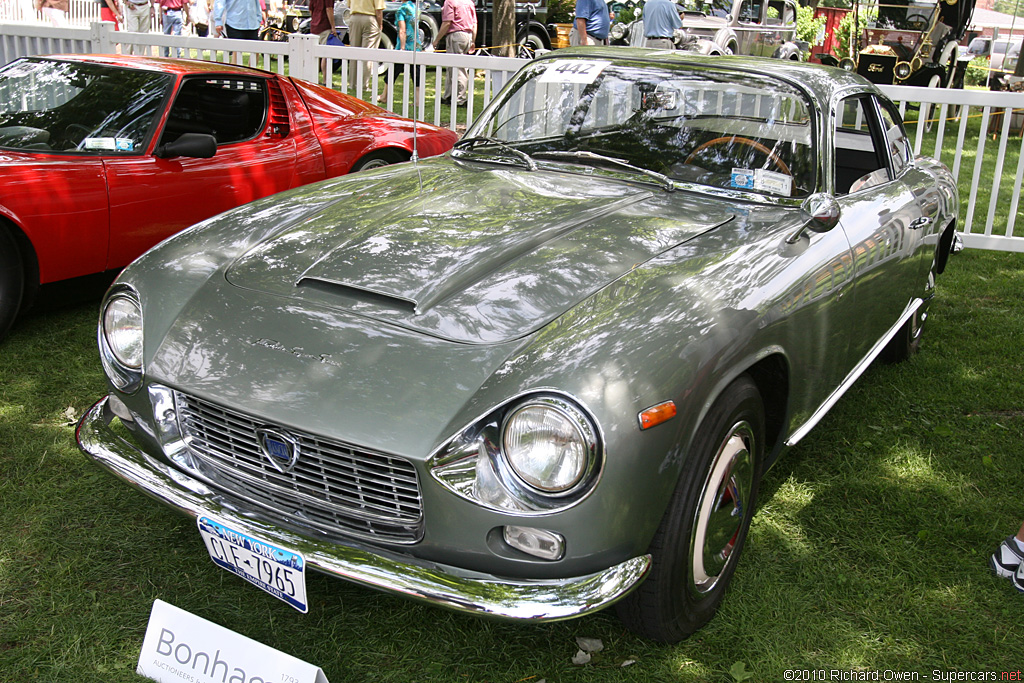 1966 Lancia Flaminia Super Sport – sold for $119,200. This example of the last word in old-style Lancia design is one of only 187 Zagato-bodied Super Sports made. One of the more recent to join the collection, it arrived in June 2003 from an Aiken, South Carolina collector and was acquired during a refurbishment of the bodywork and some mechanical aspects, with this work completed prior to delivery being taken. Sporting an odometer in miles, it is thought that the car was an original U.S. supplied car. Aesthetically the combination of light metallic green and black leather interior works well, its condition is good, but a dent on the passenger side rear quarter panel was noted. The interior is completely original, complete with all its detail trim pieces and is gently aged.
The bigger brother of the Fiat Abarth 750 SS Zagato, the Flaminia version had been coveted by the brothers for many years as they felt it was quite simply the most beautiful Lancia ever produced. It was also one of the best performers of its day and a truly sophisticated automobile, embodying the best in technology from the ever innovative Lancia engineers and the famed Zagato designers. Auction Source: 2010 Greenwich Collectors' Motorcars and Automobilia Auction by Bonhams