1964-1966 Lotus Elan S2
In November of 1964 Lotus upgraded the Elan to S2 specification that included better Girling Disc brakes and numerous body changes. It was also the car that brought Lotus back into full-scale production and so they began to offer more options.
The S2 was was also the first model available with an S/E package. The S/E was a heavier car with some interior appointments such as safety belts and deluxe carpeting. It also got a "C" camshaft that raised power to 115 hp and a dual-circuit master cylinder with vacuum assist.
The S2 introduced a full-width veneer wood dash with a lockable glove compartment. The car also got clustered rear tail lights.
For the S2, Lotus cast their own block as Ford stopped production of the Ford Cortina 116E. The new 2731E block was virtually identical, but the cylinder-head featured a new stiffening rib between spark plus #2 and #3. Detail upgrades included iron tappet sleeves, stronger 125E connecting rods and a 6-bolt flywheel.
Related: Lotus Race Car List / Lotus Current Lineup / All Lotus Models / Lotus News
Pictures
Specs & Performance
| | |
| --- | --- |
| submitted by | admin |
| type | Series Production Car |
| production years | 1964 – 1966 |
| built at | England |
| price $ | $ 4,980 |
| engine | Lotus 2731E Inline-4 |
| position | Front, Longitudinal |
| aspiration | Natural |
| ignition | Lucas 25D4 Distributor |
| block material | Cast-Iron w/Aluminum Cylinder Head |
| valvetrain | Chain Driven DOHC, 2 Valves per Cyl |
| fuel feed | 2 Weber DCOE/2 Sidedraft Carburettor |
| displacement | 1588 cc / 96.91 in³ |
| bore | 82.6 mm / 3.3 in |
| stroke | 72.8 mm / 2.9 in |
| power | 78.3 kw / 105 bhp @ 5500 rpm |
| specific output | 66.12 bhp per litre |
| bhp/weight | 148.31 bhp per tonne |
| torque | 146.4 nm / 108 ft lbs @ 4000 rpm |
| redline | 6500 |
| body / frame | Monocoque Fiberglass Body over Pressed Steel Chassis |
| driven wheels | RWD |
| wheel type | Knock-off Steel Discs |
| front tires | 5.20-13 Dunlop SP 41 |
| rear tires | 5.20-13 Dunlop SP 41 |
| front brakes | Girling Discs |
| rear brakes | Girling Discs |
| front wheels | F 33.0 x 11.4 cm / 13 x 4.5 in |
| rear wheels | R 33.0 x 11.4 cm / 13 x 4.5 in |
| steering | Triumph Rack & Pinion |
| f suspension | Wishbones w/Coil Springs, Anti-Sway Bar |
| r suspension | Half Shafts w/Lateral Link, Coil Springs, Anti-Sway Bar |
| curb weight | 708 kg / 1560 lbs |
| weight distro | 48 % / 52 % |
| wheelbase | 2133 mm / 84 in |
| front track | 1193 mm / 47 in |
| rear track | 1193 mm / 47 in |
| length | 3683 mm / 145 in |
| width | 1422 mm / 56 in |
| height | 1168 mm / 46 in |
| transmission | Ford 4-Speed Manual |
| tran clutch | 8.5-Inch Dry Plate |
| gear ratios | 2.92:1, 2.51:1, 1.64:1, 1.00:1 |
| fuel capacity | 45.42 litres or 12 gal |
Lotus Elan S2 Prices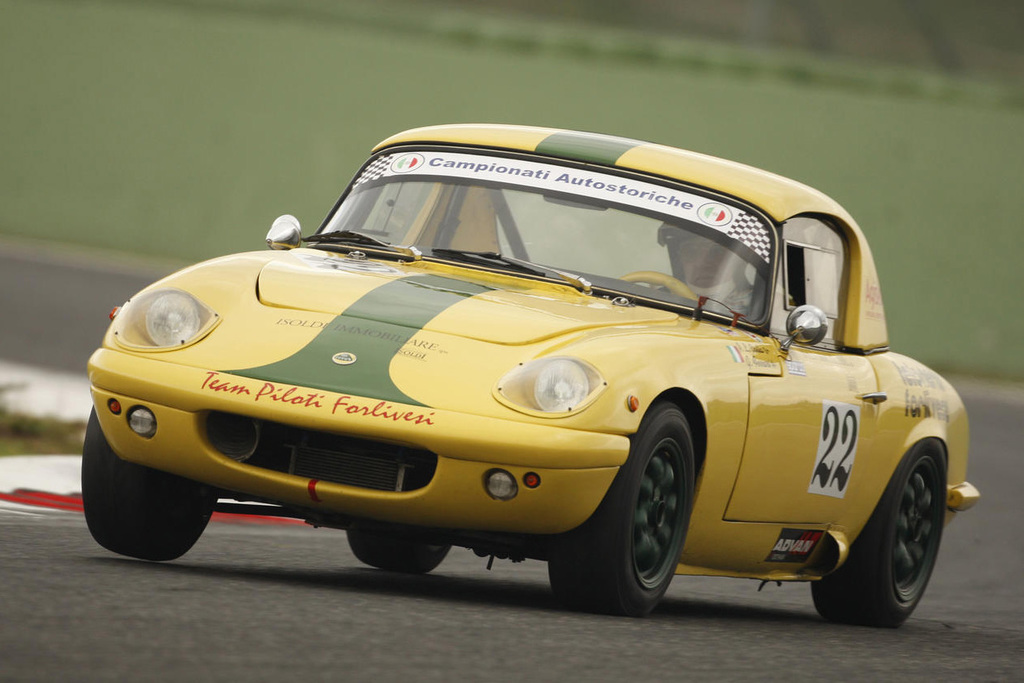 1964 Lotus Elan S2 26/3957 – sold for €41,400. A left-hand drive model, this competition-modified Elan S2 drophead coupé was restored in 2008 and has always been well maintained. Prepared by the well-known Lotus workshop of Marco Montanari in Reggio Emilia, Italy, the Elan won the Italian Historic Championship in 2010 following a class win in 2009. The car is described as ready to race, its engine producing some 183bhp, and comes with current FIA HTP documents. Auction Source: 2013 Les Grandes Marques du Monde au Grand Palais