1965 Dodge HEMI Coronet A990
While Chrysler's team of 12 altered-wheelbase Satellites and Coronets were attracting all the attention at the beginning of the 1965 season, 101 stock-appearing Dodge Hemi Coronets were taking home more than their share of the gold. The A990-designation Coronets were equipped with either an A833 Hurst-shifted four speed or a race-ready TorqueFlite automatic, and used acid-dipping ("chemical milling" was Chrysler's more interesting euphemism) to bypass the restrictions on fiberglass parts in Super Stock. The process reduced the wall thickness of the hood, doors, front bumper and fenders by over 60%.
Everything that did not contribute to a speedy trip down the quarter mile was deleted, including the heater, radio, carpets, trim panels, clothing hooks and back seat. Bucket seats from the A100 van were bolted in on lightweight aluminum frames peppered with lightening holes, and special thin glass supplied by Corning was used in the side windows. The only outward change besides the scooped hood was a one-inch shorter wheelbase.
In Detail
| | |
| --- | --- |
| type | Series Production Car |
| built at | USA |
| production | 101 |
Chassis & Sales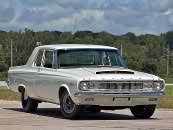 Sold as part of the Ellis Collection at Dana Mecum's 2009 Original Spring Classic Auction for $90,000 USD. Described as "The A990 Lightweight Hemi Coronet offered here is one of that elite fleet of 101 cars, as confirmed by its numbers-matching body, lightweight core support, package shelf, fender tag and record card. It retains almost all the original sheet metal, including the doors, fenders, hood, scoops and front bumper. There is further authentication in the Corning side glass and original VIN plate with the W051 model designation.
The freshly rebuilt Hemi is a standard bore 426 Race unit with all the correct factory goodies: aluminum heads, water pump housing and oil pump housing, magnesium cross-ram intake manifold, cast tubular headers and the original air cleaner and valve covers.
Finished in the correct code WW-1 White with a Beige interior, this genuine A990 Hemi Coronet is meticulously detailed and correct in every way, a true factory hot rod from a marvelous era in Super Stock drag racing.
– Nearly all original sheet metal
– Original lightweight doors, fenders, hood with original scoop and bumper
– Original code WW-1 White
– Numbers matching body, lightweight core support, package tray shelf, fender tag and the car record card.
– Original VIN plate with model designation W051
– Original Corning lightweight glass
– Freshly rebuilt standard bore 1965 Race Hemi
– Magnesium cross ram
– Aluminum factory cylinder heads, aluminum water pump housing and oil pump housing
– Original air cleaner and valve covers
– Factory cast/tubular exhaust headers
– 426 Rade Hemi with TorqueFlite
– Super stock interior with radio and heater delete
– The finest restored "as delivered" 1965 A990 known
Story by 2008 Mecum Auction Inc.