1970 Ford Mustang BOSS 302
1970 would be the Boss Mustang's second year as part of FoMoCo's lineup. Built to compete with Chevrolet's Camaro Z/28 and the Sports Car Club of America's Trans-Am racing series, the Boss 302 was Dearborn's performance machine, proving that less (cubic inches) is more.
The Boss 302 included a modified 302-cid V8 that produced 290 hp in addition to a handling suspension, F60x15 tires, and quicker steering. In order to meet the SCCA requirement for racing a production car, at least 6,500 Boss 302s had to be built. Ford cranked out 7,013 over two years, 6,319 of which were 1970 models.
According to contemporary road tests in Car & Driver, the Boss 302 completed the quarter-mile in 14.9 seconds at 93.4 mph. In Trans-Am tune, the Boss 302 would win the Manufacturer's Championship for Ford in 1970, and in production guise, it received new exterior stripes and "Grabber" colors like this example which is painted Grabber Blue.
Engines benefited from smaller valves to improve drivability while horsepower remained the same at 290.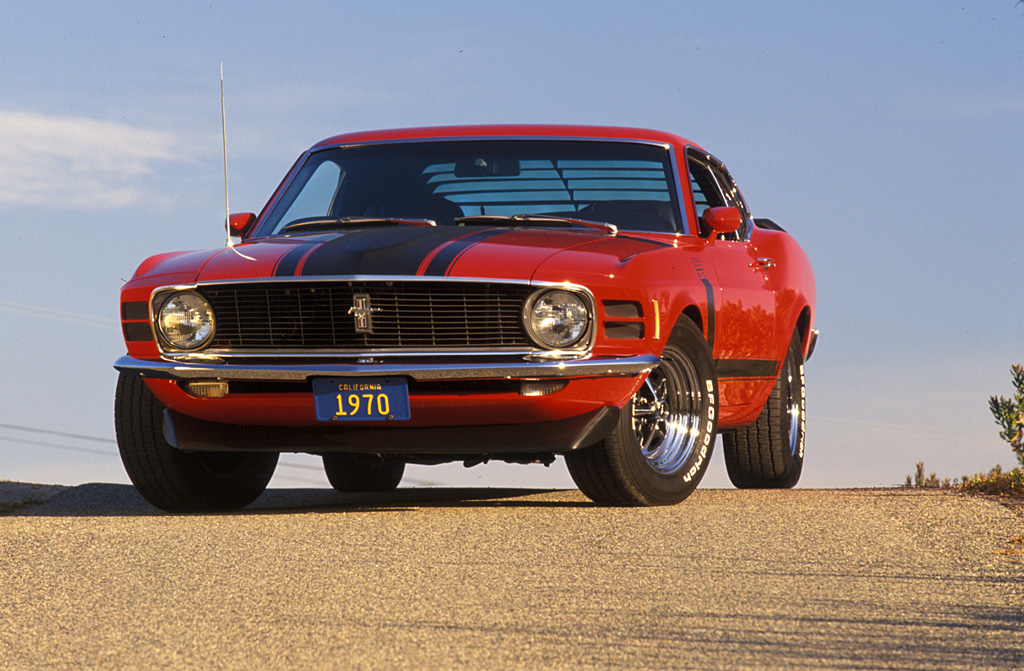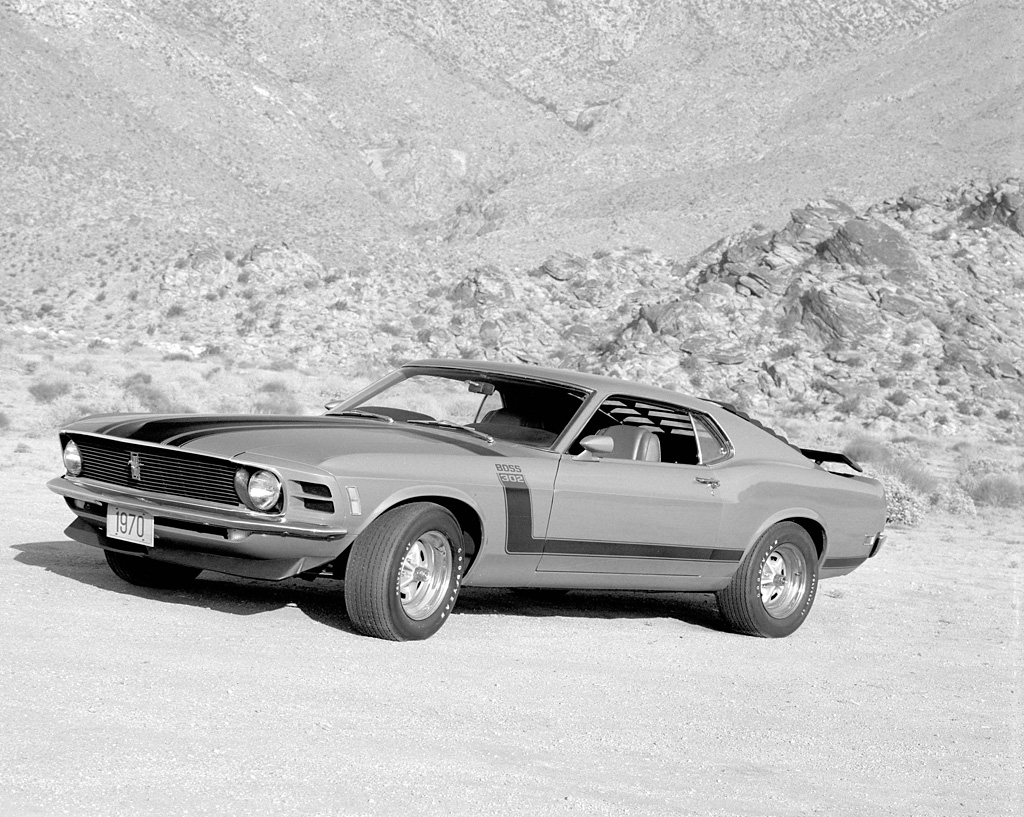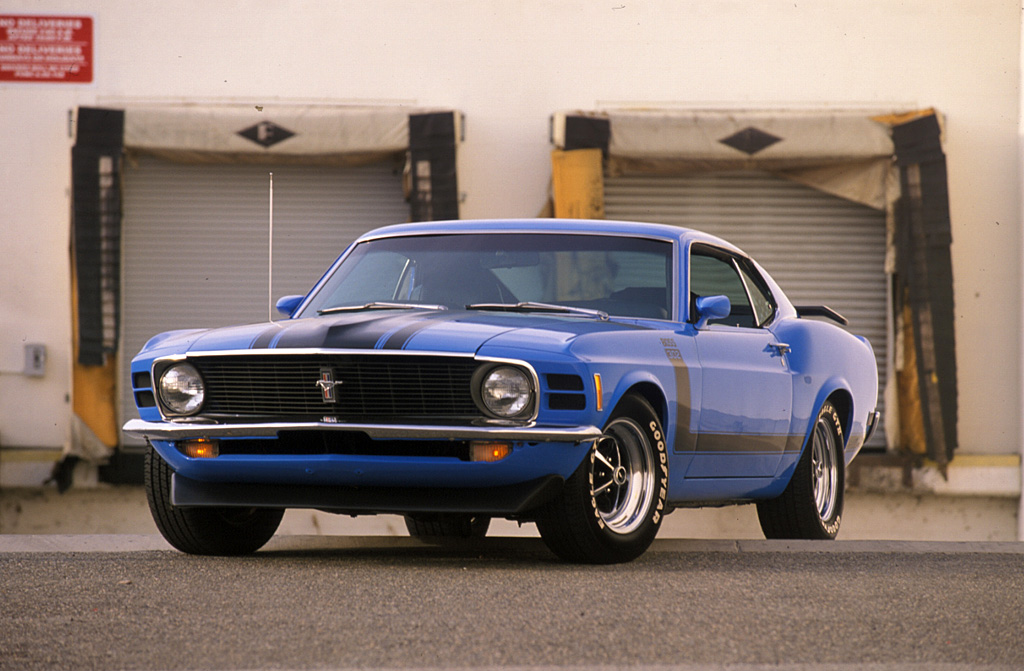 Auction Sales History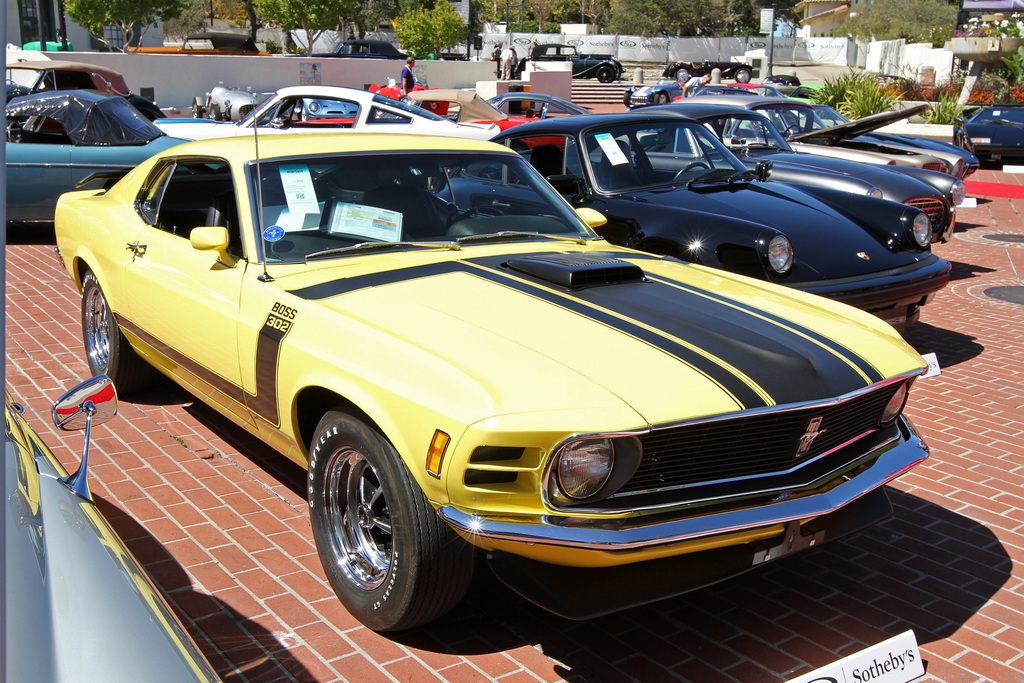 1970 Ford Mustang Boss 302 0T02G109687 – sold for $85,250 Beautiful concours restoration. Numerous desirable options; original colors. Judged at 690 of 691 possible points in Mustang Club of America competition. Documented by a Marti Report and its original dealer invoice. Auction Source: RM Sotheby's Monterey 2015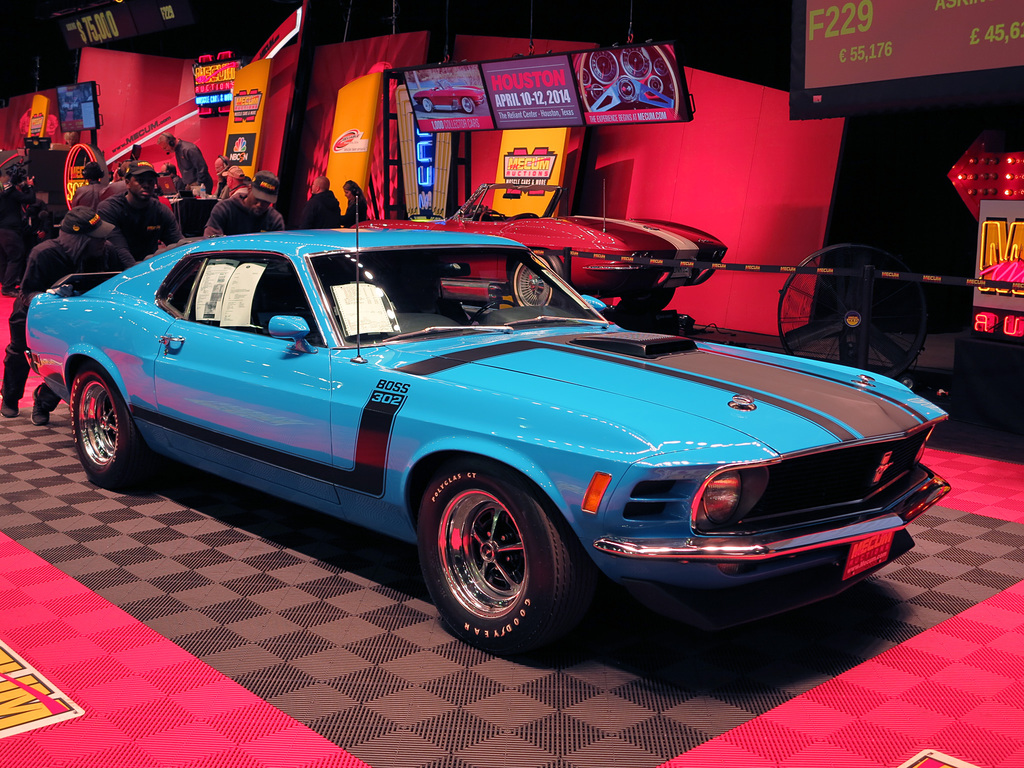 1970 Ford Mustang Boss 302 Fastback 0T02G159967 – sold for $97,000. Documented with invoice, warranty card, copy of window sticker and Marti Report. Original numbers matching 302 CI engine. 4-speed close ratio manual transmission. 3.50 standard axle ratio. Frame-up restoration. Desirable Grabber Blue with Black interior. Shaker hood scoop. Rim blow deluxe steering wheel. Tilt steering column. Electric clock, AM radio, tinted glass. Corinthian vinyl bucket seats with console. Front and rear spoilers, back window slats. Chrome Magnum 500 wheels. New Goodyear Polyglas tires. The smog system and rev limiter are still in place. Auction Source: Kissimmee 2014, #WhereTheCarsAre by Mecum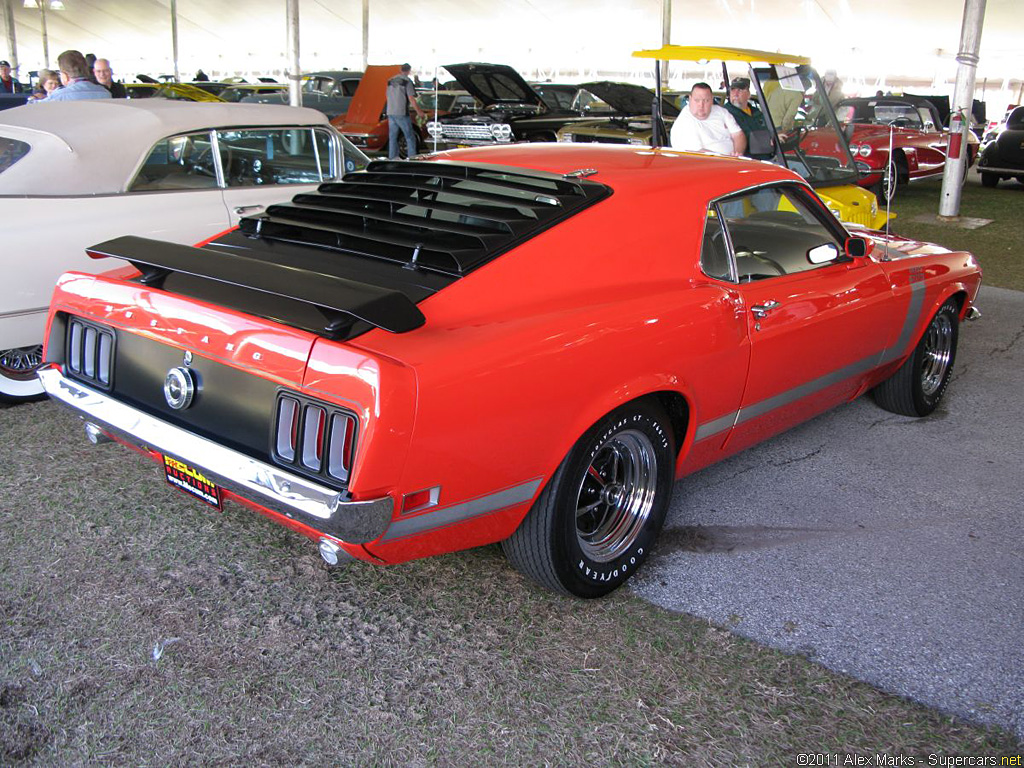 1970 Ford Mustang Boss 302 Fastback – sold for $60,000. The recipient of a recent body off frame restoration, this rare export 1970 Ford Mustang Boss 302 combines a matching numbers 302/290 HP engine with a number of rare options, all documented in its accompanying Elite Marti report. A Mustang calendar cover car, it is the only one built with its combination of Grabber Orange paint, Black interior, rear deck spoiler, 4-speed, 3.50 Traction Lok rear end, F60-15 Goodyear Polyglas tires, Shaker hood, Sport Slats, console, intermittent wipers, Magnum 500 chrome wheels, tach, and tinted glass. This is a strong running and driving, very collectible Boss Mustang. Auction Source: 2011 Mecum Kissimmee, FL Auction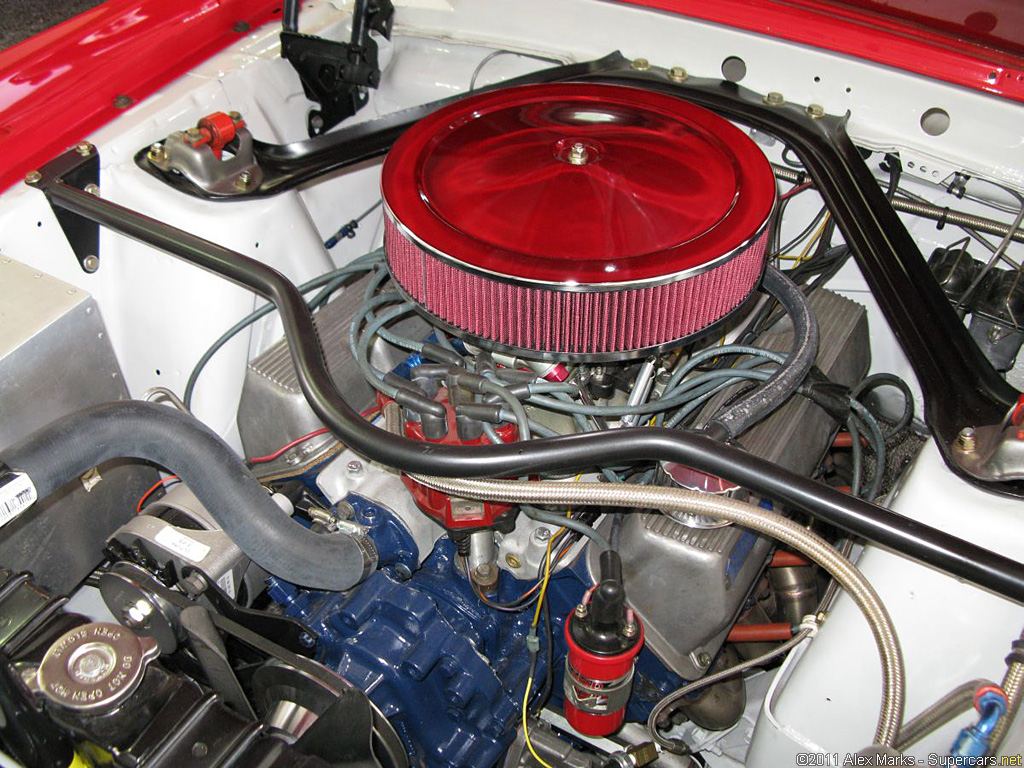 1970 Ford Mustang Boss 302 SVRA – did not sell for $56,000 History from new with photos. SVRA Medallion race car. A-sedan champion 1972. Original build sheet. Dealer invoice Marti Report. Restoration photos and receipts. Racing log books (HSR, SVRA). Boss 302 registry. Spare parts include: Boss 302 block, crank and pistons. Auction Source: 2011 Mecum Kissimmee, FL Auction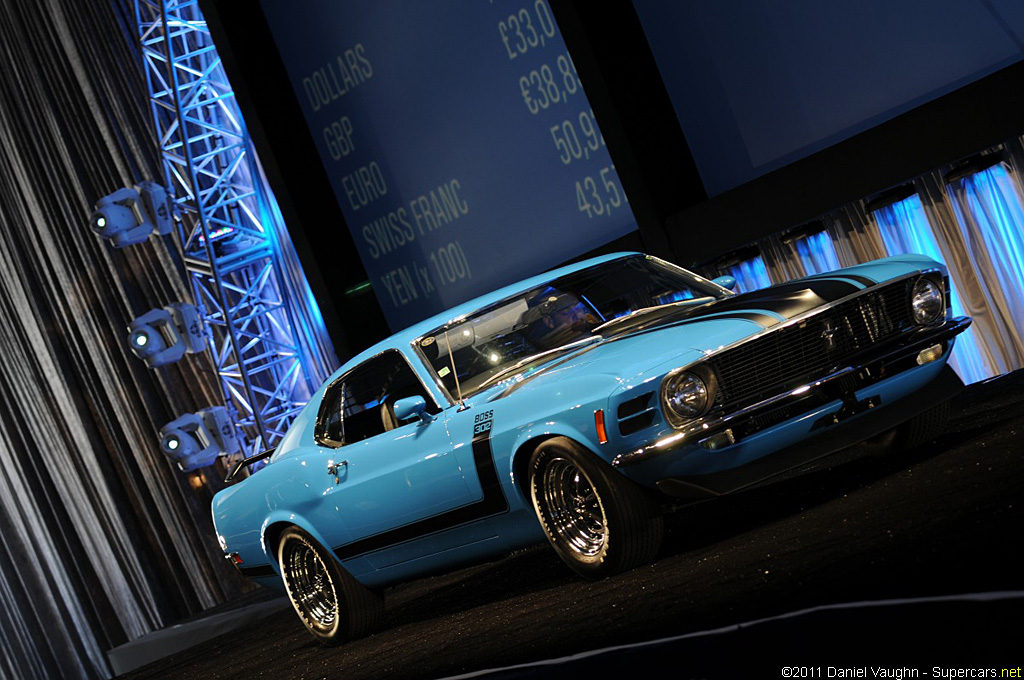 1970 Ford Mustang Boss 302 – sold for $84,700 Ford's Classic Trans Am Homologation Special. Late Production, Highly Desirable Example. Extraordinary Attention to Detail. Stunning Restoration to Original Specifications. Very Correct and Authentic Throughout. Much Documentation Included. Perfect for Show, Tours and MCA Events. Auction Source: 2011 Scottsdale Auction by Gooding & Company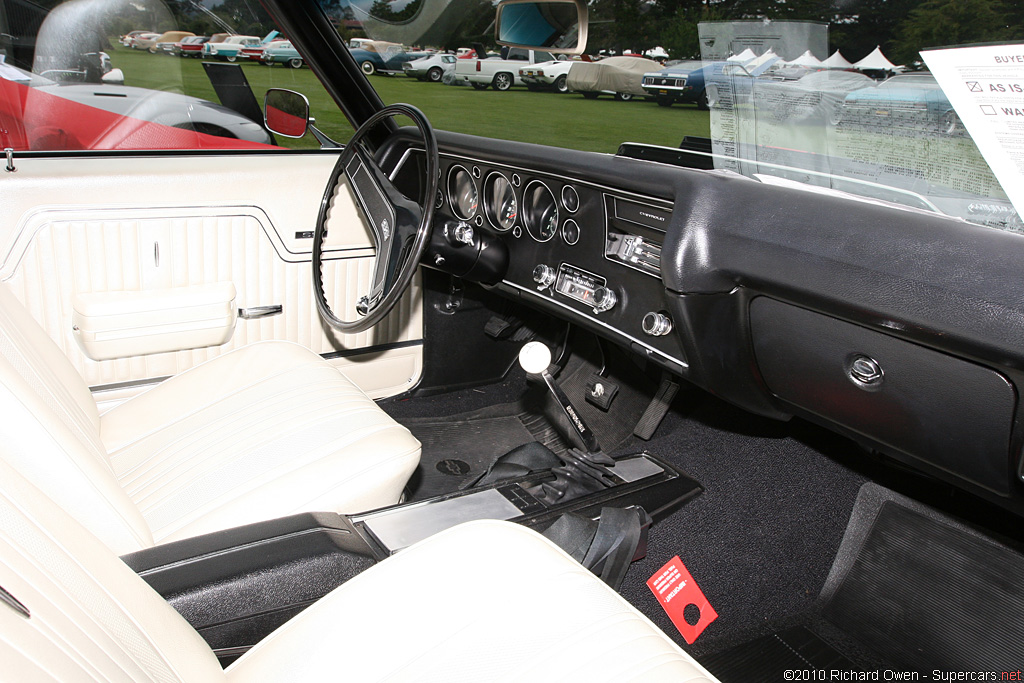 1970 Ford Mustang Boss 302 2-Door 302 CI, 4-Speed – sold for $40,500. The car that carried Ford to the Trans Am championship, the Boss 302 has achieved special status with Mustang fans. The G-code 302 in this restored 1970 Boss has all the right stuff: forged steel crank and rods, high rise aluminum intake and a Holley 780 4-barrel to feed the charge through Cleveland heads. The Boss' trademark Hurst shifter with reverse lockout operates a Top-loader 4-speed. Originally Lime Green with a Green interior, the car was changed to Grabber Green on Black during the restoration. All gauges and lights are fully functional in the excellent Black interior, which has been upgraded with the addition of a center console. The suspension and brakes were also overhauled, and the trunk includes the correct space saver spare and jack. Documentation includes a Marti Report and the original build sheet. Auction Source: 2010 Mecum at Monterey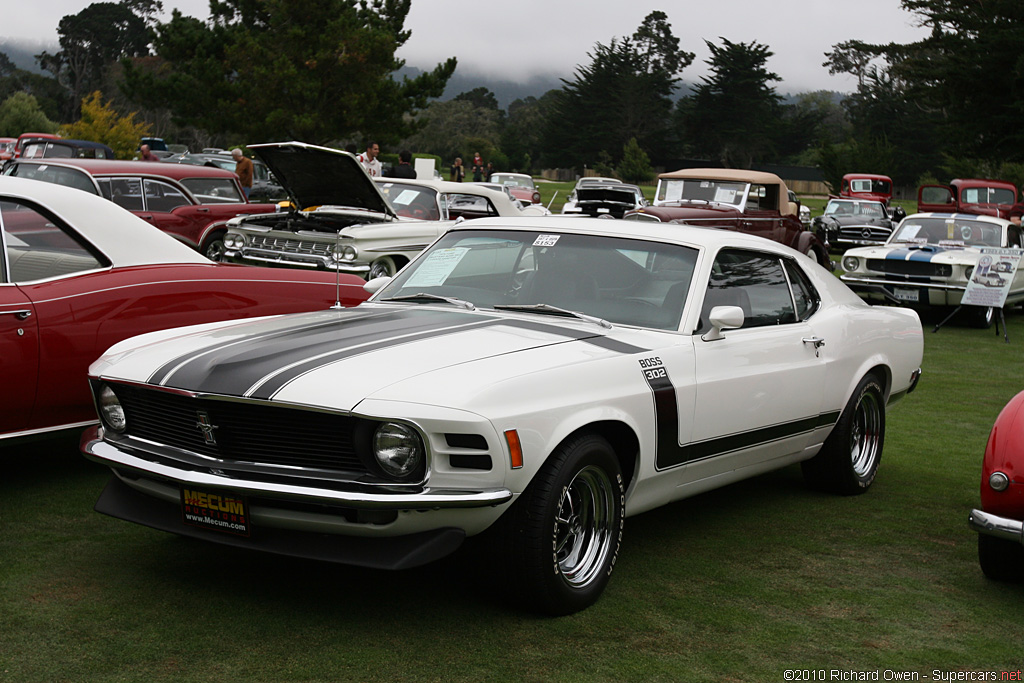 1970 Ford Mustang Boss 302 Fastback 302 CI, 4-Speed – did not sell for $60,000. The road-going counterpart of the car that took Parnelli Jones to the 1070 Trans Am championship, the Boss 302 is at the top of many a collector's wish list, especially as presented in this fully restored, matching numbers Wimbledon White beauty. Documented by an Elite Marti report as one of only two Boss 302s built with to this car's specification, it is equipped with power front disc brakes, a 3.91 Traction Lok differential and AM radio. Close inspection reveals exceptional attention to detail during the restoration, with expert finishing of all surfaces and components to factory original, right down to the correct overspray and Red oxide primer on the undercarriage. Auction Source: 2010 Mecum at Monterey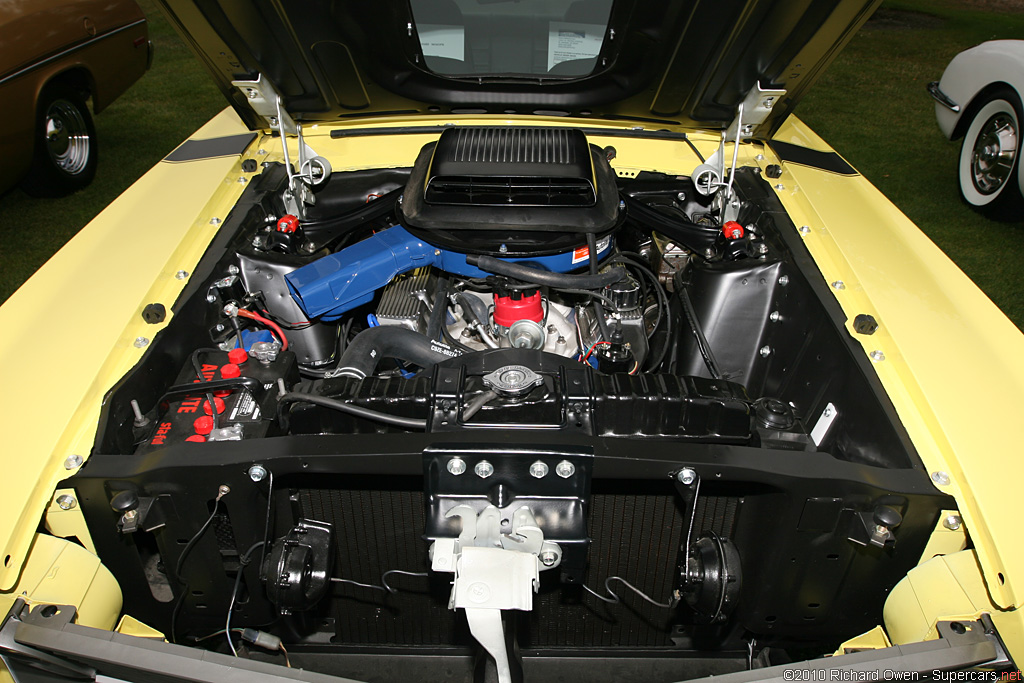 1970 Ford Mustang Boss 302 Fastback – sold for $53,000 Complete rotisserie restoration. Numbers matching. 2 owner car. 10 miles on vehicle since restoration. Factory 3.50 tracktion lok differential. Rear spoiler delete. Factory correct Zinc Oxide paint on undercarriage. All gauges and lights work Auction Source: 2010 Mecum at Monterey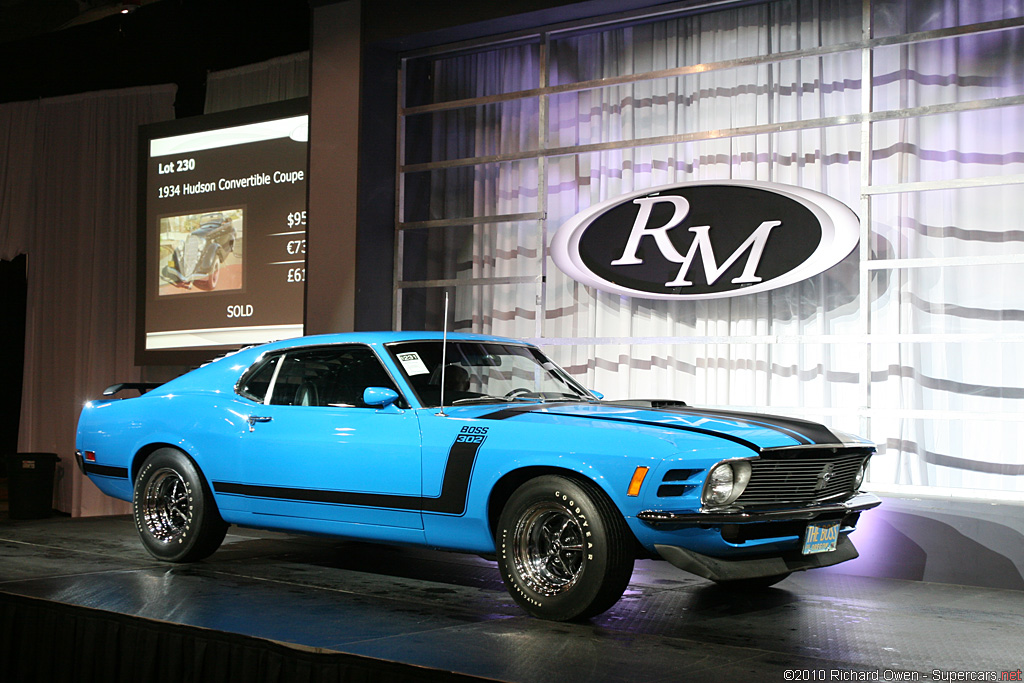 1970 Ford Mustang Boss 302 – sold for $49,500. According to its Marti Report, this Mustang was built on February 12, 1970. While the base price was $3,270, this car includes the optional "shaker" hood scoop, trademark rear window slats, rear spoiler, AM Radio with 8-track, and traction-lok differential, along with Goodyear Polyglas white letter tires on Magnum 500 wheels.
With an older rotisserie restoration, the car has good panel fit and a nicely detailed engine bay with proper wiring and hoses. An iconic 70s muscle car in a great color with great equipment offers great value and an opportunity to own an important part of Mustang history. Auction Source: 2010 Vintage Cars of Meadow Book by RM Auctions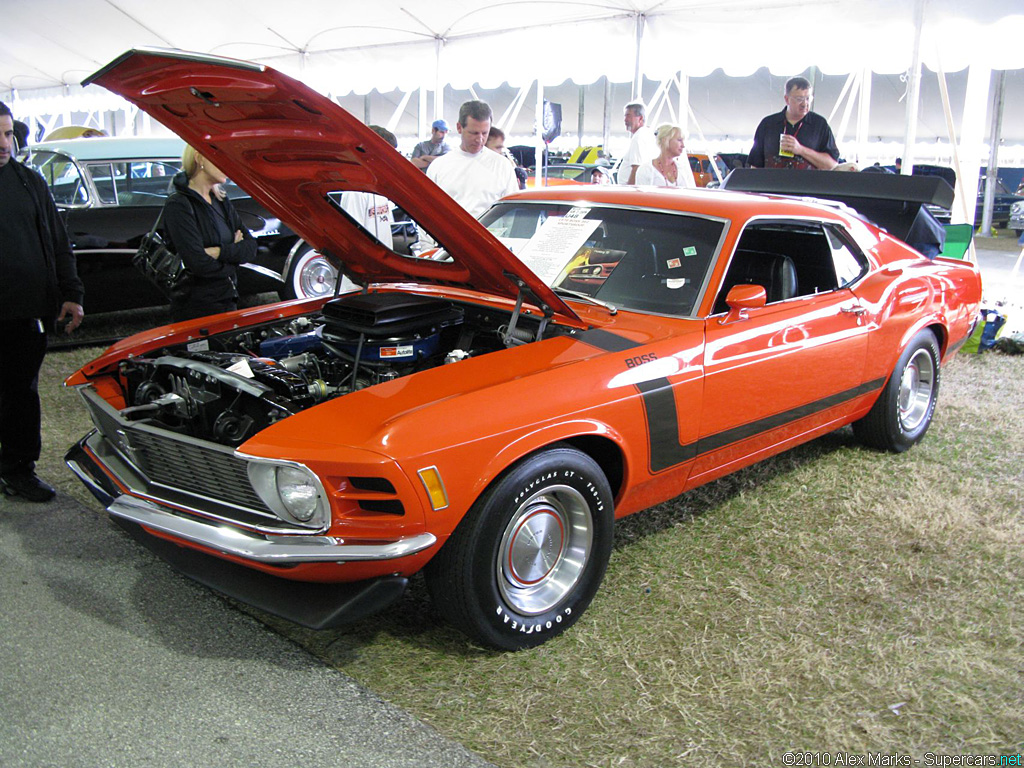 Ford Mustang Boss 302 Fastback – did not sell for $80,000. 
G code period correct. Marti Report states 1 of 1. Stock enamal Calypso Coral with Black interior. Shaker hood. Slats. Rear spoiler. Interior decor group. Corinthian vinyl bucket seats. 8-track player. Full tinted glass. Top loader wide ratio 4-speed transmission. Nodular 9″ rear end
– 3.91 lock rear.
– Quick ratio steering
– Power front disc brakes
– Space saver tire with filler bottle
– 4 year restoration
– Dearborn built
– Bought at Jerry Watson Ford, Inc., Fory Wayne, Indiana
Auction Source: 2010 Mecum Kissimmee, FL Auction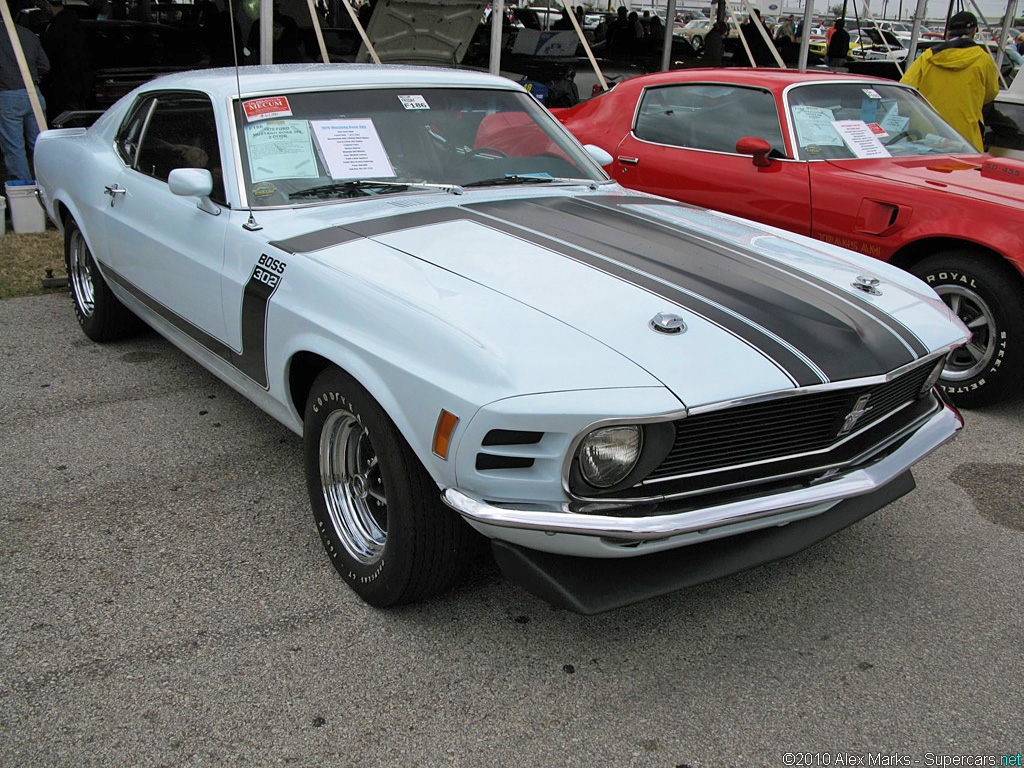 Pastel Blue 1970 Ford Mustang Boss 302 Fastback – did not sell for $61,000 Ground-up restoration on a very rare Boss 302 – Of the 7,104 Boss's built in 1970 only 51 of them were painted Pastel Blue and only a handful of those cars had the deluxe interior and Magnum 500 wheels. The restoration was done by a classic Mustang restorer. The car comes with a deluxe Marti Report verifying the car engine is a correct Boss 302 motor with the original carburetor. Auction Source: 2010 Mecum Kissimmee, FL Auction
Story by RM Auctions