1970 Ford Mustang BOSS 429
During the mid-1960s, Ford faced stiff competition from Chrysler in NASCAR competition. An all-new engine was needed, and Ford's solution was a new 429 cubic inch engine featuring deep-breathing heads, hemispherical combustion chambers and huge valves. Rather than installing the new engine into the midsize Torino, Ford dropped the new monster engine into the Mustang, creating the ultimate ponycar. The Boss 429 was underrated at 375 hp but actually developed over 500 hp, with stock examples capable of quarter-mile times under 14 seconds and mildly modified versions easily dipping into the 12s.
Production required many modifications, including cutting and relocating the shock towers to accommodate the massive powerplant, and to ease the in-house burden, Ford shipped the cars to Kar Kraft in Brighton, Michigan for completion. A simple decal on the front fenders quietly proclaimed what was under the hood, although the massive hood scoop was a dead giveaway. Other additions included a standard Toploader four-speed transmission, spoilers, chrome 15-inch Magnum 500 wheels, competition suspension, power front disc brakes, an oil cooler, a trunk-mounted battery, a 3.91:1 Traction-Lok differential and the interior decor package.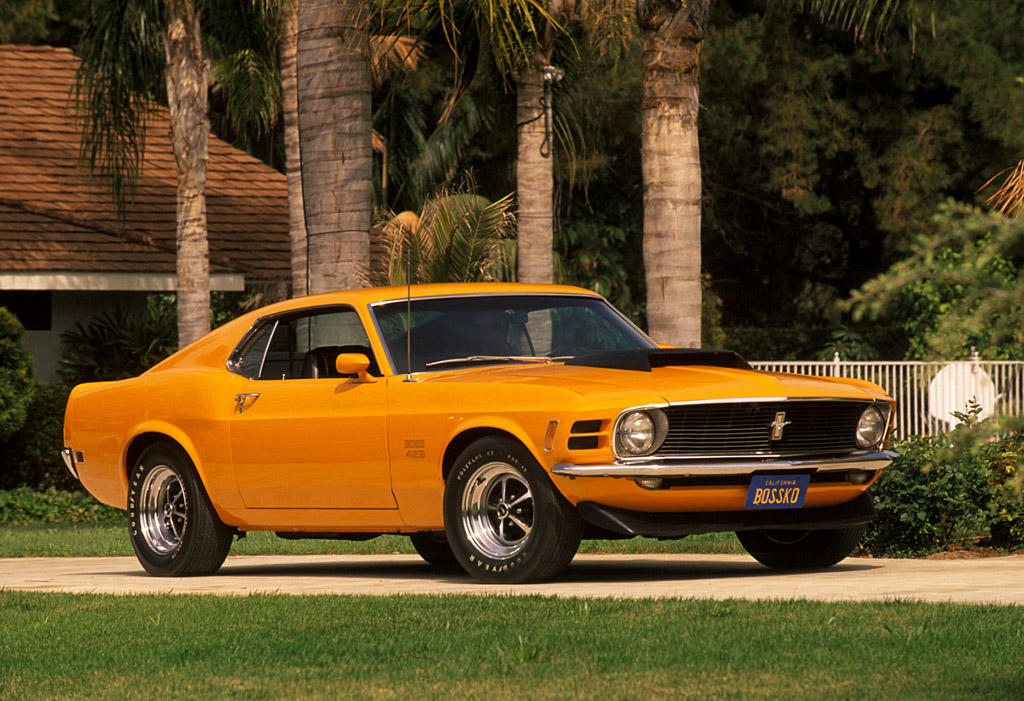 At $4,087, the Boss 429 was the priciest non-Shelby Mustang to date, with limited production of 859 units for 1969, followed by 500 more for 1970. According to its Deluxe Marti Report, this Boss 429 was assigned KK 429 Nascar production number 2309, completed two days ahead of schedule on October 29 1969 and delivered to Sud Automobile Inc., the original selling dealer in Longueil, Quebec. It is also one of just 95 built with a Grabber Green exterior and a Black Clarion knit/Corinthian vinyl interior.
Auction Sales History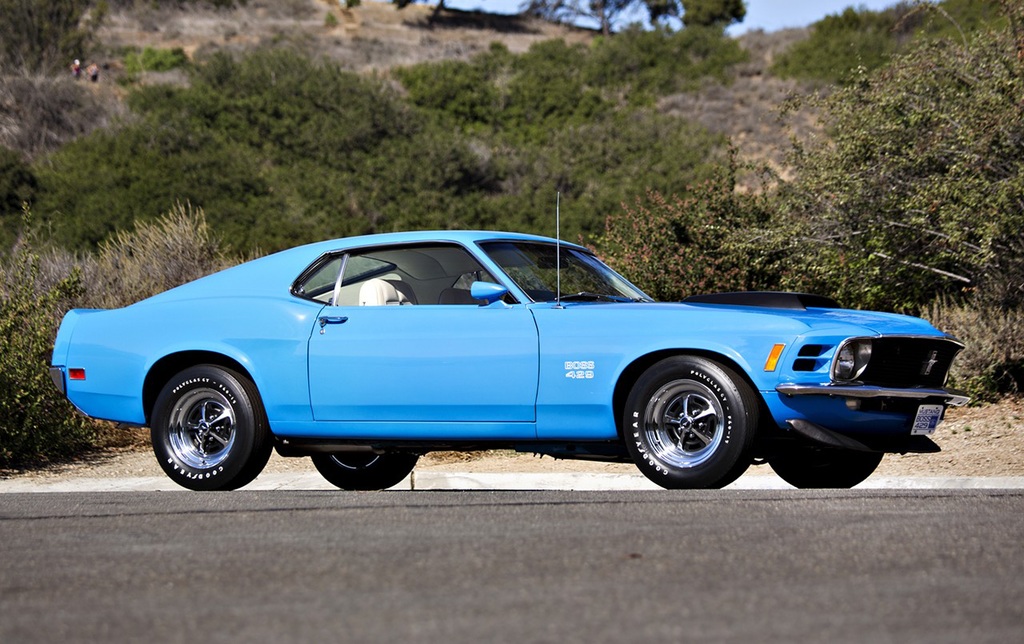 1970 Ford Mustang Boss 429 0F02Z112807 – sold for $247,500 Widely Regarded As the Ultimate Ford Muscle Car. One of 499 Examples Built for the 1970 Model Year. Faithfully Presented in Original Grabber Blue over White Livery. NASCAR Derived Big-Block Engine. Accompanied by Original Window Sticker and Marti Report. Auction Source: The Scottsdale Auctions 2015 by Gooding & Company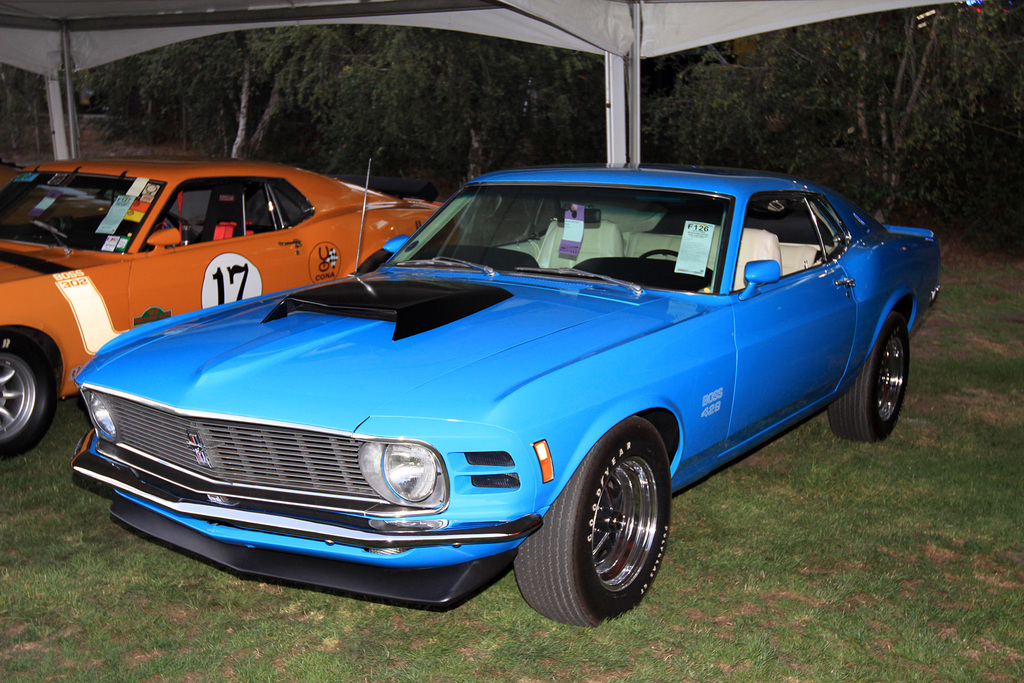 1970 Mustang Boss 429 Fastback KK #2192 – sold for $215,000 Boss 429 motor from KK #1864. 4-speed manual transmission. 3.91 Traction-Lok rear end. Rotisserie restoration in 2001. Refreshed to MCA guidelines in 2009 by Hunter Williard. Factory color combination. Grabber Blue with Black interior and White seats. Power steering and front disc brakes. Competition suspension. Auction Source: The Daytime Auction in Monterey by Mecum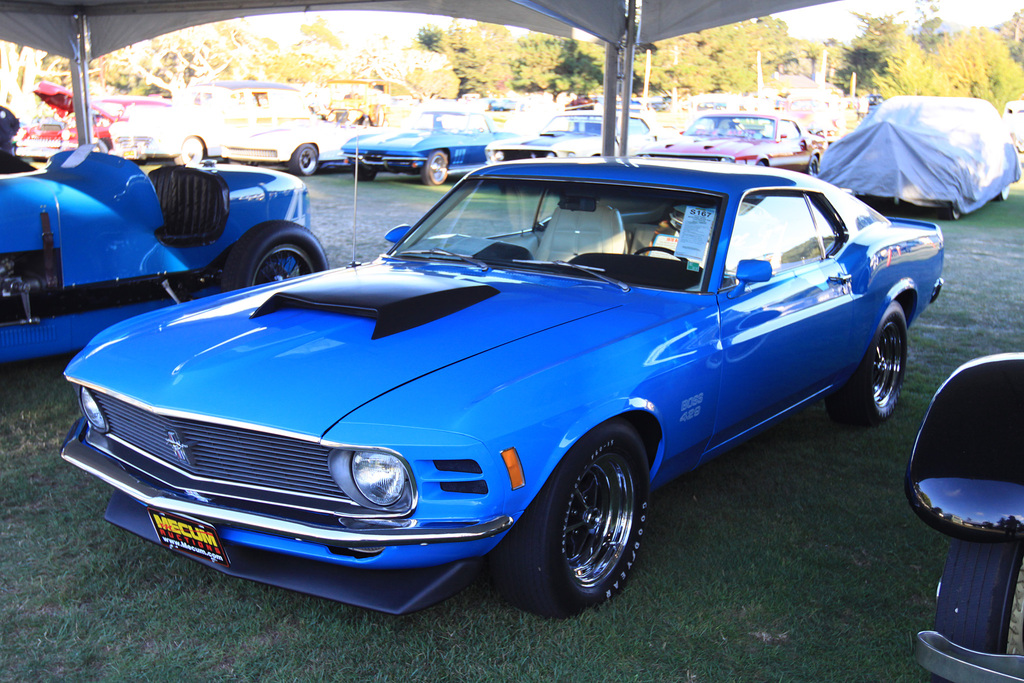 1970 Ford Mustang Boss 429 Fastback – sold for $222,500. From the McMurrey Family Collection. KK #2145, early production 1970 Boss 429. 6,000 original miles, California car until 2005. Built September 23, 1969 and sold new to Cutter Ford Sales in North Hollywood, California. Used in the Cutter Ford Racing Program then sold to Hayward Racing Club. The car was put into storage in 1976 with just 6,000 miles. Two year rotisserie restoration completed in 2005. Factory color combination, Grabber Blue with original White interior. Matching numbers 429/375 HP engine. 4-speed manual, 3.91 Traction-Lok rear axle. Drag Pack option, competition suspension. Power steering and front disc brakes. Evaporative emissions, convenience group. Functional front air spoiler, engine oil cooler. Rim Blow steering wheel, décor group, electric clock. Full Marti Report. Auction Source: The Daytime Auction in Monterey by Mecum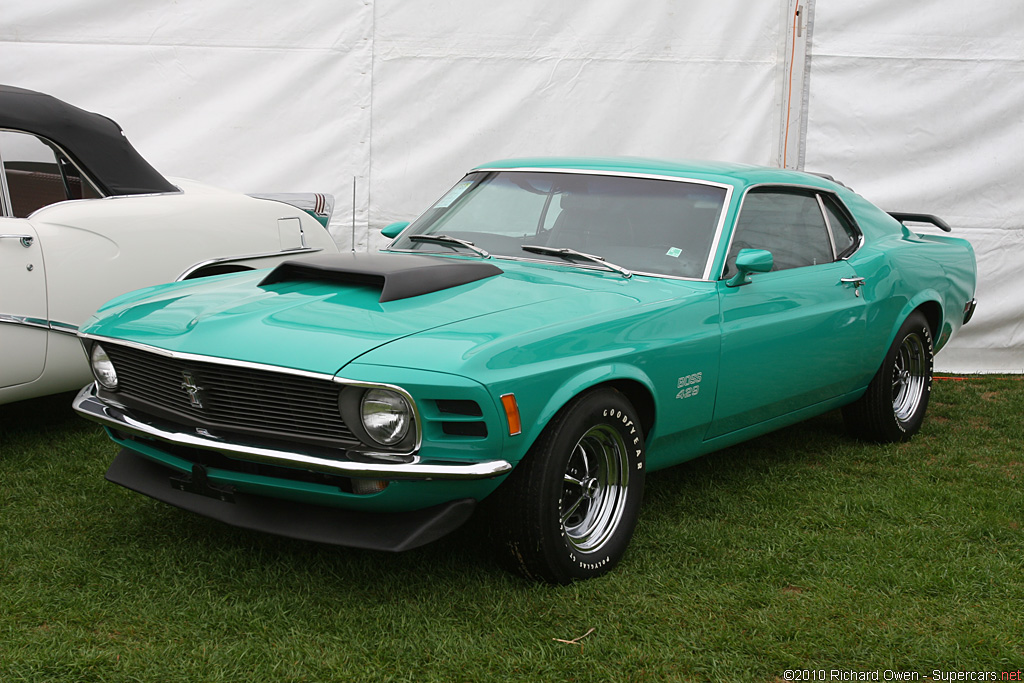 1970 Ford Mustang Boss 429 Fastback – did not sell for $154,000. As part of The O'Quinn Collection since 2007, this Boss 429 clearly continues to benefit from a complete nut and bolt restoration completed approximately five years ago with very good bodywork, panel fit, paint and brightwork still in evidence. Authentic details include factory-style chassis markings and a correct engine bay with proper decals on the firewall, along with correct wiring and a rare and complete emissions-control system. Given its rarity and racing heritage, the Boss 429 was and remains tremendously desirable today. With its high-quality restoration, unparalleled presence and high performance, this example is one of the finest available today. Auction Source: 2010 RM Automobiles of Amelia Island Auction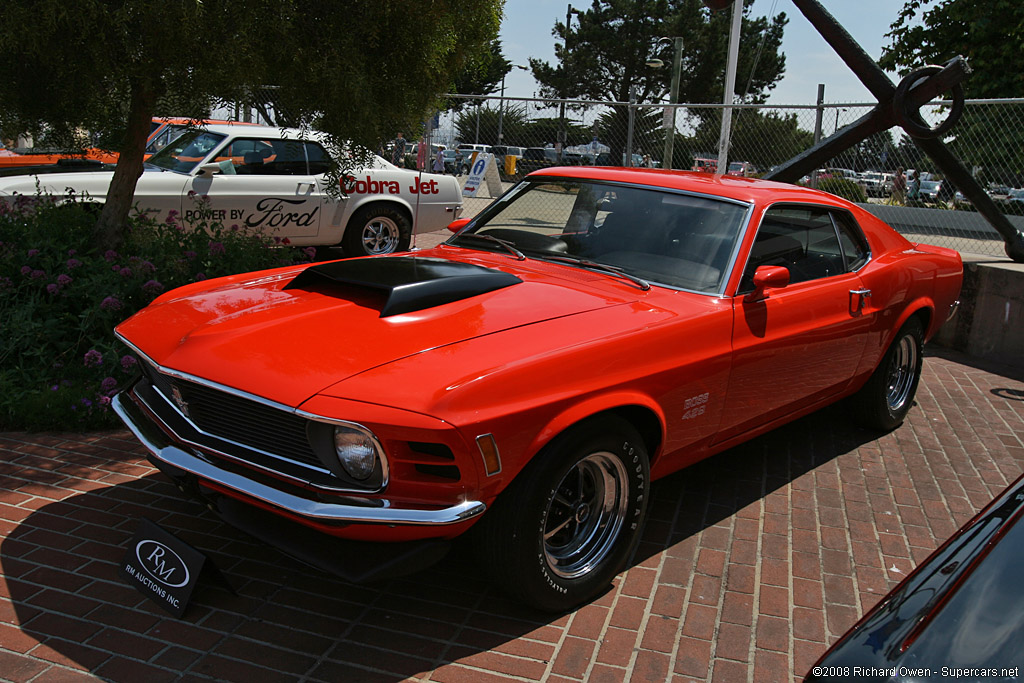 1970 Ford Mustang Boss 429 – sold for $231,000. This beautifully restored, "Calypso Coral" 1970 Ford Mustang Boss 429 Fastback is a spectacular example. Its deep red finish is highlighted by its fresh, lustrous chrome and shiny stainless. All of its complex body panels and lines flow evenly with no unsightly gaps. The chrome 15-inch Magnum 500 wheels were beautifully refinished and fitted with the correct period-style raised white letter tires and its large black hood scoop is fully functional. The engine compartment is equally well-painted and detailed to like-new or better condition. The engine was fully rebuilt before undergoing an extraordinary amount of fine detailing to a high concours judging level. Auction Source: 2008 Monterey Preview