1971 Datsun 510 Trans Am
First introduced in 1967, the Datsun 510 was designed to sell in the global market and particularly increase Nissan's sales in the American market. During development, Yutaka Katayama, President of Datsun USA, wanted the 510 to be a car with a sporty nature, not an economy box devoid of performance. He believed a more powerful, well-engineered Nissan, like the Fairlady 240Z, would improve Datsun USA's image. Nissan executives in Japan were skeptical of Katayama's plan, but in the end he motivated them to give the 510 more performance. They sold over 400, 000 cars.
The 510 was styled in-house by Teruo Uchino. His pleasing and non-aggressive design resembled the Pininfarina-bodied 410 and other Nissan products. The final styling must have appealed to the executive comity which were, at first, doubting the project.
So Yutaka Katayama got his way and the 510 was designed as a competitive car from the get-go. It's fully-independent suspension, even weight distribution and powerful engine were good enough for motor sports. As an entry level car, selling at $1996 USD, the 510 was also affordable. Katayama had to prove it on the track.
A 510 Trans Am
Some of the first 510s to see track time were managed by Pete Brock's Racing Enterprises (BRE). After helping Shelby with their Cobra Daytona, and Toyota with an SCCA racing version of the 2000GT, Brock started his own Datsun racing team. He successfully raced Datsun 2000s and sold aftermarket parts for the them. With his experience, Brock easily struck a deal with Yutaka Katayama who wanted to improve Datsun USA's image. Together they raced 240Zs in SCCA's C-Production class. Early and continued success of the BRE 240Z, motivated Katayama to put BRE's expertise into a track-ready 510.
For entry into SCCA's new Trans Am 2.5 series, BRE prepared a single car for the 1971 season. Driver John Morton, piloted BRE 510 #46 against competition including Herb Wetson's Alfa Romeo GTAs . After a very close season, Morton won his class as a newcomer. This result was attainable thanks to BRE's factory support, more than any other team in Trans Am 2.5 class. As an example, Nissan made factory competition parts available such as a close ratio 5-speed transmission and any parts that Nissan wouldn't provide were manufactured by BRE, who had being doing so for years.
By 1972, three 510s were prepared and Morton again took the 2.5 Trans Am championship. Unfortunately, after 1972, the series was canceled leaving 510s to race in SCCA's B Sedan category.
Other Racing
It is important to mention other areas of racing in which the 510 performed. Immediately after production, the 510 replaced the much larger Cedrics on the rally circuits. In 1970, Jamil Din and Maksood Minhas took third overall and first in class at the grueling East African Safari Rally. The following year Edgar Herrmann and Hans Schuller repeated the victory.
On the track, Bob Sharp Racing struck a deal with Nissan USA's East Coast head, Mr. Kawasoe, to sponsor an entrant in SCCA's B Sedan class. Sharp had much success taking the title in 1971 and 1972 while BRE worked the Trans Am circuit.
After Datsun pulled out of the SCCA series, Pete Brock disbanded BRE. In total three 'factory' BRE 510s were constructed, all have survived. The winningest car, #46, has been restored and made a debut at the 2001 Monterey Historic Races.
See full 1971 Datsun 510 Trans Am Gallery here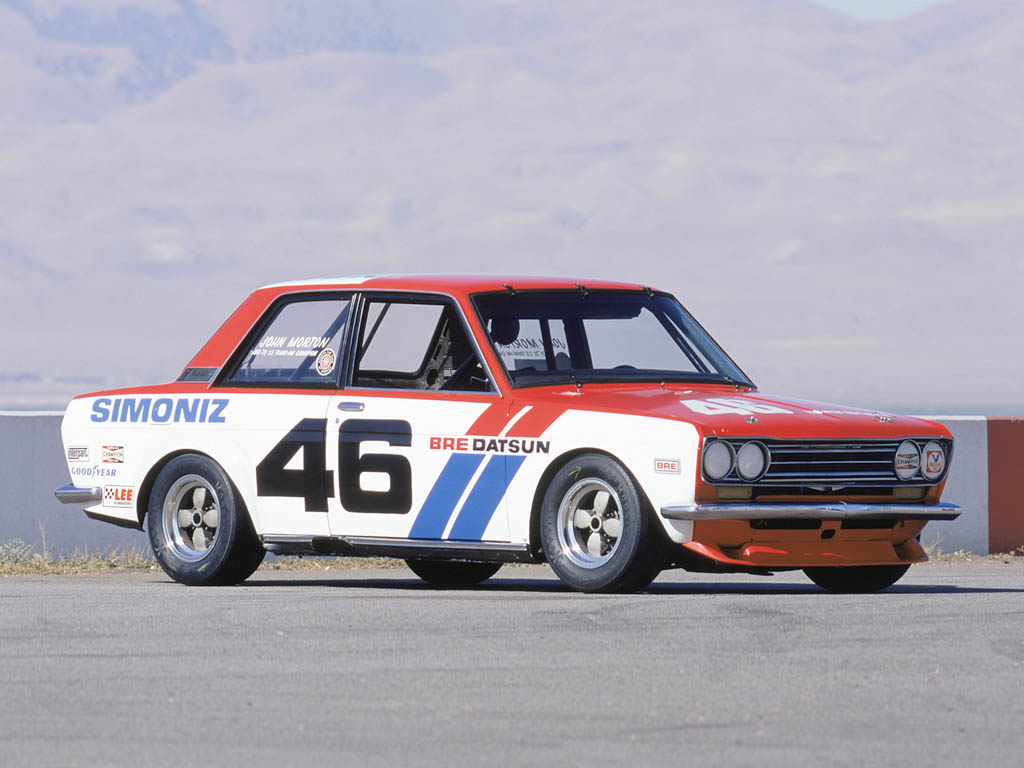 In Detail
| | |
| --- | --- |
| engine | Inline-4 w/L-Head |
| position | Front Longitunnal |
| aspiration | Natural |
| valvetrain | SOHC |
| fuel feed | Weber |
| displacement | 1800 cc / 109.8 in³ |
| compression | 9.5:1 |
| power | 111.9 kw / 150.1 bhp |
| specific output | 83.39 bhp per litre |
| body / frame | Fibreglass hood and Trunk, Steel Unibody |
| driven wheels | RWD |
| front tires | 205/60-13 DOT |
| rear tires | 185/60-13 DOT |
| front brakes | Discs |
| rear brakes | Drums |
| front wheels | F 33.0 x 14.0 cm / 13.0 x 5.5 in |
| rear wheels | R 33.0 x 14.0 cm / 13 x 5.5 in |
| f suspension | MacPherson Struts w/Coil Springs, Telescopic Shock Absorbers |
| r suspension | Semi Trailing Arms w/Coil Srpings, Telescopic Shock Absrobers |
| wheelbase | 2421 mm / 95.3 in |
| length | 4201 mm / 165.4 in |
| width | 155804 mm / 6134 in |
| height | 1420 mm / 55.9 in |
| transmission | Close Ratio 5-Speed Manual |