1971 Plymouth HEMI 'Cuda Convertible
With only 11 documented exmaples, the HEMI 'Cuda convertible is the most sought after muscle car. RM Auctions established a record for the model when it sold BS27R1B269588 for $2,420,000.
The "Mountain Mopar" Hemi 'Cuda Convertible
Built in February of 1971, this Plymouth Hemi 'Cuda convertible's first owner, Ronald Ambach, lived in St. Louis, Missouri. He owned it only until the fall, accumulating the car's only street miles, before selling it to its next owner, Nick Masciarelli, in Ohio. He decided to take the Hemi 'Cuda Stock Eliminator drag racing and turned to renowned Detroit-area engine builder Tom Tignanelli for a hot Hemi V8. The new owner was in a hurry, and the quickest way to meet his request was to swap the original engine for a fresh race-prepared Tignanelli Hemi.
In May of 1973, the Hemi 'Cuda convertible was sold to John Book and partner John Oliverio in West Virginia who raced it in East Coast and Mid-Atlantic events during 1973 and 1974. Its dramatic appearance, complete with gold-leaf "Mountain Mopar" identification, is documented in several period photos in the car's documentation file.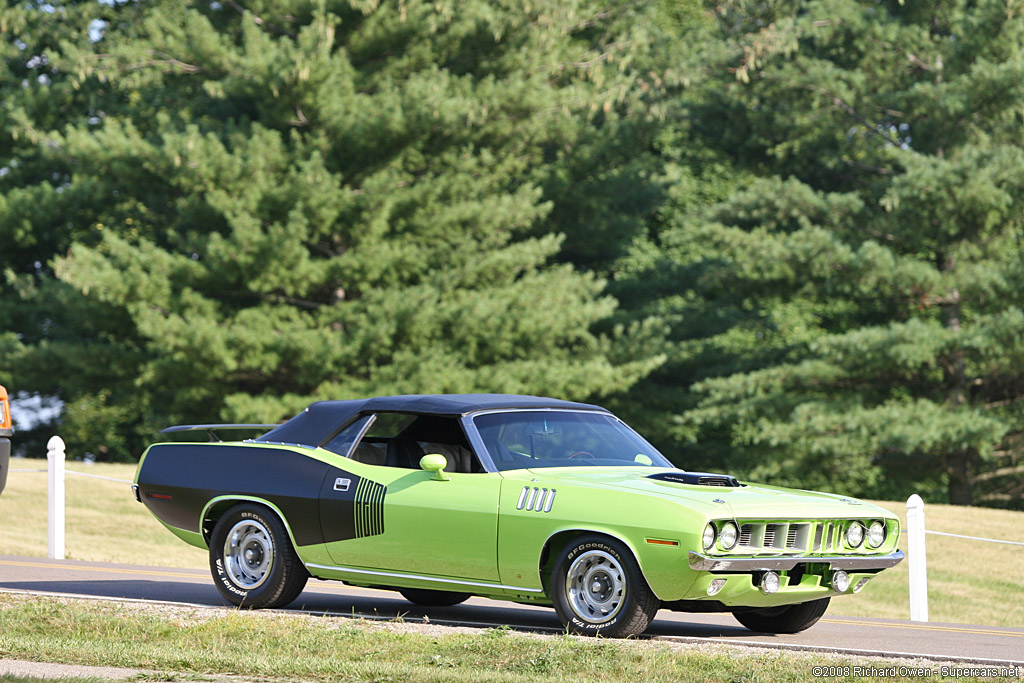 Fortunately for today's collectors, the "Mountain Mopar" Hemi 'Cuda convertible was retired after 1974 and stored in a climate-controlled building in West Virginia. In 1989 it was sold to the Painter brothers. Two years later it was acquired by Milt Robson in Atlanta, Georgia, still in its as-raced condition. Robson commenced a comprehensive restoration using original or new-old-stock parts to its original, as-delivered condition in his shops, which was completed in the early 90's. Stored inside for virtually its entire life, 269588 was never subjected to the vicissitudes of the elements which afflicted most of its siblings; its original sheet metal and interior are carefully restored and retained. The engine was rebuilt around a correct 1/19/1970 date-coded Chrysler NOS block.
In addition to the 426/425 horsepower dual quad Street Hemi and pistol grip Hurst shifted four-speed manual transmission, this unique 1971 Hemi 'Cuda convertible is equipped with power steering, power brakes, Dana Super Track Pack and AM-FM radio. Importantly, it is the only '71 Hemi 'Cuda convertible known to have been delivered with the body-colored Elastomeric front bumper cover. Its original configuration is verified by two separate original build sheets; the ownership history is documented with a continuous sequence of titles. It has been personally viewed by Galen Govier and authenticated by him as one of the seven US-delivered '71 Hemi 'Cuda convertibles which have been included in the Chrysler Registry.
Finished in B5 Blue inside and out with a white vinyl top, it has been restored to better than showroom condition. Particular attention has been paid to the accuracy of its components and finishes and to the preservation of as much as possible of its almost unbelievable originality, including the carefully preserved original interior.
It has been shown only in local shows around Atlanta in the mid 90s, was featured a decade ago in a May 1995 Car Collector magazine article by Dennis Adler and has appeared in several books, copies of which come with the car.
Putting a free-breathing, high-rpm engine like the 426 Hemi in a lithe, frisky chassis like the 'Cuda was exactly what the forces of political correctness inveighed against in the early 70s. In 1972 the Hemi was gone for the second time, its visceral appeal buried in a cascade of social responsibility, "net" horsepower and Highway Fuel Economy ratings. There is nothing politically correct, nothing socially responsible about a Hemi 'Cuda. The 1971 Plymouth Hemi 'Cuda convertible is wretched excess in a nearly unimaginably limited production package.
This is absolutely the most desirable, rare and handsome of all the American Muscle and Pony Cars. Combining the brute power and torque of the legendary dual quad Street Hemi engine with the sleek, aggressive lines of the 'Cuda convertible, it is the ultimate combination of personal car style and Muscle Car performance, a singular example and the quintessential muscle car of all time.
Story by Supecars.net/RM Auctions
In Detail
| | |
| --- | --- |
| | |
| type | Series Production Car |
| built at | USA |