1973 Porsche 911 Turbo Prototype
In the seventies Porsche was serious about turbocharging and this prototype signaled the way for later cars like the 930 and the RSR 3.0. It was also the one of the very first show cars fitted with the wide body, large alloy wheels, whale tail and a turbocharged version of the flat-6 engine. All these details eventually appeared on the 911 RSR 3.0-liter race car of 1974.
At the time, Porsche was no stranger to forced induction. Their 917/10 and 917/30 racecars achieved incredible amounts of horsepower, reaching 1100 bhp and beyond, with exhaust-driven turbochargers. By January of 1973 they had experimented with a turbocharged version of the 2.7-litre engine.1 To signal their upcoming intentions, Chief Engineer Helmuth Bott created the new Turbo at Style Porsche.
The show car was built from a standard 911S (VIN 9113300157) fixed with a radical body kit that mimicked the upcoming RSR 3.0-liter race car. This was purely functional since the flares wrapped around much larger 11 inch Fuchs alloy wheels and other details like the front apron included an opening for the oil cooler. At the rear was Porsche's first whale tail that improved cooling and aerodynamics. It also was fitted with a very rare badge on the engine cover from Style Porsche. To promote the upcoming turbo era, large graphics spelled out the cars intended purpose. The interior also had a unique Green/Black tartan trim and one-of paddle head-rest sports seats.
Ironically, when the car debuted as the new Turbo at the 1973 Paris Motor Show, it didn't even have a functioning turbocharged engine. Instead, a wooden mock-up was used until much later in the cars life. Probably without opening the engine bay, the car was subsequently displayed at the 1974 Geneva, Frankfurt, Tokyo and Melbourne motor shows.
During the world tour Porsche took orders for the full-blown RSR 3.0 racecar, but they didn't scrap their prototype. Instead, it was fitted with a real RSR 3.0-liter engine and sold to Alan Hamilton, the Australian Porsche importer in 1975. He raced it twice in 'jag' livery and subsequently kept it in largely original condition.
By 2010, the prototype had reached the United States for owner Murray Smith of Washington, Connecticut. It was subsequently displayed at the 2010 Greenwich Concours d'Elegance. Before the show, it was offered for sale with with 75,000 miles on the odometer.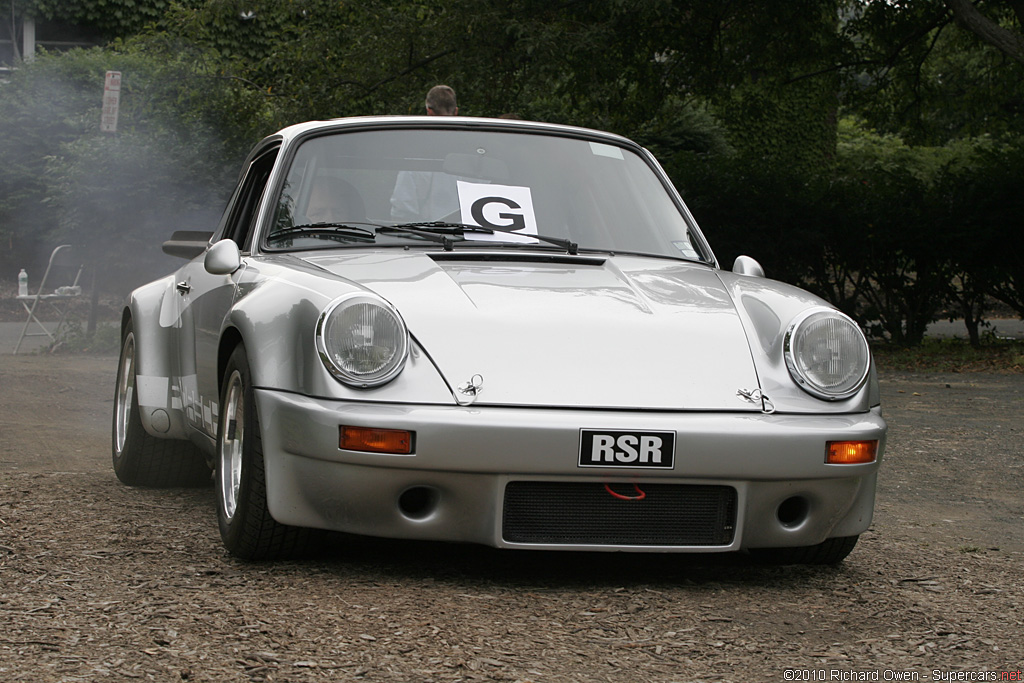 Sources & Further Reading
1.Starkey, John.From R to GT3R. Gryfon Publishers: 2003.
In Detail
| | |
| --- | --- |
| | |
| submitted by | anonymous |
| type | Concept / Prototype Car |
| released at | 1973 Paris Motor Show |
| built at | Germany |
| production | 1 |
| engine | Flat-6 |
| position | Rear, Longitudinal |
| aspiration | Turbocharged |
| valvetrain | SOHC, 2 Valves per Cyl |
| fuel feed | Bosch Mechincal Fuel Injection |
| displacement | 2993 cc / 182.64 in³ |
| bore | 95 mm / 3.7 in |
| stroke | 70.4 mm / 2.8 in |
| compression | 10.5:1 |
| body / frame | Unitary Steel Monocoque |
| driven wheels | RWD |
| front brakes | Ventilated Discs |
| rear brakes | Ventilated Discs |
| steering | Rack & Pinion |
| f suspension | McPherson Struts w/Torsion bars, Bilstein Shock Absorbers |
| r suspension | Trailing arms w/Transverse torsion bars, Bilstein Shock Absorbers |
| curb weight | 900 kg / 1985 lbs |
| transmission | 5-Speed Manual |