1977 Kremer K3
In 1977 Kremer sufficiently improved the 935 to begin series production of their own version. It was the third Kremer built on Porsche's successful platform and many 935/934s were updated to reflect ideas from the brothers in Cologne.
"Once the car was finished, we took it on the autobahn at night for a road test!" That's how Kremer racing manager Achim Stroth tested the car.1
Erwin and Manfred Kremer were well versed in upgrading Porsches and running against factory-built cars. They started racing since the inception of the 911 and made their own versions of a RSR from a bodyshell. The K3 version of their 935 was a great success and won the 1979 24 Hours of Le Mans, 1980 Sebring 12 Hours outright.
There's no doubt Kremer was influenced by the 1977 works factory cars and included some of the new features on the K3. These included the reshaped rear profile which used a second window and running boards which better controlled air underneath the car. Unlike Porsche's fibreglass, Kremer opted for Carbon-Fiber/Kevlar composite. These were made by Design Plastics.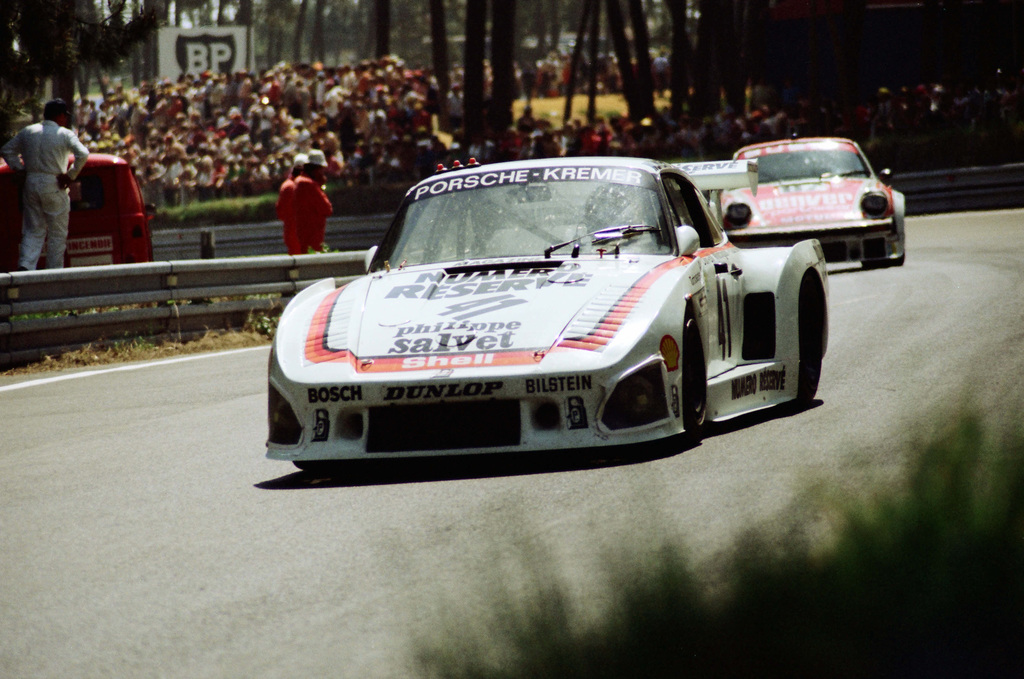 Kremer redesigned the engine cooling system that removed the water-to-air inter-cooling system with and air-to-air unit. Kremer racing manager Achim Stroth recalled "the secret of the K3 was the air-to-air intercooler and the ducting to the engine bay that the bodywork allowed. At the start of the races, the George Loos cars were as quick as our K3 but after a few laps, their engines ran hotter and the power fell off whilst ours kept on producing as much power."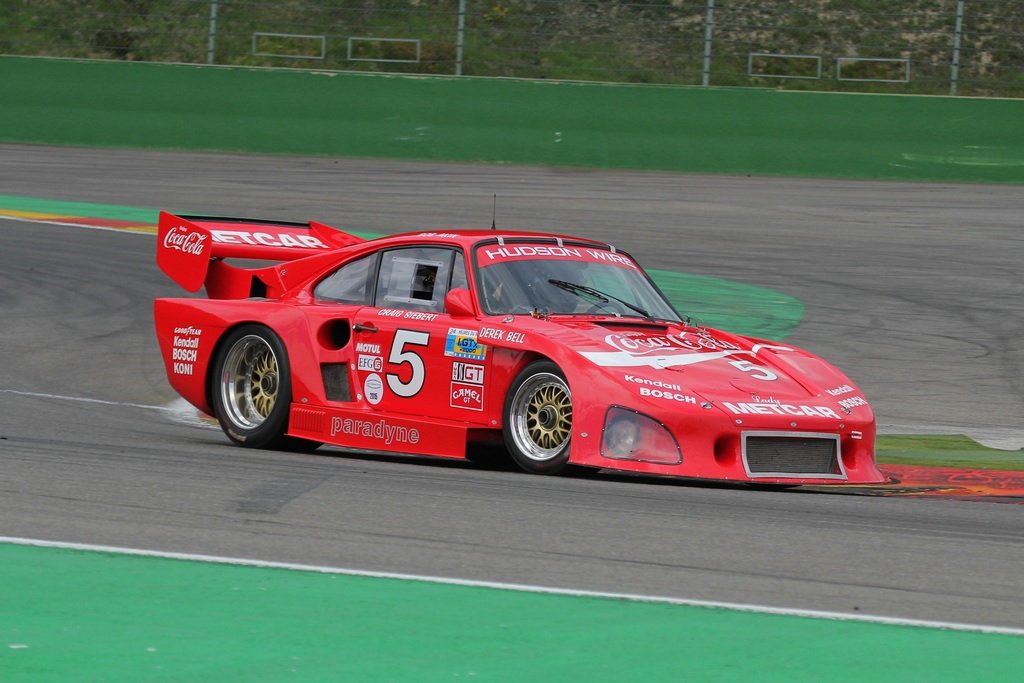 The engine itself was highly developed. Bored and stroked to 3163cc, 800 bhp was possible at 1.7-bar boosts while the reliable 1.4 bar ran 740 bhp all day long.
Achim also mentioned they "Lowered the car four centimeters by turning the gearbox upside-down…By moving the gearbox, we also made it possible to change the gears without taking out the engine. The factory was supplying new brakes but we chose ones that were 40% wider, so we would not have to change them in a 1,000 kilometer race."
Klaus Ludwig had a great time with his K3 in the German Nation Championship. He won 11 of 12 races. Many famous teams fielded these cars including Dick Barbour, Gelo Team, ASA Cachia, Sekurit Racing.
In total Kremer sold 13 turn-key cars and offered a kit to upgrade a factory-customer 935 to K3 specification.
Videos
1977 Kremer K3 Image Gallery
Auction Sales History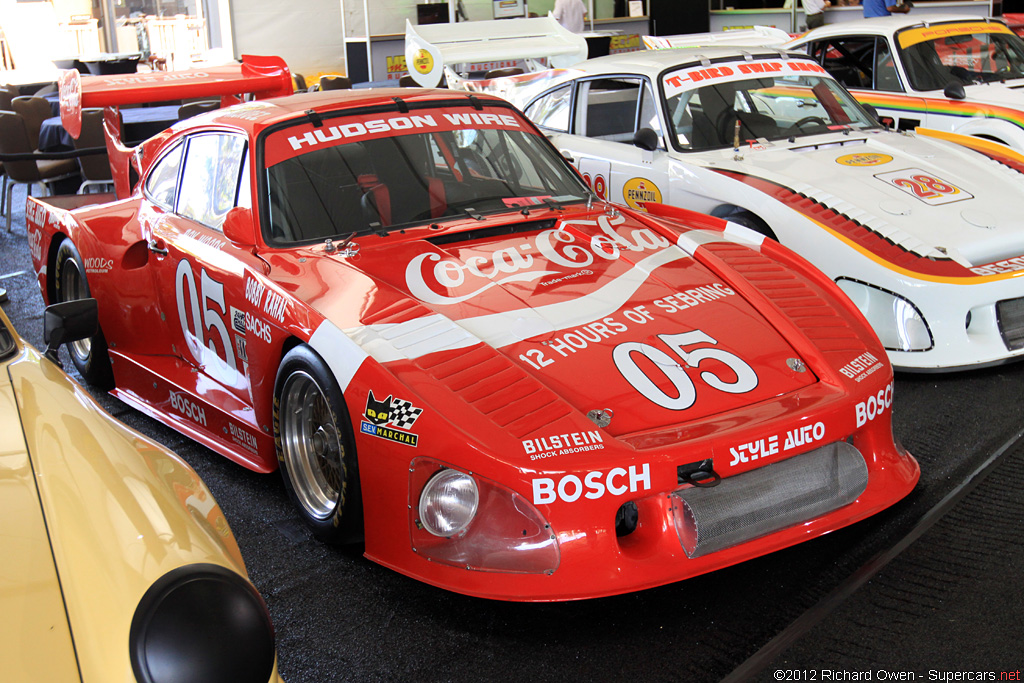 1977 Porsche 935 Factory Built Customer Car 930 770 0911 – did not sell for $700,000 From the Steve Goldin Collection. 1 of 13 factory built cars in 1977 for Porsche racing customers. Bob Akin Racing/Chares Mendez Racing Coca-Cola sponsored 935. The original owner was Georg Loos, team owner of the famed GELO Racing "white door" Porsches. Unique 935 factory built car carrying both factory chassis no. and Kremer chassis no. 009 0005. Converted for the 1980 season by the Kremer Brothers to full K3 specs including famed K3 bodywork, twin turbo motor and upside down gearbox.
Auction Source: 2012 Daytime Auction by Mecum
In Detail
| | |
| --- | --- |
| type | Racing Car |
| built at | Cologne, Germany |
| engine | Type 930/80 Boxer-6 |
| position | Rear, Longitudinal |
| aspiration | Twin KKK Turbochargers |
| block material | Aluminum |
| valvetrain | SOHC, 2 Valves perCyl |
| fuel feed | Bosch-Kugelfisher Mechanical Fuel Injection |
| displacement | 3163 cc / 193.02 in³ |
| bore | 95 mm / 3.7 in |
| stroke | 74.4 mm / 2.9 in |
| compression | 7.2:1 |
| power | 596.6 kw / 800 bhp @ 8000 rpm |
| specific output | 252.92 bhp per litre |
| bhp/weight | 780.49 bhp per tonne |
| body / frame | Unitary Steel Monocoque w/Carbon-Kevlar Panels |
| driven wheels | RWD |
| front brakes | Ventilated Discs w/4-Piston Calipers |
| rear brakes | Ventilated Discs w/4-Piston Calipers |
| front wheels | F 40.6 x 26.7 cm / 16 x 10.5 in |
| rear wheels | R 48.3 x 38.1 cm / 19 x 15 in |
| steering | Rack & Pinion |
| f suspension | MacPherson Struts w/Bilstein Dampers, Adjustable Anti-Roll Bar |
| r suspension | Double Wishbones w/Bilstein Dampers, Adjustable Anti-Roll Bar |
| curb weight | 1025 kg / 2260 lbs |
| weight distro | 40 % / 60 % |
| wheelbase | 2271 mm / 89.4 in |
| front track | 1501 mm / 59.1 in |
| rear track | 1557 mm / 61.3 in |
| length | 4681 mm / 184.3 in |
| width | 1971 mm / 77.6 in |
| transmission | 4-Speed Manual |
| 0 – 60 mph | ~3.0 seconds |
| 0 – 100 mph | ~5.8 seconds |