1991 Lancia Delta HF Integrale Evoluzione
One of Lancia's most successful products was the Delta. It was produced from 1979 to 1994 for many different road and track applications. The car debuted at the Frankfurt motor show as a Giorgio Guigaro design based on Fiat Ritmo components. Surprisingly, this Delta would lead Lancia into its most successful rally program.
By 1985, Lancia prepared a prototype Delta for Group B rally racing. The resulting car, called the Delta S4, was a hot hatch of extreme specification that hardly resembled the product it shared its name with. It had a 480 horsepower engine nestled in the center of a space frame chassis. Unfortunately, the S4 raced very briefly as a result of FISA canceling the unlimited Group B racing in 1986. Thus, the S4 was prematurely withdrawn from racing.
Fortunately, Lancia had the foresight to develop a 4WD, road-going Delta years before Group B was abandoned. For the 1987 rally season, Abarth prepared a version of this car, the Delta HF 4WD, for rally racing. It was much more civilized than S4, having production based aerodynamics and construction materials, but featured a potent four wheel drive system. With the Delta HF 4WD, Lancia captured the 1987 manufacturer's title with Juha Kankkunen taking the driver's championship.
The Delta HF Integrale
Many great road-cars have been created for homologation requirements and the Lancia Delta Integrale is one such car. After the Delta HF 4WD's successful debut year, Lancia started the work on the Integrale. This was a car which integrated the developments from the 1987 season into both a road and rally car.
Since the Integrale was motivated by motor sport, it was engineered more as a race car than the sedan which shared its name. Due to Group A regulations, the race car was allowed very little margins of modification. As such the road going Integrales had to be packed with the same cutting-edge technology found in the Group A cars.
Chassis: Permanent 4WD
When compared to the standard Delta chassis, the Integrale features larger brakes, and an updated suspension including new front springs, dampers struts. What remains identical is the proven drive train which helped the Delta HF 4WD dominate Group A rally.
The secret to the Delta's sporting performance is its permanent four wheel drive system. It uses a Ferguson layout, having three differentials. At The rear is Torsen, or torque sensing, differential which mechanically splits the power in a linear fashion. The Torsen differential delivers instantaneous lock upon high loads and not during braking like viscous couplers. Such a differential is very expensive, any seldom seen on any 4WD production cars.
At the center of the 4WD system is a viscous coupling differential which divides the torque to the front or rear wheels. Under normal conditions, 53 percent of the power is sent to the rear wheels.
Despite such a complex drive train, the engineers at Lancia still opted for optional ABS on the Integrale. They revised Bosch's six-sensor system by adding two additional sensors to measure longitudinal and transverse acceleration. Only under severe yaw does the ABS system intervene.
Engine & Body
As Lancia was and still is owned by Fiat, it should be no surprise the Integrale uses a two liter Fiat engine as designed by Aurelio Lampredi. Updated in almost every area, the Integrale's engine is an evolution of one found in the early Delta HF Turbo.
All cars after 1989 have a 16 valve head, larger fuel injectors and a slightly revised compressor. Specifically, the turbine is smaller on the turbocharger, but the waste gate is modified to provide a larger boost. These 16V examples provide 200 bhp, fifteen more hp than the eight valve design.
Since, no modifications were permitted to the body of the car Group A car, the Integrale features the same body as used on the rally car. It combines Giorgio Guigaro's five door layout with purposeful modifications including extended wheel arches, and modified bumpers and a 1.2 inch power bulge on the hood.
Evoluzione
In 1991, Lancia issued an updated version of the Integrale 16V called the Evoluzione. Primary motivation for the Evoluzione came from Rally, where Abarth run Integrales needed modifications that had to be homologated.
What really sets the Evoluzione apart from earlier cars was its body. Both the front and rear track were increased, as were the wheel arches, to comply with Rally Regulations stating that the tires could not extend beyond the body. A rear spoiler was also added to the top of the tailgate to improve airflow.
Under the skin, many changes were introduced to the brakes and suspension to increase endurance and stress tolerance. Specifically, the brake calipers were fixed and featured twin pistons instead of the single piston, floating calipers used on the earlier models.
Other less significant changes included, smaller more powerful elliptical headlights, colored instrumentation, a front aluminum strut brace, a larger steering box and a remapped engine that produced 210 bhp.
Special Editions
Club Italia – The rarest of all special editions, the Club Italia was made with a limited run of just fifteen cars for members of the Club Italia. These cars are easily identified by the Club Italia script was written on both the front of the car and the rear wing.
Martini 5 & 6 – Celebrating the long standing relationship between Martini Racing and Lancia, 400 Evolution I cars were painted with Martini Racing stripes down the side of the car. In addition, 310 more Martini '6' cars were made in celebration of the sixth consecutive World Rally title achieved with the Delta
Final Edition – The last 250 Evolution II cars were painted Candy Red with a red blue and yellow strip down the center. The interior featured Tan Alcantara leather with cloth centers, while the instruments were surrounded in silver.
Conclusion
The most prepared company for the transition from Group B to Group A racing was Lancia. Their determination to stay on top of field can be seen not only in the evolution of the Delta race car, but the road car as well.
From 1987 to 1992, Lancia consecutively won the Group A manufacturers championship, a record which holds to this day. With these results, Lancia have made the Integrale one of the most successful rally cars ever – a legendary car of our time.
Story by Richard Owen for Supercars.net
In Detail
| | |
| --- | --- |
| submitted by | Richard Owen |
| engine | Inline-4 w/Garrett Turbocharger |
| position | Front, Transverse |
| aspiration | Garrett Turbocharger |
| valvetrain | Belt Driven DOHC w/4 Valves per Cyl |
| displacement | 1995 cc / 121.7 in³ |
| bore | 87 mm / 3.43 in |
| stroke | 90 mm / 3.54 in |
| compression | 8.0:1 |
| power | 156.6 kw / 210 bhp @ 5750 rpm |
| specific output | 105.26 bhp per litre |
| bhp/weight | 161.54 bhp per tonne |
| torque | 298.28 nm / 220 ft lbs @ 3500 rpm |
| body / frame | Unit Steel |
| driven wheels | Ferguson 4WD w/Rear Torsen Diffential, Central Viscous Coupling |
| front tires | 205/50 ZR15 |
| rear tires | 205/50 ZR15 |
| front brakes | Inner Vented Discs w/Twin-Piston Calipers, Vacuum Assist, ABS |
| f brake size | x 281 mm / x 11.1 in |
| rear brakes | Inner Vented Discs w/Single-Piston Calipers, Vacuum Assist, ABS |
| r brake size | x 251 mm / x 9.9 in |
| front wheels | F 38.1 x 17.8 cm / 15.0 x 7 in |
| rear wheels | R 38.1 x 17.8 cm / 15 x 7 in |
| f suspension | MacPherson Struts w/Lower Wishbones, Coil Springs, Telescopic Dampers, Anti-Roll Bar |
| r suspension | Double Transverse Arms w/Coil Springs, Telescopic Dampers, Anti-Roll Bar |
| curb weight | 1300 kg / 2866 lbs |
| wheelbase | 2480 mm / 97.6 in |
| front track | 1502 mm / 59.1 in |
| rear track | 1500 mm / 59.1 in |
| length | 3900 mm / 153.5 in |
| width | 1770 mm / 69.7 in |
| height | 1365 mm / 53.7 in |
| transmission | 5-Speed Manual |
| gear ratios | 3.50:1, 2.176:1, 1.523:1, 1.156:1, 0.916:1, :1 |
| final drive | 3.111:1 |
| top speed | ~220.5 kph / 137.0 mph |
| 0 – 60 mph | ~5.7 seconds |
Auction Sales History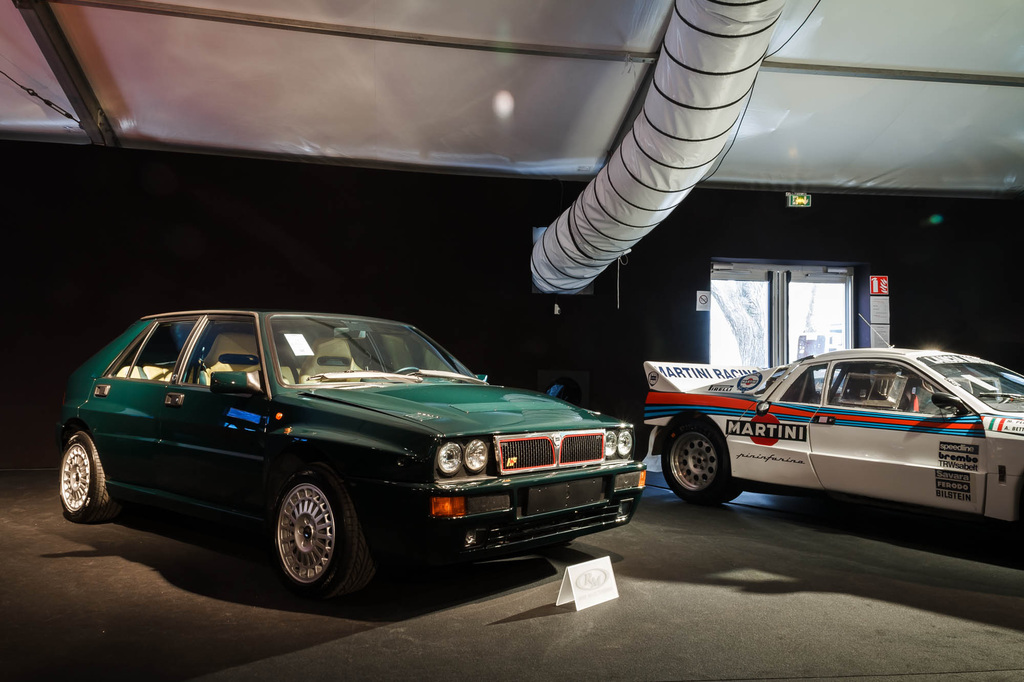 1992 Lancia Delta HF Integrale Evoluzione 'Verde York' ZLA831AB0 00576639 –
Offered here is a limited edition Verde York Lancia Delta HF Intergrale Evoluzione. It was released in the summer of 1992 and was designed to "put special emphasis on the values of performance and technical sophistication" for Lancia's more discerning customers. This special edition example was finished in York Green 344 and has perforated Champagne leather with green stitching. It also features Solextra tinted windows and Recaro seats. As noted, it is the 23rd of a limited run of 200 examples.
Auction Source: 2014 Paris by RM Auctions