1993 Bugatti EB112
The Italian Job with a French Twist
The year was 1992, and Bugatti had decided that their trailblazing EB 110 sports car needed a saloon stablemate to keep it company in Bugatti's sparse model line-up.
This project was delegated to a team which included renown Italian auto-men such as Mauro Forghiere – a respected Ferrari engineer – and Giorgetto Giugiaro of famed coachwork company, Italdesign.
The first prototype of the saloon – dubbed the EB 112 – debuted at the 1993 Geneva Motor Show. The retro-inspired fastback was made entirely of aluminum and shared the same carbon fibre chassis used in the EB 110 on which it was loosely based. At the time, Bugatti had stated their intention to have a production version of the EB 112 on the roster for the 2016 model year.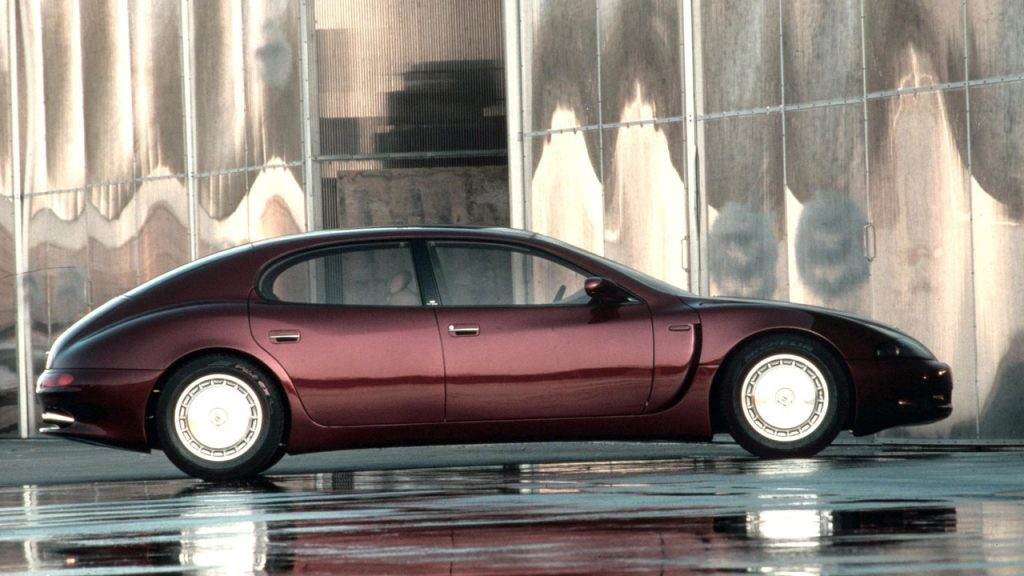 The Reception
The Bugatti EB 112 was the subject of a somewhat mixed reception from critics and the general public. Its bold hybridization of 1930s-era design elements with current day technology, was unconventional to say the least. American automotive journalism outfit 'Automobile', lavished the highest degree of praise onto it, declaring it "the most beautiful car in the world".
The car is widely recognized as Bugatti's first serious attempt at producing a four-door luxury saloon. In a typically Bugatti-themed execution, it offered the highest levels of road car performance and came with an opulent interior fashioned with the finest materials. The Bugatti EB 112 went against the grain, but it still managed to embody Bugatti's storied history and abundance of heritage.
The Bugatti EB 112
Unfortunately, the Bugatti EB 112 wouldn't make the transition from concept to production, due to the company's financial troubles and eventual bankruptcy in 1995. However, it is understood that before the automaker went under, there were three partially completed EB 112 examples in the assembly plant. These would become part of the assets that were acquired by businessman Gildo Pallanca Pastor, who played a part in buying out the insolvent company.
It seemed that the stillborn project was set up for a revival of sorts, with a number of important elements – such as the 450-horsepower V12 engine and permanent four-wheel drive system – already at the successor's disposal. However, due to a number of factors and limitations – such as the production version's projected price ballooning to over $2 million USD – production of the EB 112 still wasn't able to gain enough traction to become a reality.
It has been well documented that two of the examples were completed by Pastor's boutique automotive firm, Monaco Racing Team. The first working prototype, which would have been the example unveiled in 1993, is believed to be owned by Italdesign's Giugiaro.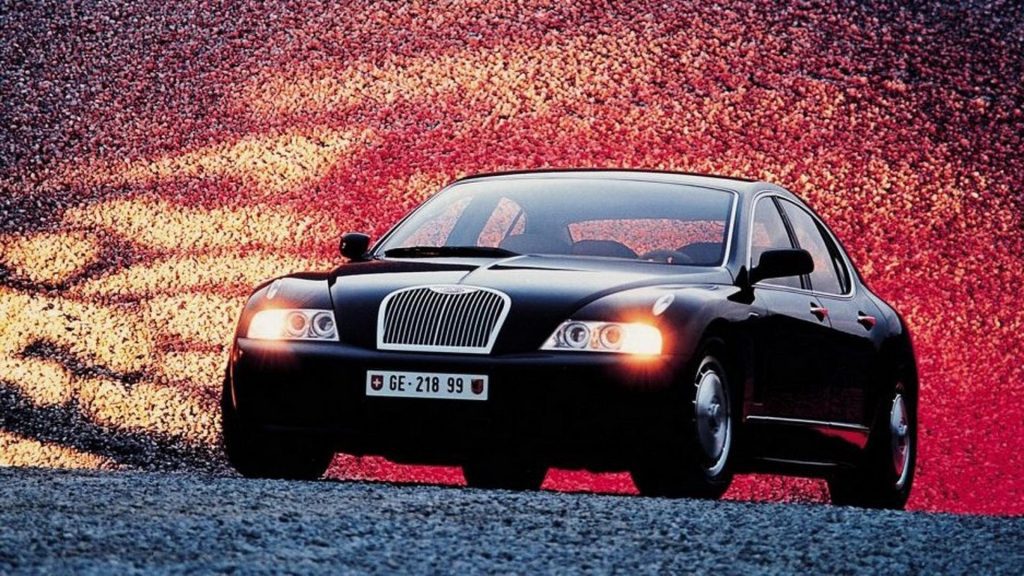 The Legacy
The Bugatti EB 110 was arguably the most advanced supercar of its time, and the EB 112 was created in its image. The Bugatti EB 112 promised the most luxury that could be had at up to 186 mph.
The circumstances of its existence would eventually lead to only 3 working examples being in existence. One red, one black – and more recently, a third blue example – have been documented on the world wide web. Each of the cars appear to be slightly different from the others, with subtle differences in components such as tail lights and bumpers.
These days, the Bugatti EB 112 is often referenced alongside the Porsche Panamera due to its shared styling queues and overall design philosophy, despite being 20 years its senior. A quick glance at some photos of the cars side by side, do reveal a nearly uncanny resemblance, which lead many to speculate that Porsche designers drew their inspiration for the Panamera from the EB112.
The Owners
The most prolifically observed EB 112 is a black example (s/n 39003) which was once Gildo Pallanca Pastor's personal car – later auctioned off in 2016. As mentioned earlier, the original concept car, painted in red (s/n 39001) is supposedly owned by Italdesign's Giorgetto Giugiaro, while the third car – believed to be s/n 39002, and one of the two cars completed by Monaco Racing Team – is owned by a Russian car collector and is finished in a dark blue exterior color.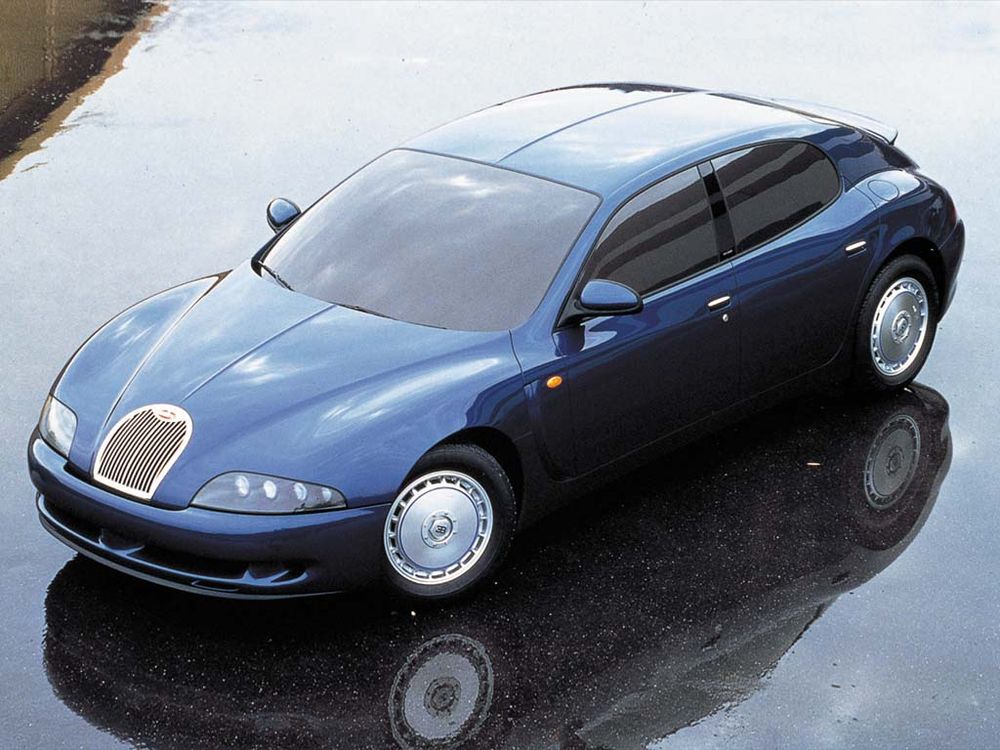 Engine & Drivetrain
Originally, the design team mulled over the idea of fitting the EB 112 with a Porsche 928 engine, but eventually decided to keep things in-house by utilizing Bugatti's own (Volkswagen-designed) 6.0L naturally aspirated V12 power unit.
The 455-horsepower engine was able to accelerate the large saloon frame from 0-100 km/h in just 4.4 seconds and had a hair-raising top speed of 300 km/h – plenty of low end grunt too, with its 479 lb-ft of torque. Furthermore, its front-center-mounted position within the chassis provided sporty driving dynamics and improved stability. 
The Bugatti EB 112 features a permanent all wheel drive system, with the drivetrain mated in a somewhat peculiar fashion, to a 6-speed manual gearbox – back when chauffeurs were former race car drivers, apparently.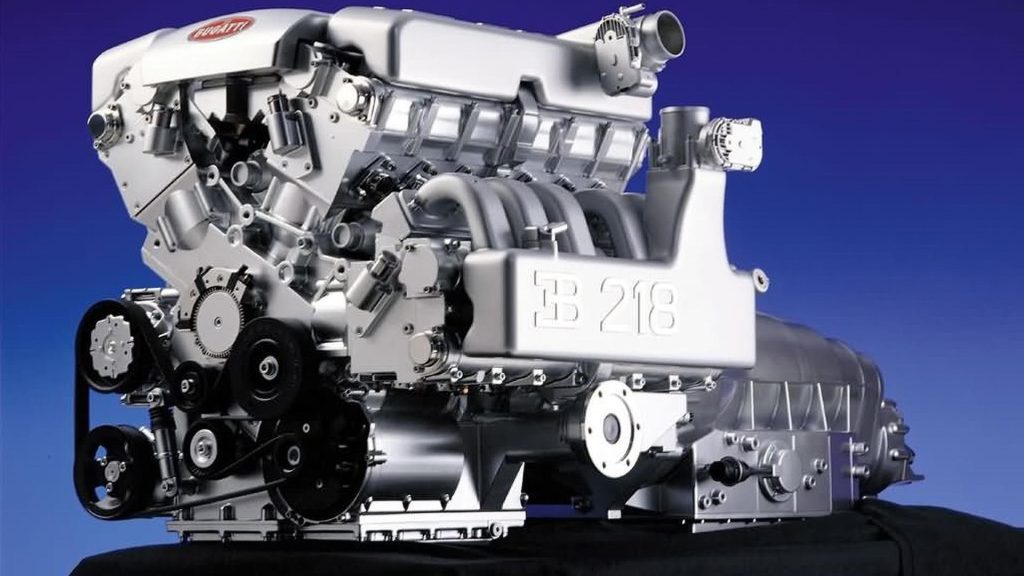 Chassis & Design
At the core of the Bugatti EB 112's physical stature is a carbon fiber chassis, surrounded by an all-aluminium body shell – an engineering feat in itself by any standard of road car at the time, never mind a luxury saloon. This synthesis of sportiness and refinement was ahead of its time, and the basis on which the EB 112 showcases all of its characteristics.
Weight distribution was designed to be optimal with the engine mounted behind the front wheels, helping to improve the center of gravity while allowing the chassis to delicately negotiate transfers of the car's sizeable 3,968 lbs of mass. An Antilock-Braking System (ABS) came standard to assist with bringing the EB 112 to a halt.
And it's not just what's on the inside that counts when it comes to the EB 112 either, with its elegant, rounded features producing a silhouette as iconic as it is polarizing. These design elements were a purposeful tribute to the automaker's storied past, with inspiration drawn from the likes of legendary cars such as the Atlantic and Type 55 berlinettas from the 1920s and 1930s.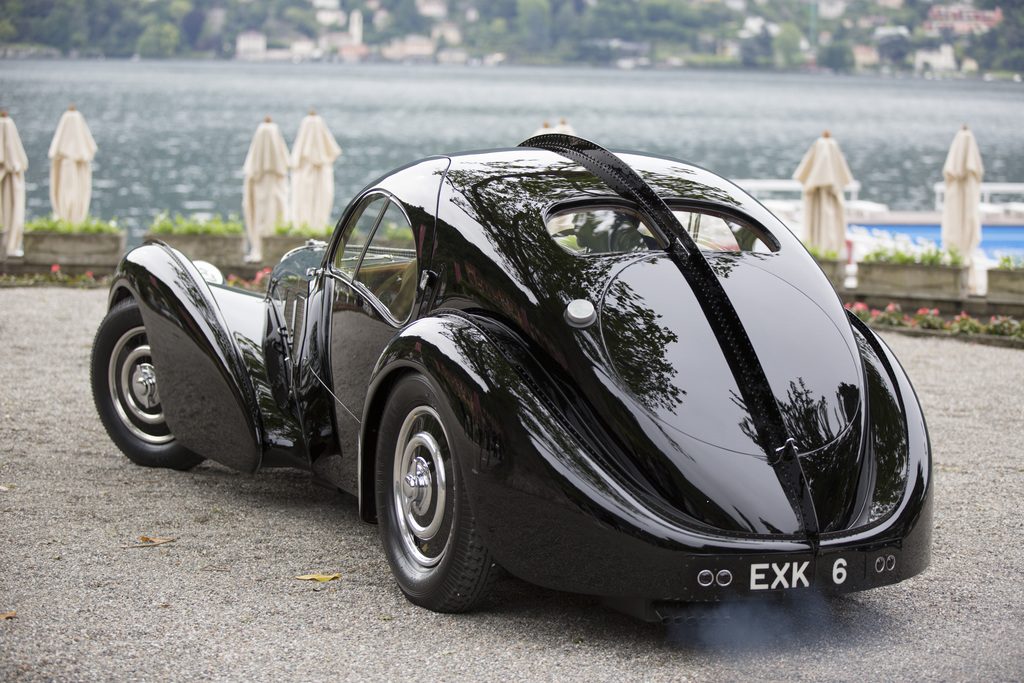 The influence is not lost on anyone who should draw those comparisons, with the EB 112's roof transitioning into rear bumper, emphasising a fastback configuration much like its predecessors. This overall coupe-profile in saloon layout was one of the earliest conceptions of the sports sedans or fastbacks that we see today.
The most notable styling cue would have to be the horseshoe shaped chrome grill, which is the quintessential feature of the Bugatti automobile – past and present.  Classic styling techniques were applied to the interior as well, with an abundance of leather and briarwood trim encompassing the cabin. The Bugatti EB 112's unique combination of superb road performance, refinement and luxury, was destined to become a precursor of the way luxury sports cars could, and would be made going forward.
Performance & Specifications Summary
Overview

Manufacturer
Bugatti Automobili S.p.A
Designed By
Italdesign
Country of Origin
France
Production
1993 – 1998
Assembly Location
Modena, Italy ; Monaco
Numbers Produced
3
Engine

Configuration
60º V12
Location
Front, longitudinally mounted
Displacement
6,000 cc / 366.1 cu in
Valvetrain
4 valves / cylinder, DOHC
Fuel feed
Fuel Injection
Power
455 bhp / 339 kW @ 6,300 rpm
BHP/Liter
76 bhp / liter
Drivetrain

Layout
Front-mid-engine, All wheel drive
Transmission
6-speed manual
Body & Dimensions

Body Style
4-door fastback saloon
Weight
1,800 kg (3,968 lbs)
Length / Width / Height
5,070 mm (199.6 in) / 1,960 mm (77.2 in) / 1,405 mm (55.3 in)
Wheelbase / Track (fr/r)
3,100 mm (122 in) / 1,667 mm (65.6 in) / 1,656 mm (65.2 in)
Performance Figures

0-100 km/h
4.4 seconds
Top Speed
300 km/h
Pictures & Gallery
Images
See full 1993 Bugatti EB112 Gallery here
Videos
Introduction of Bugatti's first revival model EB110 and the VERY RARE sedan concept model EB112.
One of the two Bugatti EB112 in Molsheim. A very unique moment that we wanted to share with you (despite the low quality of the video).
Extremely Rare Bugatti EB112 Sedan in Monaco!