1993 Lotus Esprit Sport 300
Years: 1992-1995
Names: Sport 300 / Type 85
Units: 64
Engine: 2,174 cc inline 4 turbo
Power: 300 bhp @ 6500 rpm
Torque: 287 lb/ft @ 4,400 rpm
0-60 mph: 4.7 seconds
The Sport 300 is a lightweight ultra-high-performance road-going derivative of the Lotus Esprit X180R racer. This car, although shown as a concept, is no mere mockup – it is ready to run, and road legal in most European countries.
---
For customers that missed out on the very limited production run of X180Rs, the 300 Sport was offered in 1993. It essentially offered the same package as the X180R racecar. With an optional LotusSport package, the car incorporated a full roll cage, harness and fire extinguisher. All versions of the Sport 300 featured the 300 bhp, S910 power plant which was similarly tuned to X180R specification.
As expected the interior and exterior featured a number of preferred changes. Almost every aspect of the car was upgraded to match the performance of the X180R. This included changes to the spoilers, brakes, suspension geometry, clutch, gearshift and brakes.
A number of weight saving provisions were made. This helped lower the weight of the car by 250 lbs compared to the Esprit SE.
A year after the 300 Sport was unveiled, the Series Four version of the Esprit was released. Not until 1995, would an Esprit would had the luxury of receiving 300+ horsepower. In 1995, the Esprit S4s was offered with a similarly tuned engine.
Related: Lotus Race Car List / Lotus Current Lineup / All Lotus Models / Lotus News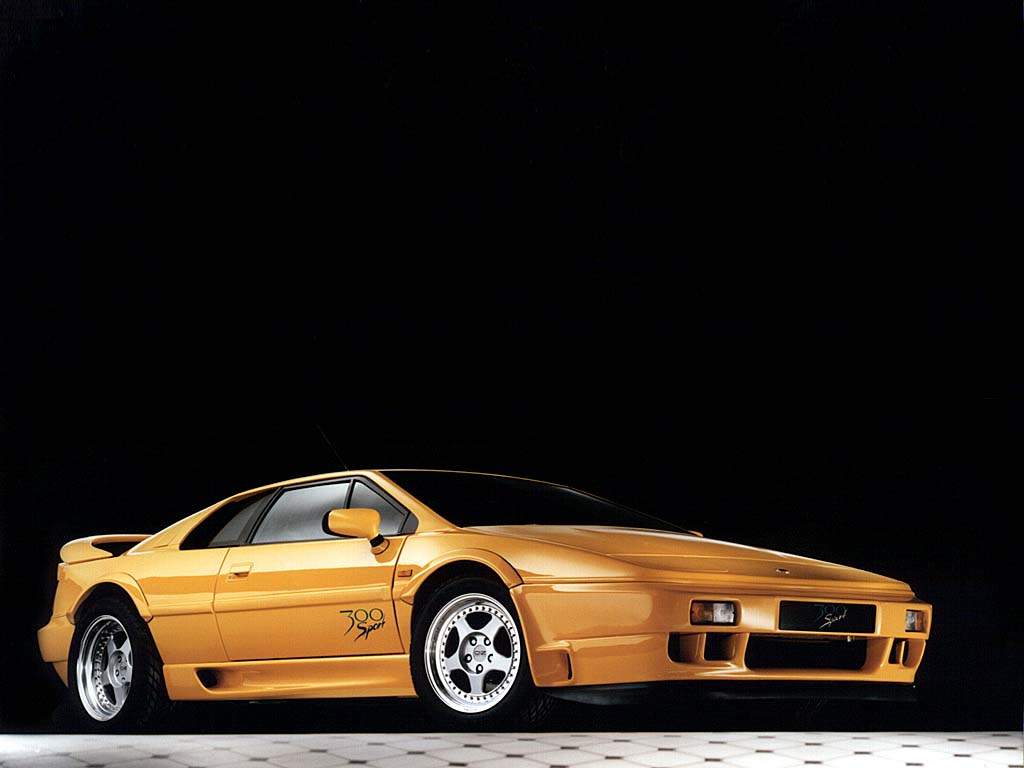 Lotus Sport 300 Specs
| | |
| --- | --- |
| submitted by | Richard Owen |
| engine | S910 Inline-4 |
| position | Mid Longitudinal |
| aspiration | Garrett turbocharger J3/T4 |
| valvetrain | DOHC, 4 Valves per Cyl |
| displacement | 2174 cc / 132.7 in³ |
| bore | 95.3 mm / 3.75 in |
| stroke | 76.2 mm / 3.0 in |
| power | 223.7 kw / 300 bhp @ 6500 rpm |
| specific output | 137.99 bhp per litre |
| bhp/weight | 236.22 bhp per tonne |
| driven wheels | RWD w/Limited Slip |
| front tires | 245/45 x 16 |
| rear tires | 315/35x 17 |
| front brakes | Vented Discs w/AP Racing 4-Pot Calipers |
| f brake size | mm / in |
| rear brakes | Vented Discs w/AP Racing 4-Pot Calipers |
| r brake size | mm / in |
| front wheels | F 40.6 x 21.6 cm / 16.0 x 8.5 in |
| rear wheels | R 43.2 x 26.7 cm / 17.0 x 10.5 in |
| curb weight | 1270 kg / 2800 lbs |
| transmission | 5-Speed Manual |
| gear ratios | :1 |
Lotus Sport 300 Performance
| | |
| --- | --- |
| 0-60 mph | 4.7 seconds |
| 0-100 mph | 11.7 seconds |
| Standing qtr mile | 13.4 seconds |
| Standing km | 24.3 seconds |
| Top speed | 161 mph |
AutoCar – August 1993
It's unequivocal. Not since Giorgetto Giugiaro's original design more than 17 years ago has the Lotus Esprit looked this good. Or been so powerful or handled so brilliantly. This is the Esprit Sport 300, a road-going version of the car that competed so bravely at Le Mans this year. On the road its appeal is infectious, and I've got yellow fever.
Styled by Julian Thompson and originally shown as a concept at the Birmingham show in 1992, the Sport 300 is destined to be sold to just 50 people, 25 of which are already smiling. At £64,995 the Sport 300 is a rare and very expensive commodity – a whole £18,000 more than an Esprit S4 but still £9000 cheaper than a Ferrari 348tb.
To simply stunning effect, Thompson, Lotus's talented chief stylist, has taken an S4 body and added a new front airdam with integral brake cooling ducts, extended wheel arches and a new rear wing. Underneath, however, this is not a modified S4. In essence, the Sport 300 is a derivative of the Esprit X180R racer that has competed successfully in the American SCCA and IMSA supercar series for the past three years.
Extensive use of composites in its construction have shaved about 80kg from the S4's 1366kg kerb weight. Torsional stiffness is improved through the use of an engine bay cross-brace, a bonded-in panel where the sunroof used to be and a modified front crossmember and backbone.
The same double wishbone front and transverse link/trailing arm rear suspension is retained, but stiffer springs and dampers are fitted all round and the geometry has been tweaked. In addition, the hub carriers have been modified and there's now an adjustable top link on the rear suspension. All very serious stuff that brings about a tiny increase in the front track and a 50mm (2ins) widening at the rear
Easily the Sport 300's most eye-catching feature is its massive OZ three-piece wheels. At the front they measure 8.5x16ins and wear 245/45 ZR-rated Goodyear GS-G tyres, while the 10.5x17ins rears are shod with stupendous 315/35s. Grip, therefore, is a Sport 300 forte.
So is stopping ability. Hidden behind the five-spoke wheels are 327mm ventilated discs at the front and similarly specified 280mm discs at the rear. Four-piston AP Racing calipers do the grabbing and are supplemented by a Delco ABS lilA anti-lock system.
Flip up the engine cover and you'll find the same canted 2174cc twin-cam 16-valve engine as in the S4, but here it's breathed on by a hybrid Garrett T3/T4 turbocharger that inhales through a more efficient chargecooler.
Inside, the inlet valves are larger in diameter and their ports are hand finished. Recalibrated engine management, a little more boost and 98-octane unleaded releases 302bhp at 6400rpm and 2871b ft of torque at 4400rpm, compared with the S4's 264bhp at 6500rpm and 2611b ft at 3900rpm.
As well as taking the specific output to a heady 139bhp per litre, the power-to-weight ratio takes a hike from the S4's 197bhp per tonne to 243bhp per tonne. That's about the same potency as the latest Porsche 911 Turbo 3.6.
Almost the stuff of road testing legend now, Esprits transfer their power from flywheel to tarmac with brilliant efficiency. And the Sport 300 is no different. From a standstill, 60mph comes up in a blinding 4.7secs and 100mph in 11 .7secs, while the standing quarter-mile post flashes past in 13.4secs and the standing kilometre in 24.3secs. Lotus quotes a top speed of 168mph, but we could only manage 161mph around the banking at Millbrook's high-speed bowl.
To tell you the truth, for a car that's lighter and also totes about 14 per cent more power and 10 per cent more torque than the standard S4, the Sport 300's figures weren't the big wow you might have expected. Lotus puts this down to a slight fuel starvation and reckons that an uprated pump should solve the problem.
Equipped with the S4's gear ratios and a slightly narrower powerband, it is essential to keep a keen eye on the rev-counter to maintain turbo boost. Get it right and there's one enormous wave of acceleration to be ridden. But even off the turbo it's punchy. The engine and blower combine to generate meaningful boost from about 3000rpm but really hit their stride at 5000rpm.
If that seems peaky, a clearer picture of the engine's characteristics are afforded by the in-gear figures.
Look at the benchmark times that highlight engine flexibility — 30-50mph in fourth (8.0secs) and 50-70mph in top (7.4secs) — and the Sport 300 looks positively sleepy. Snick the Renault-derived gearbox down to third and second, though, and those times drop to just 1.9secs and 2.7secs respectively. That's as fast as a Chrysler Viper…
But Esprits have always focused most strongly on rewarding handling: they're all about clipping apexes and judging turn-in points. The Sport 300 is no exception and takes this senior league super-car into a hitherto unchartered area of tactility.
Chief medium is the exquisite power-assisted steering, carried over unchanged from the S4. That means 3.1 turns between the locks and the kind of feel you expect from the best of unassisted set-ups.
Channelled through to your fingertips is a stream of uncorrupted, super-sensitive road information. That pebble you picked up in the front left a few miles back? It's still there; you can almost sense it through the tiny Nardi racing wheel.
And if you haven't felt it through your backside already, there's a lot of racing car in the Sport 300. So much so that experienced British sportscar team Chamberlain Engineering took two Sport 300s and entered them for Le Mans. Fitted with 18ins wheels, beefed-up bodywork, specially fabricated suspension and unassisted steering, they thundered around the Sarthe with close to 400bhp until heat soak fried their head gaskets while pitting.
So is the Sport 300 a racetrack renegade? No, it's far too subtle for that, avoiding the horrible trap of a rock-hard ride that caught out the Porsche Carrera RS Lightweight. Just to emphasise the point, you can specify air conditioning for £1495 or a CD player for £820. The attention-grabbing 'Yellow Pearl' paint you see here will cost you £1995.
Some long-standing Esprit bugbears in the cabin may well have been put to rest for good with the introduction of excellent grey Alcantara suede-like trim (now deleted are the tunnel-top console and map pockets). It's so successful at avoiding glare that Lotus is considering kitting out S4s with it.
But don't get the wrong idea. Lotus has got the level of race-derived assistance just right in the mix. The brakes, unservoed and squeezed through a pukka drilled pedal, are tireless, the anti-lock operation well timed. Overall, it's well designed to protect a driver from injuries in the event of a car accident. Should you wish to take your Sport 300 back to the track, the racing seats are ready to accept competition harnesses and mounting points for a roll cage are fitted. Me? I'd keep it on the road. It's the best Esprit yet.