1995 Lotus Esprit S4s
Released in 1995, the Esprit S4S fits between the 264bhp S4 and the Sport 300. The S4S is designed to drive like a 300 and ride like an S4.
In 1995, many modifications were added to the S4 to improve engine performance. The engine kept its 2.2 liter capacity, but enlarged inlet ports, head modifications, and a revised turbocharging system help realize 34 additional horsepower. Improved gas flow dynamics and these enlarged inlet ports and valves were the main cylinder head modifications. A hybrid Garrett AiResearch T3/60 turbocharger and altered management programme endowed the engine with even more torque over a wider spread. Of the 290 lb/ft of maximum torque, 80% is available between 2,500 and 6,500 rpm.
Externally, the S4s receives the bodywork of the previous S4 Sport 300. Such enhancements include a larger rear wing and bigger wheel arches. The S4S takes the 300's rear wing and wheel arch extensions and gains OZ split rim racing alloy with 245 and 285 section Michelin tyres. Big ventilated discs and calipers are now by Brembo and provide all the stopping power you need to haul in 300 bhp.
Related: Lotus Race Car List / Lotus Current Lineup / All Lotus Models / Lotus News
Pictures
Specs & Performance
| | |
| --- | --- |
| submitted by | Richard Owen |
| price $ | $£52,995 |
| engine | Inline-4 |
| position | Mid Longitudinal |
| aspiration | Garrett T3 Turbocharger |
| valvetrain | DOHC 4 Valves per Cyl |
| power | 223.7 kw / 300 bhp @ 7000 rpm |
| bhp/weight | 205.48 bhp per tonne |
| torque | 393.19 nm / 290.0 ft lbs @ 3600 rpm |
| driven wheels | RWD |
| front tires | 235/40 ZR17 |
| rear tires | 285/35 ZR18 |
| front brakes | Vented Discs w/ABS |
| f brake size | mm / in |
| rear brakes | Vented Discs w/ABS |
| r brake size | mm / in |
| front wheels | F 43.2 x 21.6 cm / 17.0 x 8.5 in |
| rear wheels | R 45.7 x 25.4 cm / 18.0 x 10.0 in |
| steering | Rack & Pinion w/Power Assist |
| f suspension | Double Wishbones w/Coil Springs, Anti-Roll Bar |
| r suspension | Transverse Links w/Radius Arms, Coil Springs |
| curb weight | 1460 kg / 3219 lbs |
| wheelbase | 2420 mm / 95.3 in |
| length | 4414 mm / 173.8 in |
| width | 1833 mm / 72.2 in |
| height | 1150 mm / 45.3 in |
| transmission | 5-Speed Manual |
| gear ratios | :1 |
| top speed | ~270.4 kph / 168.0 mph |
| 0 – 60 mph | ~4.6 seconds |
| 0 – 100 mph | ~11.4 seconds |
Lotus Esprit S4s Prices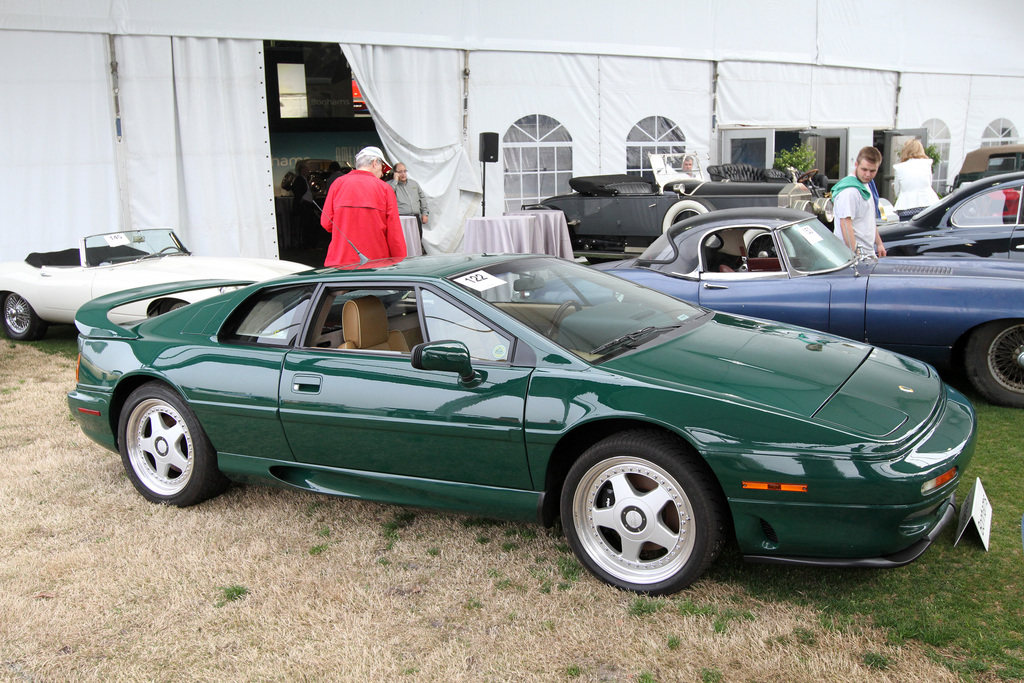 1995 Lotus Esprit S4s Coupe LN910950929051T – sold for $52,250
Looking every bit the archetypal British Sports Car, this Lotus sits in rich dark 'racing' green paint (code 804) on alloy rims and with a warm 'biscuit' interior (code XX10). Manufactured by Lotus Cars works in September 1995, the Esprit S4S was originally imported to the U.S. and its tags confirm it to have been officially federalized. It has covered a modest mileage accrual of just under 27,000 miles from new, all that in nearly 20 years of potential road time. Not surprisingly the car is extremely clean throughout, from its updated Momo wood rimmed steering wheel and faux wood door trims to its full leather trimmed cabin. The external paint finish remains very tidy for its age. Auction Source: The Amelia Island Auction 2015 by Bonhams1998 Lotus Esprit – sold for $29,700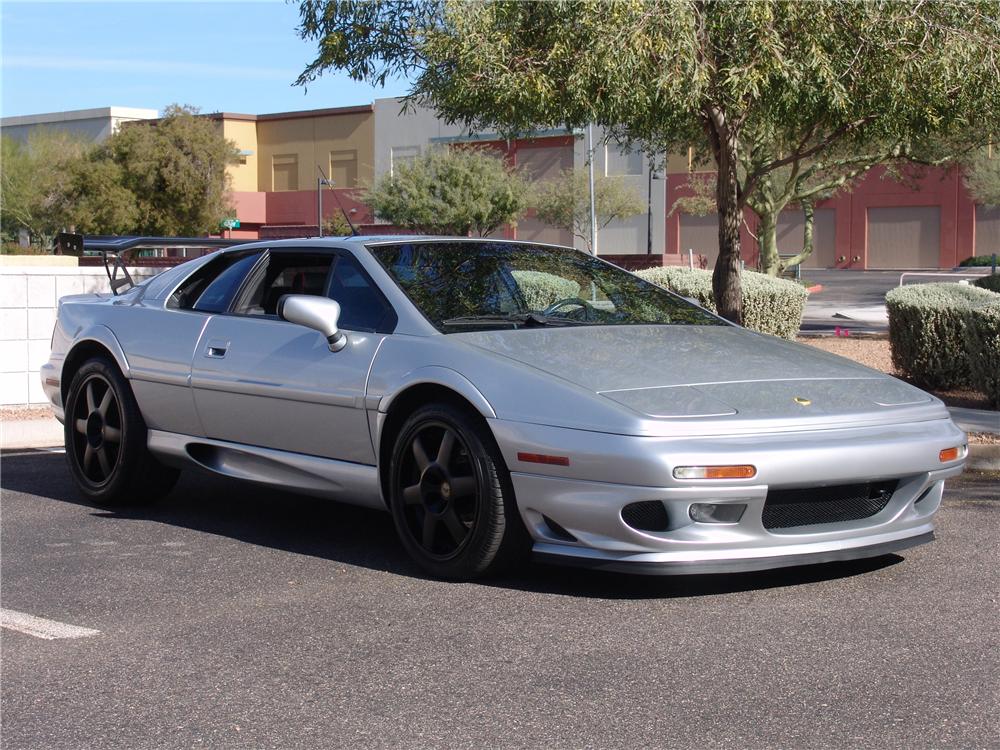 This stunning Esprit is powered by its exotic 3.5 Liter dual overhead cam, all aluminum twin turbo V8 and goes 0 to 60 in 4.4 seconds with a top speed of 175mph. New clutch and complete overhaul service completed one year ago. This Lotus Esprit runs and drives great. Ready to enjoy. Own one of only 95 Lotus twin turbo Esprits imported to North America. Auction Source: 2012 Barrett-Jackson Scottsdale Auction
Driving the Lotus Esprit S4s
Autocar Road Test. What They Said
Whilst filling in the accident report form, I went over the incident time after time. Each vision made me angrier, to the point when I just had to get up and cane it for a while. It wasn't the incident which gave rise to such rage — some twit had decided to execute a U-turn across me at a set of traffic lights resulting in little damage, although the angle at which he hit me suggested he was well on the way to doing a figure of eight — no, it was the aggressive attitude of the witness, a London cab driver who vented his feelings about fast cars and people like me. I'll spare you the colourful language, but the moral cast indelibly in my mind is that one of the seven deadly sins, envy, is just too abundant.
The offensive (to the cabby) car in question is the first Lotus we've tested in quite a while.
The S4S is the last turbo version before the advent of the normally aspirated V8. For the moment it bridges the gap between the 264bhp S4 (left) and the Sport 300 (right) which is basically a road-legal racer with, yes, 300bhp on tap.
Since then, the marque has come along in leaps and bounds over a period in which the Grand Prix fraternity has suffered the demise of the once great Team Lotus. The Elan and the Esprit remain the only production cars, which, thankfully, GM continues to hone, though the exciting new Elise is about to arrive.
Though getting rather long in the tooth, the Esprit still looks fresh to our eyes, partly due to its rarity and partly to Peter Steven's timeless re-working of Giugiaro's original sharp-edged term. However, the adoption of a heavy-looking rear wing and wheel arches on the S4S diminish the little elegance the car once had.
However, in this case you pay £52,995 smackers for sheer brutality, not elegance, and if the S4 is a little tame for you then this might well be your beast. Lotus claims it wilt drive like a 300 and ride like an S4 — presumably to please those partners who could probably cope with hours pummelling round the 'Ring', but can't hack a bone-shaking ride down the Kings Road.
No increase from the standard cars 2.2 litres has been necessary to find the S4S's extra power; indeed neither was it the case with the Sport 300.
Improved gas flow dynamics and enlarged inlet ports and valves are the main cylinder head modifications. A hybrid Garrett AiResearch T3/60 turbocharger and altered management programme endow the engine with even more torque over a wider spread. Of the 290lb ft maximum, 80% is ready to be unleashed by your right foot anywhere between 2500 and 6500rpm.
Elsewhere, the powertrain remains almost unchanged from the standard S4. The 16 valves are housed within twin red crackle-finished camshaft covers beneath a louvred engine lid, and coupled with the same five-speed transaxle which Renault used for its now sadly discontinued Alpine (A610). Positioned longitudinally and amidships, racing car style for optimum handling and traction, the little unit will propel the S4S to 60mph in under five seconds, and on to a respectable 160 or so, thus planting it firmly within the junior supercar division and making it the fastest British sports car bar three, the £177,000, 550bhp Aston Martin Vantage, TVRs wonderful Griffith. and of course its own big brother, the Sport 300.
Esprits have always gone round corners well — some versions better than others — and although tweaked to complement the larger, stunning OZ Racing wheels and Michelin tyres — the suspension components of the S4S remain the same as the standard item — independent, with upper and lower wishbones and coil springs up front, and upper and lower transverse links plus radius arms at the rear.
Big ventilated discs and calipers are now by Brembo for when you need to stop in a real hurry and in style. The cost of all these improvements over the standard S4S. Some £4000, which still makes the S4S a bargain when compared with the 300 Sport's £64,995, for frankly appreciably little performance difference.
Lux or Sports Interior, you choose
One Esprit factor Lotus cannot improve on without introducing a completely new model is the cockpit space, Gerhard Berger would probably complain — our 6ft 4in photographer certainly did. For my modest 5ft 8in frame there was enough room, just, except for my disproportionately large size 8 feet The offset pedal arrangement required some ballet movements on occasions even when not resorting to heeling and toeing, and the complete lack of seat/steering wheel adjustment left me relieved that I am among the favoured few who actually fit. Many drivers would suffer at the wheel of an Esprit some before they left the driveway.
As for age, it is inside where the Esprit gives the game away. The huge instrument binnacle with small dials remains virtually unchanged alongside the angular expanse of leather — mercifully no longer ruched — but how did the burred walnut get in here? What is this British obsession with wood? It may be at home in a sedan — a Jaguar or Bentley maybe but in a supposedly high-tech 90s sports car?
However, it doesn't take long to forget the timber treatment. There's plenty more to keep you occupied as you almost lie behind the wheel, once you've worked out the most efficient strategy for climbing in. Prime the fuel pump, old habits soon come hack when you sit in a car like this — turn the ignition key and listen to the wavering purr. Not very inspiring, but quite purposeful. Blip the throttle and you feel that it's not the worlds most responsive engine. Only a fraction of a second delay between the prod of the toe and the hark is enough to separate the best of the rest.
[quote align='right']Lotus's real soul emerges with the first real squeeze of the throttle[/quote]
Dip the not unduly heavy clutch and shove the lever into first. The close ratio Renault 'box lacks the gate and positive action associated with a real supercar, nor is it quick, as is that of the Honda NSX, for example. But we're almost splitting hairs here. It's not that the 'box is bad or particularly bulky, but when you're in this league, the standards are uncompromisingly high.
Lean forward to release the sill mounted hand-brake, carefully maintaining revs to avoid judder as you release the clutch too, and the cammy four hesitates through a flat spot before pulling cleanly away. Of course, the engine needs warming before any 'action' can take place, but even a crawl in the S4S snaps you out of the blase attitude gained by driving characterless buzz boxes day in, day out. Its wide, flat proportions and restricted rear views demand a higher level of awareness just to stay out of trouble.
[quote align='left']Why do you need four-wheel drive when you can have grip like this in the wet[/quote]
With this much rubber on the road it's a relief to have power steering, though the fat tyres and the hydraulics negate much of the feedback. Lotus treads a dangerously fine line in making the S4S almost a halfway house. The S4S may have a suspension set-up closer to the standard car than the racer, but it wears the fatter, less compromising rubber, and even at slow speeds on relatively smooth roads the suspension and tyres rumble and thump. On the ridged and pot hole-ridden surfaces of our wondrous roads, you have to love this kind of car already or you'll come to hate the experience very quickly. Cabin decibels would get Pink Floyd walking off stage, while the massive glass sunroof on our test example promoted vibrations and rattles — evidence of reduced torsional body rigidity? Stop-start traffic is a minor torture and with vision severely restricted by the thick A pillars and the massive rear wing, parking is a bit of a nightmare. In town it is rare to get out of second gear, and never is the boost required.
Once away from the severe restraints imposed by town driving, the Lotus's real soul emerges with the first real squeeze of the throttle — it shoves you deep into your seat to a crescendo of a thousand angry sewing machines, and the expletives of any unprepared passengers. Make no mistake, this Lotus is in the head-spinning league — that turbo assisted sub five second shove to 60mph thrills the senses like little else. Turbo lag hasn't been eliminated, but the boost kicks in from 3000rpm and simply never relents.
It is instantly and completely addictive — once sampled there's no going back. One hundred miles per hour is dispatched in around 11 seconds. On the road, this sort of performance is really nothing short of breathtaking, particularly in second and third gear situations — it is difficult not to spew out a plethora of cliches to describe the S4S's majestic effortlessness when overtaking a line of half a dozen cars in complete safety. At speed the controls seem to lose their ponderous is and stubborn nature and appear more willing to work for you.
The weather conditions or much of the test were foul, which only served to heighten our respect for the engineers at Lotus. In really greasy conditions or snow the S4S will snake gently and with forgiveness, and thankfully the rather dead powersteering wakes up at reasonably high velocities and transmits clearer signals to the fingertips. In more usual wet (Oven streaming wet) conditions, both traction and grip are simply abnormal. A car with 285bhp has no right to be accelerated, full bore, in the wet with nothing more than minor tramping getting off the line. To really unstick the rear wheels requires Quentin Tarantino levels of violence. That's not to say you're just a passenger — far from it — there are only a handful of current production cars offering this level of involvement.
At speed, communication through the high-geared steering is good if not the world's best, but it doesn't writhe in the hands like a good old Porsche 911. However, the S4S turns in wonderfully well and deals with anything without understeer, apart from the tightest hairpins. Being rather wide and having little weight over those fat front Michelins would hamper it in Devon lanes, but show it some medium or fast sweepers and the number of genuine competitors shrivels. A TVR Griffith is quicker in a straight line (in the dry), but its driver would be on tip-toes trying to keep your Esprit in sight over the curvier Stuff.
Over a dense sequence of undulations or ripples the going gets a bit skittery, otherwise; you turn-in with precision, the chassis understeers little and rolls even less, and you power through earlier than with almost any car I've ever driven. Don't get the impression that the S4S is all grip and cornering on-rails stuff. Magnificent, and more to the point. safe fun can be had in bucket loads as you play with the throttle on exit. The acute angles from which the chassis can be effortlessly retrieved under a full-bloodied powerslide bring serious thoughts of taking up racing again. How the S4S flatters again and again. You can balance it on the throttle, particularly in the wet, and just play with it. On the combined test/photo shoot the photographer said it all "Why do you need four-wheel drive when you can have grip like this in the wet?" In extreme conditions the Lotus does understeer, before betraying its mid-engine characteristics — and its low polar-moment of inertia means that when it goes, it's gone in a flash. Respect is necessary. Naturally, the engine needs to be kept on boost for maximum progress but this is no detriment to the sheer delight of driving the S4S hard.
[quote align='right']I think the Lotus Esprit S4S is, for the moment, the must complete British sports car — period[/quote]
For every pleasure there must be some sacrifice and the S4S doesn't escape this law. Braking from any speed in the dry is powerful and confidence-inspiring, once the pedal has been pushed through a 'dead zone' and you feel your right calf being pumped-up, but there is little alternative with this chassis configuration. If the brake pedal were much sharper, the risk of putting the front ABS through uncontrollable spasms would certainly be magnified. It's the nearest thing to a weakness in the S4S; braking heavily in adverse conditions means treading carefully.
Pleasures of long-distance driving will also be outweighed by short to medium sprints. The Lotus can be very tiring to drive unless you are autobarn cruising, which gets very boring in anything no matter how rapid, particularly when high wind noise levels intrude as they do here. There's also precious little luggage space for you and your partner in the small boot behind the engine, and with the exception of the glove compartment and a couple of slender pockets behind the seals, forget keeping anything in the cabin. Take one cassette which you like a lot. And a cautionary sartorial note, don't wear flares. They'll be soiled in no time by the muck which gathers on the wide sills.
Not surprisingly, heating and ventilation are at best adequate. We found it difficult to get warm air to our frozen toes. Otherwise, the cabin is a pleasant environment and you could easily become lazy, resting your left elbow on the centre console. One expected sacrifice which didn't materialise was the fuel consumption, which remained — impressively — in the lower 20s. except for one particularly hard drive when consumption rose considerably.
Autocar Verdict
The Lotus Esprit is a glass fibre British sports car which has been under continuous development for over 20 years — and it still has rough edges — witness the bolt heads in the door jambs and imperfect body panel lit But it has survived the company's rough periods, and has been refined, as with the Porsche 911, to the extent that it is now arguably a genuine supercar. And also like the 911, its essential profile has remained timeless, yet each new version looks better than the last. The S4S is accessible where a Ferrari 355 is exclusive — you won't get much change from £90,000 for the cheapest model from Maranello. The Lotus has sophistication where a TVR Griffith has brutish simplicity. Yet it can flex its muscles with them all, without embarrassment. It has truly awesome dynamics, and though a Caterham Seven and TVR Griffith may he better in individual areas, they are too specialised to match the Lotus's overall package. I haven't had the privilege of driving early Lotuses, but I'll stick my neck out and profess the Esprit S4S to be the best Lotus yet — in fact, I'll go one further, for which I may well be hung, drawn and quartered. I think the Lotus Esprit S4S is, for the moment, the must complete British sports car — period. If only that London cabby knew how good the Lotus really is, he might have had real cause for lust just a little envy.
AutoCar Road Test in April 1993
It can't be easy at Lotus right now. Tossed like a hot potato from independence to General Motors to Bugatti and now to another Italian concern called 21 Invest fronted by the Benetton family, the good people of Hethel must be yearning for a period of stability. A period when budgets are confirmed and projects approved, executed, signed off and put into production.
What projects they are! You'll know about the new Seven, the car aimed at taking the company back to its roots, so that once again it is building the kind of car that gave the marque its name in the first place, recreating itself in its original image. It's an exciting proposition, for sure, but one that should be awaited no more anxiously than the new two-plus-two coupe, the new flagship supercar or even the soon-to-be-announced V8 engined Esprit.
Oh yes. As readers of last week's issue will know, the Esprit is soon to receive the engine — a 350bhp, 40-valve four-litre V8 — that its chassis, shape and pedigree have always deserved. It is but one year away, God and 21 Invest willing.
Until then, Lotus, and its Esprit, will continue the only way it knows how: employing smart engineering in place of unavailable development millions to create a fine product. And no better example of this ethos exists than this latest Esprit, the S4S, developed at a cost of just £250,000. It is an entirely pragmatic car, born from Lotus customers telling the company that they want their Esprit to be as fast as the ultra-quick and raw Sport 300 but with the comfort of the stock S4. Simple, say I: drop a Sport 300 engine into an S4 and away you go. Not so fast, says Lotus, that's not the way we do things round here.
So, despite the mere addition of one letter to the S4's name, the S4S is a new Esprit in its own right with its own engine and chassis specification. It costs £53,995, some seven grand more than an S4 but fully £11,000 less than the lightweight Sport 300. It will also, says Lotus, outsell both its brothers' combined sales, accounting for up to 60 per cent of all Lotuses sold from now on.
The starting point for the S4S is a stock S4 frame, modified to accept the chassis brace from the Sport 300 which runs around the engine and rear of the car, increasing rigidity by a third. Spring settings are 10 per cent stiffer at the front and 15 per cent behind, although the dampers are actually slightly softer. Tyre sizes increase to exploit these changes, with 235/40 ZR17 Michelin Pilot SX MXX3 tyres up front and 285/35 ZR18s behind — the biggest, if not quite the fattest ever to adorn an Esprit (the S300 has 315/35 ZR17s at the back). Small wheel arch extensions are added at the back to accommodate the extra tyre width, while the rear wing is taken straight from the Sport 300. Roger Becker, director of vehicle engineering at Lotus and the man who developed the S4S, describes the chassis as being "about three-quarters of the way to a Sport 300".
The engine is considerably closer than that. Though rated at a nominal 285bhp at 6400 rpm, compared with the S300's 302bhp, the S4S will actually peak at a transient 300bhp for short periods under full acceleration in cool weather. Significantly, its torque output actually trumps the S300's, with 290 lb ft at 4100 rpm compared with 287 lb ft at 4400 rpm. The reason for this is that the engine is actually developed from the S300; same head, same camshafts. The only differences are a smaller, purpose-built garrett turbocharger, designated T3/60, as well as reprogrammed engine management charged with providing extra throttle response and less lag at low revs. The promise of such a package is clear to see.
But before you can put it to the test, the S4S, like the 17 other Esprit variants I can think of in its 20-year history, does its best to poison your opinion of the car. Simply clambering aboard can be both difficult and painful. The doors don't open nearly wide enough, while the scooped out racing seat seems a fearsome drop away. Without anywhere to gain a good hand hold and lower yourself gently into the cabin, you have little choice but to aim yourself in the general direction of the seat and let go. With your backside in a 1g freefall, glancing off the sharp edges of the seat is a painful and often infuriating experience. Worse, once installed, the obscured view of the new but scarcely improved instruments and the proximity of pate to sunroof if you're tall do little to help convert you to the Esprit's cause.
Turning on the engine and moving off fails to improve the situation. The old aluminium four-cylinder engine was never exactly sonorous and it seems that the more power it is asked to produce, the more vociferously it complains. When it can, the old Renault gearbox joins in too, graunching into reverse and shifting slowly through its five wide ratios. Thoughts start drifting over to the Porsche 911 Carrera. Just £2500 more buys you one of the most charismatic engines in the world, perhaps the best gearchange (with six gears), easy access to the cabin, comfortable seating and first-class visibility to boot.
But the Porsche is not as quick. Whereas a Sport 300 engine is fast asleep up to 3000rpm and still a little bleary-eyed until 3500rpm, the S4S is downstairs, reporting for duty at 2500rpm sharp. That gives you close to 5000rpm of pure, animal acceleration, a kind that's genuinely rare even in such fast car days as these. The figures Lotus's, not ours, regrettably — point to a 0-60mph time of 4.6sec and 0-100mph in 11.4sec, which, if they can be proven, will put S4S performance broadly on a par with that other two-seat sportscar, the eight-litre V10 Chrysler Viper. Not bad from 2.2 litres and just four cylinders…
Nevertheless, if you're going to fall in love with this Esprit it won't be for its straight-line performance. For all its speed, the engine noise and thankless gearchange quality steal much of the fun the acceleration would otherwise bring. If the affair is to start, it will begin with the corners.
It takes more sense than money to fine-tune a chassis. Look at how many tiny manufacturers produce cars with wonderful dynamics and how many multi-billion-dollar conglomerates make a complete dog's breakfast of theirs. And of them all, Lotus stands proud, in my book at least, as the best of the lot. Looking back over the dozen or so Lotuses I have been lucky enough to drive in the last decade, I can think of just one whose handling failed to do the job assigned to it. The rest have all been marvels. But this S4S, without doubt, is the best of all.
[quote align='left']If you're going to fall in love with this Esprit, it won't be for its straight-line performance[/quote]
I have never known another mid-engined supercar that is so friendly on the limit. Even the Sport 300, lighter and a shade more agile though it undoubtedly is, is trickier if for no other reason than that the peaky nature of its engine makes it more difficult to apply the power evenly from the exit of a corner. With more torque spread over a wider area and better throttle response, the S4S presents no such problems. It offers instead the finest power steering in the world (now that the Porsche 968 Club Sport is dead there can be no further argument) and a chassis balance tipped in favour of the mildest understeer, easing gently, naturally and faithfully into neutrality once turned in and settled into the corner.
Given that old-fashioned tail-out motoring does not come naturally to the S4S, it treats its imposition with remarkable equanimity, shuffling its hips indulgently sideways in the face of a bootful of throttle in a second gear corner, allowing you to detail that extraordinary steering to first holding and then reining in the back of the car once more.
The result is an overall level of adhesion with a lead on the common sports car pack as large as the Esprit has enjoyed for two decades. Coupled with such innate, unquestioning friendliness and it's clear to see that what we are looking at here is the finest handling sports car less than a quarter of a million pounds will buy. As I see it, only the Ferrari F355 stands comparison and while the Italian is unquestionably better damped and braked and has a hugely better ride, its steering is not close to the Esprit's and nor is it ultimately quite as balanced and benign.
The S4S is likely to be the last Esprit before the major revisions needed to accommodate the V8 engine are made. And, as parting shots go, it's a broadly impressive one. There was nothing Lotus could do about the driving position, gravelly engine or grotty gearchange, and anyone approaching the S4S with such high hopes is bound to leave disappointed.
For now, Lotus hopes the Esprit's aged but still beautiful shape, its pulverising thrust and peerless handling will persuade its customers to overlook its shortcomings as they always have. And if you measure a supercar 's merit by its looks, performance and handling, there's no question the Esprit provides more of each for the money than any other.
For myself, I would conclude that such handling is fair exchange for the gearbox and engine limitations and further consider that the S4S is not only the best Esprit yet but also the best built, even if it remains far from Porsche standards. In fact, had I the money and the inclination, only the driving environment would deter me. But deter me it would. The driving position, poor ventilation and concealed dials annoyed me enough in the 36 hours we had the Esprit to let me know, unequivocally, that even if I were a rich man, I could not own one.
Yet those shorter and thinner than me, which is most of you, need not be so concerned. Britain only builds one mid-engined two-seat supercar and you're looking at it. It's not as polished as many Euro rivals but they, in turn, are rarely as inspired. As a device to see Lotus through these troubled times to the sunlit uplands it hopes lie ahead, it deserves your respect. And, for those of you with £54,000 pointing in the direction of a supercar, your attention too.