1995 McLaren F1 LM
McLaren F1
Launched in 1992, the McLaren F1 would go on to revolutionize the supercar industry with many of its core characteristics still referenced in the production of today's most exotic vehicles. It is the McLaren model everybody knows. It paved the way for an increasingly mainstream use of materials such as carbon fiber, kevlar and titanium in sports cars and was the first production car to use a monocoque chassis.
While its composition and performance metrics certainly felt space-grade for the times, the McLaren F1 remained more down to earth in its approach to being comfortable and refined, with positive road manners. Its generously appointed interior was configured to seat up to three – albeit with its signature centre-located driver's seat – and even came with luggage compartments fitted under each rear fender.
Designed by the legendary Gordon Murray, who had one goal in mind, the McLaren F1 was built to be the fastest and best handling production car in the world. Namely, the ultimate road car – one that is enjoyable in everyday conditions, while still at the zenith of road car performance.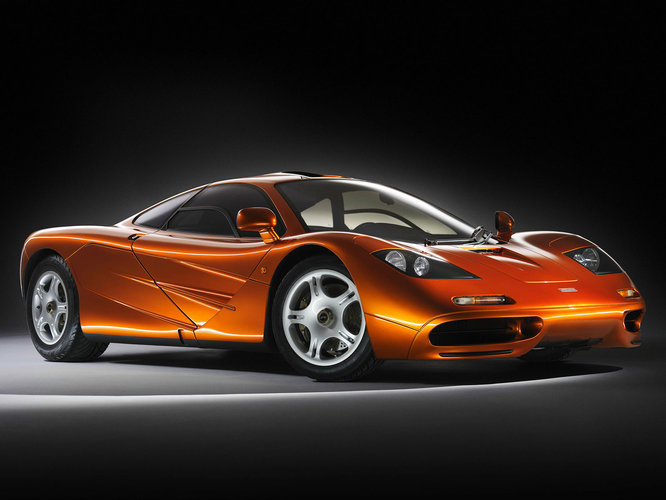 To plug Honda and its enthusiasts, Murray has been less than coy when it comes to where he drew his inspiration for the creation of the F1. Indeed, it was the Honda NSX that set the precedence and direction for the F1 and its overall design directive, ultimately having a profound effect on the end product.
"The moment I drove the 'little' NSX, all the benchmark cars–Ferrari, Porsche, Lamborghini–I had been using as references in the development of my car vanished from my mind," said Murray. "Of course the car we would create, the McLaren F1, needed to be faster than the NSX, but the NSX's ride quality and handling would become our new design target."
Furthermore, Murray initially wanted to leverage Mclaren's relationship with the Japanese automaker, and envisioned Honda supplying the engine for the McLaren F1. However, they would end up partnering with BMW's M Division to commission a power plant exact to Murray's desired specifications – he wanted an engine with at least 4.5,L in a V10 or V12 configuration, and without forced induction.
This collaboration would end up being the catalyst in creating one of the best engines ever made – a naturally aspirated 6.1L V12, with 627-horsepower. Throughout the project, Murray was adamant about not using turbochargers or superchargers to achieve those figures, as he felt that this would help in emulating the resilience of the Honda NSX's immensely reliable motor.
Related: McLaren F1 Image Gallery / McLaren F1 Videos / McLaren News / McLaren Model List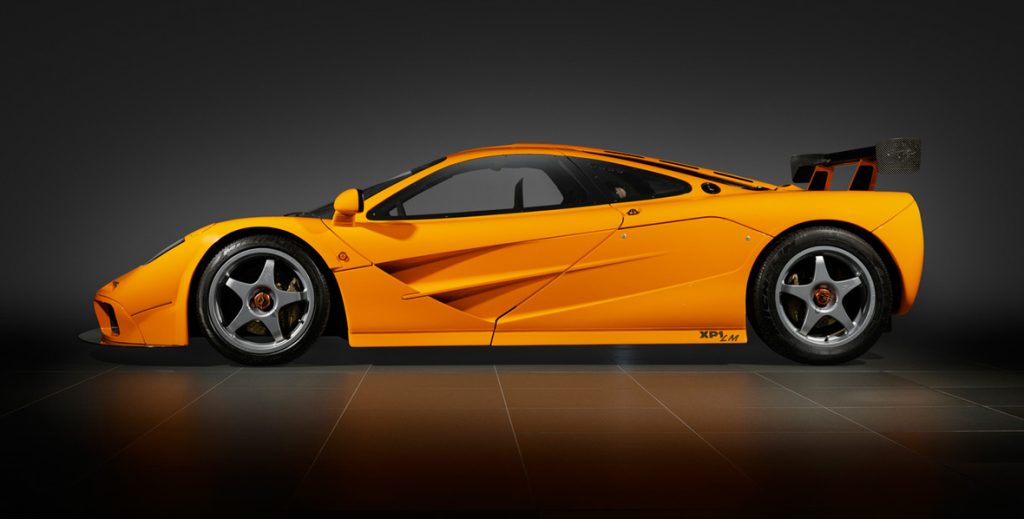 McLaren F1 LM – A Celebration of Le Mans
Although Murray had vehemently opposed the idea of the McLaren F1 being anything other than a road car, he would later soften this view and a racing variant known as the McLaren F1 GTR was produced in 1995 and purposed for grand touring racing. The GTR was fitted with the same engine as the road going version, although some modifications and restrictors were installed in order to satisfy the appropriate racing regulations.
In its debut year, five McLaren F1 GTRs would compete and finish in the 1995 24 Hours of Le Mans, amounting to famous victories in both class and overall standings. This feat was made all the more impressive due to the poor conditions on the day, and the GTR's ability to compete with cars in the prototype class. The GTR would continue to race for another 10 years before the chassis would be retired.
To commemorate its success at Le Mans, McLaren was quick to unveil a celebratory road-legal variant called the F1 LM later that year. The LM was limited to just five examples, one for each of the F1 GTRs that competed in that memorable race. The vast majority of media circulating on the web and magazines, showcases the car with a papaya orange paint job – a nod to Bruce McLaren's racing cars – though it has come to light more recently that two of the three examples delivered to The Sultan of Brunei were painted black.
The McLaren F1 LM was much more than just another cosmetic recreation of a race car. Not only was it far from being just a replica, the LM is actually lighter and more powerful than the GTR race car. Without any racing restrictions in place, the LM was able to shed 60 kg compared to the GTR and produced an additional 68-horsepower, for a total of 680-horsepower.
To further exclaim its tribute to the race car, the LM also features a lower, stiffer and track-tuned suspension and a stripped down interior. Aerodynamic enhancements and stickier tires allows the LM to corner and accelerate more adeptly than the 'regular' F1, though the former would reduce top speed from 231 mph to 225 mph.
Self-proclaimed as "an untamed Le Mans race car with number plates", the McLaren F1 was arguably the fastest and most powerful road car at the time of its introduction. It was certainly the most expensive road-legal McLaren brand new, and would go on to become a highly desirable collectible soon after.
Drivetrain & Performance
The McLaren F1 LM used the same BMW S70/2 engine as the 1995 F1 GTR, but without restrictors which were installed to limit horsepower per FIA regulations. Alternatively, the engine can be considered a more powerful version of the road-going McLaren F1, since they all used the same 6.1L V12 engine with varying degrees of capabilities.
Semantics aside, the S70/2 engine in the LM produced 680-horsepower @ 7,800 rpm and 520 lb-ft of torque @ 4,500 rpm. It also had an 8,500 rpm redline and a 11.0:1 compression ratio. Factoring in its lightweight chassis, the LM had an impressive weight to power ratio of 3.4 lb/hp.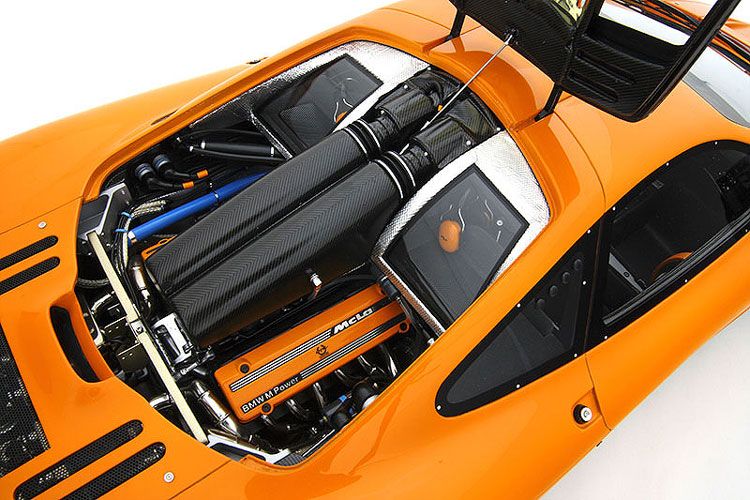 The engine is mated to an upgraded gearbox and shared the same gun drilled driveshaft from the Le Mans cars. The drivetrain featured a tripod CV joint setup with straight cut gears. The F1 LM is equipped with a hydraulic triple plate carbon clutch, which measures 200mm in diameter. The McLaren F1 LM shared the same gear ratios as the standard F1 – 3.23:1, 2.19:1, 1.71:1, 1.39:1, 1.16:1, 0.93:1, with a final drive of 2.37:1.
In theory, the McLaren F1 LM was adequately specced to accelerate from 0-60 mph in around 3 seconds, which would have made it about two-tenths faster than the standard F1 in this metric. In reality, traction issues played their part under such circumstances and it was only able to achieve a time of 3.9 seconds – primarily due to the massive wheelspin that resulted as the factory equipped rear tires could not cope with the LM's enormous power output.
The McLaren F1 LM would still go on to achieve stunning results during performance measures, achieving 0-100 mph in 6.7 seconds and a then-world-record 0-100-0 mph test in just 11.5 seconds (and over a distance of 252 metres). Top speed was rated at 225 mph, which was about 10 mph less than the standard F1 due the increased aerodynamic downforce/drag over the latter.
Chassis & Handling
Weighing in at a very lean 2,341 lbs, the Mclaren F1 LM had the best power-to-weight ratio of any F1, including the Le Mans GTR race cars. Interestingly, the F1 LM has the same power-to-weight ratio as another iconic McLaren – the P1 – which was released over 18 years later.
Much of the weight reduction is the direct result of the LM deriving its core aerodynamic features directly from the GTR, and then further improving on them thanks to the absence of racing regulations. This, along with a spartan interior which was stripped of features such as sound deadening and an audio system, would contribute to its featherlight stature.
The LM generated exceptional aerodynamic downforce with its functionally purposed bodywork of which some pieces, such as the rear diffuser, was shared with the GTR race car. The addition of larger cooling ducts at the nose and in front of the wheels would assist with engine cooling by channeling air to the radiators.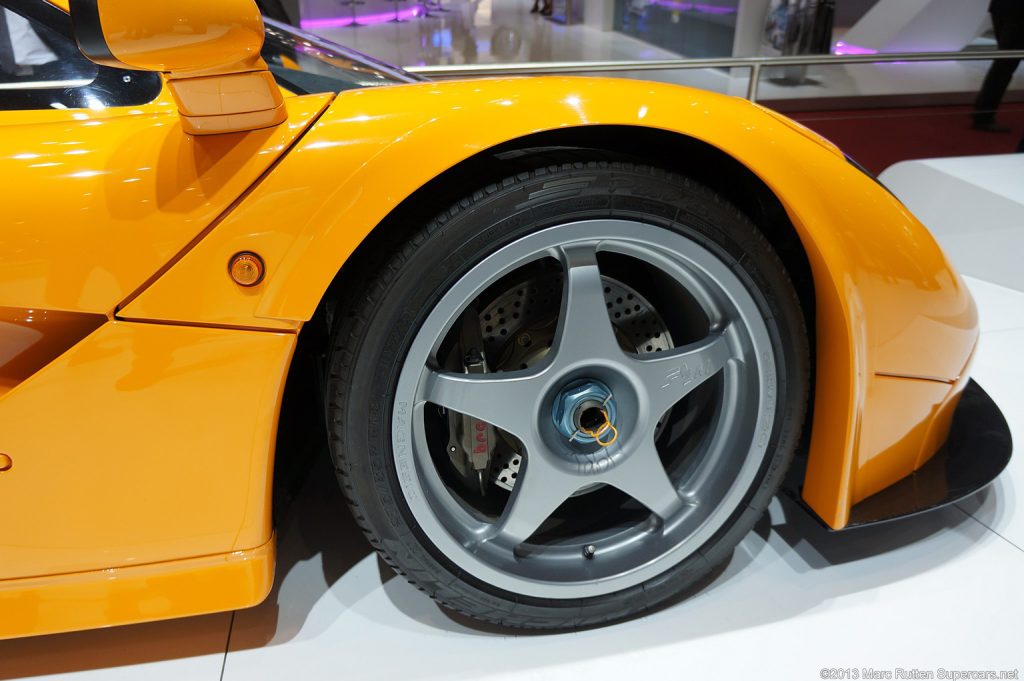 AT the rear is a much larger and adjustable (but not active) CFRP wing in place of the regular F1's smaller dynamic wing. It also features an aggressive CFRP front splitter, side skirts and wheel arch extensions which improve aerodynamics and allow for a wider track and more grip.
Rounding off the LM's insane mechanical grip are 18" OZ magnesium alloy wheels wrapped in Michelin SX-MXX3 tires, though it later became apparent that the rubber wasn't the best match for its V12 monster of an engine. Sadly, the carbon ceramic brakes from the GTR were not carried over to the LM, although it does benefit from F1-derived 13.1" steel discs and four-pot calipers at all four corners. The LM does however, share the race version's brake cooling system.
Design, Styling & Interior
At a cursory glance, the McLaren F1 LM's exterior looks identical to that of the GTR race car. A closer inspection will reveal some harder-to-spot differences, such as the center vents on the front bumper gaining a mesh grill and other unique features such as an "GTR-24 Heures du Mans Winners 1995" engraving on the rear wing.
The LM's interior followed many of the same lightweight principles as the GTR, though some measures were understandably put in place in order to make it more refined for road use. Most notable is the re-addition of the two passenger seats that are present in the standard F1, but removed from the race car. McLaren originally intended for the LM to retain only the center seat, but were swayed by their wealthy focus group to do otherwise.
Other differences from the GTR included the addition of Alcantara pads to the chassis and the installation of a smaller switch panel in order to create more passenger legroom. Drivers are also treated to a wider titanium gas pedal and bespoke headsets with the car's chassis number engraved on them.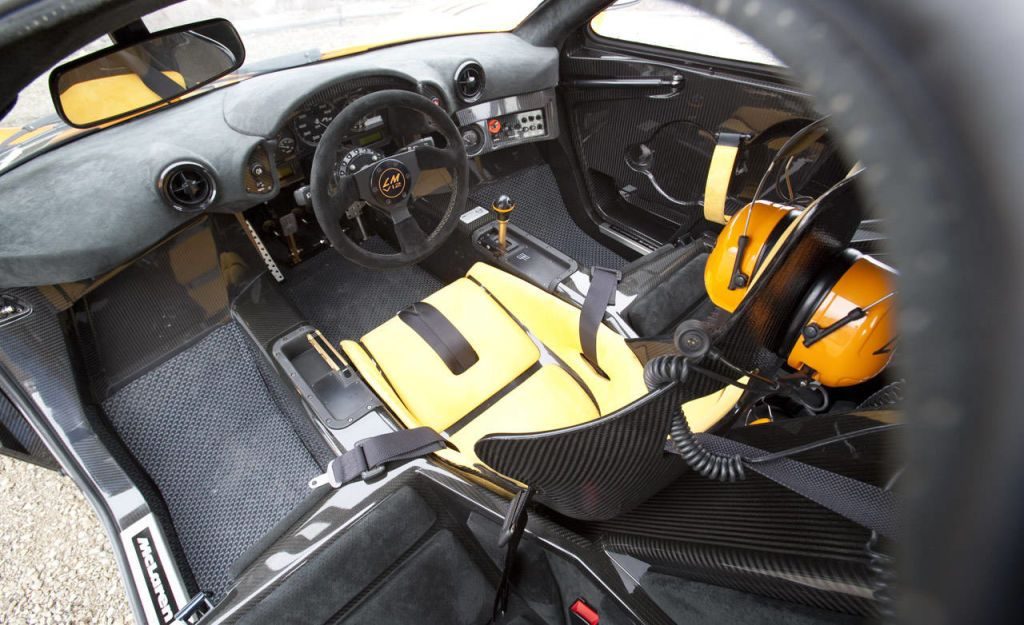 Pricing
Considering such limited production numbers and a not-your-everyday-buyer clientele, there is no official information on pricing for the McLaren F1 LM. The standard F1, which was priced at around $1 million USD when brand new, might provide a tiny bit of insight.
As far as what their customers actually paid for their LM; your guess is as good as mine, although we can both agree that it would be significantly more than the F1. The case for this becomes even stronger, when considering that three of the five units built were sold to the Sultan of Brunei, who likely had some bespoke MSO items added to his orders also.
Another point of reference would be the prototype used to blueprint an F1 into the F1 LM, known as the "XP1" LM. The car is currently at the McLaren factory in Woking and is reportedly worth over $5 million USD.
Here's an interesting tidbit about that car. It was once promised by McLaren CEO Ron Dennis as a gift to Formula 1 driver Lewis Hamilton, if the latter were to win two Formula 1 championships as a McLaren driver. Hamilton would end up leaving McLaren before moving to rivals Mercedes, accomplishing only half the feat in the process; and the rest as they say, is history.
While an actual McLaren F1 LM hasn't publicly changed hands, two of its uber rare variants have become some of the most valuable McLaren F1s in history. In 2015, one of two "LM Specification" F1s – which is not quite an LM, in that it is an even more road-going version of it – sold at a Sotheby's auction event at Pebble Beach for a mind-boggling $13.8 million USD. In 2019, the second example sold for an astronomical price of $19.8 million USD during Monterey Car Week.
Performance & Specifications Summary
Details

Country of Origin
Great Britain
Production Year
1995
Production Numbers
5 (+1 Prototype)
Designers
Gordon Murray, Peter Stevens
Engine

Configuration
BMW S70/2 GTR LM 60º V12
Location
Mid, longitudinally mounted
Construction
Alloy block and head
Displacement
6,064 cc / 370 cu in
Bore / Stroke
86.0 mm (3.4 in) / 87.0 mm (3.4 in)
Compression
11.0:1
Valvetrain
4 valves / cylinder, DOHC
Fuel feed
Fuel Injection
Aspiration
Naturally Aspirated
Power
680 bhp / 507 kW @ 7,800 rpm
Torque
705 Nm / 520 ft lbs @ 4,500 rpm
BHP/Liter
112 bhp / liter
Drivetrain

Chassis
Carbon fibre reinforced plastic monocoque
Suspension (fr/r)
Double unequal length wishbones, coil springs over alloy dampers, anti-roll bar
Steering
Rack-and-pinion
Brakes
Ventilated discs
Gearbox
6-speed Manual
Drive
Rear wheel drive
Dimensions

Weight
1,062 kilo / 2,341 lbs
Length / Width / Height
4,365 mm (171.9 in) / 1,920 mm (75.6 in) / 1,120 mm (44.1 in)
Wheelbase / Track (fr/r)
2,718 mm (107 in) / 1,570 mm (61.8 in) / 1,464 mm (57.6 in)
Performance Figures

Power to Weight
0.64 bhp / kg
Top Speed
362 km/h (225 mph)
0-60 mph
2.9 s (theorized)
Pictures & Videos
Image Gallery
Video Gallery
McLaren Automotive – Andrew Bagnall's McLaren F1 is one of only two in the world fitted with the extra high downforce package, featuring dramatic aerodynamic modifications, and a 680bhp LM-spec race engine.
Fifth Gear – In this classic Fifth Gear clip, Tiff gets to see which car is best. The Ferrari Enzo or the McLaren F1 (LM)!
Fifth Gear – Tiff takes a closer and more intimate look at the Mclaren F1 LM.
In Detail
| | |
| --- | --- |
| submitted by | Richard Owen |
| price $ | $1 250 000 USD |
| engine | BMW 70/2 60 Degree V12 |
| position | Mid Longitudinal |
| valvetrain | Chain Driven DOHC w/Continuously Variable Inlet Valve Timing & 4 |
| displacement | 6064 cc / 370.0 in³ |
| bore | 86.0 mm / 3.39 in |
| stroke | 87.0 mm / 3.43 in |
| compression | 10.5:1 |
| power | 498.1 kw / 668.0 bhp @ 7800 rpm |
| specific output | 110.16 bhp per litre |
| bhp/weight | bhp per tonne |
| torque | 705.0 nm / 520.0 ft lbs @ 4500 rpm |
| redline | 8500 rpm |
| body / frame | Caron Fibre |
| driven wheels | RWD w/Torsen Differential |
| wheel type | Magnesium Alloy |
| front tires | F MXX3 275/35ZR18 |
| rear tires | R MXX3 345/35ZR18 |
| front brakes | Unassisted Vented Discs |
| f brake size | x 332 mm / x 13.1 in |
| rear brakes | Unassisted Vented Discs |
| r brake size | x 305 mm / x 12.0 in |
| front wheels | F 45.7 x 27.6 cm / 18.0 x 10.85 in |
| rear wheels | R 45.7 x 33.0 cm / 18.0 x 13.0 in |
| steering | Unassisted Rack & Pinion |
| f suspension | Double Wishbones w/Light Alloy Dampers, Co-Axial Coil Springs, A |
| r suspension | Double Wishbones w/Light Alloy Dampers, Co-Axial Coil Springs |
| curb weight | 1062 kg / 2341 lbs |
| wheelbase | 2718 mm / 107.0 in |
| front track | 1570 mm / 61.8 in |
| rear track | 1464 mm / 57.6 in |
| length | 4365 mm / 171.9 in |
| width | 1820 mm / 71.7 in |
| height | 1120 mm / 44.1 in |
| transmission | Transverse 6-Speed Manual |
| gear ratios | 3.23:1, 2.19:1, 1.71:1, 1.39:1, 1.16:1, 0.93:1, :1 |
| final drive | 2.37:1 |
| top speed | ~362.1 kph / 225.0 mph |
| 0 – 60 mph | ~2.9 seconds |
| 0 – 100 mph | ~6.7 seconds |