2009 Lotus Evora
Evora is the first all-new Lotus since the iconic Elise made its debut in 1995. It enters the sports car market as currently the world's only mid-engined 2+2. Powered by a Lotus-tuned 3.5-litre V6 engine producing 280 PS, and weighing just 1350 kg (prototype specification), the Evora promises breathtaking performance.
During preliminary testing around the famous Nürburgring, the Lotus chassis engineers report that it is extremely agile and great fun to drive – even when clad with the full development disguise that hid the beautiful lines from the prying motor-industry paparazzi.
In addition to its excellent performance and exemplary handling, the Evora offers a more refined ownership experience than Lotus's existing smaller four-cylinder models. Its elegantly styled cabin is elegantly trimmed and its equipment list includes contemporary features such as an advanced touch-screen multi-media system and electric power-fold door mirrors.
Because one of the roles of the Evora is to attract new customers to the Lotus brand, much attention has been paid to its ease of use. Wider, taller door apertures and narrower sills make getting in and out of the cabin a less athletic undertaking than it is in Lotus's smaller sports cars (the Elise, Exige, Europa and 2-Eleven), while the design of the cabin itself will accommodate two 99th percentile (6ft 5in tall) American males in the front seats.
The Evora has been designed with global automotive regulations in mind, and future derivatives are planed, these including amongst others, a convertible.
Related: Lotus Race Cars / Current Lotus Models / All Lotus Cars / Latest Lotus News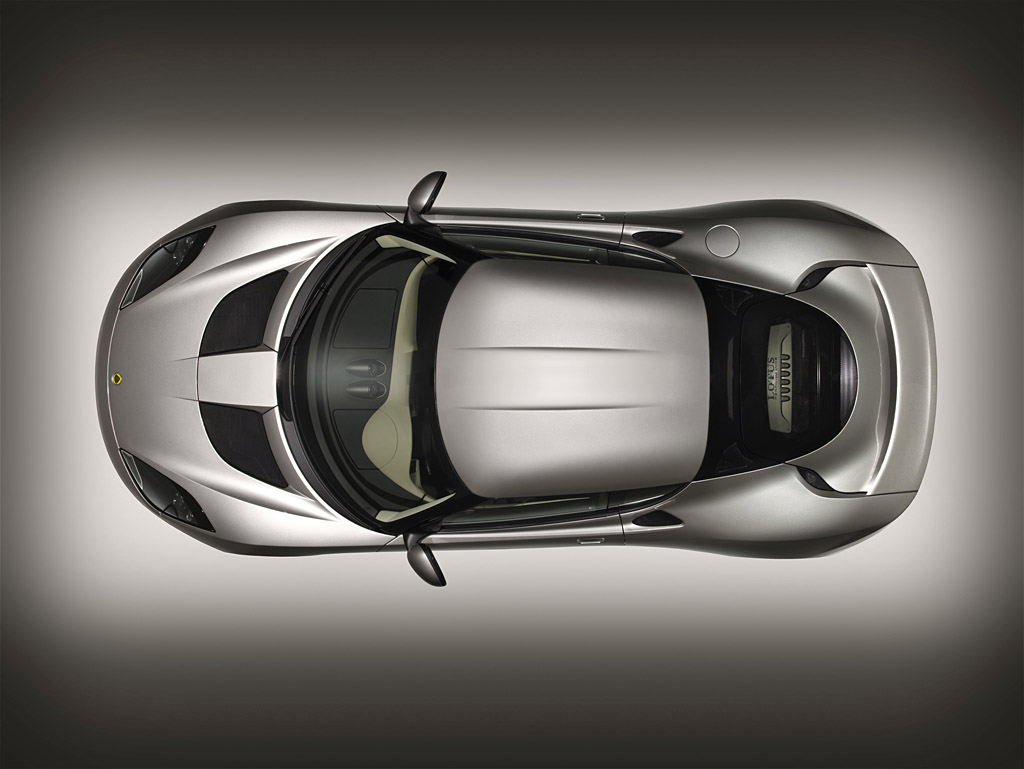 The Evora will be hand crafted and built on a dedicated new assembly line within Lotus's advanced manufacturing facility at Hethel in the east of England; capacity limitations will restrict production to approximately 2000 cars a year, ensuring the dynamic new sports car's rarity and exclusivity.
Style
Designed 'in-house' by Lotus Design, the sleek and athletic form uses fluid forms and crisp surfaces to communicate velocity, agility and sophistication. Low and wide with modern cab forward proportions, muscular rear haunches and function optimised hip air intakes this is clearly a serious mid engined sportscar that skilfully hides the practicality of its two plus two capability.
Russell Carr, Head of Lotus Design, led the Evora's design team with Steven Crijns, Design Manager responsible for the exterior and Anthony Bushell, Senior Designer, responsible for the interior.
Crijns: "Overall the design language shows a clear DNA link with its Lotus siblings, whilst establishing its own distinctive and contemporary theme. The undulating shoulder line is brilliantly mirrored in the lower part of the bodyside by the cut -away sill that creates a torseau-like muscularity."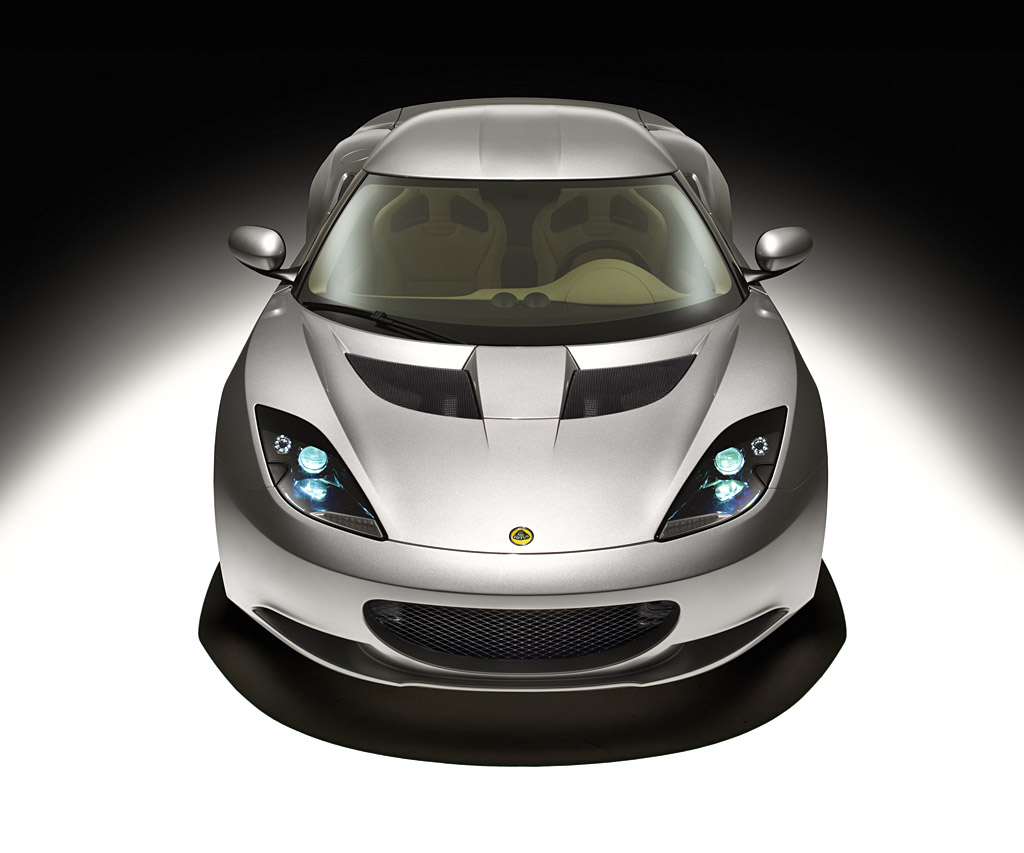 Interior
The design language of the interior reflects that of the exterior – simple, fluid surfaces, soft forms and crisp feature lines wrap around the cabin cosseting the occupants. Unlike recent Lotus products that use a race car inspired, technical minimalism, the Evora employs a softer approach that utilises premium quality materials and finishes to create a contemporary but luxurious ambience that is unique to Lotus products.
It is, according to Head of Lotus Design Russell Carr, "A huge departure from what people might expect based on Lotus's recent past. We wanted the Evora's cabin to feel special and to be surprising as well as sporty. Precision engineered metal inserts and quality edge-lit switches are brilliantly juxtaposed against soft hand-stitched leather surfaces to give a modern interior with a classic twist."
Russell Carr continues, "The flat bottomed steering wheel, figure hugging sports seat, contemporary instrumentation and ergonomically positioned controls provide an intuitive environment that instantly forms a connection between driver and car ensuring that it becomes an extension of his or her body."
A bespoke air-conditioning system developed by Bergstrom is standard on all models, and has been designed for the hottest climate or the closest humidity to help provide maximum occupant comfort. Lotus traction control and on-board tyre pressure monitoring will also be available.
The rear seats of 2+2 versions of the Evora –are intended for children and smaller adults. There will also be a two-seater derivative with a luggage shelf in the back. To maximise comfort in the rear, there's a decent amount of foot-room under the seats in front, while both back seats feature ISOFIX mountings for secure child seat fitment.
Chassis
The Evora's chassis is an evolution of the Versatile Vehicle Architecture (VVA) from the Lotus APX concept vehicle previously showcased at the Geneva Motorshow, and allows for the development of a range of vehicles up to a gross vehicle weight of 1,900 kg.
In common with the Elise and its derivatives, The Evora's bonded extruded aluminium chassis tub has incredible inherent strength, particularly in regard to side impacts. Additional torsional strength is given to the whole structure by the tubular steel seatbelt anchorage frame that also acts as a rollover structure.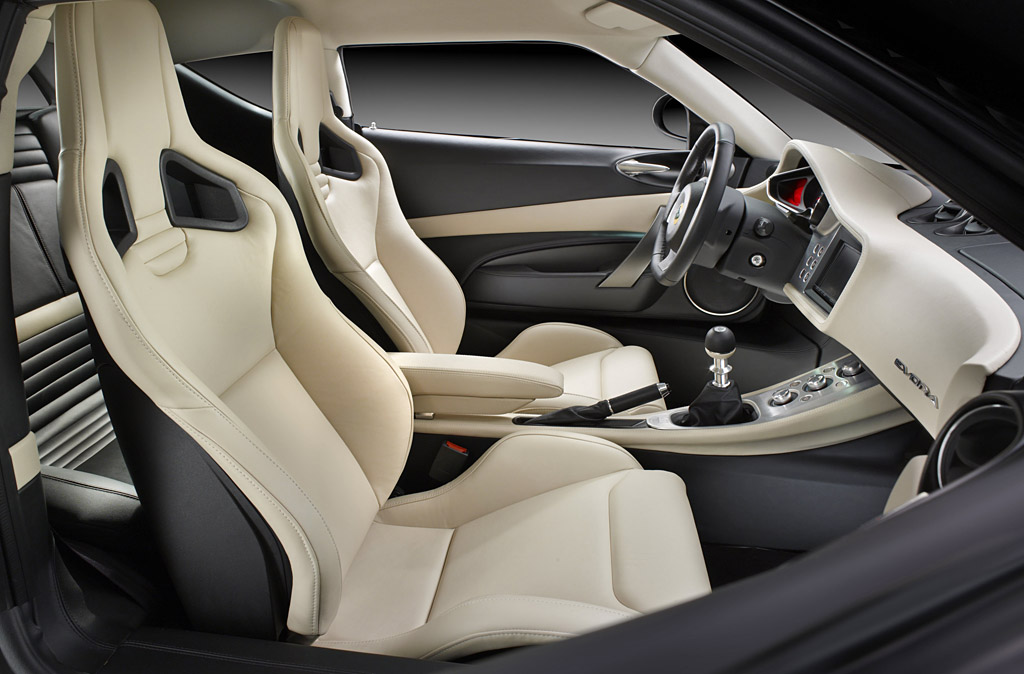 The Lotus Evora employs a composite roof as a stressed structural member to give an exceptional vehicle stiffness of 26,000 Nm per degree, thanks in part to the seatbelt anchorage frame's secondary function as a roll over structure, and partly because the high-tech composite body panels are stressed items. However, despite this high stiffness, the complete chassis and modules weight just 200 kg (prototype weight), helping to keep the weight of the whole car to just 1350 kg (prototype weight).
Suspension & Brakes
The Evora suspension wishbones are forged from aluminium to reduce the unsprung mass. These are similar in weight, and stiffer than the steel items found on the much smaller Elise, Exige and Europa vehicles, and have a far higher vehicle weight capacity. They are attached to the front and rear modules via bespoke bushes. The Evora will use Bilstein high performance dampers and Eibach springs with unique dual path top mounts for optimised vehicle refinement. Hydraulically assisted power steering is provided by a Lotus tuned TRW steering rack.
Vented and cross-drilled brake discs – massive 350mm items on the front and 332mm at the rear – and high performance bespoke Lotus AP Racing 4 pot callipers ensure impressive stopping power.
Keeping a grip – 18 inch at the front, 19 inch at the rear. Tyre choice is a vital component in the handling performance of every Lotus and for the Evora, Yokohama was chosen as development partner.
Lotus's long-term relationship with Yokohama was swiftly rewarded during development when initially the front tyre size did not generate the Lotus required lateral grip, the Japanese grip gurus went away and developed bespoke tyres especially for the Evora – a 225/40 ZR18 at the front and larger diameter; 255/35 ZR19 at the rear. Both have carcass construction and a rubber compound unique to Lotus and are identified by the letters 'LTS' on the sidewalls.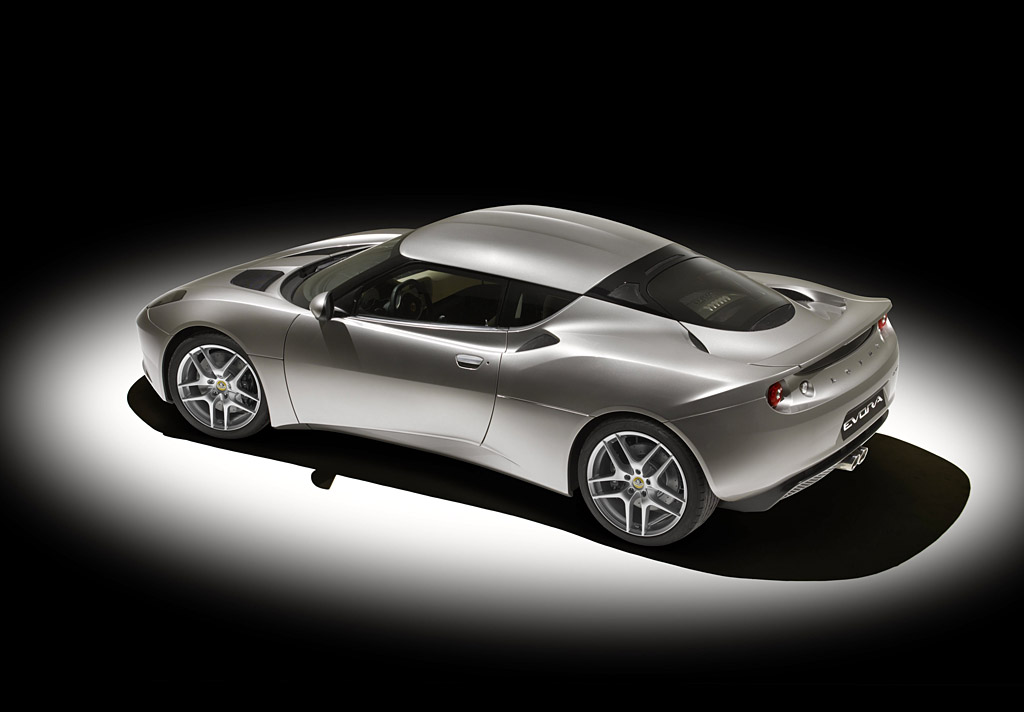 The V6 Engine
The exceptional working relationship that Lotus has enjoyed with Toyota over several decades, combined with the overwhelmingly enthusiastic reception for the company's four-cylinder power units in the Elise and Exige, guaranteed the Japanese giant's inclusion on the shortlist for the Evora engine supplier.
The final choice was Toyota's all-alloy 2GR-FE 3.5-litre V6 DOHC, with dual VVT-i ('intelligent' variable valve timing). Lotus has painstakingly developed its own T6e engine management software for this engine to optimize its compatibility with the unique requirements of the Evora to give a peak power output to 280 PS at 6400 rpm, while boosting its maximum torque to 342 Nm at 4700 rpm (prototype figures).
The 2GR-FE V6 engine is mated to a manual six-speed gearbox, again Toyota-sourced. A close-ratio version of this gearbox is also currently under development for the even more sport-focussed driver.
Performance
At the time of its unveiling, full performance figures have yet to be compiled on a production specification Lotus Evora, Lotus has another 6 months development to conduct.
While for Lotus top speed is of less importance than stability at speed, early indications suggest a maximum speed of 160 mph; the 0-60 mph sprint from standstill is estimated at sub 5 seconds (prototype figures).
By the time the Evora reaches the Lotus showrooms from Spring 2009 onwards, it will be the most thoroughly tested Lotus car in the history of Lotus. It will also be one of the company's great milestones.
It has spent hours howling around the Nürburgring and endlessly lapped Lotus's test track at Hethel. By the time the Evora enters production, prototypes will have travelled for hundreds of thousands of miles along some of the worst public roads in the world and been tortured for as many miles on some of the toughest proving grounds the motor industry has to offer including extreme pave tests, to Australia and even the Arizona outback.
Story by Group Lotus PLC
Pictures
Specs & Performance
| | |
| --- | --- |
| | |
| type | Series Production Car |
| released at | 2008 British Auto Show |
| built at | Hethel, England |
| body stylist | Steven Crijns, Russel Carr |
| engineers | Richard Rackham |
| price $ | $ 61,000 |
| price £/td> | £47,500 |
| engine | Toyota 2GR-FE V6 |
| position | Mid, Transverse |
| block material | Aluminum Alloy |
| valvetrain | Chain-Driven DOHC, 4 Valves per Cyl w/dual VVTi |
| fuel feed | Electronic Injection |
| displacement | 3456 cc / 210.90 in³ |
| bore | 94 mm / 3.7 in |
| stroke | 83 mm / 3.27 in |
| compression | 10.8:1 |
| power | 205.8 kw / 276 bhp @ 6400 rpm |
| specific output | 79.86 bhp per litre |
| bhp/weight | 199.71 bhp per tonne |
| torque | 342 nm / 252.2 ft lbs @ 4700 rpm |
| redline | 7000 |
| body / frame | Plastic Body over Bonded & Extruded Aluminium Chassis w/Front and Rear Aluminum Subframes |
| driven wheels | RWD w/TCS |
| wheel type | Forged Aluminium Alloy |
| front tires | 225/40 ZR18 Yokohama |
| rear tires | 255/35 ZR19 Yokohama |
| front brakes | Vented & Drilled Discs w/Lotus AP Racing 4-Piston Calipers |
| f brake size | 33 x 350 mm / 1.3 x 13.8 in |
| rear brakes | Vented & Drilled Discs w/Lotus AP Racing 4-Piston Calipers |
| r brake size | 25 x 335.3 mm / 1.0 x 13.2 in |
| front wheels | F 45.7 x 20.3 cm / 18 x 8 in |
| rear wheels | R 48.3 x 24.1 cm / 19 x 9.5 in |
| steering | TRW Rack & Pinion w/Hydrualic Assist |
| f suspension | Forged Aluminum Wishbones w/Bilstein Dampers, Eibach Springs |
| r suspension | Forged Aluminum Wishbones w/Bilstein Dampers, Eibach Springs |
| curb weight | 1382 kg / 3047 lbs |
| weight distro | 38 % / 62 % |
| wheelbase | 2575 mm / 101.4 in |
| front track | 1567 mm / 61.7 in |
| rear track | 1574 mm / 62 in |
| length | 4340 mm / 170.9 in |
| width | 1849 mm / 72.8 in |
| height | 1221 mm / 48.1 in |
| transmission | Toyota 6-Speed Manual |
| gear ratios | 3.54:1, 1.91:1, 1.41:1, 1.09:1, 0.97:1, 0.86:1 |
| top speed | ~260.66 kph / 162 mph |
| 0 – 60 mph | ~4.9 seconds |
| 0 – 100 kph | ~5.2 seconds |
| drag | 0.337 Cd |
| city fuel econ epa | 13.07 L/100 km or 18 mpg-us |
| hwy fuel econ epa | 8.71 L/100 km or 27 mpg-us |
| fuel capacity | 60 litres or 15.84 gal. |
Auction Sales History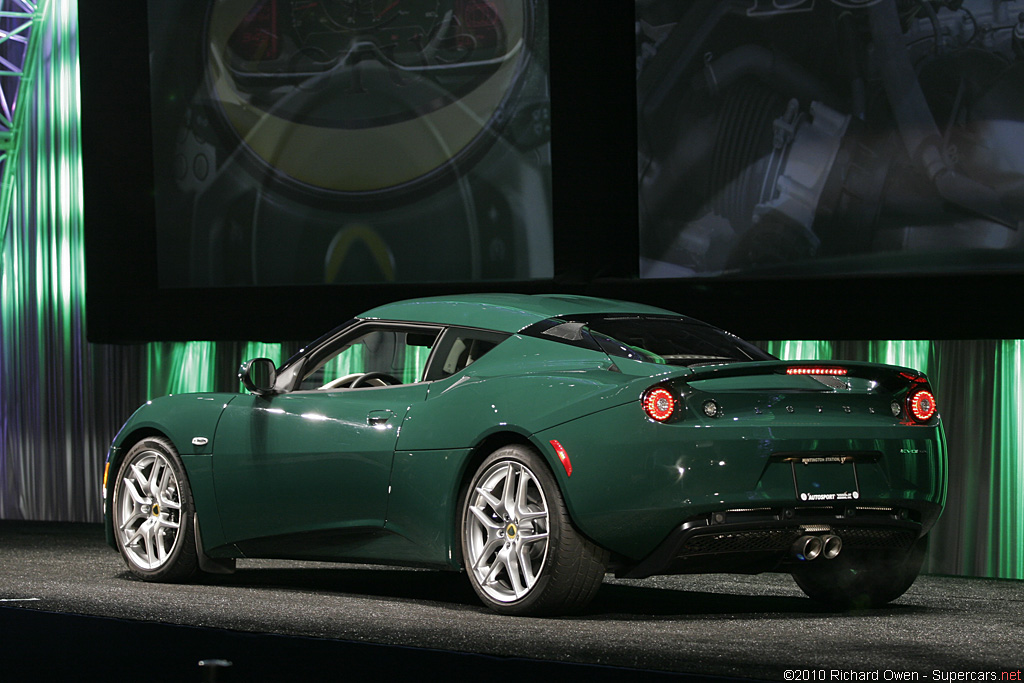 2010 Lotus Evora 2+2 – did not sell for $77,000 This beautiful brand-new Evora is finished in British Racing Green with Oyster trim and offers an interior of Charcoal leather upholstery with matching Charcoal carpets.
Fully optioned, this Lotus features a close-ratio sport gearbox, enhanced throttle response, higher rev limits, sports traction control mode and a titanium exhaust pipe. Driver interface options include cruise control, Bluetooth and iPod connectivity, reverse camera and an Alpine Mobile Media Station with subwoofer. Other luxury amenities include premium floor mats, Evora dashboard badge and leather-trimmed door panels, foot wells, armrests and center console. Auction Source: 2010 Gooding & Company Pebble Beach Auction