2009 SMS Challenger 570X
SMS Supercars unveiled the Challenger 570X at the 2009 New York Auto Show. It uses a new '296 Supercharger' that helps the car produce 700 bhp and 650 ft lbs of torque. Along with the forced induction, Steve Saleen and crew at SMS have fitted an impressive list of upgrades that comprehensively change the stock Challenger into something much more exciting.
Built alongside the 'bolt on' 500 horsepower Challenger 570, the X model uses a specially built-up motor with new forged pistons, forged crankshaft and forged connecting rods. Furthermore, the 570X has a CNC ported aluminum cylinder head with new valve springs and camshaft.
The 296 Supercharger can be fitted to any HEMI-powered Mopar. It is design by Lysholm Technologies AB, the same company that developed the system for the Ford GT. The induction system maintains 100mm throttle bodies from the filter to compressor and can be powder coated in different colors.
To deal with 700 bhp, power for the 570X is routed through a 6-speed SMST™ manual transmission and a high performance clutch. Also fitted are larger half-shafts and a lightweight flywheel. Most of the other upgrades come on both the 570 and 570X except the 570X has carbon fiber bodykit instead of reaction injection molded plastic.
Both models come with the GTX-Style front grill reminiscent of the 1971 Challenger. The new splitter distributes air to the intercooler as well as the front brakes. New sills send air to the rear brakes. At the rear is an extended taillight surround and dual exhaust cooling vents.
SMS fit signature wheels and brakes, using 5-spoke 20 inch alloy wheels. Stopping power is provided by new Signature brakes with optional 14 inch discs with 6-piston calipers up front.
Inside, SMS can fit Leather and Alcantara upholstery with 'Chevron' door inserts. Fitted is a new supercharger gauge cluster and new gauge facias for the standard instrumentation.
SMS cars is based out of Irvine, California and are currently taking orders for the 570-series Challenger. Price for the 570X is $84,970 USD and includes a factory warranty.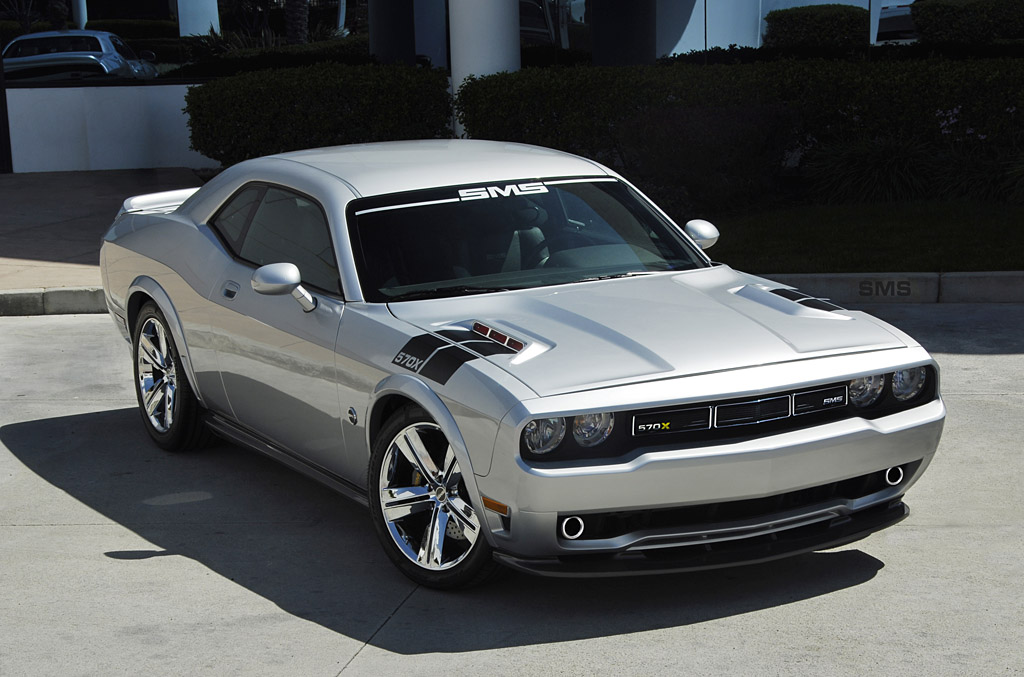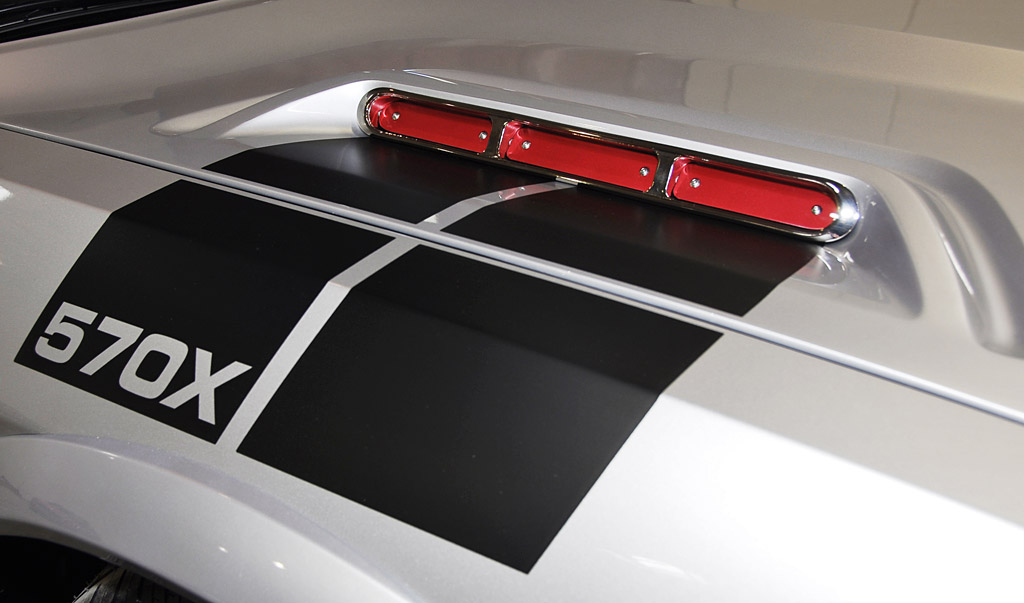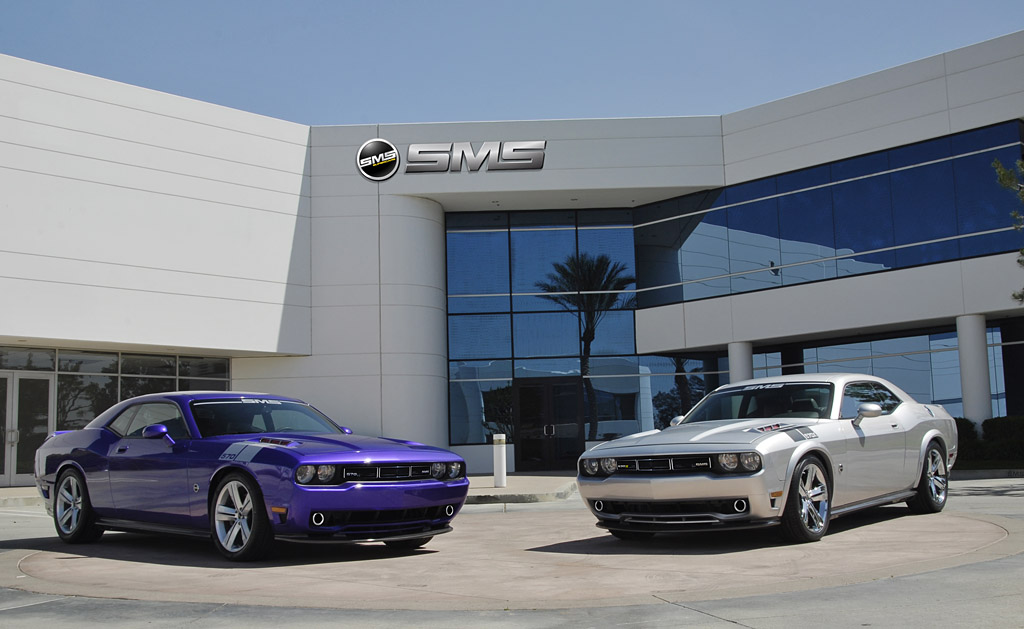 In Detail
| | |
| --- | --- |
| | |
| type | Professionally Tuned Car |
| released at | 2009 New York Auto Show |
| built at | Irvine, California, USA |
| engine | 90 Degree, Hemi V8 w/SMS Pistons, Crank, Camshaft & Connecting Rods |
| position | Front Longitudinal |
| aspiration | Lysholm-Built Twin Screw SMS 296 Supercharger™ |
| block material | Cast Iron |
| valvetrain | Pushrod OHV, 2 Vavles per Cy |
| fuel feed | Sequential, Multi-Port Injection |
| displacement | 6059 cc / 369.74 in³ |
| bore | 103.1 mm / 4.06 in |
| stroke | 90.9 mm / 3.58 in |
| compression | 10.3:1 |
| body / frame | LX Platform Unit Steel w/SMS Bodykit |
| driven wheels | RWD |
| wheel type | SMS Signature 5-Spoke Alloy |
| front tires | 275/40ZR20 |
| rear tires | 275/45ZR20 |
| front brakes | Discs w/SMS 6-Piston Calipers, ABS |
| rear brakes | Discs w/SMS 4-Piston Calipers, ABS |
| front wheels | F 50.8 x 22.9 cm / 20 x 9 in |
| rear wheels | R 50.8 x 25.4 cm / 20 x 10 in |
| f suspension | A-Arms w/SMS S4 Shock Absorbers, Sway Bars, Springs |
| r suspension | 5-Link w/SMS S4 Shock Absorbers, Sway Bars, Springs |
| transmission | 6-Speed SMST™ Manual |
| tran clutch | High Performance Clutch |
| final drive | 3.92:1 |