McLaren 600LT Spider
Introduction
Back in late 2018, I had the pleasure of writing a comprehensive guide for the 2019 McLaren 600LT following its reveal. The car which I still believe is the best McLaren has ever made – and quite likely the best supercar ever made – was made available soon after in convertible configuration. In following with tradition, the car is aptly named the Mclaren 600LT Spider.
600LT Cliff Notes
Those less familiar with the 600LT should read my review – linked above – which will summarily tell you that the Coupe is based on the McLaren 570S hardtop; and is the latest rendition of the "Longtail" Sports Series cars, hence the "LT" moniker. The Spider is the same, respective to the 570S convertible.
Essentially, the 600LT is designed to possess nearly 3 inches longer of aerodynamic bodywork and is given a slight power bump, weight reduction, and other performance upgrades. While these changes may appear to be rudimentary, the intricacies of each improvement sum up to make the 600LT a car in its own right. It's all the little details that matter in a car like this.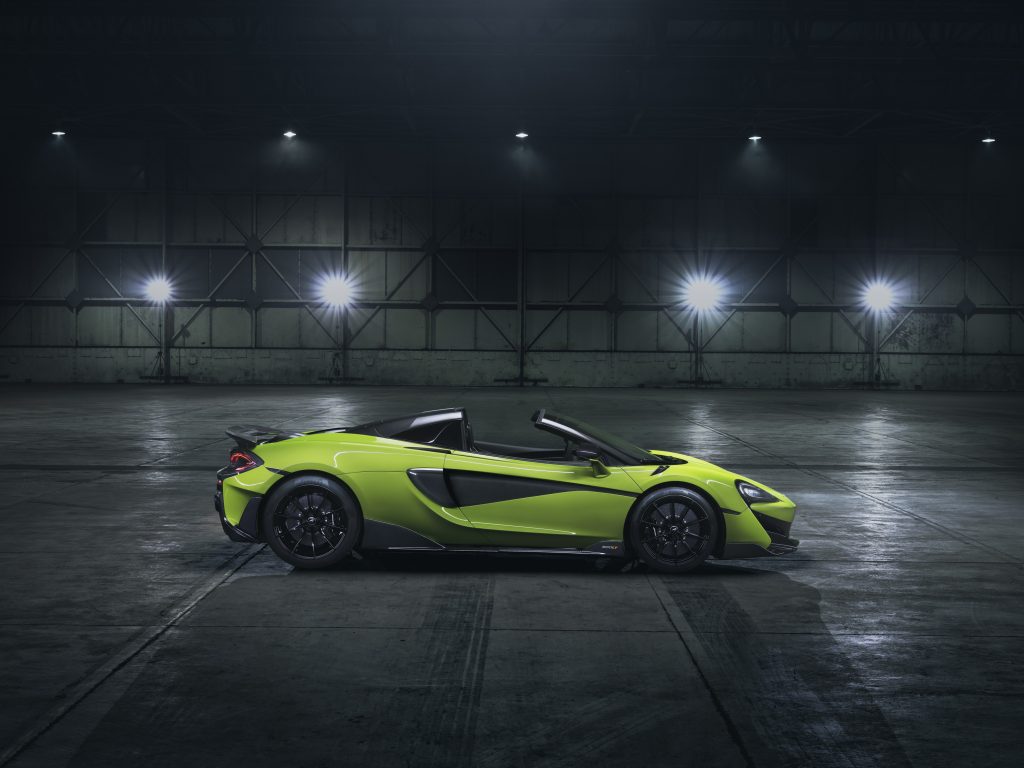 The McLaren 600LT Spider
In every performance metric, the Spider demonstrated core competencies of the Coupe – blistering pace, connective steering feedback, top-of-class handling abilities and surprisingly refined road manners  – but with the added appeal of open-wheel driving via a retractable roof.
The 2019 McLaren 600LT Spider is simply just a convertible version of the coupe. Nothing more, and nothing less – and that's exactly what makes it so amazing.  Any auto manufacturer out there will attest to this as something intricately difficult to accomplish.
Take what is arguably the best driver's car ever made, and make it a convertible with no inherent drawbacks such as the typical rigidity and handling penalties associated with an open roof chassis. No big deal, but still a really big deal. Well done, McLaren.
Engine & Drivetrain
The Spider shares the same 3.8L twin-turbocharged engine as the Coupe, which produces 592-horsepower @ 7,500 rpm and 457 lb-ft of torque @ 5,500 rpm. Overall this results in a 0-60 mph time of 2.8 seconds – identical to the coupe – and a top speed of 201 mph, which is only 3 mph off the pace of its stablemate.
This continues to provide a 30-horsepower advantage over both 570S variants, with a Senna-inspired shorter length top-exit exhaust being a key feature in this result. It's not only the spec sheet that gets padded here, as the increased power is also complemented by better throttle response to further enhance the engine's augmented brawn.
Truly, the entire drivetrain is identical to the Coupe, with a 7-speed dual clutch transmission continuing its role in delivering power to the rear wheels. In an overall sense, the car continues to exude spectacular road manners in its roadster form, although the transmission remains relatively less refined with the ongoing characteristic of being jerky and clunky at lower speeds.
Approaching the upper stratosphere of rev ranges and speeds, the drivetrain really starts to shine, providing smooth and linear power delivery that feels as composed as it does exhilarating. At the extreme end of the spectrum, the 600LT Spider manages to reach 100 mph from a standstill in just over 6 seconds, three-tenths faster than the 570S on which it is based.
Chassis & Handling
Many of the most impressive features of the Spider come from how little they have changed – if at all – relative to the Coupe. As mentioned before, this has never been an easy feat, even given today's technological offerings. Yet in spite of this, the 600LT Spider ways a mere 50 kg more than the Coupe and produces the same 100 kg of downforce at 155 mph as the latter.
This was the result of some visually unassuming but important revisions, such as a longer front splitter that has been extended by 27 mm, new side sills designed to channel turbulent air, a redesigned rear diffuser, and a fixed rear wing. 
The marginal 50 kg weight penalty comes from the retractable roof mechanism, but this is essentially offset by McLaren's carbon fibre MonoCell II monocoque – also featuring in the Coupe – which allows the convertible to be no less rigid than the fixed-roof version, and by all accounts that matter, a negligible difference in performance with the top up.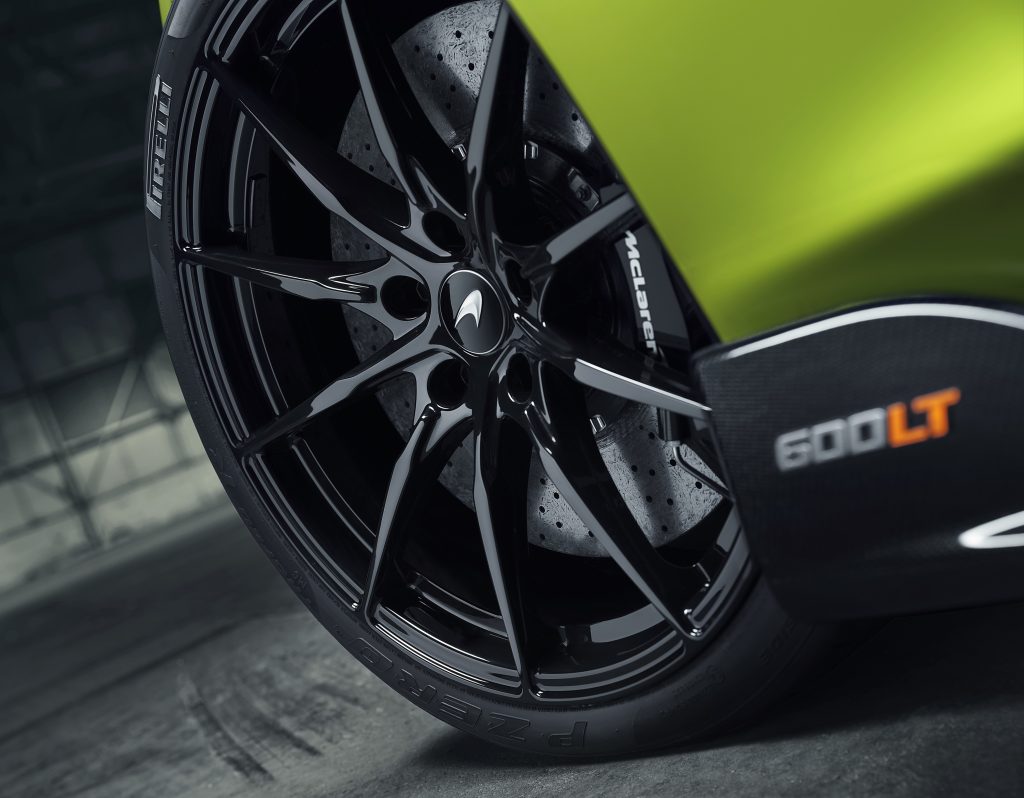 The Spider does in fact weigh around 100 kg less than the 570S convertible on which it is based with the appropriate options selected; meaning it has undergone some weight reduction measures if you look at it from this perspective. The 600LT Spider continues to use the same lightweight aluminum double-wishbone suspension setup as the Coupe (and by that relation, the 720S), matched with coil springs and adaptive dampers. The front and rear anti-roll bars have also been stiffened for improved steering response and chassis stability. Ultra-grippy Pirelli P Zero Trofeo R tires provide contact with the pavement.
McLaren's torque vectoring and traction control systems enhance the mechanical suspension components on the car, allowing it to ride as smoothly as it does capably, whether on the winding mountain roads or the esses at the race track. 'Normal', 'Sport' or 'Track' modes each offer this experience to varying degrees of fun and purpose.
Design, Styling & Interior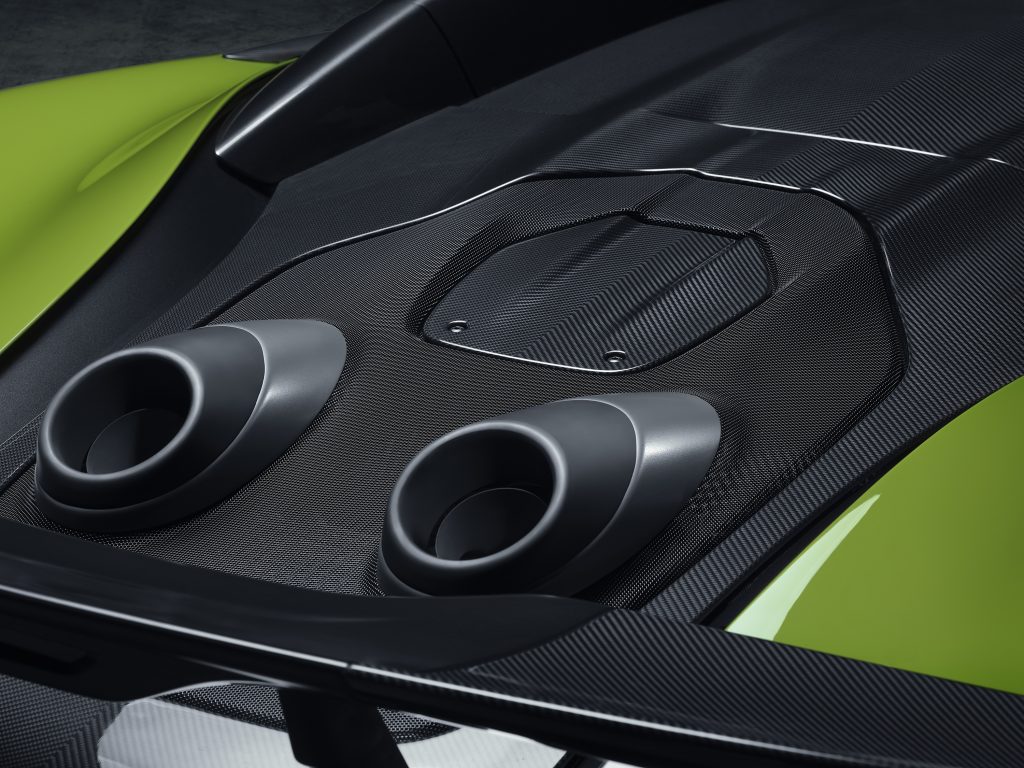 The most notable design cue in the 600LT Spider continues to be, in my opinion, the exhaust exits at the top of the engine cover, rather than through the rear bumper. Not just for crowd pleasing, this design also allows for further weight savings over the 570S and room to fit a larger rear diffuser. In conjunction with the rest of the car's aerodynamic elements, the Spider produces over 100 kg of downforce at 155 mph – just like the Coupe.
As a Longtail edition, the McLaren 600LT Spider is decidedly around 3 inches longer than the 570S convertible on which it is based. Inside the body, the 600LT Spider and Coupe also share the same shortcomings, which are few and easily overlooked when considering what the car was truly designed to do.
For example, both trims employ a laggy and cumbersome infotainment system that precludes a sense of refinement and convenience that such devices are supposed to provide.  The stiffer engine mounts, lack of sound insulation, and overall spartan interior offerings make for a cabin filled with road and mechanical noise.
Track-day purists and weight-reduction junkies will be happy to know that the 600LT Spider does not feature satellite navigation, a sound system or air conditioning as standard fare. However, buyers on the opposite end of the spectrum will be just as pleased to know that these options can be added just by asking – this is done as complementary by McLaren.
Pricing
Following the tradition of open-top variants, the McLaren 600LT Spider commands a notable premium over the Coupe. This is thanks in large part to the retractable roof mechanism, and other tweaking needed to ensure that the usual performance penalties associated with open-top driving were mitigated.
Starting at $256,500 USD, the 600LT Spider still manages to occupy the same price range and market position as its fixed-roof variant. This continues to place it well below its spiritual competitors such as the Porsche 911 GT2 RS and Ferrari 488 Pista Spider, in terms of overall cost, reiterating the McLaren 600LT's remarkable bang-for-buck in the hyper-performance segment.
Performance & Specifications Summary
Model Info

Country of Origin
United Kingdom
Year Introduced
2019
Base Price
£201,500 ($256,500 USD)
Engine

Configuration
M838TE 90º V8
Location
Mid, longitudinally mounted
Construction
Aluminium block and head
Displacement
3,799 cc / 231.8 cu in
Bore / Stroke
93.0 mm (3.7 in) / 69.9 mm (2.8 in)
Valvetrain
4 valves / cylinder, DOHC, Dual VVT
Fuel feed
Fuel Injection
Lubrication
Dry sump
Aspiration
Twin Turbo
Power
592 bhp / 442 kW
Torque
620 Nm / 457 ft lbs
BHP/Liter
156 bhp / liter
Drivetrain

Gearbox
SSG 7 speed Automatic
Drive
Rear wheel drive
Dimensions

Weight
1,297 kilo / 2,859 lbs
Tyres
Pirelli P-Zero Trofeo R
Performance Figures

Power to weight
0.46 bhp / kg
Top Speed
324 km/h (201 mph)
0-100 km/h
2.9 s
Galleries
Image Gallery
McLaren has taken the 570S to the next level, with some reimagined design elements to set the 600LT apart from its donor. Weight savings, aerodynamics, cooling and a bit of showmanship are all emphatically bundled into this package.
In my opinion, the McLaren 600LT's extroverted looks are as beautiful as they are functional – making for a car that radiates the pinnacle of McLaren's current offerings.
Video Gallery
Carfection – Henry Catchpole gives his first impressions of the new McLaren 600LT Spider after a brief drive on track in Arizona. Keep an eye out on Carfection for a full feature on the 600LT Spider when we get the car back in for a drive on the UK roads.
Carfection –  McLaren's chief test driver, Kenny Bräck, pushes the new 600LT Spider to its limits around the Arizona Motorsports Park.
carwow – This is the McLaren 600LT Spider! Effectively, it's a 570S Spider that's dropped some weight, while also adding some more power along with a number of aerodynamic changes! As per the name, it comes in with 600hp and can do 0 – 62 in 2.8 seconds! But is the 600LT worth considering if you're likely to spend more time popping down to the shops then taking it out on the track? Join Mat for his latest review to find out!
PistonHeads – The latest Longtail to emerge from McLaren's playbook might be the finest production car it has yet made. A bold statement, perhaps – Dan P considers whether or not it might be true…
Official Press Release
McLaren 600LT Spider: the sky's the limit for new Longtail convertible
16 Jan 2019
New 600LT Spider combines acclaimed track-honed dynamic excellence of 600LT Coupé with added exhilaration of open-air driving
Third model under the £1.2bn McLaren Automotive Track25 business plan and fifth car to carry the Longtail (LT) name
Maintains McLaren Longtail ethos of increased power, reduced weight, optimised aerodynamics, absolute driver engagement, track-focused dynamics and limited availability
Top-exit exhausts introduced with Coupé also feature on Spider, further amplifying aural and visual excitement, especially when the roof or rear window are down
At least 80kg lighter than competition, with just 50kg premium over 600LT Coupé for lightest dry weight of 1,297kg; no additional strengthening required to maintain full structural rigidity
100kg* weight reduction over 570S Spider at DIN weight evidences determination to minimise weight of an LT model, benefitting dynamic finesse and overall performance
600PS and 620Nm from 3.8-litre twin-turbocharged V8 engine; power-to-weight ratio of 463PS/tonne at lightest dry weight underpins remarkable performance
Acceleration on par with 600LT Coupé: 0-100km/h (62mph) identical at 2.9 seconds; 0-200km/h (124mph) in 8.4 seconds is just 0.2 seconds slower. Top speed of 324km/h (201mph)
Bespoke Pirelli P Zero™ Trofeo R tyres for track-focused dynamics and enhanced engagement
Limited volume; all cars hand-assembled at the McLaren Production Centre in Woking, Surrey, England
Available to order now; priced from £201,500 including taxes (UK)
McLaren Automotive today releases first images and details of the third new model in its £1.2bn Track25 business plan – the McLaren 600LT Spider. The fifth car to carry the Longtail name, the new convertible fully embodies the McLaren Longtail philosophy of increased power, reduced weight, optimised aerodynamics, track-focused dynamics and limited availability. In addition, it brings a new dimension of excitement over the 600LT Coupé, without compromise to the dynamic purity of the most performance-focused car in the Sports Series line-up: a retractable hardtop to give the choice of open-air driving.
"The McLaren 600LT Spider adds a new dimension of excitement to the most extreme model in the Sports Series family, while losing none of the Longtail focus. Taking full advantage of the strength of the carbon fibre MonoCell II chassis has ensured that the new Spider has dynamic abilities and performance on par with the 600LT Coupé, for a weight premium of just 50kg and with no additional structural strengthening required. In addition to our weight advantage over competitors, we have also retained the top-exit exhausts that debuted on the Coupé – and I'm pleased to report that they sound and look even better with the roof or rear window of the Spider lowered!" – Mike Flewitt, Chief Executive Officer, McLaren Automotive
Like its 600LT Coupé sibling, the Spider records a significant weight saving over the model on which it is based, with McLaren's engineers achieving a reduction of 100kg* at DIN weight over the 570S Spider. Furthermore, thanks to its lightweight but incredibly strong carbon fibre MonoCell II chassis, the convertible 600LT retains the structural rigidity of the Coupé with none of the strengthening that is usually required with conventional steel or aluminium structures. The result is a weight penalty of only 50kg over the Coupé, which contributes to a lightest dry weight of just 1,297kg for the Spider. This is at least 80kg less than any direct competitor and the equivalent power-to-weight ratio of 463PS-per-tonne underpins astonishing levels of performance and dynamic prowess.
Enhancing the Sports Series Longtail experience with open-air motoring is as easy as pushing a button to lower or raise the three-piece, powered retractable hardtop roof at speeds of up to 40km/h (25mph). With the roof lowered, occupants benefit not only from wind in their hair, but also the memorable aural and visual drama provided by the top-exit exhausts that are unique to the 600LT.  An electrically-operated, glazed wind deflector can be activated independently of the hardtop, to reduce buffeting or increase ventilation – or simply to allow more of the exhaust sound into the cabin.
Incorporating technology proven in the 650S, 675LT and 570S Spiders, the hardtop roof is more secure and wear-resistant than a fabric alternative would be, as well as offering Coupé-like cabin refinement when in the raised position. Equally importantly, it allowed McLaren's design team to maintain the focused design language and silhouette of the 600LT Coupé. When lowered, the roof stows elegantly with the assistance of soft-close technology beneath a tonneau cover located behind the seats; with the roof raised, this tonneau storage area provides an additional 52 litres of luggage space.
The 600LT Spider benefits from the same portfolio of performance enhancements that has proved irresistible to 600LT Coupé buyers. The electronic control systems of the twin-turbocharged, 3.8-litre V8 engine have been revised, the cooling system uprated and the shorter exhausts tuned to liberate more power. The engine produces the same 600PS (592bhp) and 620Nm (457lb ft) in the Spider as it does in the Coupé.
The uprated powertrain enables the driver to exploit the 600LT Spider's carbon fibre monocoque chassis to the full, aided by a dual-clutch, Seamless Shift seven-speed Gearbox (SSG) that features Ignition Cut in Sport mode to facilitate faster changes whilst delivering a dramatic aural crack from the top-exit exhausts, plus Inertia Push in Track mode to optimise acceleration. The 600LT Spider will reach 100km/h (62mph) from a standstill in 2.9 seconds, with 200km/h (124mph) achieved in just 8.4 seconds – a near-indistinguishable 0.2 seconds slower than the Coupé. The maximum speed is 324km/h (201mph) with the roof raised, or 315km/h (196mph) with it lowered.
Performance is further enhanced by the lightweight carbon fibre bodywork that creates the Longtail silhouette and the same design of fixed rear wing as the Coupé which – despite the aerodynamic challenges posed by a convertible body – generates the same 100kg of downforce at 250km/h (155mph).  Ultra-precise, track-focused handling is supported by a forged aluminium double-wishbone suspension system with recalibrated dampers, firmer engine mounts and a lightweight braking system. The 600LT Spider is fitted with bespoke, track-focused Pirelli P- Zero™ Trofeo R tyres and the driving experience is further enhanced with quicker steering and sharpened responses from throttle and brake pedals.
Lowering the roof of the 600LT Spider showcases the performance-orientated interior, which features lightweight Alcantara® trim and Carbon Fibre Racing Seats from the McLaren P1™ as standard. The Super-Lightweight Carbon Fibre Racing Seats designed for the McLaren Senna are available as an option, either on their own or within the MSO Clubsport Pack. Further weight-saving options and measures – including deletion of the audio and climate control systems – are available to buyers determined to shave off every kilogramme possible.
The new 600LT Spider is the fifth model to carry the coveted LT badge, joining the illustrious bloodline that began in 1997 with the McLaren F1 GTR 'Longtail', of which only a development prototype and nine examples were built. Victorious in five of the 11 rounds of the 1997 FIA GT Championship, the original Longtail also finished first and second in the GT1 class at Le Mans, almost 30 laps ahead of the opposition. McLaren Automotive revived the legendary Longtail name at the 2015 Geneva International Motor Show, with the launch of the 675LT Coupé, a limited-volume model that rapidly sold out. In response to customer demand, a 675LT Spider followed, all 500 examples of which were sold within two weeks. The fourth model to bear the Longtail name, the 600LT Coupé, was revealed in July 2018 at the Goodwood Festival of Speed and has since been hailed by critics as one of the finest cars in its class – an accolade that will now be challenged by its new Spider sibling.
Like the Coupé, availability of the 600LT Spider will be limited, with build slots scheduled around other Sports and Super Series models.  Available to order now from McLaren retailers, each car will be hand-assembled at the McLaren Production Centre in Woking, Surrey, England.
The 600LT Spider is priced from £201,500 with taxes (UK). Further information about the new addition to the McLaren Longtail family can be found at https://cars.mclaren.com/sports-series/600lt-spider.
Ends
* 100kg difference is with optional MSO Clubsport Pack, comprising Super Lightweight Carbon Fibre Racing Seats (Regular or Touring); Carbon Fibre Interior Upgrade; MSO Defined Gloss Visual Carbon Fibre Front Fender Louvres; Titanium Wheel Bolts. Pack is priced at £18,200 including taxes (UK). 100kg is rounded figure, from 99.7kg
Final Verdict
Foreword: As my fellow Supercars.net colleague, Nick Dellis once remarked, "The world is full of armchair commentators when it comes to cars. At Supercars.net we have a number of journalists and automotive publications we rely on when we want to get unbiased opinions from people we admire."
Below are snippets from some of our favorite car reviewers and automotive personalities regarding the McLaren 600LT Spider. As always, we ask that you support the amazing publications they release, so that the automotive community continues to benefit from the hard work and enthusiasm they put into providing us with content that we love.
Autocar
[quote cite='
Autocar
, Matt Sanders' align='right']Nothing short of sublime on the road. – 4.5/5[/quote]
"The 675LT left you in absolutely no doubt about the extra level of oft-imposing, always rewarding driver appeal that the Longtail brand stands for.
While the 600LT offers a similar upgrade on track purpose, its overall driver appeal, as unearthed by this test, is considerable – but isn't quite so transformed."
FOR: Convertible roof adds another dimension of enjoyment to scintillating 600LT, Incredible feel and handling balance make it a delight on road
AGAINST: Engine's aural character not as pleasing as that of rival supercars, Not so open to improvisational fun on track.
Car Magazine
[quote cite='Car Magazine, Gavin Green' align='right']Less roof, same blistering performance. – 5/5[/quote]
"Used thus, I'd list the 600LT Spider as my favourite modern McLaren. It is richly entertaining yet surprisingly usable. Blindingly fast yet unexpectedly capable.
Go-kart agile yet brutally powerful. And I'd choose the Spider over the Coupé.
There is no discernible reduction in speed, handling or entertainment compared with the Coupé – plus the added charm of wind-in-the-hair pleasure."
Top Gear
[quote cite='
Top Gear
' align='right']The 600LT was one of our favourite supercars of last year. Now there's a roadster. One for the boulevard – 9/10[/quote]
"As we said at the start, it's tempting to see the 600LT Spider as just another box-ticking exercise within McLaren's massive Track25 business plan (18 new cars to be launched by 2025). But then you drive it, and you realise that there's more to this LT than just the fact it's a faster, harder Sports Series model.
It delivers such compelling handling accuracy, tactility and sharpness that it's something else entirely – another roadster in the mould of the 675LT Spider that gives away so little ability to its hard-top sibling that all sneering comments about roadsters not being for serious drivers can be ignored."
FOR: Handling accuracy and sharpness, engine noise with rear window lowered, steering, brakes, driving position
AGAINST: Not much, we'll even tolerate the lack of carpets
evo Magazine
[quote cite='
EVO
, Adam Towler ' align='right']The benefits of open-air motoring will easily offset the small weight increase for most buyers. It remains a genuinely thrilling car. – 5/5[/quote]
"The 600LT is a car with a very high level of ultimate performance, but one that also involves and thrills at much more modest velocities as well – which was the secret of its evo car of the year success.
It's equally at home on road or track, but also surprisingly friendly in a way that encourages you to improve your own abilities without penalising too harshly your mistakes.
Feedback through the steering wheel is outstanding, and the car always feels hyper agile and immediate, without being nervous, while the sturdy brake pedal feel and iron-grip damping composure breed immediate confidence."
FOR: All the things we like about the 600LT coupe but with more fresh air and noise
AGAINST: Slightly heavier