Introduction
With the introduction of the new Cross Turismo range of Porsche Taycan models, we're now entering the second act of the company's electrification strategy. The Porsche Taycan Cross Turismo carries over the EV-platform and performance from its sedan counterpart, then amalgamates them with the utilitarianism of a sporty crossover / estate. What this means is that you can expect the same 800-volt battery architecture powering the car, with 93.4 kWh as the standard fare on all models (certain sedan trims could be had with a smaller 79.2 kWh pack).
While a number of the Cross Turismo models' design elements bear an obvious resemblance to the sedans, they offer something very distinct as well. Aside from the glaringly obvious visual and utilitarian differences that are on tap, all CT models feature a longer roof which flows into its estate-like silhouette. This allows the CT models to have up to 43 cu. ft. of cargo space – compared to the sedan's 14 cu. ft – plus an additional 36 mm of headroom for rear-seated passengers. The Cross Turismo also comes with significantly more ground clearance too, along with a "Gravel Mode" which is unique to the CT range. 
Adding the optional Off-road Design Package gives the car an even more pronounced statement of intent; one that suggests that the Cross Turismo can go places and perform tasks that the regular, more sportscar-oriented Taycan cannot. The Porsche Taycan Cross Turismo is currently available in four distinct trim levels – 4, 4S, Turbo, and Turbo S – with relative performance figures and standard features across the range, mostly in parallel with that of the sedans. The gap in performance (and price) between the 4S and Turbo models suggests that there is ample room for a GTS model to naturally slot in some time down the road, but we will have to wait and see.
Available Trims
2021 Porsche Taycan 4 Cross Turismo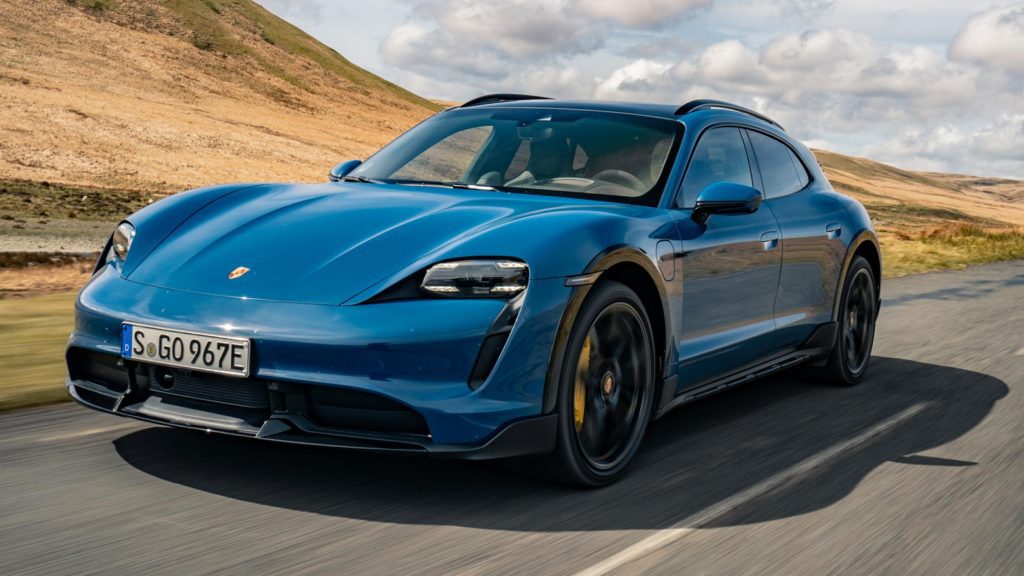 Base Price:

US$90,900

Engine:

AC Permanent Synchronous Motor

Power:

375 hp (469 hp w/ Overboost Power and Launch Control)

Torque:

368 lb-ft

0-60 mph:

4.8 seconds

Top Speed:

137 mph
The Porsche Taycan 4 Cross Turismo is the entry-level offering within the CT range, with its performance figures most comparable to the base rear-wheel drive Porsche Taycan sedan. It does get a boost over the aforementioned, thanks to the larger 93.4 kWh battery and all-wheel drive coming standard.
For those who have a budget in mind and are willing to forgo a bit of performance in order to partake in Porsche's interpretation of fully-electric-practicality, the Taycan 4 Cross Turismo is a great choice priced at well under 6-figures before options.
2021 Porsche Taycan 4S Cross Turismo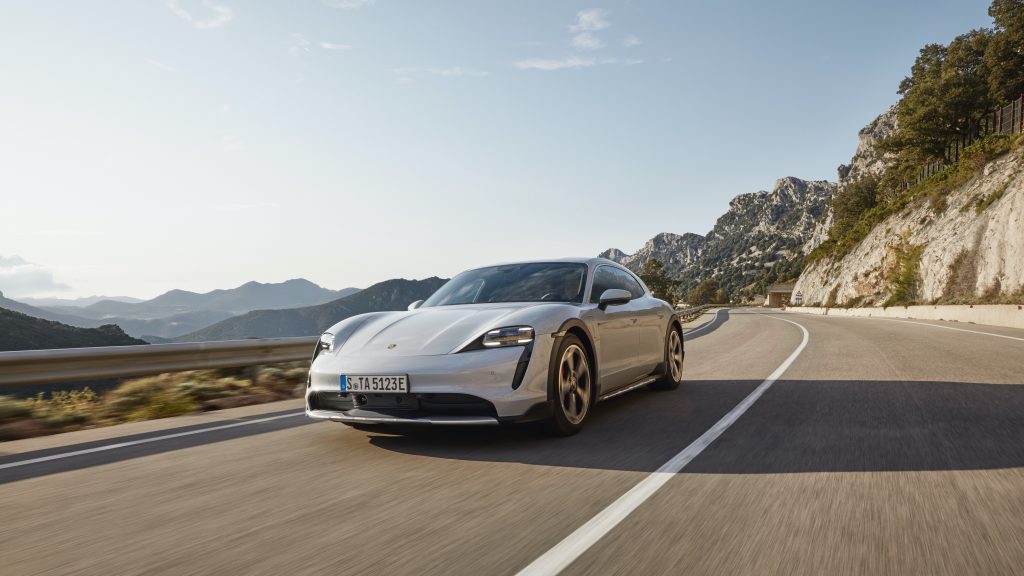 Base Price:

US$110,300

Engine:

AC Permanent Synchronous Motor

Power:

482 hp (562 hp w/ Overboost Power and Launch Control)

Torque:

479 lb-ft

0-60 mph:

3.9 seconds

Top Speed:

149 mph
The Porsche Taycan 4S Cross Turismo is the second offering in the CT range, and costs $6,500 more to get into than its sedan equivalent. However, it is important to note that the 4S Cross Turismo comes standard with Performance Battery Plus (93.4 kWh battery) while the 4S sedan does not. Both models share the exact same performance specs when equipped with the 93.4 kWh battery, with the CT a smidge slower from 0-60 mph due to the extra bit of weight. 
In our opinion, we feel that the 4S Cross Turismo offers the best balance of price, performance, and practicality out of all the models in the range. Where the Taycan sedan is more of a high-performance sports car, the CT is targeting the more pragmatic, family-oriented buyer; one who is more likely to find that the performance of the Turbo and Turbo S models go well beyond what is needed for the task at hand.
2021 Porsche Taycan Turbo Cross Turismo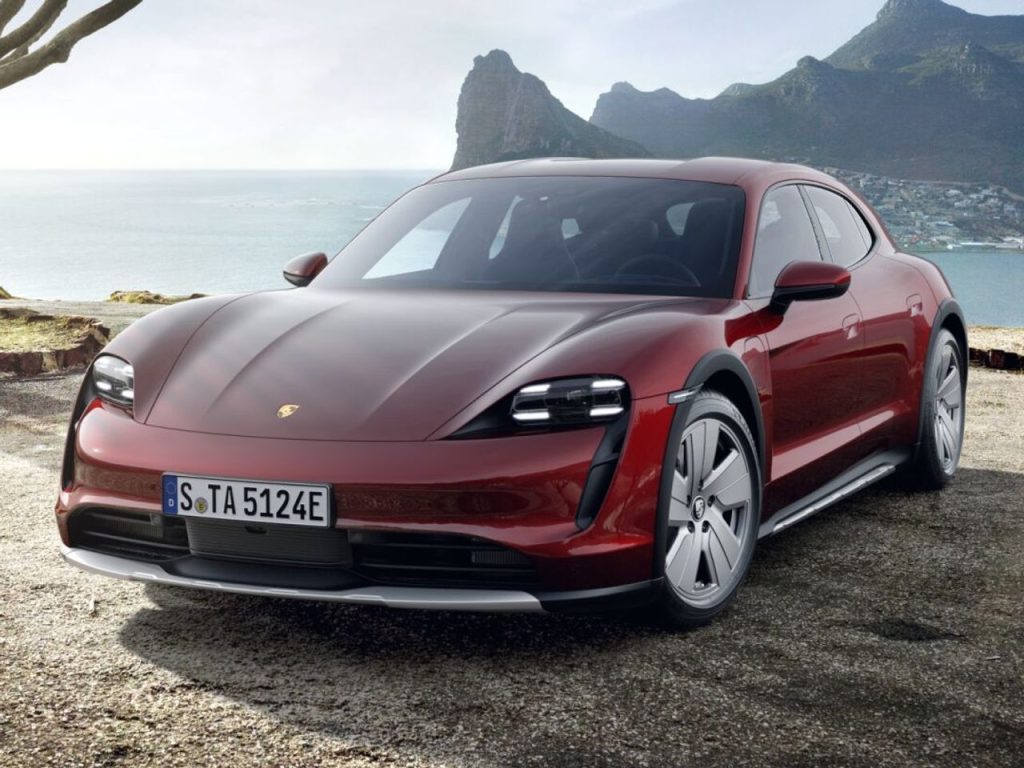 Base Price:

US$153,500

Engine:

AC Permanent Synchronous Motor

Power:

616 hp (670 hp w/ Overboost Power and Launch Control)

Torque:

626 lb-ft

0-60 mph:

3.1 seconds

Top Speed:

155 mph
For those who want to enjoy their Taycan Cross Turismo for more than just family road-trips and running errands around town, the Turbo offers insane performance if you also fancy a weekend session at the race track or straight-line launches on the empty country backroads. 
The Turbo generates up to 670 hp and can complete 0-60 mph in just 3.1 seconds, transforming the car from reliable kid-hauler to practical supercar. Among other things, the Turbo will also come standard with more features, which include  20" Taycan Turbo Design Wheels and larger brakes compared to the 4 and 4S models. 
2021 Porsche Taycan Turbo S Cross Turismo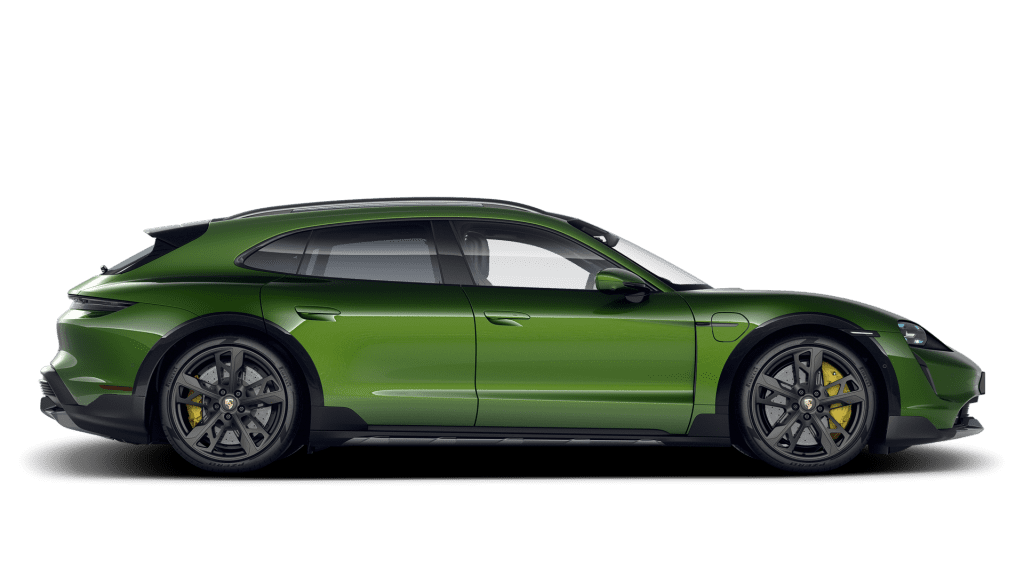 Base Price:

US$187,600

Engine:

AC Permanent Synchronous Motor

Power:

616 hp (750 hp w/ Overboost Power and Launch Control)

Torque:

774 lb-ft

0-60 mph:

2.7 seconds

Top Speed:

155 mph
The Porsche Taycan Turbo S Cross Turismo is for those who desire performance without compromise and want to make the ultimate statement in a Porsche Taycan. While the practicality of the CT's station wagon platform still remains, there is no doubt that it plays second fiddle to the performance credentials that only a Turbo S can offer.  
Generating up to 750 hp, Porsche claims that the Turbo S Cross Turismo is capable of sprinting from 0-60 mph in just 2.7 seconds. However, a number of independent tests have been able to complete this feat in even less time, revealing hypercar credentials which are likely to overshadow the car's inherent utilitarian qualities. 
The Turbo S also comes standard with more equipment than any other CT model, with Porsche Carbon Ceramic Brakes (PCCB), Sport Chrono Package and Adaptive Sport Seats Plus (18-way) available at no extra cost. The car is also equipped with  20" Taycan Turbo S Design wheels, which can be upgraded to the 21" Cross Turismo Design Wheels for free.   
Engine, Drivetrain & Performance
As mentioned earlier, all Taycan CT models will come equipped with the same 93.4 kWh battery as standard to complement the compulsory all-wheel drive. Each of the 4 trims (see above) unlock increasing stages of power as you move up the roster, with the range-topping Turbo S capable of some 750 hp and 774 lb-ft of torque. The 2-speed transmission also carries over and continues to be a stand-out feature amongst other EVs, with the platform allowing for improved battery performance and efficiency.  Regardless of the power on tap, you can expect the CT models to exhibit the very same sensations and driving character as their sedan counterparts. Acceleration and throttle response are instantaneous in relation to pedal inputs, with power delivered ever so smoothly, even while at times brutally so, particularly in the Turbo and Turbo S models.
"One pedal driving" continues to elude the Taycan CT's skillset; this is where other EVs – like Teslas – can almost be exclusively driven using only the accelerator, as merely taking the foot off the pedal is sufficient to bring the car to a stop in most situations, making the brake pedal more of a luxury than a necessity. I'm not a fan of this, but apparently many people are – frankly, I think it's a good thing that Porsche has forgone this feature on their cars, as it would be an uncharacteristic one, to say the least. Electric Sport Sound continues to be a trademark on the Taycan CT (though optional on the lower models), providing artificial engine noises orchestrated through a sci-fi symphony.
Most critics believe that the Taycan 4S Cross Turismo hits the sweet spot in the range, with its 482 hp (562 hp w/ Overboost) deemed to be more than sufficient for what most buyers – whom have the CT shortlisted – would be in the market for. I definitely share this sentiment, as 0-60 mph in 3.9 seconds is just fine for a family hauler. Nevertheless, the Turbo and Turbo S models showcase the true potential of Porsche's fully-electric performance line-up, and are impressive machines which should have no problems wooing thrill-junkies who have the means to buy one.
Battery, Range & Charging
It's the same 800-volt battery architecture powering the car, with 93.4 kWh (of which 83.7 kWh is usable) as the standard fare on all models (certain sedan trims could be had with a smaller 79.2 kWh pack). EPA range estimates are known to be excessively harsh compared to the majority of real-world results, and this trend predictably continues for the Taycan CT.
Here are the EPA range estimates for the 2021 Cross Turismo models:
Taycan 4 Cross Turismo: 215 miles
Taycan 4S Cross Turismo: 215 miles
Taycan Turbo Cross Turismo: 204 miles
Taycan Turbo S Cross Turismo: 202 miles
These figures are almost identical to that of the sedan, and likewise, real-world results have similar variances from that of the EPA's findings. Based on the former, you can expect about a 20-25% increase in mileage for each tier, meaning your Taycan 4 Cross Turismo for example, should get closer to 275 miles of range under normal and reasonable conditions.
Charging speeds are the same across the entire Taycan range, with the Taycan CT also able to boost from a state-of-charge of 5% to 80%, in as quickly as 22.5 minutes at a DC fast charging station. On my personal Taycan 4S sedan, I've determined this to be essentially accurate.
Chassis & Handling
Despite being an obviously bigger car, Porsche has impressively kept the weight increase of the CT compared to the sedan to just 25 kg, which was likely no easy feat considering the car's overall 2,320 kg footprint. In addition to coming exclusively with all-wheel drive, the Taycan CT also has the three-chamber air suspension (PASM) as standard. In CT guise, this allows the car to be raised up to 30 mm higher off the ground than the sedan, while revised wheel mounts, strut supports and a self-levelling system were adapted for the more utilitarian purposes of its cross-over / estate platform. The double wishbone front with multilink rear configuration is also carried over.
The CT also shares the same 5 selectable driving modes: Range, Normal, Sport, Sport Plus and Individual. Exclusive to the CT is a new "Gravel" mode which Porsche says, gives the car more "Bad Road Capabilities" by managing torque distribution and other chassis behaviors to be more harmonized with roads of a non-paved persuasion. Back on tarmac, the CT presents phenomenal ride quality and comfort, blended with remarkable performance and speed, all the while being discreet and unassuming as it goes about it. It's something you have to experience to truly understand the level at which this is all achieved.
In the most extreme test of the CT's chassis and handling, I would expect it to perform not dissimilarly to that of any of the all-wheel drive sedans. I do have some of my own data to share after taking my personal Taycan 4S on to the race track, which is laid out in point-form below:
While it's ultimately impossible to disguise the Taycan's hefty weight and large footprint, the car has been phenomenally designed to handle it, and then some. The ultra low center of gravity – inherent from the battery's weight and placement along the floor of the car – adds a new, impressive dimension to high-performance driving that is difficult to duplicate in a petrol engine road car.
Smooth, with no nonsense near the limit. The Taycan is a confidence-inspiring performer, that feels safe without being intrusive, and shows a wild side without needing to be unrefined. Those who believe that an enjoyable track car can't exist without the ruckus of a screaming exhaust, clunky noises and a tooth-grinding suspension, will probably have their minds changed after driving an EV that has Porsche DNA coursing through its veins.
Combination of electric motor (regen) braking and actual braking (pads and rotors) is quite the dynamic duo in tethering the 5,900 pound Taycan. So effective is the former's performance, that carbon ceramics would certainly be overkill for the street, while an argument can be also be made for the same (to a lesser degree, of course) on the track. Nevertheless, to squeak out the extra bit of performance in a min-max fashion, PCCB is obviously a required option.
The OEM tires – in my case, Michelin Pilot Sport 4 XL – are a good match for any type of environment, including the track. However, I felt that they were certainly the weak point of the car when it came to high-performance driving and without question, a set of stickier tires such as r-compounds (or these) would have a transformative effect on the experience – as they would in any vehicle transitioning from street tires to track tires. I suspect range would suffer noticeably with the increased grip, though.
PTV Plus and Rear Axle Steering (which came as part of the optional Performance Package) help rotate the car in ways that would initially be thought of as impossible for a 6,000 + pound machine (including driver), even with its uniquely low center of gravity in play. At your command is a level of precision and agility you would normally expect from cars which are mechanically much more nimble. Yes, electronics are at play here to make it possible for the Taycan to provide its "just point and go" capabilities, but as with any Porsche these days the car is remarkably tactile and driver centric.
Brakes & Tires
Let's start with the Turbo S, which comes fitted with almost unnecessarily large and expensive brakes – I say 'almost', because if you do take your car to the race track, then cheers to that! Otherwise, the gigantic 420 mm carbon ceramic brake discs and 10-pot brake calipers will certainly be overkill for any road with a speed limit attached to it. This is particularly true when considering that braking forces up to 0.39G are achieved entirely by the electric motors – more than enough to come to a full-stop in everyday situations – with no pad-to-rotor contact being made until that threshold is broken.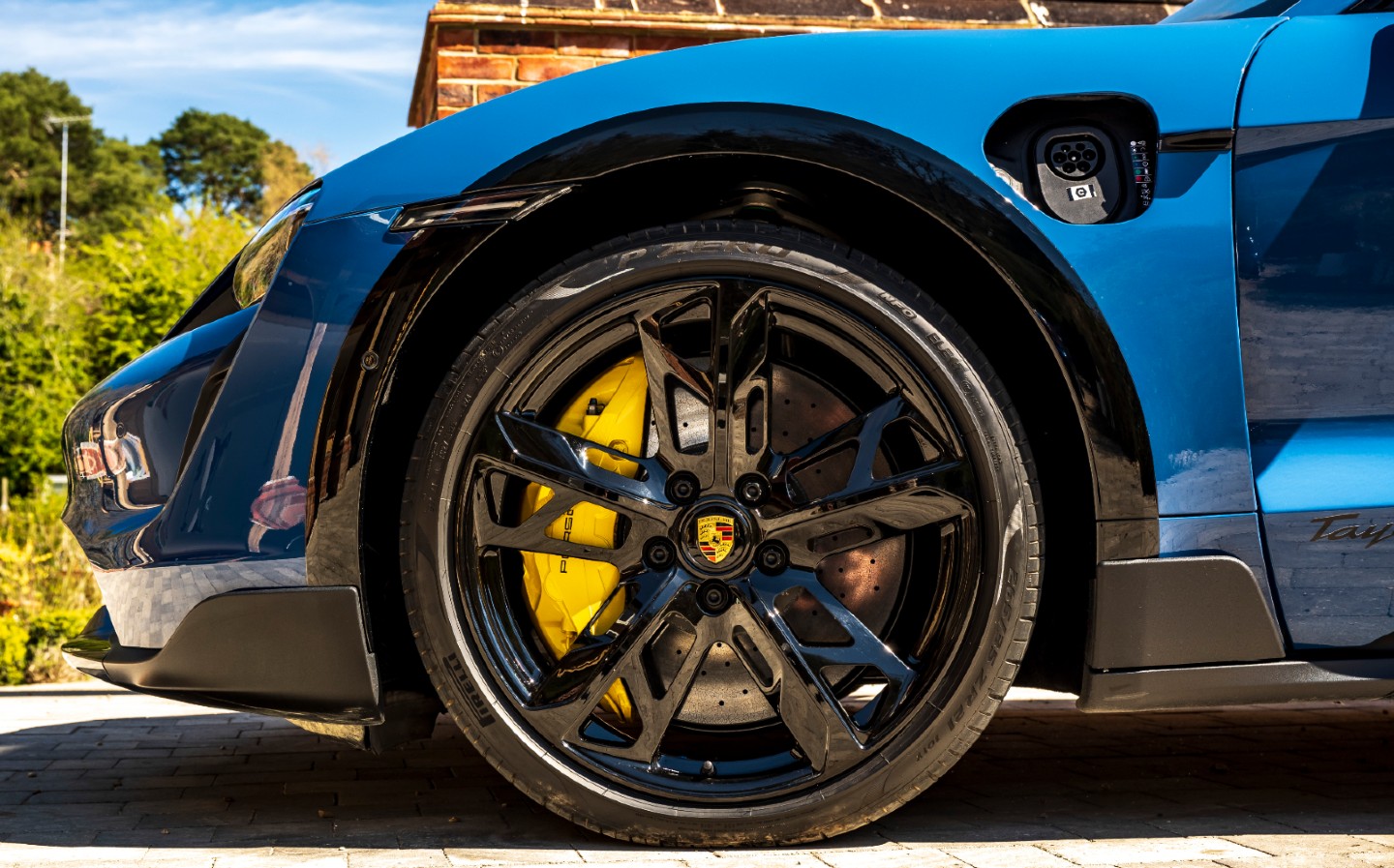 All that being said, the regular steel brakes (or surface coated brakes) will do just fine for the 99% of situations that 99% of Taycan drivers will encounter. Regen braking can be toggled on or off by a switch on the steering wheel, though as mentioned before, one pedal driving isn't part of the deal; part of what makes it drive more like a sports car, and more like a Porsche. I'm game.
Michelin Pilot Sport 4 XL tires continue to serve as the primary OEM offering for the CT. That's good and all, but it leaves many of us wondering why an all-terrain tire option isn't also available from the factory, given the additional talents the CT has stored in its locker.
Design, Cabin & Amenities
Exterior
By nature of its body style and design, the CT offers more cargo space and a smidge more passenger room than the Taycan sedan. In terms of actual outcomes, this equates to an additional 30 cu. ft. of cargo space and about 36 mm of rear headroom (legroom is roughly unchanged). The CT is also 11 mm longer and sits 20 mm higher from the ground than its stablemate, while each are in their default ride settings. The aforementioned Gravel mode will lift the car an additional 10 mm.
Should off-roading or more adventurous excursions be more your flavor (or if you simply like the look, which is just as fine) then we highly recommend the optional Off-road Design Package which is available on all CT models. This package adds black lower body cladding which functions as debris-protection, while giving the car a more rugged, purposeful appearance. As the default, the package also has the car sitting at the higher Gravel mode ride height, but given that these settings can easily be toggled after the fact, makes it sort of a moot point.
Interior
With over 41 cu. ft. of cargo space with the seats folded down, the Taycan CT is sufficiently equipped to meet tackle most utilitarian demands, though competitors such as the Mercedes-Benz E-Class Wagon manage a lot more with around 64 cu. ft. at its disposal. The extra-long roof doesn't translate to any more legroom than in the sedan – or even that much more headroom, at just an additional 36 mm – but it certainly creates the sensation of a much more spacious interior.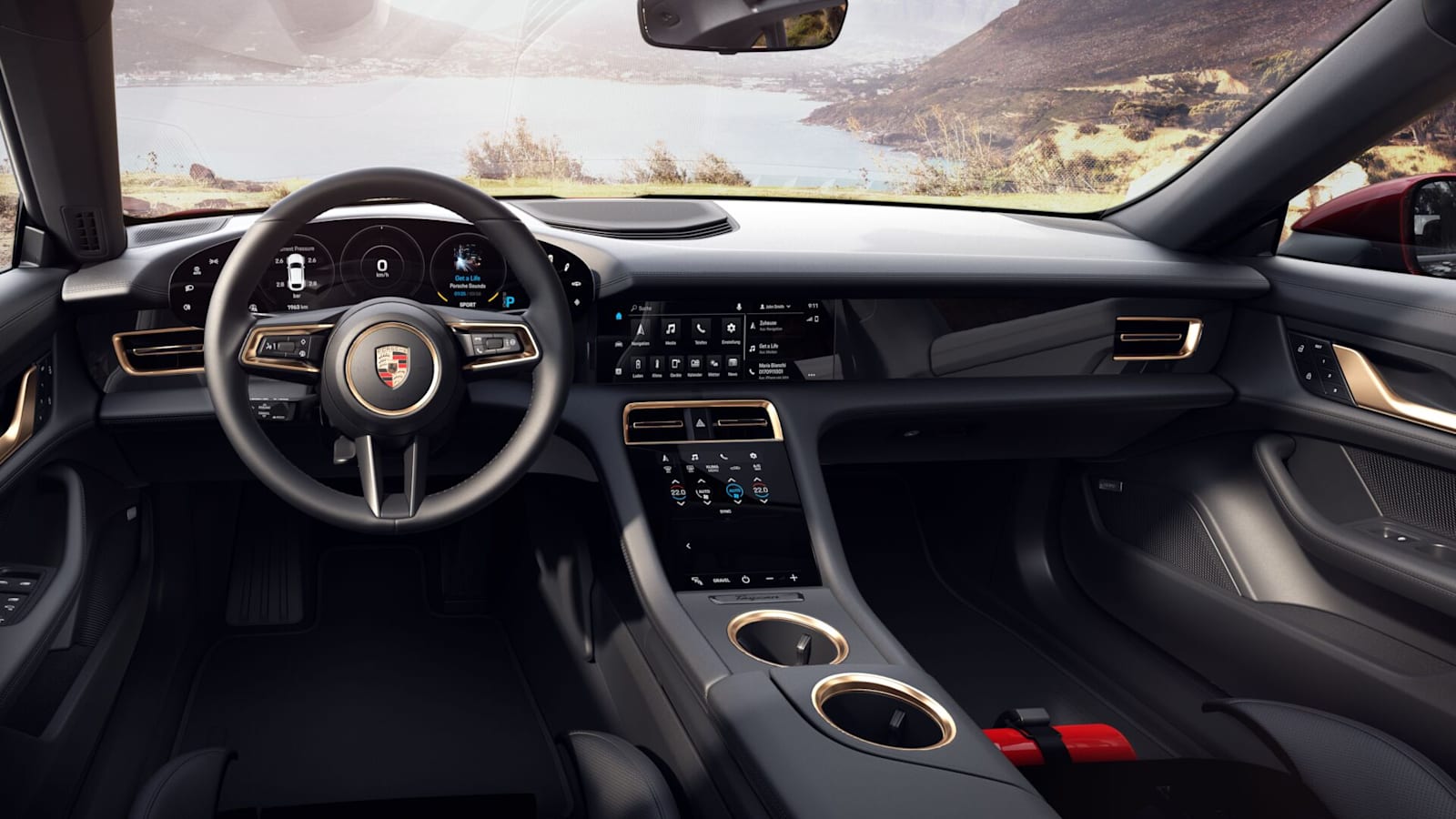 Those who have already ridden in the Taycan sedan will otherwise note that the two cars are virtually identical inside, with a minimalist touchscreen user interface and control panel at the heart of the driver's cockpit. Despite being an crossover / estate, the driving position continues to be low-slung and sporty-feeling, with front and rear visibility likewise providing more of a sportscar POV than that of an SUV. That's fine, as I don't think Porsche was ever trying to market the car as being the least cool of the Taycan siblings.
As is the case with any Porsche car these days, options – of which there are a plethora – can make or break your build-sheet (and bank account). Anything from an Alcantara-wrapped steering wheel to a vegan leather interior is available as an option, and there is no shortage of selectable features to customize the car to one's personal tastes and exacting demands. There are certain options that I think everyone should strongly consider though, such as the extra rear seat (to make it a true 5-seater instead of a 4+1), the performance roof box and heck, even the rubber floor and rear boot mats. On a car like this, it just makes sense to have all of those things on hand. At worst, it would only be good for resale value.
Verdict
supercars.net – 9/10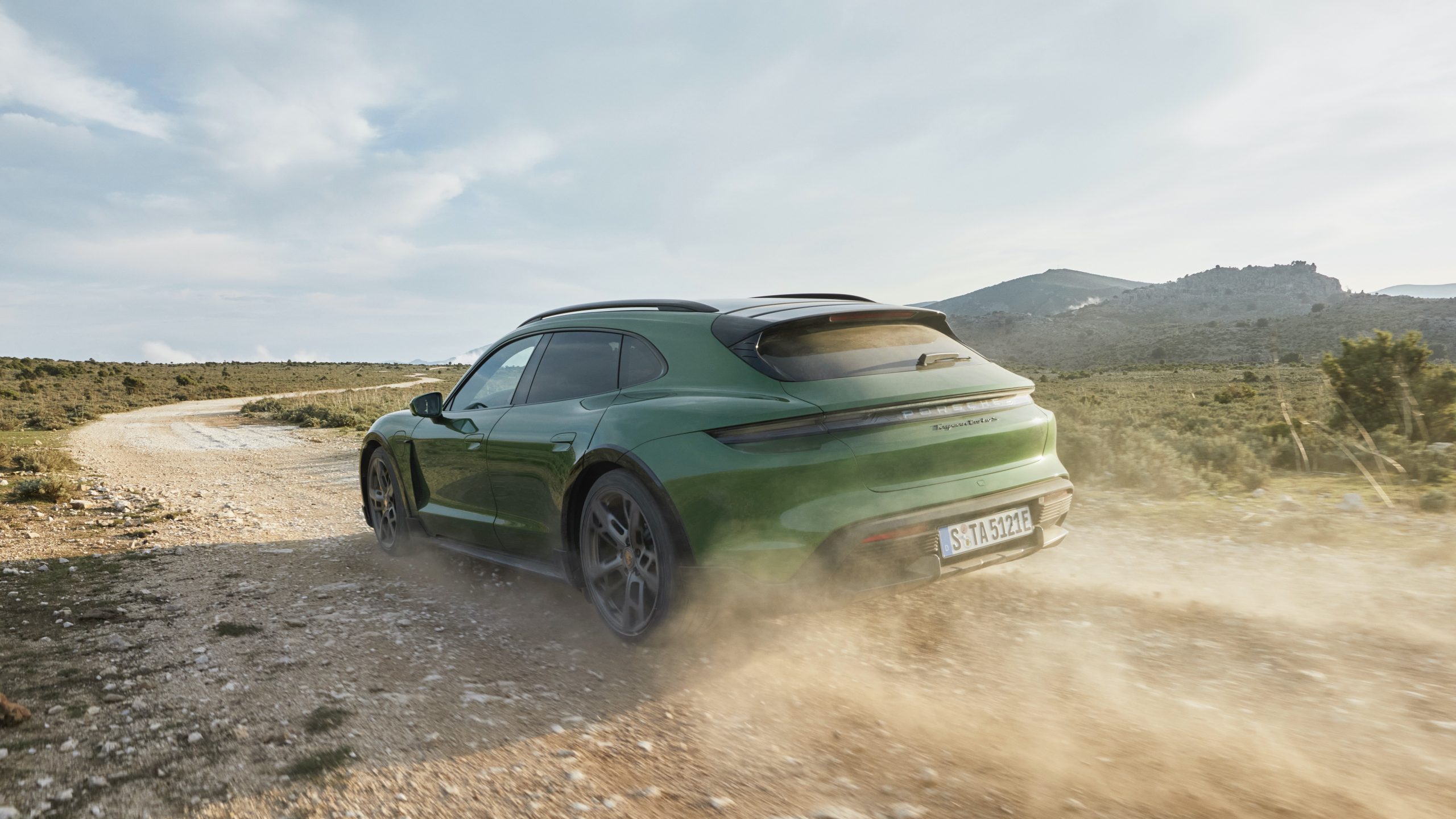 "These are still early days for the Taycan, its Cross Turismo derivative, and the EV ecosystem as a whole. If not for some of the challenges facing early adopters who have to contend with the likes of charging infrastructure playing catch-up in most places around the world, the notable effect that cold weather can have on range, and other distinctly-EV obstacles, it wouldn't be farfetched to praise the Porsche Taycan Cross Turismo for achieving perfection as an all-rounder car. It'll have to get a 1-notch-down from being just that, until improvements in technology can adequately address such issues. For now, let's hope we can move the needle up to a '10' sometime in the near future."
What Other Experts Are Saying
Top Gear – 9/10
"The most complete fast estate available today. And perhaps the best electric car, too."
CNET – 8.9/10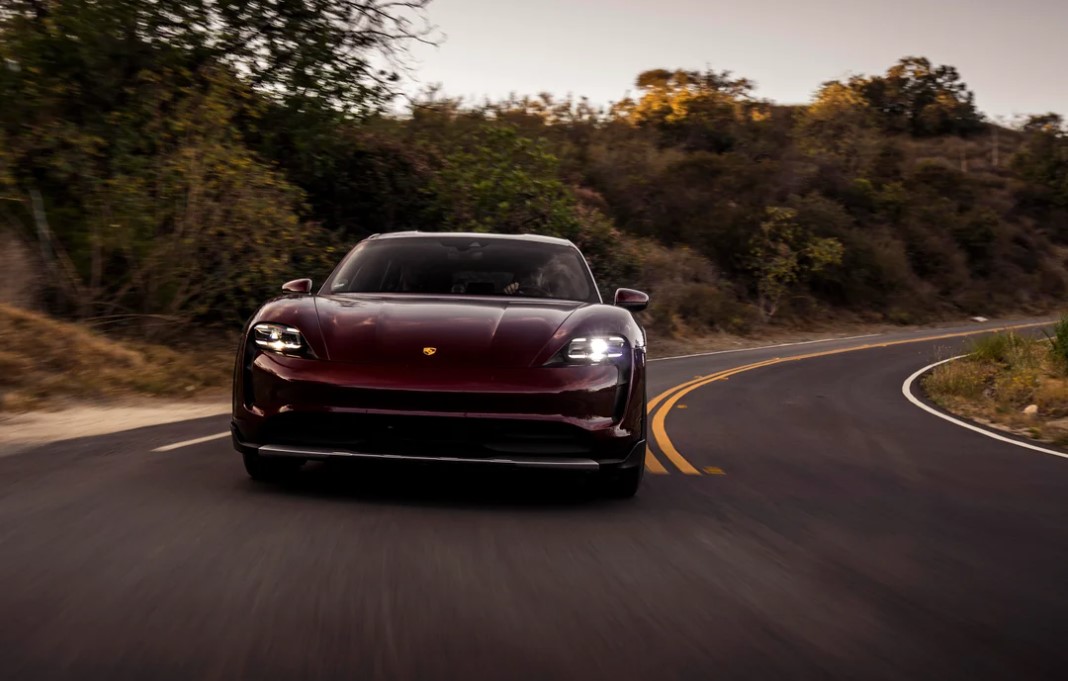 "With plenty of power, range, comfort and convenience, the base Taycan 4 is all the Cross Turismo you really need."
What Car? – 5/5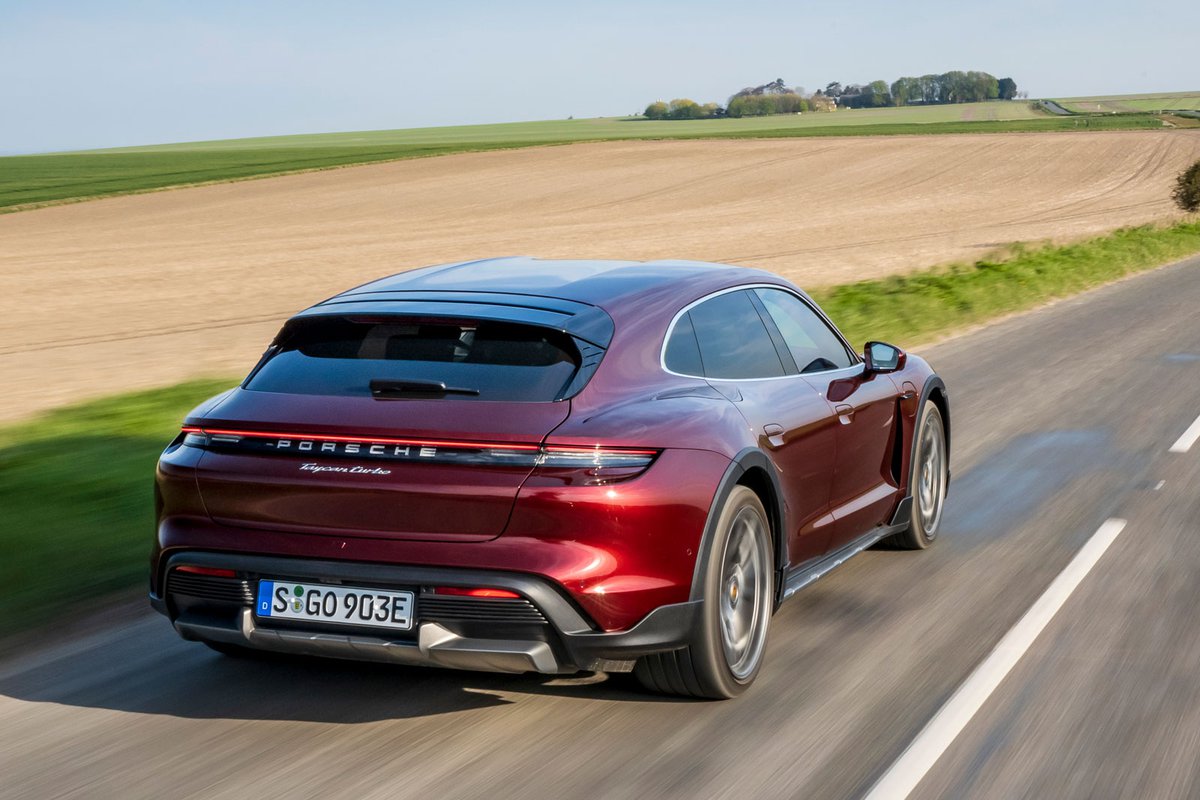 "It's hard to think of a car that could keep pace with the Cross Turismo in Turbo guise cross-country."
Image Gallery
Video & Review Gallery